By Sarah Brown
Photos by Rémi Thériault and Ming Wu
The date is set – June 2 is 100in1Day in Ottawa. The idea is simple: Get 100 people in Ottawa to create an event or happening that will make their city a better place. Who can participate? Anyone and everyone. In other words, you.
A bit of background: Launched in Bogotà, Colombia in 2012, 100In1Day is a global citizen movement that has spread to more than 30 cities around the world. The goals are simple: Join in, have fun and connect to your neighbours. Engagement leads to more engagement, building stronger communities and cities.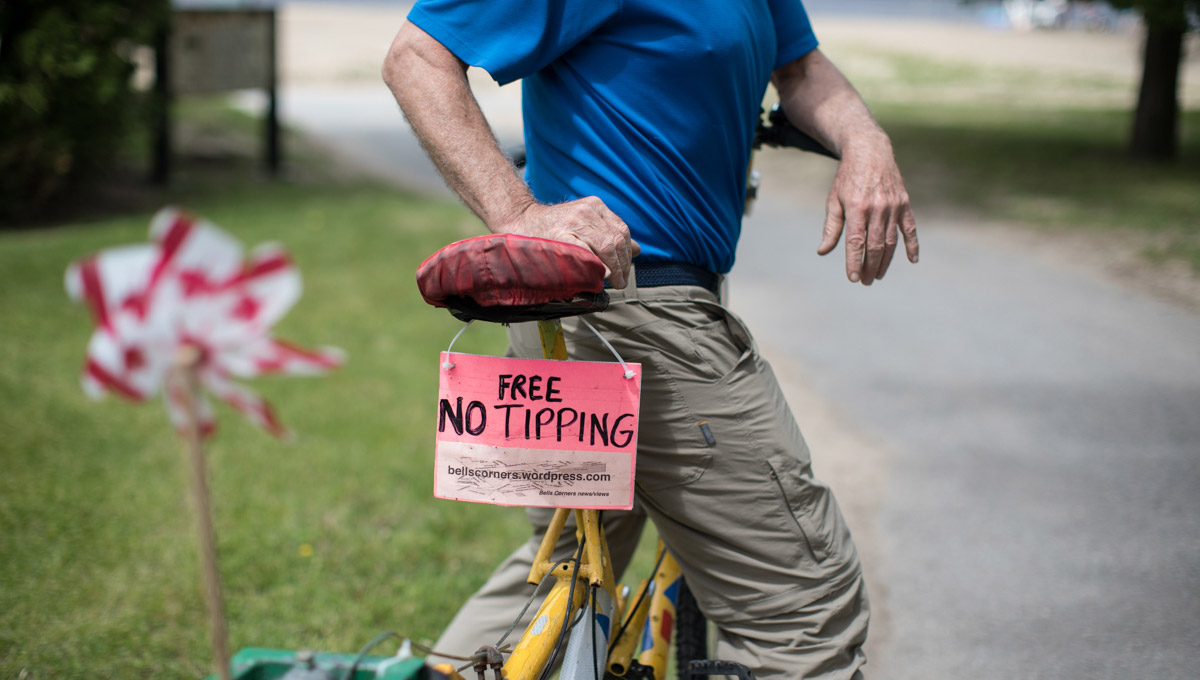 Events can — and should — be as diverse as residents themselves. 100In1Day started in Ottawa last year with 106 events ranging from art in the park and skipping competitions to urban gardening demos and folk song sing-alongs. There were pop-up lemonade stands and barbecues, historical walks and litter cleanups.
Intrigued? Visit the 100In1Day site for more inspiration and to sign up.
The mission of Synapcity, which organizes the Ottawa event, ties in perfectly — empowering citizens of Ottawa to share ideas, big and small, to make their city "happier, healthier, smarter and safer."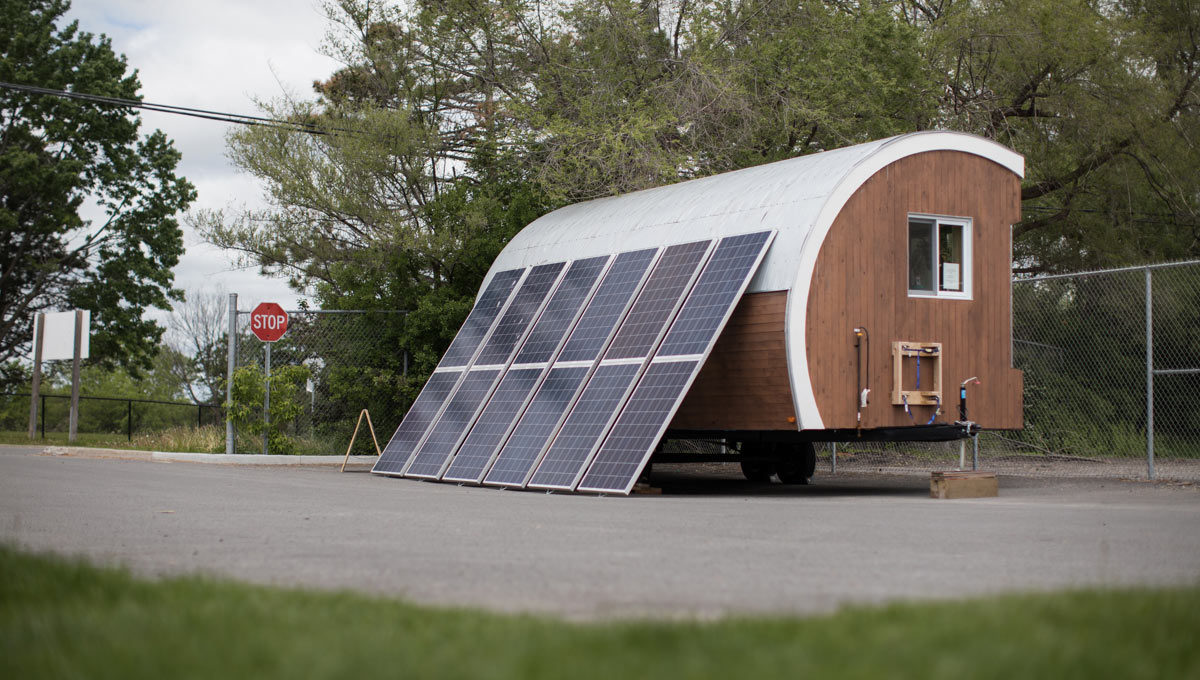 Synapcity Executive Director Laine Johnson (BAHons/11, MPNL/14) is passionate about citizen engagement — encouraging it, supporting it and jumpstarting it on a micro level. "I want to everyone to feel a sense of co-ownership and co-belonging with their city," she explains.
She stopped moving for just long enough to give us a few thoughts on 100In1Day and its impact.
On the Value of 100In1Day
"There is so much value in bringing a really diverse range of people together who are doing good. Engagement happens all over the city, but it isn't preachy. A whole lot of great micro-events allow residents to see our city in a different way."
On the Power of Engagement
"One of the most important things about 100In1Day is it's invigorating and playful. People tend to think of activism as serious and combative, but this event shows that advocating a better city can be a whole lot of fun."
On "Meeting the Neighbours"
"One of the side benefits of 100In1Day is that it connects a whole network of citizen advocates from all over the city. It will be amazing to see what comes of these new connections and friendships."
On the Future of 100In1Day . . . and Ottawa
"The first 100In1Day was a great success, but how do we make every day 100in1Day? How do we keep the momentum so we engage like this on a daily basis? It is such an exciting moment in time for Ottawa as a city and we want to take advantage of that."
Spotlight on Three Favourites from 2017
The eclectic events crisscrossing Ottawa were as imaginative as the city's residents. Here are three: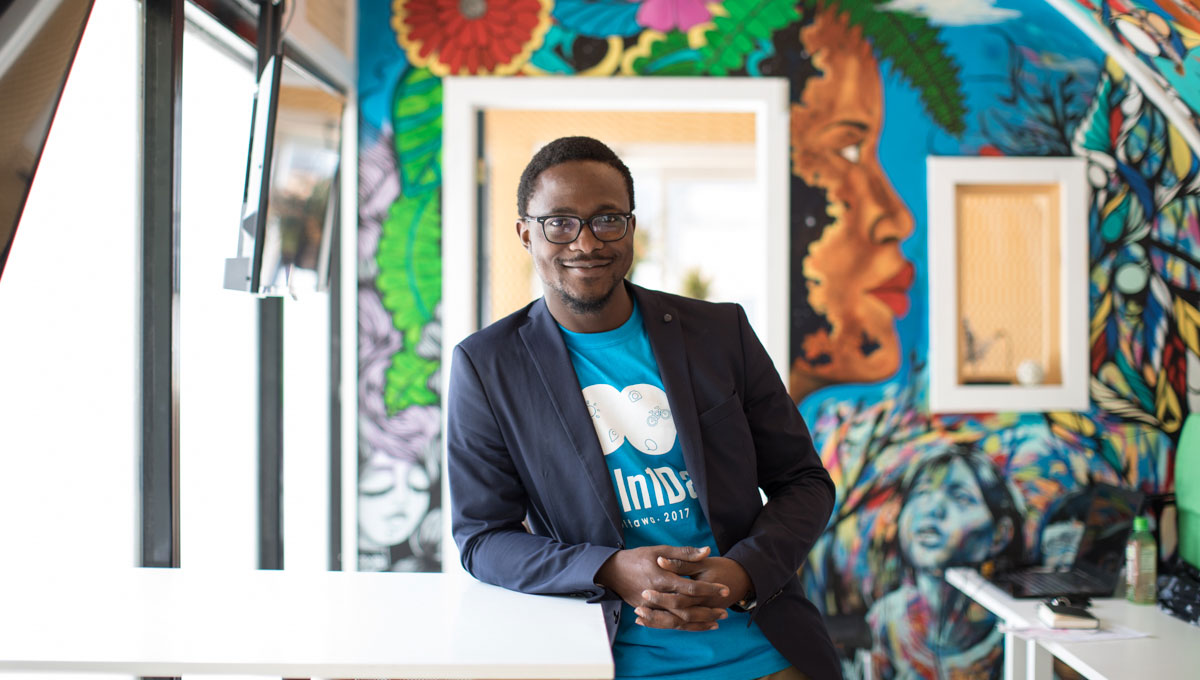 Future Positive: Innovation Pod
It can be used in infinite ways, but Carleton graduate Komi Olaf (BAS/07, MArch/09) says the tech-filled Innovation Pod has primarily been employed as a hub for social good. Olaf, who belongs to PrototypeD, the collaborative design team behind the pod, hopes this solar-powered mobile "lab" will soon become a common site around town, introducing Ottawans from all works of life to how the latest tech advances — 3D printers, virtual reality goggles, and digital media equipment — can be leveraged to build better communities.
Even when it's surrounded by tech gadgetry, the pod's artwork shines. Komi's dazzling portrait of a woman with flowers in her hair merges with works by other local artists in an ongoing interior paint job.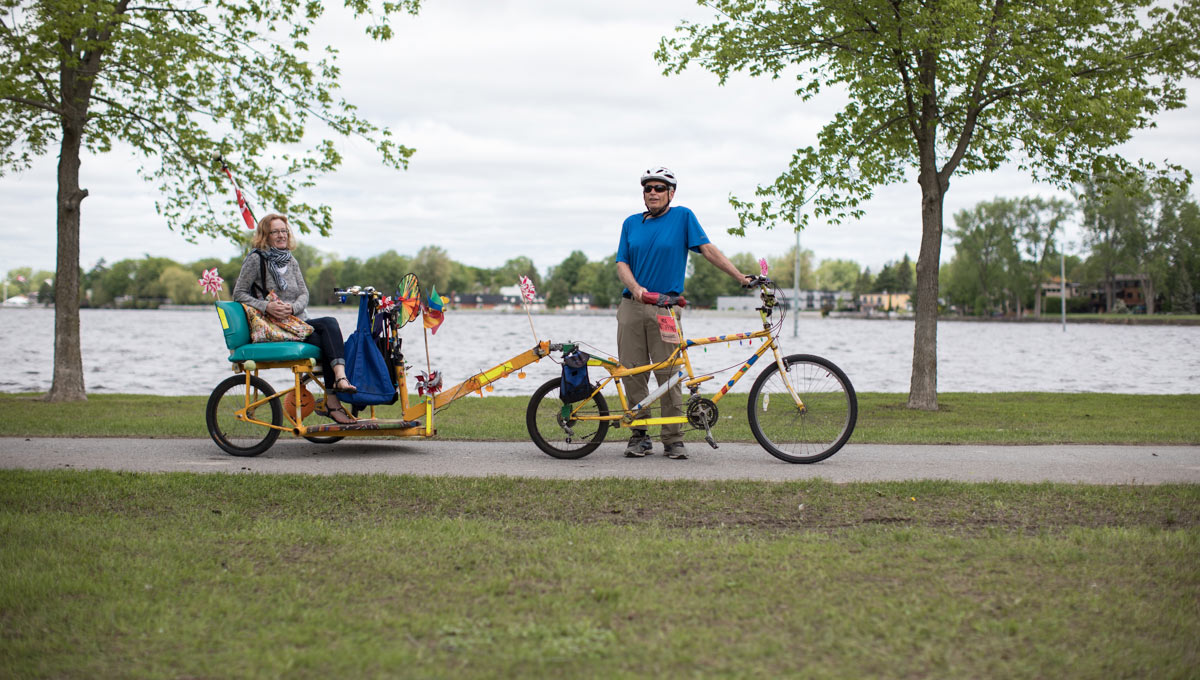 Free Ride: Cycling for Safety
Retired teacher Craig MacAulay hops on his modified bike most days, cruising through his home neighbourhood of Bells Corners, offering up free bike-taxi rides and conversation. The quirky yellow bike makes people smile, keeps MacAulay fit, and allows him to spend time with all kinds of people he'd otherwise never have met. On 100In1Day, MacAulay added bicycle safety to his job description, heading to busy Britannia Beach and handing out safe-cycling literature and bike lights to anyone who hopped on for a tour. One man's city-building initiative led to many smiling faces.
A festive assortment of flags and pinwheels gets his bike noticed — and encourages kids to ask their parents for a ride, giving MacAulay the opportunity to talk safety with the next generation of cyclists.
MacAulay's passenger bike was built by enthusiasts in the cycling community — a group of avid cyclists, engineers, and mechanics who designed and built the bike based on a rough sketch.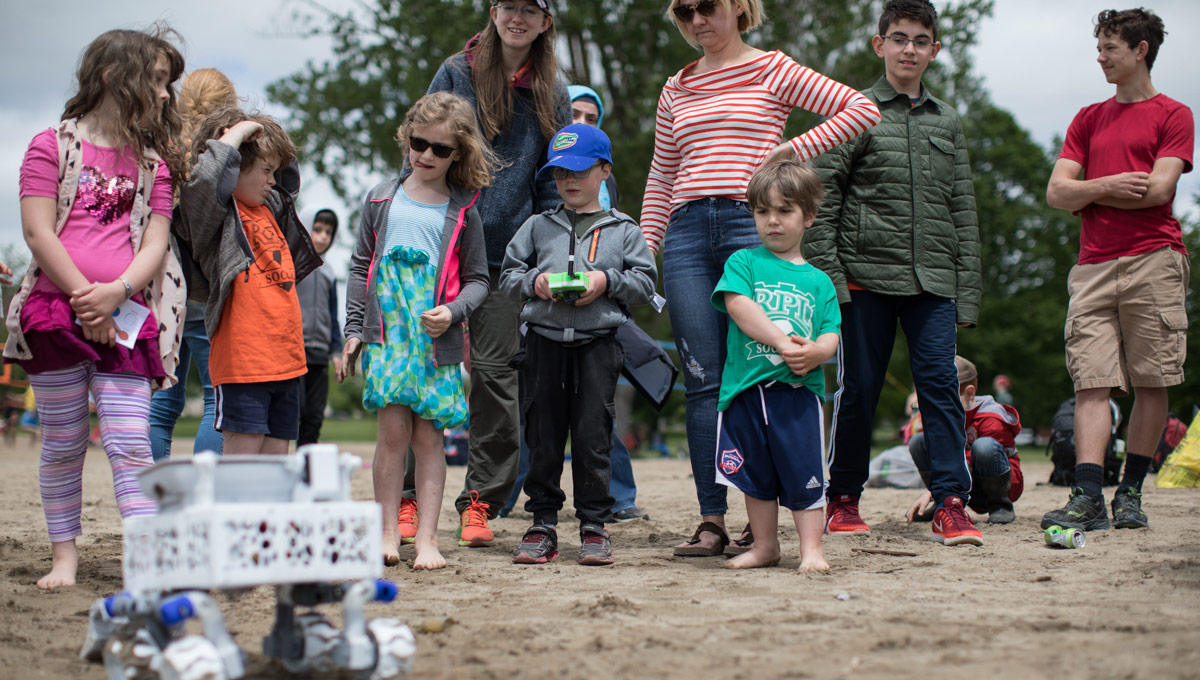 Trash Talking: Robot Missions Field Test
Each spring, nature lovers get the cleaning bug, congregating at the city's beaches for an annual cleanup of debris. That's all good, but what about the rest of the year? Robotics innovator Erin Kennedy dreams of a fleet of trash-busting robots, efficient four-wheeled machines heading out each day on the hunt for litter along our shorelines. At her 100In1Day field-test event, dozens of eager kids descended on Mooney's Bay Beach, clamoring for the chance to control Kennedy's robot and maneuver it to scoop up tiny bits of trash. For the next generation of robotics enthusiasts (and their parents), it was a chance to see technology being used to make the world a cleaner place — one beach at a time.
For spectators, the Mooney's Bay field test was an entertaining afternoon of robot games, but Kennedy and her crew were collecting data that they'll use to tweak the design. Biggest issue to resolve? Bowie's (of course it has a name) tendency to get stuck in wet sand.
Community engagement is key to Kennedy's self-proclaimed "audacious goal" of having one trash-busting robot operating in every park in Ontario by 2030.
"There is real educational value in having kids see robots engaging in real-world challenges — it's great to get them thinking about how to use robots to help the environment," said Kennedy.
Recent public engagements have seen her running robo obstacle course workshops at the Canada Science and Technology Museum and signing up enthusiasts to work on more beachside robo testing this summer.