By Joseph Mathieu
Photos by Mike Pinder and Luther Caverly
"On the surface, it'll sound like I'm talking about Fogo Island," began Zita Cobb, speaking at Carleton University's spring Ottawa Leadership Luncheon, "and I am. But I'm also talking about us, about the idea of human community."
On June 1, more than 160 alumni, donors, and members of the Carleton community gathered at the Fairmont Château Laurier for Cobb's keynote address at the bi-annual luncheon.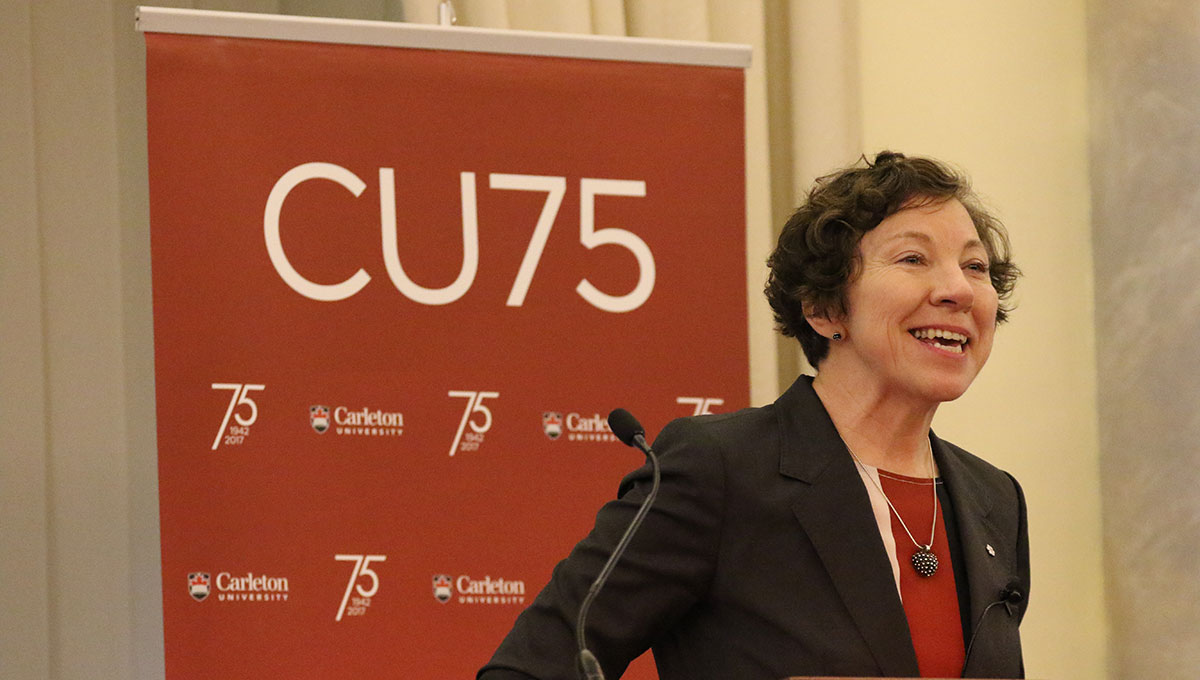 "Maybe a small island is a good proxy for a small planet," she said as she described efforts to turn her home – an island off Newfoundland – into a self-sustaining, healthy economy.
The multimillionaire high-tech executive turned arts patron and island innkeeper spearheaded a redevelopment of Fogo and the Change Islands, north of the province's main island in the "iceberg alley" of the Atlantic Ocean. Her Fogo Island Inn, world-famous for its futuristic design that also pays homage to local heritage, leads the charge for remote locales to become tourism hotspots.
Cobb, who became a member of the Order of Canada last February, was presented with the Carleton alumni association's highest honour of distinction, named after the university's fourth president Arnold D. Dunton. President Roseann Runte briefly introduced Cobb as someone whose efforts exemplified the best of Carleton's alumni.
Growing Up on Fogo Island
Growing up in Joe Batt's Arm, a small Fogo Island community of 700, Cobb was one of seven kids in a house without running water or electricity. She was born nine years after Newfoundland became a Canadian province in 1949, and witnessed the industrialization of cod fishing affect her community's livelihoods.
"You know it wasn't the fish that let us down," Zita said, quoting her father Lambert Cobb, who never adapted to the new fishing technology of the 1950s and '60s that allowed for bloated catches and led to dwindling fish populations, effectively ending the centuries-old local fishing industry when a cod moratorium was declared in 1992.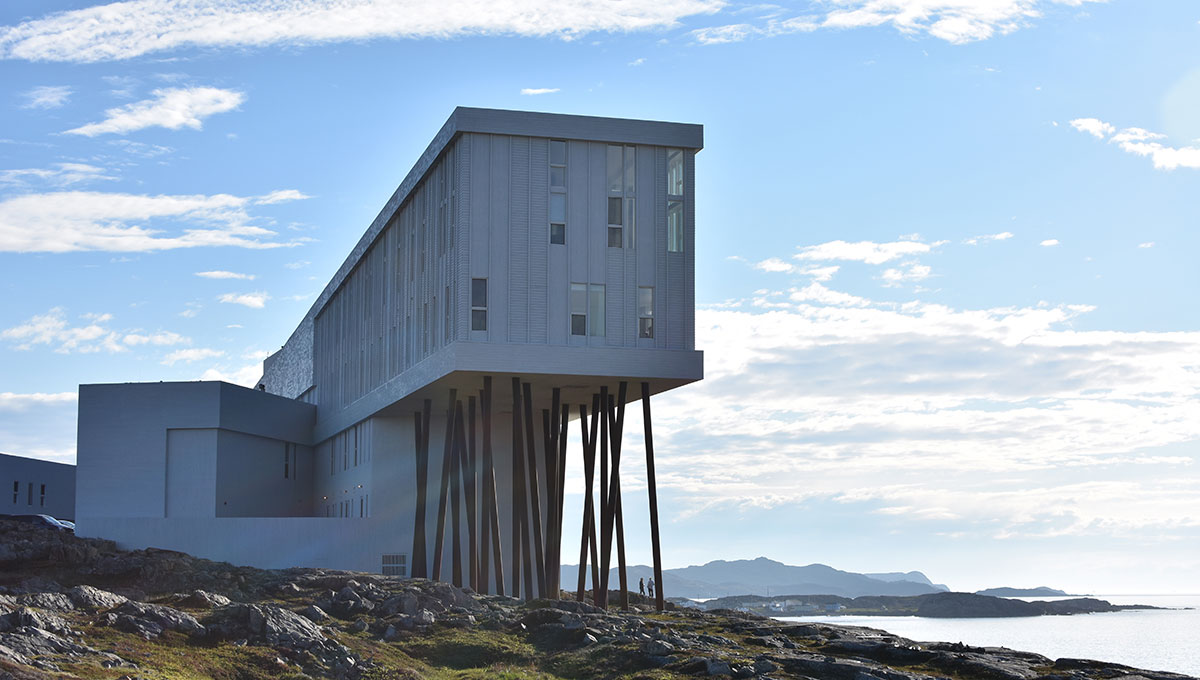 Cobb, who left the island in 1975 to study business at Carleton (BComm/80), had gone on to become CFO of JDS Fitel and then senior vice-president of strategy for fiber optics manufacturer JDS Uniphase. In 2001, Cobb retired at the age of 42 and began to rethink how she could help Fogo Island as she sailed around the world. In 2004, Cobb and her oldest and youngest brothers, Alan and Anthony, registered a charity of Canada called the Shorefast Foundation.
"A shorefast is a tether that joins a traditional cod trap to the shore," she said. "It's not all that often you get to find a word that says exactly what you are doing."
The metaphor fit like a glove, as it described the charity's contribution to cultural and economic resiliency of its small island community, and the return of the cod. As it promotes the island's furniture-making, hand-line cod fishing and other small producer industries, the foundation operates on the idea that economic models that work well for big places don't necessarily work for small places.
"We should be creative and intelligent enough to realize we don't need a one-size-fits-all answer."
The multi-faceted foundation also set up the Shorefast Business Assistance Fund to offer micro-loans, advice and guidance to island businesses and startups. Sixteen businesses have benefitted from preferred rates and friendly repayment plans, including a bakery that expanded, a new B&B, and a local agricultural co-op.
Citizens as Economic Agents
"We believe that business belongs to every citizen and every citizen is an economic agent," said Cobb. "Business is a part of life, but it needs to behave in every gesture as supportive to the whole."
Shorefast operates a number of community-based initiatives that began with an arts residency in 2010, and now features a geologist-in-residency program that explores the island's singular landscape and the New Ocean Ethic that redefines the ocean as a finite resource.  As the Ethic's mandate reads:
"If we are to continue to benefit from the bounty of the sea, we have to rethink the way we use and manage it."
The Inn's locally-produced textiles, linen and furniture attracted enough interest from visitors to launch the Fogo Island Shop. It sells items with an "economic nutrition label" describing the labour, materials and packaging costs in percentages, and the surplus made with each sale. From each of the social businesses—the Shop, the Inn, and Fogo Island Fish – which sells hand-lined cod to high-end restaurants in Ontario—all profits are returned to the charity.
Every new building—from the six artist residency studios to the 300-foot-long Inn—draws inspiration from the wooden houses and fishing stages built in Newfoundland for centuries. The Inn's dining room, with massive bay windows facing the sea, resembles the prow of a ship as it weathers the perilous North Atlantic. From there, Cobb is prepared to navigate her foundation as far as it needs to go.
Even after 13 years of work, she admitted: "I do feel like we're just getting warmed up."