By Ellen Tsaprailis
Photos by Ainslie Coghill and Ben Kaufmann
A filtration device that can provide clean drinking water in remote communities and a childproof marijuana storage container designed by two Carleton University students have taken the top two prizes at a major international student design competition.
Ben Kaufmann and Andrew Ferrier's innovative winning designs gave them top marks among 29 design schools and 217 entries in the 2018 International Housewares Association's 25th annual Student Design Competition. Students from universities in India, Israel, Canada and the United States participated.
Kaufmann's water distiller shared the top spot with a team from Arizona State University and they each won US$2,500. The competition challenges students to redesign a current housewares product to meet the needs of the future or to create a concept for a new product.
"We are extremely proud of Ben Kaufmann and Andrew Ferrier's accomplishment in winning first and second prize at a highly prestigious contest," says Bjarki Hallgrimsson, director of Carleton's School of Industrial Design.
"Carleton University can confidently say that it continues to host one of North America's best industrial design programs, based on its holistic and user-centered philosophy that prepares designers for solving complex and meaningful problems that affect people's lives."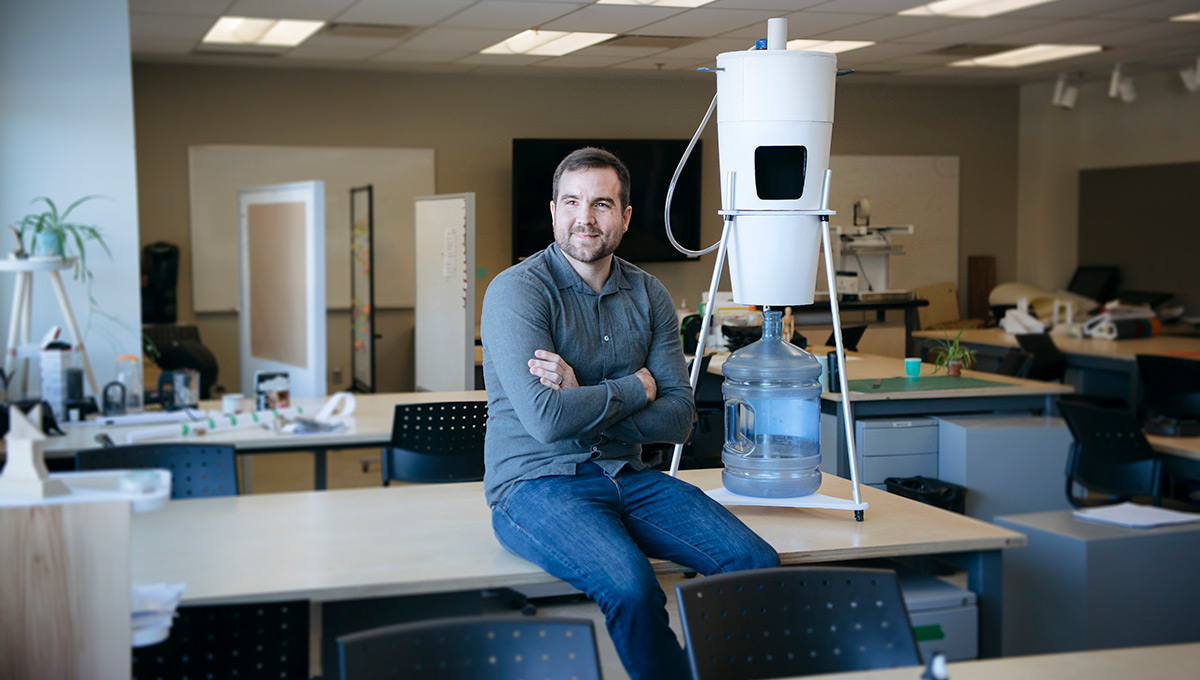 Winning Designs that Define Innovation
Kaufmann, a fourth-year undergraduate student, was elated to win the top prize with his BIO Water Distiller.
"At first, I was thinking I might be awarded a runner-up prize, however, I was beside myself when told I had won first place," says Kaufmann.
"I didn't know what to think, especially considering the amazing work of my classmates who entered and all the other schools that we were up against. I am beyond excited for the win and cannot thank my professors Mike Sirois and Rob Watters enough for coaching us through our design projects."
Kaufmann chose to design a water filtration device based on a tragic story near his hometown of Kenora, Ont. "The key driver for this project is based in Grassy Narrows, Ont., where an upstream pulp and paper mill leeched over nine metric tonnes of mercury into the Wabigoon River system in the 1960s," explains Kaufmann.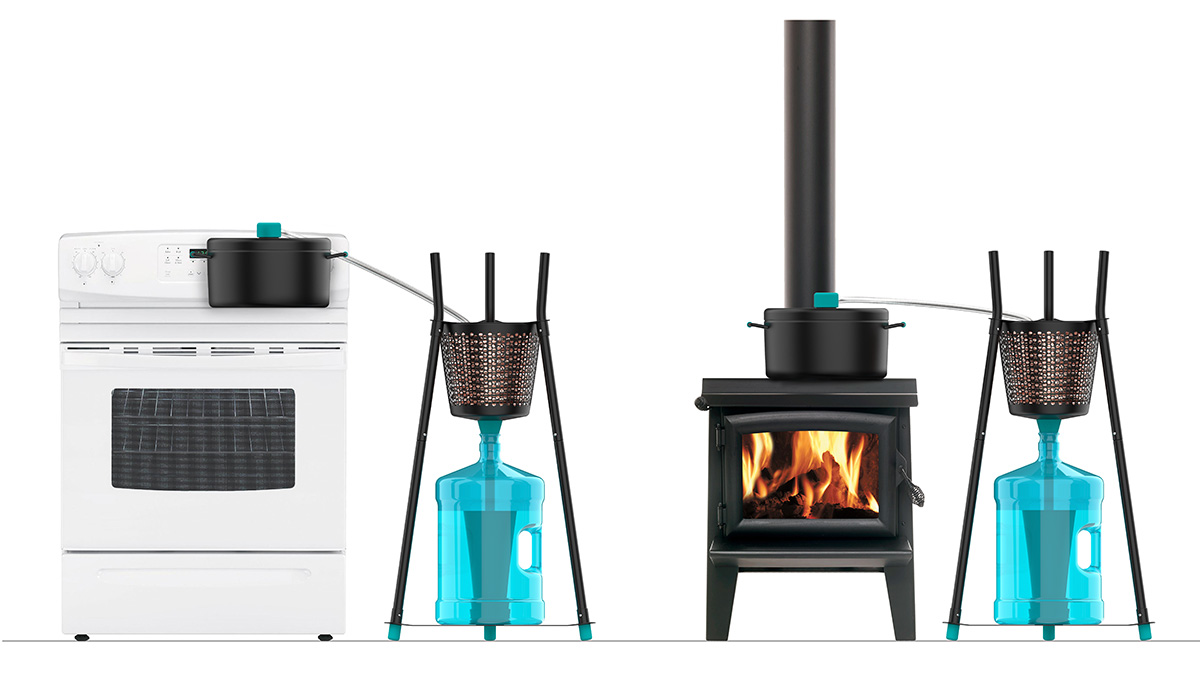 "This disaster destroyed the water system and poisoned the people of the Grassy Narrows, where many died and (were) left terminally ill.
"Over 160 remote Indigenous communities Canada-wide are under water advisories today (with) 'do not consume' warnings where water must be trucked or flown in."
After completing his research, Kaufmann found that water distillation is the best way to remove heavy metals and bacteria from contaminated water. "Looking at the Canadian context, I found that the cost and access to heating energy sources vary greatly and I wanted to integrate a system that was familiar to people and easy to use. Through many design iterations, I came up with BIO, a self-powered water distiller."
BIO was designed to be powered primarily by an integrated outdoor biomass stove, but users can power the stove as they desire to best suit their context. BIO can be quickly adjusted to work on any heating surface such as a cooking stove, wood stove or hotplate.
Even though BIO was designed to help remote Canadian communities, Kaufmann says the system "can easily meet the needs of many in need of clean water worldwide."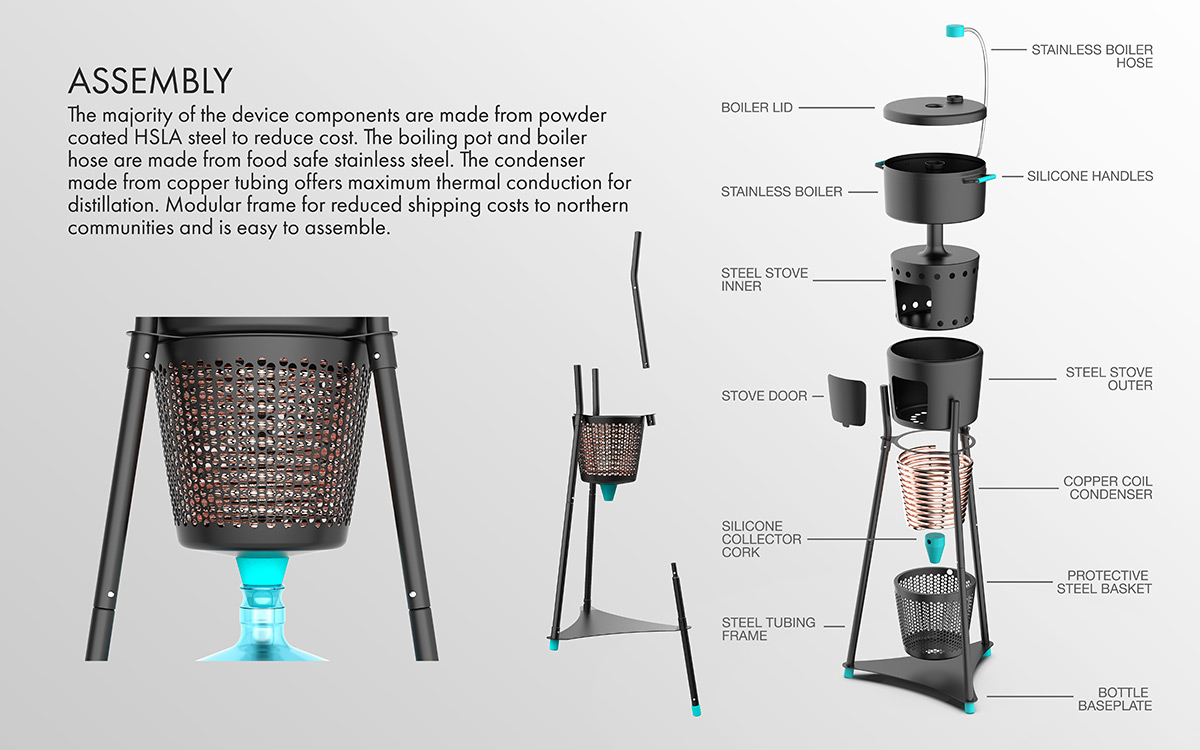 Introducing the Childproof Cannabis Container
Andrew Ferrier is also in his fourth year and won second place for his marijuana storage prototype named the Botany ChildProof Cannabis Container (Botany).
"It's surprising because of how popular this competition is and because of the stigma attached to the industry my product is made for," says Ferrier who received US$1,750.
In exploring emerging problems in households, Ferrier thought that the legalization of cannabis presented multiple problems that could be solved through careful design. "Botany came about to solve the many issues surrounding cannabis storage. Through various forms of research, testing, iteration and coaching from my professors, Mike Sirois and Rob Watters, I was able to create a solution that provides a childproof and climate-controlled environment for cannabis in a low-cost and efficient way."
Both Kaufmann and Ferrier received an all-expenses-paid trip to Chicago for the 2018 International Home + Housewares Show in mid-March, where their design concepts will be on display and could be seen by up to 60,000 attendees from around the world.
Job offers could be a possibility in Chicago.
"A job offer would be amazing," says Kaufmann. "However, I'm really going to meet people in the industry and make connections for the future."
Carleton's School of Industrial design has approximately 200 students enrolled in its undergraduate program and 20 in the master's program. The school also received US$1,000 for the wins, which Hallgrimsson says they will use to help students enter more competitions.
For the moment, Kaufmann says that BIO will remain a conceptual school project.
"I did prove that the distillation concept does work through functional prototyping, however I'm not sure how far this could go," he says. "I would like to build a full prototype to see it in action and make further modifications. After that, if there is outside interest to develop this idea, I would be thrilled to move this forward."
Ferrier is currently building a better prototype to present in Chicago. "After this three-day event, I'll be able to make more educated decisions on what the next steps for Botany should be," he says.