By Alyssa Tremblay
Photos by Melanie Mathieu
This fall, the Carleton University Art Gallery (CUAG) is home to an extraordinary exhibition celebrating the art of renowned Anishinaabe artist Norval Morrisseau (Copper Thunderbird).
Norval Morrisseau: Medicine Currents showcases an exclusive collection of Morrisseau's paintings, drawings and objects, co-curated by Carleton art historian Carmen Robertson and Danielle Printup, CUAG's Indigenous cultural engagement coordinator.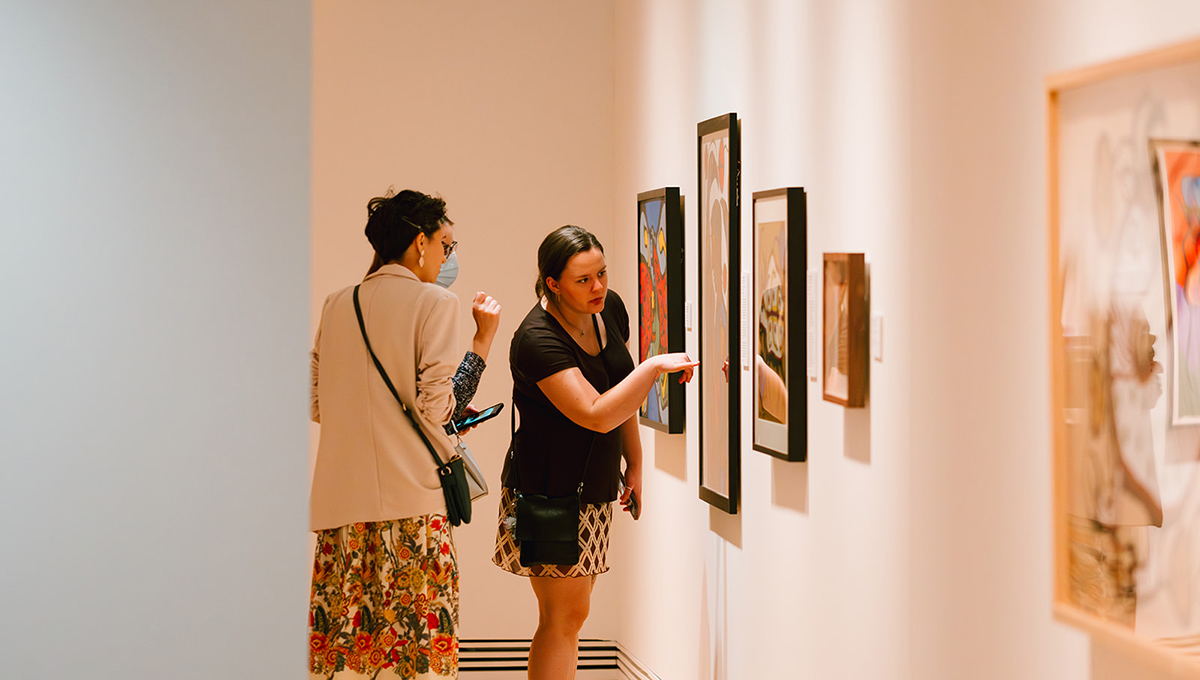 Robertson is the Canada Research Chair in North American Indigenous Visual and Material Culture and a published expert on the striking and colourful work of the late Norval Morrisseau, who is considered the Mishomis, or grandfather, of contemporary Indigenous art.
"It's such an honour," says Robertson, a Scots-Lakota professor in the Faculty of Arts and Social Sciences at Carleton. "It's one thing to write about and deeply know his work, but curating it feels different."
"To see so much of Morrisseau's work together in one room is a rare and powerful experience. When we entered the gallery for the first time once everything had arrived, it felt like the art was bouncing off the walls."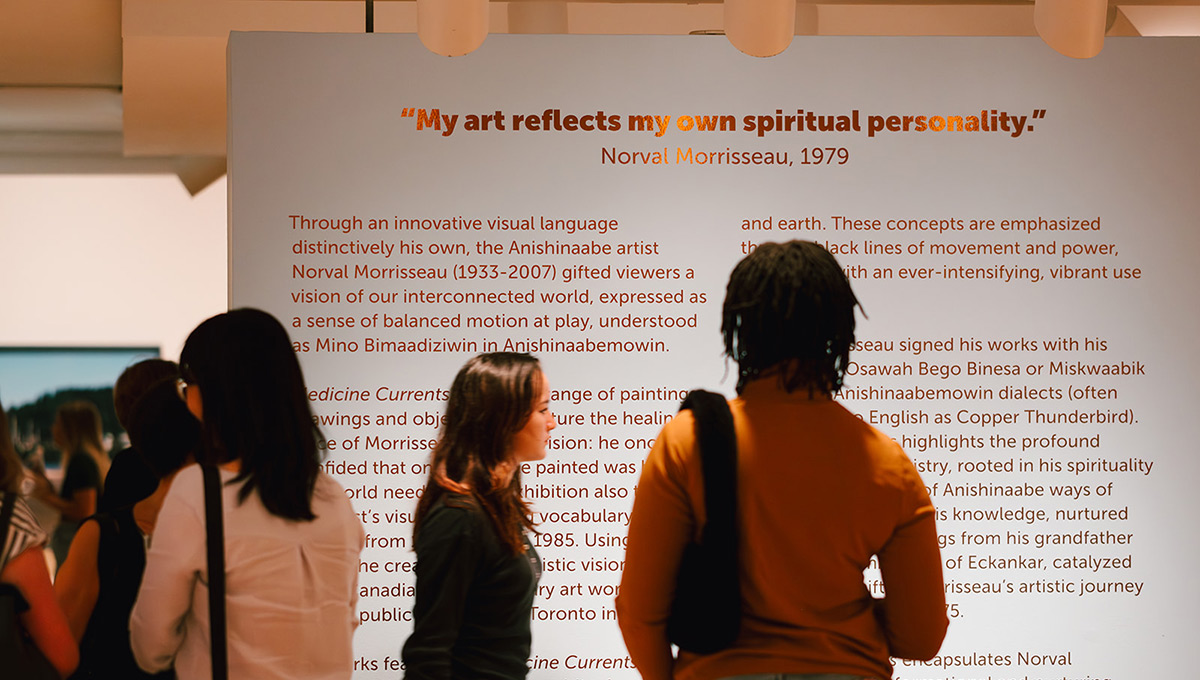 Experiencing Art as Medicine
Medicine Currents is the first exhibition on Morrisseau in Ottawa since 2008, when the National Gallery of Canada held a retrospective event honouring his artistic legacy in light of his passing the year prior.
Robertson says the experience of seeing Morrisseau's work within the stately granite and glass grandeur of Canada's national art museum versus in a more intimate and accessible setting like CUAG is like comparing a cathedral to a chapel.
"Morrisseau is such a larger-than-life character it can be hard to get a sense of who he was, but I think his art speaks for him. It's important that people come to a show like this, in a space like this, to meet him on their own terms."
A self-taught painter from the Bingwi Neyaashi Anishinaabek First Nation, Morrisseau founded the Woodland Style art movement with his use of dynamic thick black lines and eye-catchingly vibrant colour.
"He created a visual vocabulary, an inherently Indigenous way of visual expression, that's become so foundational people assume it's just always been around," explains Robertson, who says she kept spotting elements of Morrisseau's style while staying at reservations across Canada during a cross-country drive from Ottawa to the Yukon this summer.
In curating this exhibition, Robertson and Printup focused on what they refer to as the "healing aesthetic" present throughout Morrisseau's catalogue – specifically, the artist's belief that color could heal you and the artworks themselves are medicine.
In this way, Printup explains, Medicine Currents is deeply relevant to our current moment.
"We've just faced a summer of destructive weather due to climate change and ongoing circumstances caused by the COVID-19 pandemic," says Printup, who is from Kitigan Zibi Anishnabeg.
"As Indigenous people living on the territory, our survival is dependent on our bodies and the land being healthy."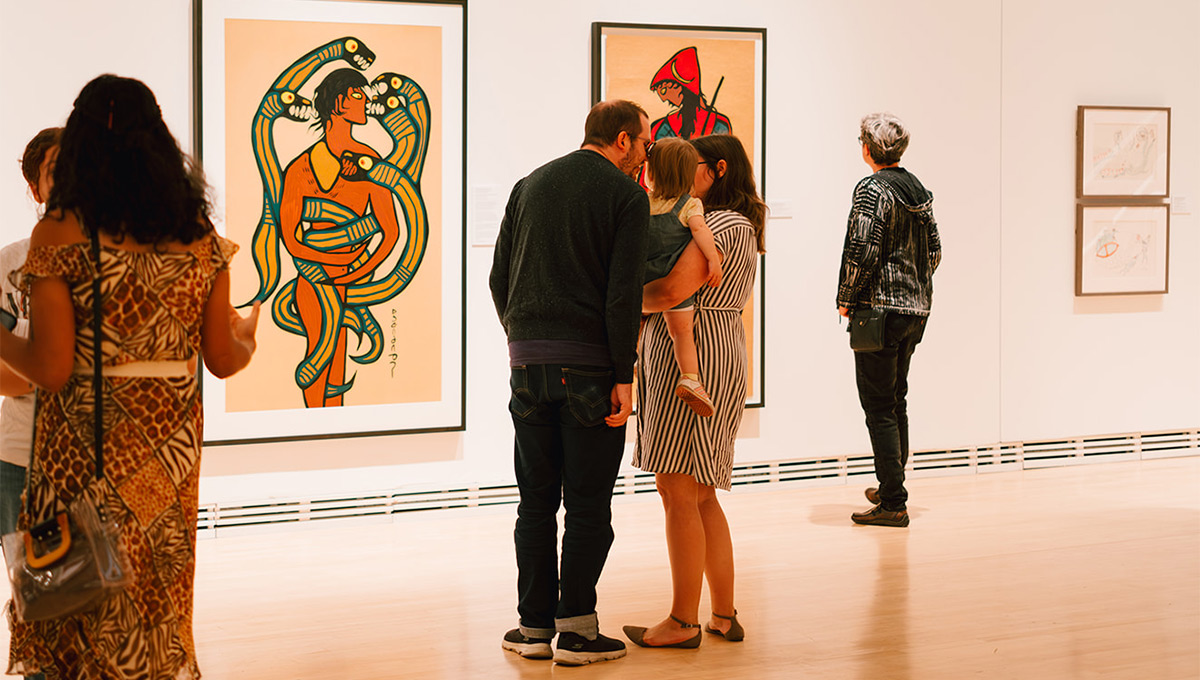 Woodlands School Artists in Conversation
CUAG is holding several special events to celebrate the new Morrisseau exhibition.
On Oct.4, the public is invited to attend a free guided tour of the exhibition led by co-curators Robertson and Printup.
The gallery is also hosting a free public gathering on Nov. 18-19 for Anishinaabe artists, Elders, knowledge keepers and community members from Anishinaabe Aki to share stories around Morrisseau and Christian Chapman – a mixed media artist from Fort William First Nation whose work is also on display at CUAG this semester.
It was Printup's idea to pair the Morrisseau exhibit with another featuring a fellow Anishinaabe artist immersed in the Woodlands style.
"I've been a fan of Chapman's work ever since I first learned of his practice," she shares. "He brings a critical edge and a sense of humor to his art, blending pop culture with the lived experiences of Anishinaabe and Indigenous peoples today. Bringing his work into conversation with Morrisseau's felt like a natural fit."
"The two exhibitions are almost family, if you think about how art histories are related from an Indigenous perspective."
Norval Morrisseau: Medicine Currents and Christian Chapman: Run to the Hills! will be on display from September 17 – December 10, 2023 at the Carleton University Art Gallery, located in the St. Patrick's Building at the north end of campus. Admission is free and all are welcome.
Tuesday, September 26, 2023 in Art Gallery, Events, Indigenous
Share: Twitter, Facebook