By Ellen Tsaprailis
Photos by Chris Roussakis
Carleton University's Homecoming extravaganza has wrapped up with 10,000-plus alumni, students, staff, faculty and members of the Ottawa community joining in to celebrate the university's 75th anniversary at dozens of events.
Throwback took on a special feel this year with the birthday bash, where people were delighted with a 50-foot Ferris wheel, inflatable obstacle course, the Chemistry Magic Show and carnival fare. Mayor Jim Watson joined in the fun, along with Ontario Attorney General Yasir Naqvi and Carleton President Alastair J.S. Summerlee.
Ravens Fans Were Out in Full Force
The annual Homecoming football game, fought this year against the Waterloo Warriors continued the festive spirit on campus. Despite a tough defeat with a score of 45-43, Ravens fans were out in full force cheering on an exciting game and supporting their team.
The Carleton community also gathered to applaud some high-profile graduates at the Great Grads, Good Deeds: We're Here For Good Celebration 2017.
The event featured Christopher Braeuel (MA/00) from Veterinarians Without Borders, Stanford Law School Executive Director Mehdi Hakimi (BAHons/09), Hnatyshyn Foundation Chair Victoria Henry (MA/93), entrepreneur Jingming Li (MEng/83), Nanos Research CEO Nik Nanos, who is also vice-chair of Carleton's Board of Governors, Oxygen Capital Chair Mark O'Dea (BSc/89), and Deborah Tunis (BJ/73) special co-ordinator for Syrian Refugee Resettlement at Immigration, Refugees and Citizenship Canada.
To cap off the weekend festivities, a Terry Fox Run geared toward families and the Carleton community was held on campus and Colonel By Drive, where hundreds of participants walked, ran or cycled either one, five or 10 kilometres. Organized by the Carleton University Terry Fox Club and the Ottawa Terry Fox Committee, it raised $235,000 for cancer research. Participants heard hopeful stories before the run from a young adult cancer patient and a doctor from the Terry Fox Research Institute about new treatments that have been approved.
Held from September 13 to 17, Carleton's fifth annual Throwback included several other events highlighting graduates and departmental accomplishments. Starting off the five-day event was Olympic gold medalist, human rights activist and FASS alumna, Waneek Horn-Miller, who delivered a lecture on free speech on university campuses, while alumnus author Ryan North showcased his Choose your Own Adventure Romeo and/or Juliet book.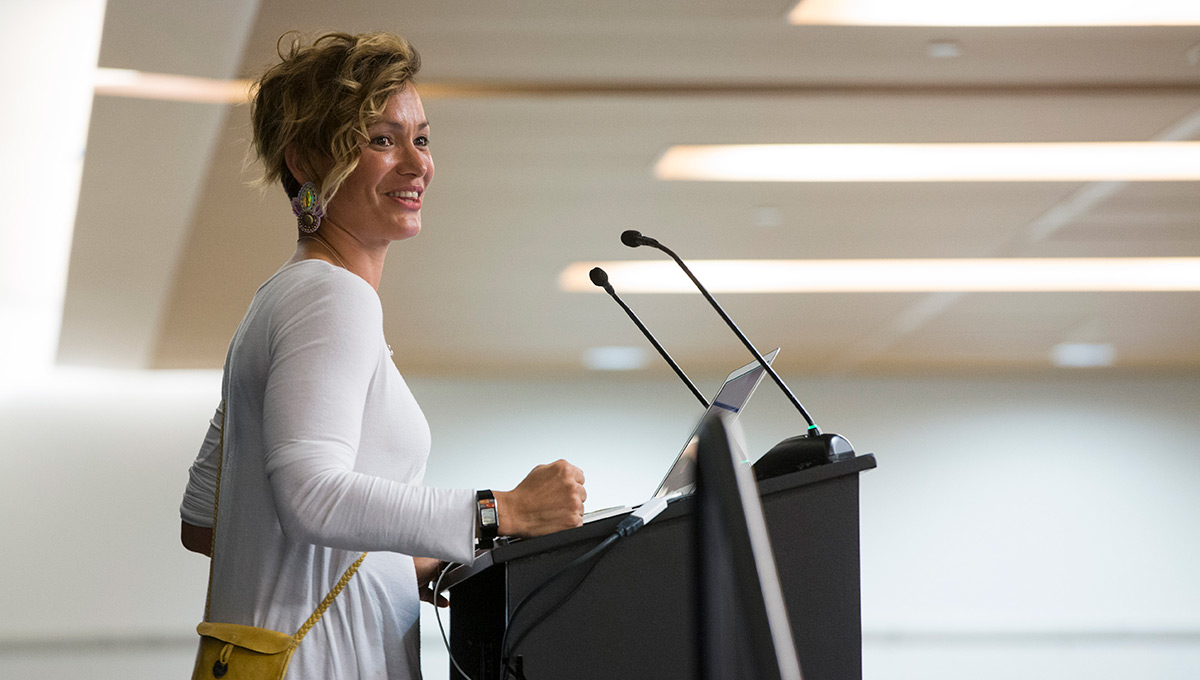 Throwback: Highlighting Graduate and Departmental Accomplishments
Carleton's Faculty of Science had a lot to celebrate during Throwback and held their annual Science Student Alumni Mixer. The Department of Biology, School of Mathematics and Statistics, and Department of Physics all celebrated their 65th anniversary this year and the Department of Chemistry celebrated its 70th anniversary.
Award-winning economics journalist Gregory Ip of the Wall Street Journal was invited by the Faculty of Public Affairs to give the annual FPA Currents Lecture. His talk, entitled "How Resurgent Nationalism is Reshaping Economics and the World," drew a packed house in Richcraft Hall.
Prior to the Currents Lecture, many of FPA's 75 for the 75th alumni gathered for dinner in Richcraft Hall to reconnect with old friends and professors or meet each other for the first time. The group was welcomed by President Alastair Summerlee and FPA Dean André Plourde.