By Joseph Mathieu
Photos by Fangliang Xu
A new group of Carleton University students just aced their final exams.
They sat and came on command, politely accepted petting and ignored distractions. Six dogs—with the help of their handlers, who are all Carleton faculty or staff—officially passed the Canadian Kennel Club's Canine Good Neighbour test on Sept. 12, 2019 and became the latest Carleton Therapy Dogs.
"Our truly unique therapy dog program has become emblematic of the wide range of initiatives and support mechanisms to foster mental health and well-being," says Carleton President Benoit-Antoine Bacon.
"With six new dogs and their wonderful humans joining the program, there will be a Carleton therapy dog 'in office' essentially every day."
The program is run by Shannon Noonan, a special project officer for the Office of the Vice-President (Students and Enrolment). In 2016, Noonan brought her Great-Dane/pointer named Blue into campus residences. Students who met Blue overwhelmingly reported feeling less stressed, comforted by the dog and supported by the dog handler.
One of those students was Giovana Link, who moved to Ottawa for the 2016 fall term to study neuroscience and mental health. It's a 20-hour plane ride from Porto Alegre, Brazil, and that distance felt even greater when she faced the cultural and language differences.
Link was living in Glengarry House when she heard about Blue, a curious but relaxed dog. His two different eye colours—one brown, the other baby blue—give Blue an inquisitive look, and Link went to see him every week.
"I just missed home a lot," she says. "Winter was tough. I would wake up, walk through the tunnels, go to class, come back. I was a little bit sad. But after 15 minutes with Blue I wouldn't worry about anything."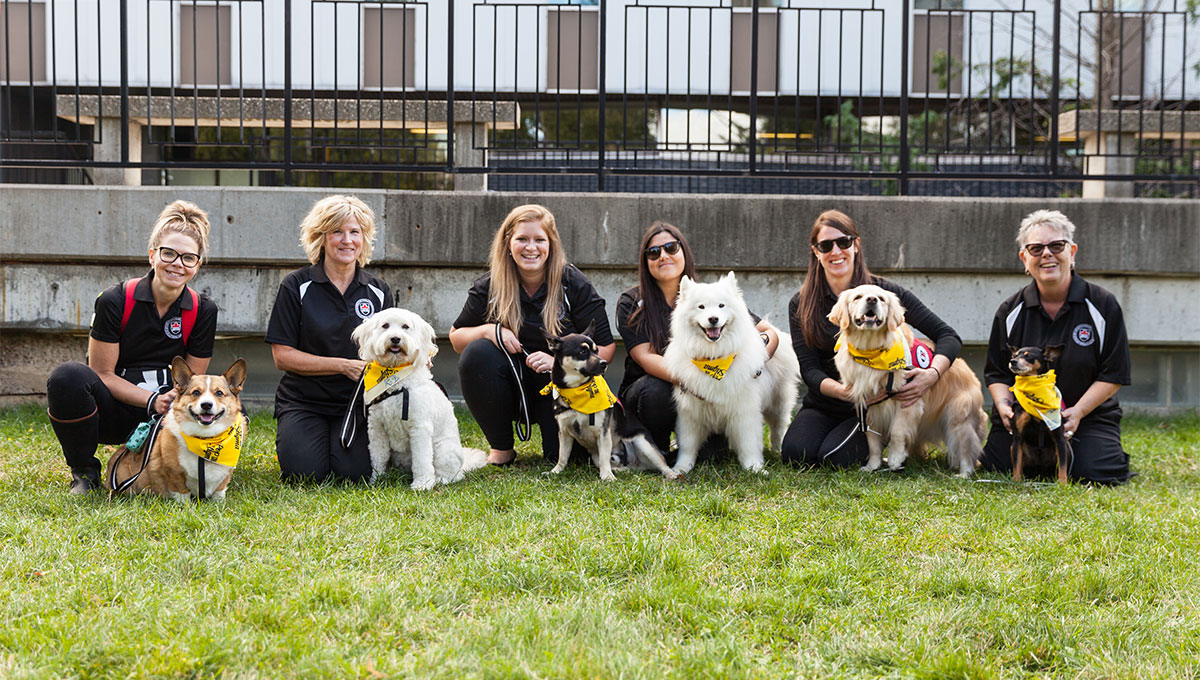 Therapy Dogs on Call
The following year, six other dogs joined Blue, and now there are 13 therapy dogs on call.
Animal-assisted intervention is designed to help people of all ages who face challenges with physical and mental health. Formal animal-assisted therapy usually has defined treatment goals, whereas the interactions with Carleton Therapy Dogs are classified as animal-assisted activities. The sessions are drop-ins and have no formal treatment goals.
More than 1,700 Carleton students visited with the therapy dogs last year. Weekly office hours for the 13 dogs have been assigned throughout this academic year.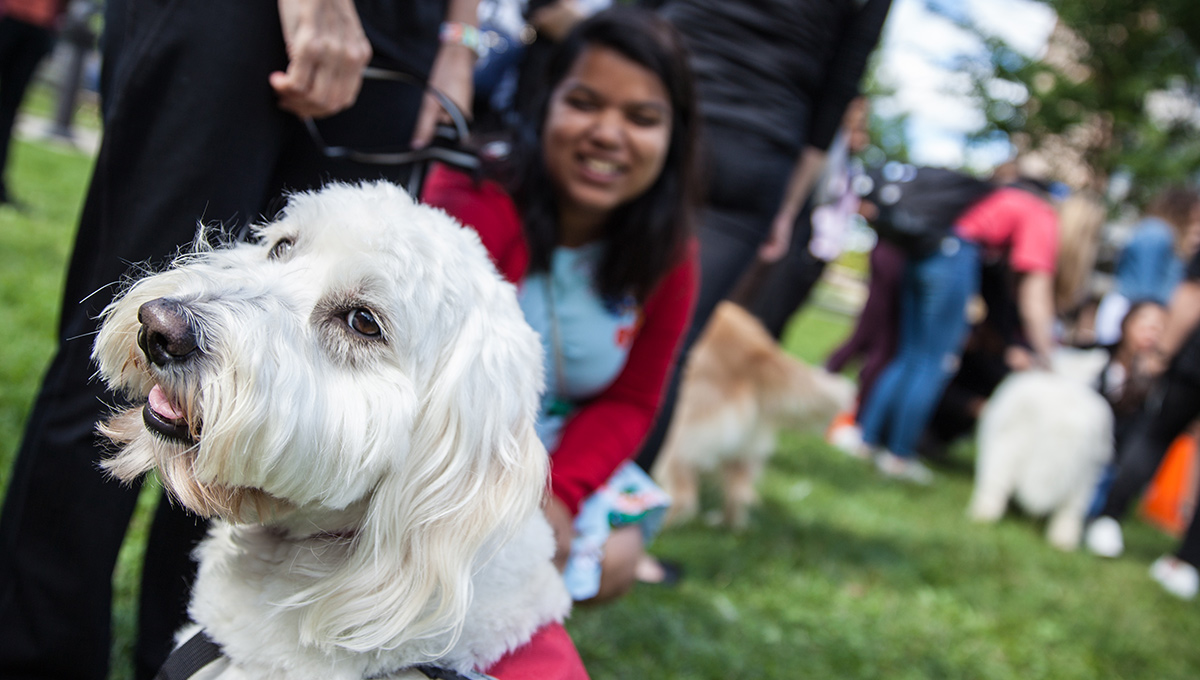 Most Thursdays from 1 p.m. to 2 p.m., miniature golden doodle Sophie will be in Paterson Hall's Department of Philosophy, where her handler Sandy Kirkpatrick is departmental administrator. Athena the Samoyed and her owner Alysha Cunningham, a University Secretariat communications officer, will be in the MacOdrum Library main floor most Tuesdays over the lunch hour.
Having more dogs means more service, but the extra paws make it easier for handlers to share the work.
Tracy Saxton, a financial aid administrator, first became aware of Carleton Therapy Dogs when a student who spent time with Blue saw a picture of Saxton's dog Moose on her desk.
After some discussion with Noonan, Saxton decided her corgi should try out.
"Moose has really been enjoying learning new things and interacting with all the students," she says.
"It's so nice to see how happy he is, so I know I'm not forcing him into this. This is something that he's excited about."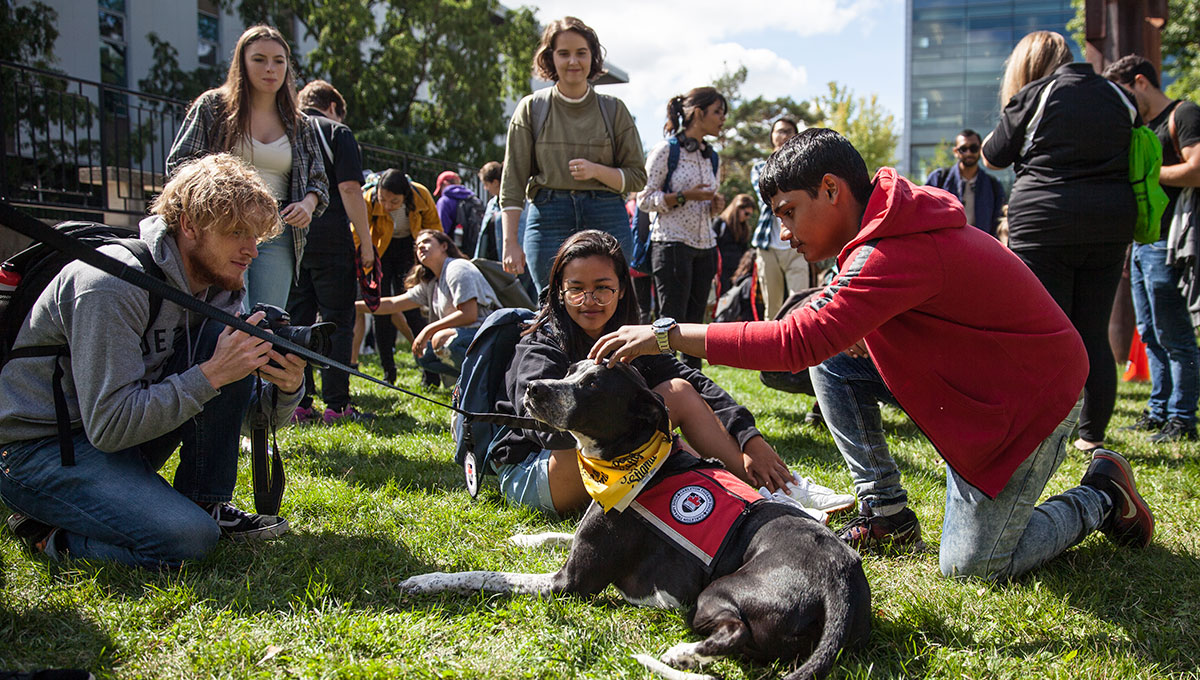 Temperament, Testing and Talent
According to Noonan, a good therapy dog needs three things: temperament, testing and talent.
"Talent differs from temperament since a dog can be very calm, but they might not enjoy the work," says Noonan.
"These dogs get an inherent reward from being therapy dogs."
Time spent with therapy dogs can help people relax. Students say the calm and welcoming presence of a companion animal helps them cope with feelings of loneliness, stress and homesickness.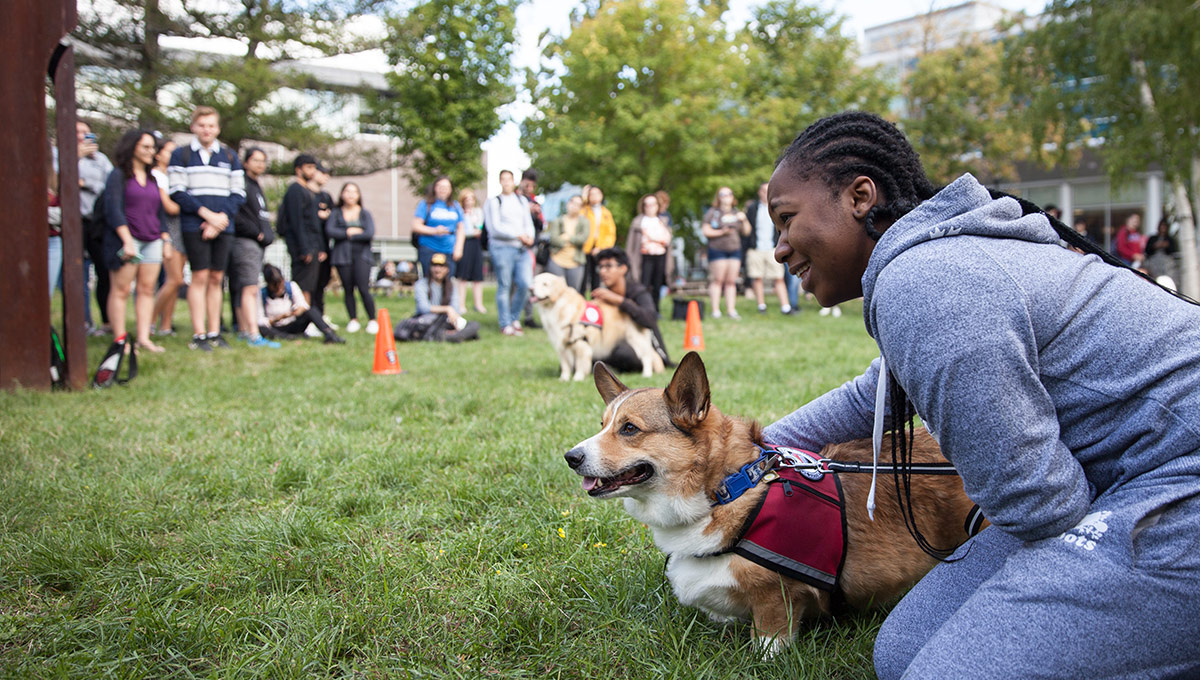 Canine therapy can also help those with social anxiety disorder. Being judged, becoming the centre of attention or accidentally offending someone—these perceived dangers can dissipate in the presence of a friendly dog.
Overall, the research combined with reports from Carleton students suggest the dogs create a non-judgmental atmosphere which reduces the stigma around asking for help. It's Noonan's hope that the dogs can contribute to a more comfortable and safe environment for anyone to reach out and seek support.
Students feeling overwhelmed by classes or assignments can put aside their worries for at least a little while. They shouldn't wait until mid-terms to visit with a therapy dog, according to Adeeb Nasta, a fourth-year biology student.
He forgot about his upcoming class that Thursday morning as he spent half an hour in the Quad, meeting all six new dogs and spending time with his favourite, Murphy.
"I don't have a family dog, unfortunately," says Nasta.
"But we have campus dogs and that's like a second family."