By Tyrone Burke
Photos by Chris Roussakis
"No one person can possibly be all things to everyone. Being conscious of filling in the voids in the team around you is critical," says Tessa Virtue.
At the 2020 edition of the SOAR Student Leadership Conference, the five-time Olympic medallist shared her vision of leadership with Carleton students during a fireside chat in Southam Hall.
"And so is having a keen sense of purpose. It's easy to get lost in the everyday details and the day-to-day pursuit of a goal, and overlook the long-term perspective."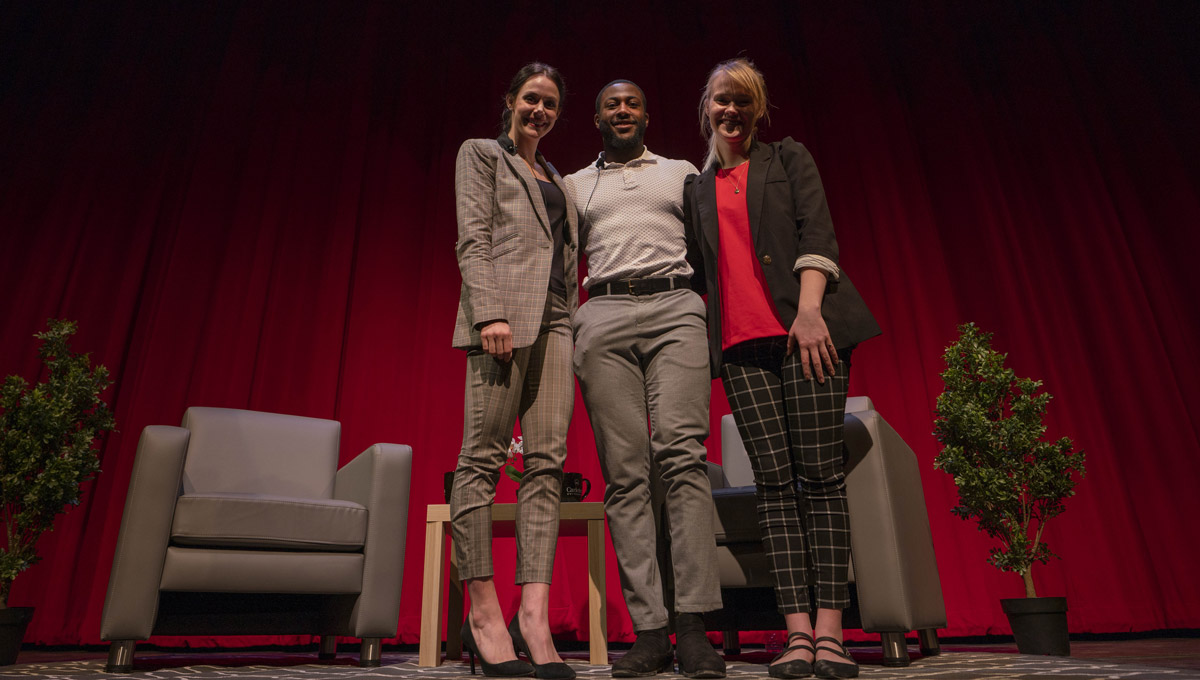 Students Learn from Tessa Virtue's Experience
Tessa Virtue knows a thing or two about long-term goals. For nearly 10 years she was at the pinnacle of her sport. With her ice dance partner Scott Moir, Virtue won three world championships and skated in three Olympic Games. Virtue and Moir bookended their Olympic career with ice dance gold at the Vancouver Winter Olympics in 2010 and at the 2018 Winter Olympics in Pyeongchang, South Korea.
Their career was a run of sustained excellence, but it wasn't an unbroken string of successes. To get to the top – and stay there – Virtue and Moir had to adapt.
"We weren't always number one. And that drove us in itself — that constant pursuit for greatness," says Virtue.
"Each and every year, there was untapped potential.  It was always invigorating and refreshing at the onset of a season, when there was a carte blanche, and we could figure out what kind of team we wanted to be.  We always tried to reinvent ourselves. There was always room for improvement, and — maybe most importantly — room for change in how we approach our sport."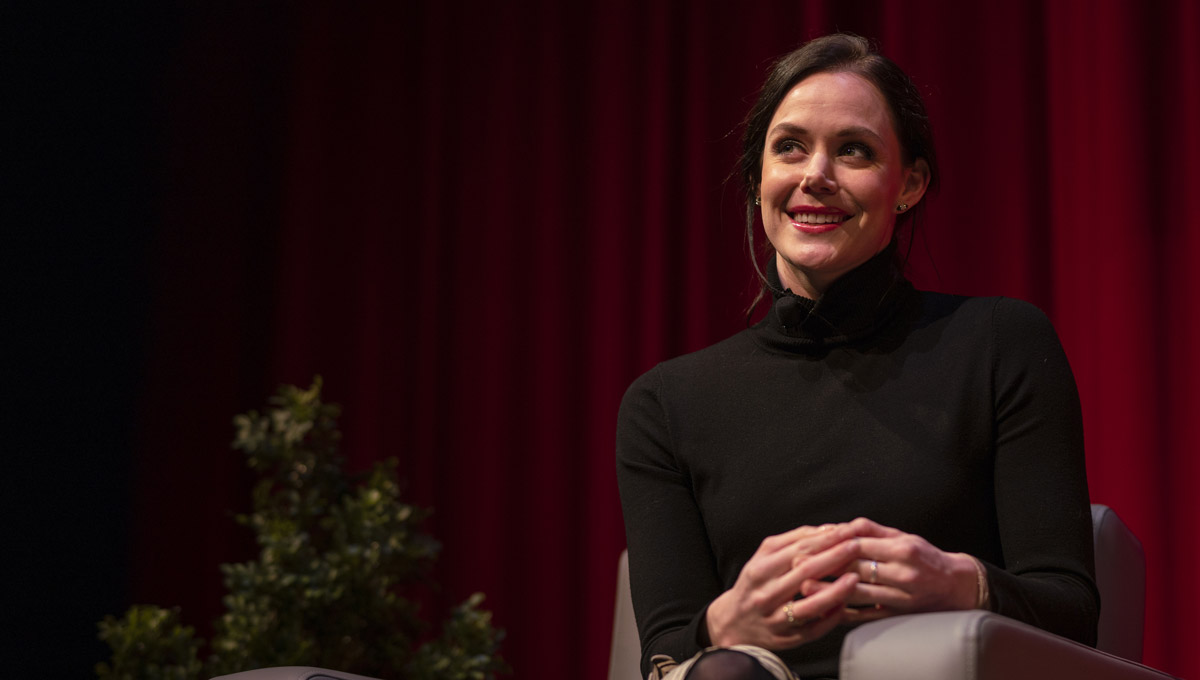 Incorporating Data into an Artistic Sport
Their artistic vision evolved throughout their career, and the tools they used did too.
"By the end, we were measuring our brainwaves every day and wearing shirts that monitored our energy output, breathing and sleep patterns," Tessa Virtue says.
"Data and sophisticated scientific research were being incorporated into this totally artistic and subjective sport. That became a new passion for us. We grappled with the idea of how we can continue to push the bar."
We live in a time of profound change, and it isn't only technological.  At this year's SOAR student leadership blitz, Jaime discussed social change – and how we can all help make space for each other's differences.
"As a leader, the most powerful thing you can do is share your story, in order to give others the space to share theirs," Jaime says.
What Leadership Means to Students
In December 2017, Jaime Sadgrove came out as non-binary, and during the leadership blitz, shared some aspects of the experience. Jaime was one of four students who gave a three-minute presentation about what leadership means to them, and after taking a tally from the audience, Jaime was selected as the audience favourite.
"It wasn't easy and sometimes it still isn't," Sadgrove says.
"There was the time my mom told me that if I got in trouble, she might have to still call me by my legal name. Or the time a student ripped down the poster about gender identity hanging across from my wall, and left all the others up."
But people have the capacity to change – and we can all be better for it.
"My mom is now a fierce defender of my community, and when the Progressive Conservatives in Ontario passed a motion to classify gender as biological, the student who tore down the poster left the party,'' says Sadgrove.
"He told me he needed to stand for a community that he'd come to understand and advocate for. I tell you this not to make a political statement or to change anyone's mind. My hope is that the next time someone who isn't like you asks to tell you their story, you'll listen."
Monday, January 20, 2020 in Student Experience
Share: Twitter, Facebook