By Dan Rubinstein
Photos by Rob Lloyd
Susan Menchini got a dog recently, a Bernedoodle named Jonathan.
"He's the cutest thing ever!" she says.
He's also the reason she leaves the office at a decent hour most days, taking Jonathan for a walk before eating dinner and then, not infrequently, sitting down to do more work.
Having a dog enforces a modicum of work-life balance for somebody with a very demanding job, and as the deputy director of tour and scheduling in the Office of the Prime Minister, Menchini wouldn't have it any other way.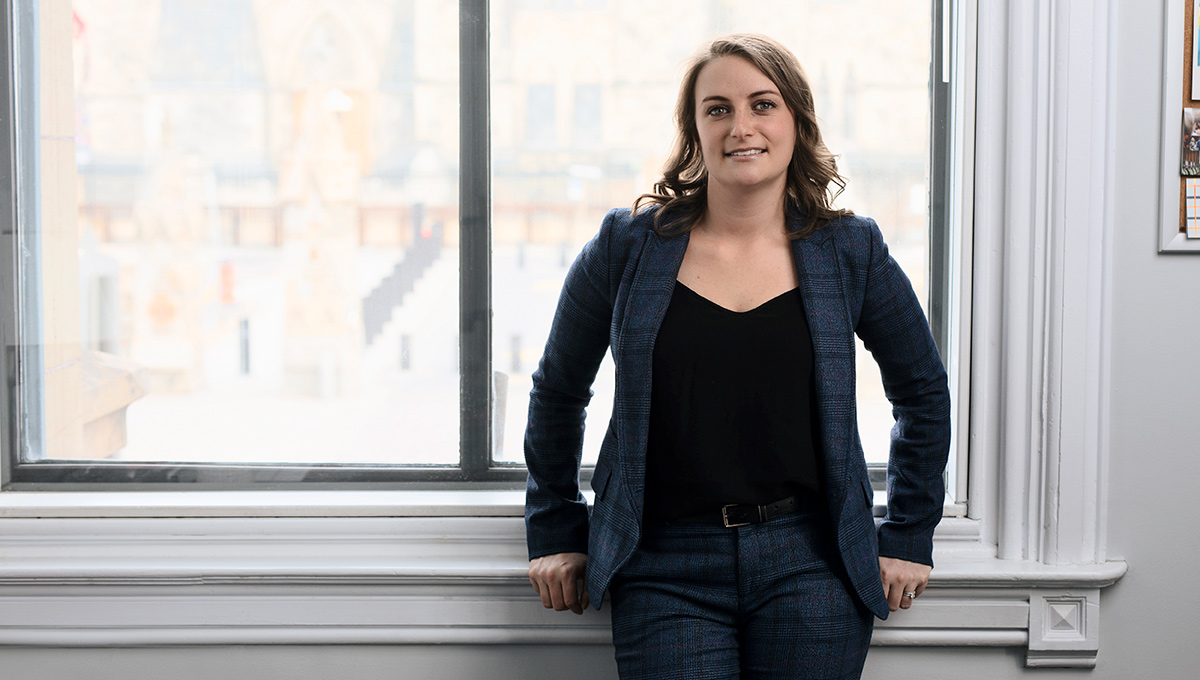 Life in the Office of the Prime Minister
"It's pretty intense, but it's the experience of a lifetime," says Menchini, who graduated from Carleton University with a BA in 2011, majoring in Communication and Media Studies with a concentration in Image, Politics and Persuasion.
"In this role, we plan each and every event with the prime minister very carefully. We plan out every aspect, approve visuals, co-ordinate media movements and execute it. And then I carefully watch every event to ensure that our plans are working."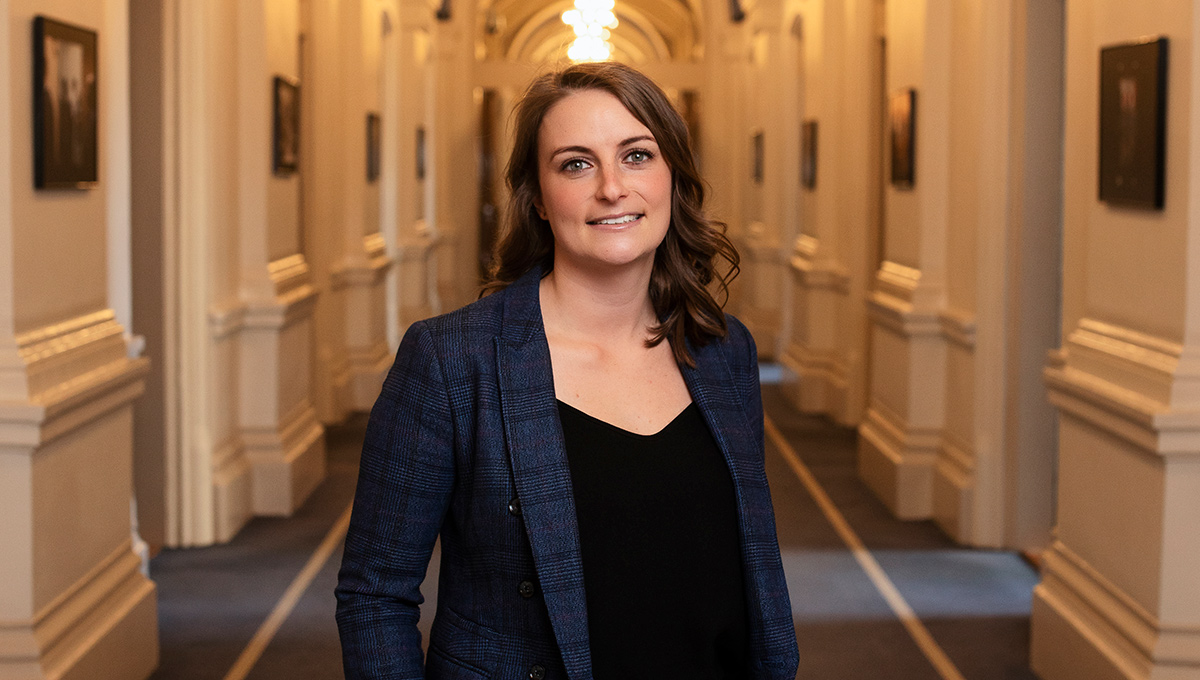 From her corner office on the ground floor of 80 Wellington Street, with windows that look onto East Block and the Fairmont Chateau Laurier to the north and the National War Memorial and Senate of Canada Building to the east – and CBC news on mute on a screen in the background – Menchini leads a team of 11 people responsible for ensuring Justin Trudeau's meetings and public appearances come off without a hitch.
She's been in this role for about a year, after working for roughly two years as part of the tour and scheduling office's advance team, which entailed a lot more travel, accompanying Trudeau  to stops in China, Japan, Italy, Germany, New York City, Washington, D.C, and all across Canada.
There's a picture on her office wall that was shot in the Oval Office, when she joined Trudeau in the White House for a meeting with U.S. President Donald Trump.
"It's been a wild ride," says Menchini. "I can't believe I'm part of this."
(Photo below by Adam Scotti)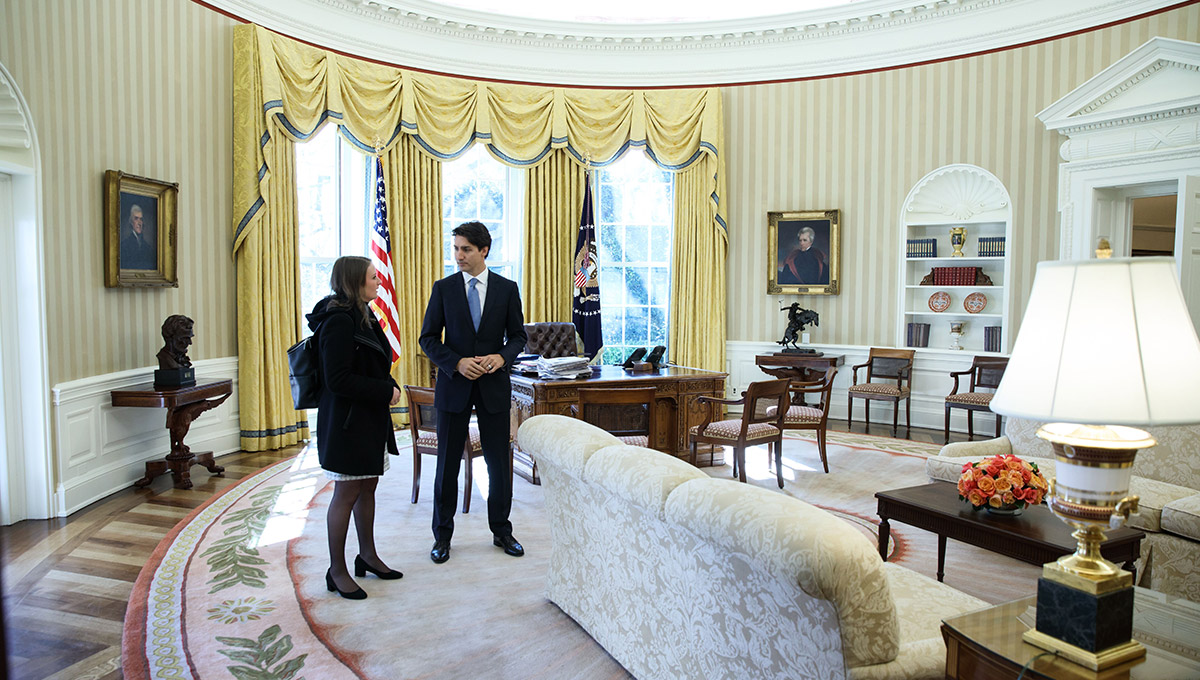 Making Good Use of a Carleton Communications Degree
Scheduling for the prime minister can begin well in advance of an event, especially for complex activities such as an international G20 gathering.
But it can also be a last-minute flurry, like in fall 2016, when Trudeau led a Canadian delegation to Israel for the state funeral of Shimon Peres.
Travel has to be arranged, hotels must be booked, food needs to be organized — even exercise time is planned.
"We help in every way," says Menchini, whose workday usually begins with a meeting of senior officials, including the prime minister's chief of staff and communications director. (She arrives at the office around 8 a.m. most mornings and leaves between 5:30 p.m. and "who knows?)"
When something sensitive or controversial is afoot politically, Menchini and her team have to be extra flexible — and ready to respond should a new event be scheduled or a planned appearance cancelled.
That's where her Communications degree from Carleton comes in handy.
"We need to be able to communicate the government's message through events," says Menchini.
"We need to understand what the government's policy is, what the communications strategy is, what the big issues are, and mesh that with all of the logistics."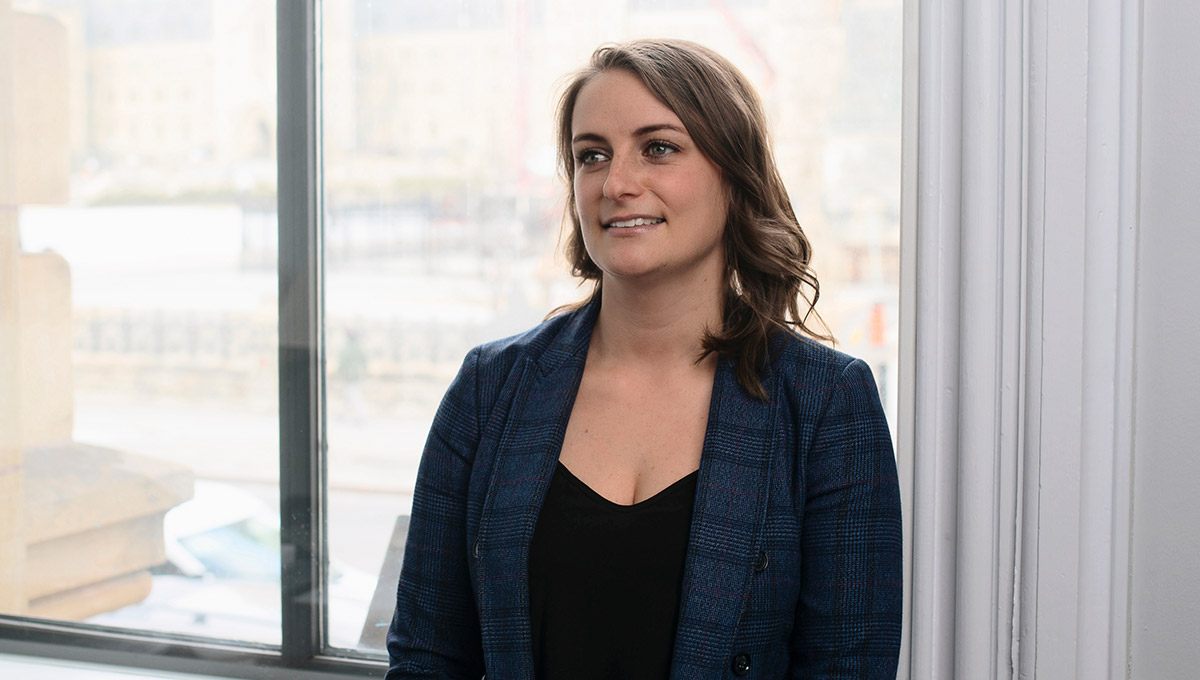 The Importance of a Good Support System
Born and raised in Ottawa, Menchini says she enjoyed her classes and professors at Carleton, and the warm and welcoming campus community.
Her only regret is that she waited until her final year to try out and earn a spot on the Ravens women's varsity soccer team. It was such a great experience that she wishes she had done it sooner.
After graduating, she worked as a data processor for the City of Ottawa, then earned a graduate certificate in Public Administration from Toronto's Humber College, which helped her land a job as a communications and events co-ordinator with the Ontario government, in the energy minister's office, where she found her passion for scheduling events.
That led to a tour planning role with former premier Kathleen Wynne's office and an offer to join Trudeau's team during his campaign for the federal election in fall 2015, which brought her to where she is today.
Menchini's parents are "unbelievably proud," she says, and her husband, Sprott School of Business graduate Dave Chrystal, "has been a rock, especially when I was on the advance team and travelling all around the world and never at home. It is so important to have a good support system, especially in a job like this."
Keeping a journal helps Menchini remember the whirlwind of her working life — "it's so busy, I forget what I had for breakfast some days," she says — but she doesn't mind the demands.
"I'm very focused on the doing the best I can in this role, for my team and for the prime minister," she says.
Wednesday, May 8, 2019 in Alumni, Faculty of Public Affairs
Share: Twitter, Facebook