By Dan Rubinstein
Photos by Curling Canada/Michael Burns and Chris Roussakis
They were a pair of five-year-old girls drinking hot chocolate and chatting after curling together for the first time, but even at that extremely young age, Rachel Homan saw something special in her new friend.
"I could tell right away how competitive she was," Homan, who will skip the Canadian women's curling team at the upcoming Olympic Winter Games in Pyeongchang, South Korea, says about her longtime teammate, Carleton alumnus Emma Miskew.
"When we started curling in tournaments against much older girls, she took it very seriously. Emma brings so much to the game, with her dedication and love for the sport. I'm so thankful that we were able to grow up together, and we wouldn't be where we are without her."
Where they are, in addition to representing Canada in the international spotlight, is a team that's heading to the Olympics as the reigning world champions after posting a perfect 13-0 record last year at the World Championships in Beijing. They're also three-time national women's curling champions, winning the Scotties Tournament of Hearts in 2017, 2014 and 2013.
"The Olympics are something we've all dreamed of being part of since we were kids," says Miskew, who's the "third" — or second-last curler — on Team Homan, which is based out of the historic downtown Ottawa Curling Club.
"Even watching them on TV, I get goosebumps. It still feels surreal. But it will be real very soon."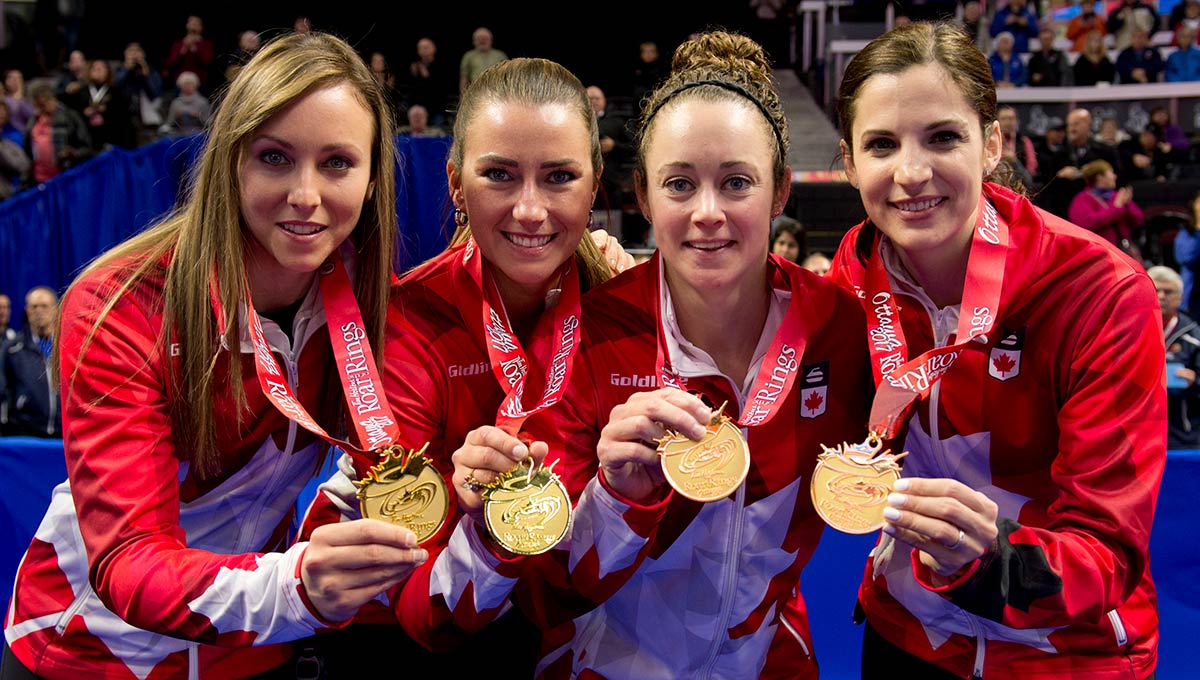 A Sport that is Social and Competitive
Although Miskew and Homan met when they were in kindergarten, they didn't become teammates until the ripe old age of 11. A year later, they were taking on national junior teams comprised of 19-year-olds in international tournaments.
"Rachel and I are like sisters," says Miskew, who, like Homan, comes from an Ottawa curling family.
"We help each other out on the ice and off, especially when things are stressful."
Now 28, Miskew has vague memories of her first time throwing smaller junior rocks. She fell in love with the sport because it is both social and competitive.
"I've always been a competitive person," she says, "and I like pushing myself to be better. Initially, I didn't enjoy practising as much as games, but now I know that's an important part of our development and success."
Balancing Academia and Training
Miskew graduated from Ottawa's Brookfield High School and, in 2007, enrolled at Carleton for the university's Bachelor of Industrial Design program, drawn to the opportunity to work with both graphics and three-dimensional objects.
"Her mother introduced her to the program when she was in high school," explains a Faculty of Engineering and Design profile published in 2014.
"Miskew thought it was a perfect fit because it combined her longtime interest in art and drawing, and her ability to analyze products and figure out how they can be improved."
She enjoyed her five years hunkered down studying and working in the Mackenzie Building, and recalls that professors were very accommodating of exam and assignment scheduling requests necessitated by her travel and training demands.
"They understood that I wasn't going away just for fun," says Miskew. "People understand the benefits of sport, which is good not only for personal well-being but also national pride."
Miskew landed an internship and, after graduation, a job with the Senate of Canada's interior design department — an interesting period as the Red Chamber was being prepared for its impending major renovations.
But she increasingly had to take unpaid leave from her position at the Senate to curl, so Miskew left the job and launched a freelance design business, which she plans to scale up after the huge time commitment of the Olympics.
To date, Miskew has worked on design projects ranging from display cases to logos, business cards, posters and ads.
She also worked with curling apparel and equipment company Goldline to design the look of the uniforms that Team Homan will be wearing in Pyeongchang.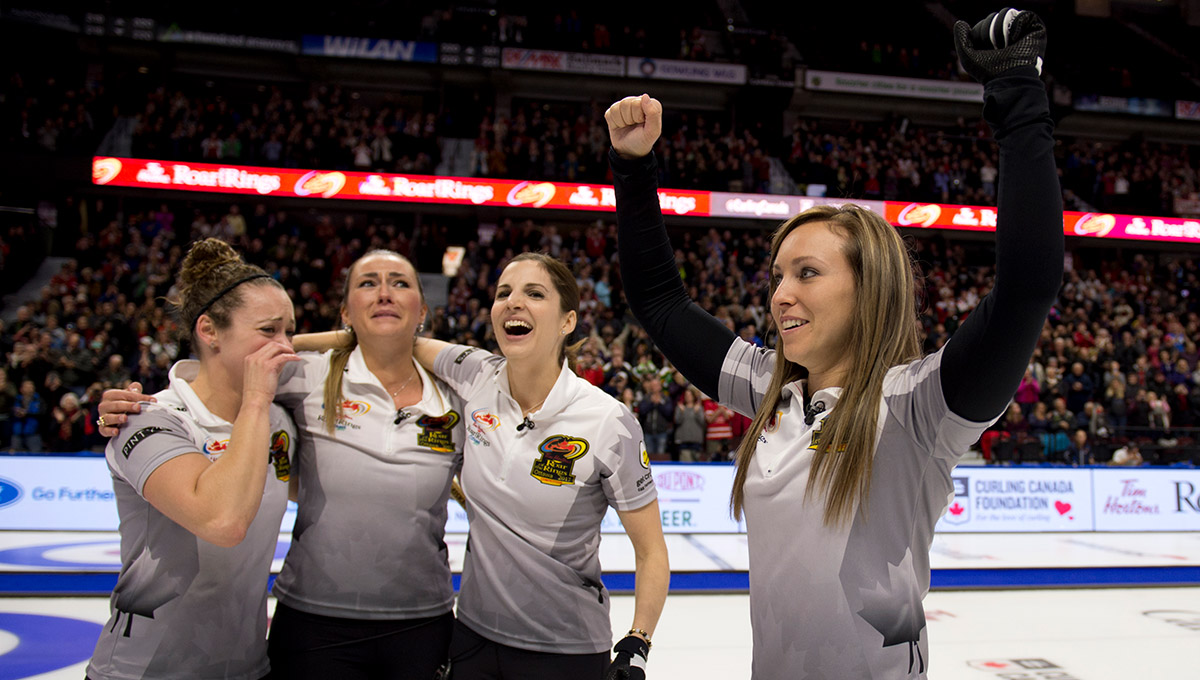 Looking Ahead to their Olympic Curling Debut
Despite their already extensive international experience, Miskew says there are nerves as Team Homan gets ready for its first draw against the host Republic of Korea on Feb. 15 at the 3,000-seat Gangneung Curling Centre.
"There's going to be pressure," she says, "but that comes with the Olympics, and we wouldn't be doing this if we didn't have the ability to respond. Really, we just need to play our game and do the things that make us good."
That means, for Miskew, not only making her shots and sweeping effectively, but also strategizing and communicating information to Homan when it's the skip's turn to throw each end's final two rocks.
"Emma has a lot of responsibility on the ice," says Homan. "Sometimes, we only have seconds to make a crucial decision. Team chemistry makes a big difference, and that's certainly an advantage we have because we've been curling together for so long."