By Joseph Mathieu
Photos by Mike Pinder
Shortly before Francine Harris began her Master of Arts at Carleton, she suffered a head injury that triggered chronic migraines.
"On bad days I couldn't do anything, and on good days I tried to cram it all in," said Harris, who experienced about 25 migraines a month. "But that just led to more bad days."
That was in 2013, after the Corner Brook, N.L., native had received a Bachelor of Arts, highest honours in English, with a minor in Communication Studies from Carleton. She'd always felt at home in the university's English Department and wanted to continue her education, but decided to take a leave to learn to manage her new illness.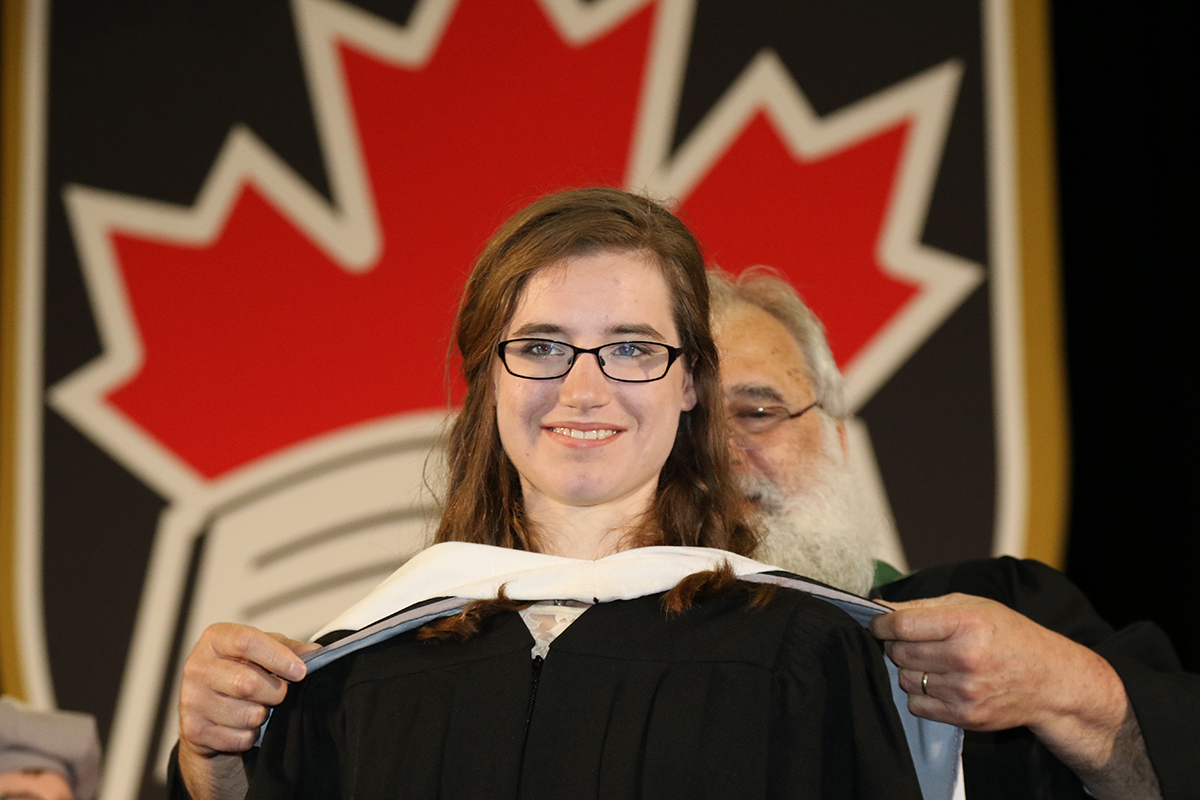 Learning to Let Go
Time off tempered her expectations and made her a bit more realistic, she said.
"I think early on I was bit too much of a perfectionist and I learned to let that go.''
Patience paid off. Harris now lives southwest of Montreal, where she's looking for a teaching job at a CÉGEP, the public post-secondary collegiate institutions in Quebec. She completed her coursework last term, and in April she submitted her MA thesis that examined the themes of disguise, forgetting and memory in two anonymous medieval stories – Havelok the Dane and Sir Isumbras.
"Her thesis demonstrated an impressive mastery of medieval theories of memory as well as of heroic tales written in English and French between 1200 and 1500," said English Prof. Siobhain Bly Calkin, Harris's thesis supervisor.
Outstanding Academic Achievement
The examiners of her MA defence said it was one of the best theses they had ever examined and it earned her a Senate Medal for Outstanding Academic Achievement.
"It is very difficult to begin a program and then return to finish it years later," said Calkin. "The fact that Francine did so, and with such an impressive academic performance, is a testament to her grit and determination, as well as to her intellectual prowess."
Friday, June 15, 2018 in Convocation, Graduate Students
Share: Twitter, Facebook