By Joseph Mathieu
Photos by Chris Roussakis
For 25 years, special constables have watched over the Carleton University community. They started small and grew over the years.
"We're proud that we have grown with the campus and its needs," says Brian Billings, director of the long-time Department of University Safety (DUS), which is changing its name to Campus Safety Services.
"We recognize our shared responsibility to maintain order while affording dignity and respect to every individual."
The special constables marked the quarter-century milestone on Thursday Oct. 18 with a celebration that recognized the memorandum of understanding DUS signed with the Ottawa Police Service to establish a service on campus.
It was on Oct. 4 1993 that Carleton's first special constables were granted peace officer powers, allowing them to make arrests and conduct certain investigations. They would work with Ottawa police while offering their law enforcement service to the Carleton community.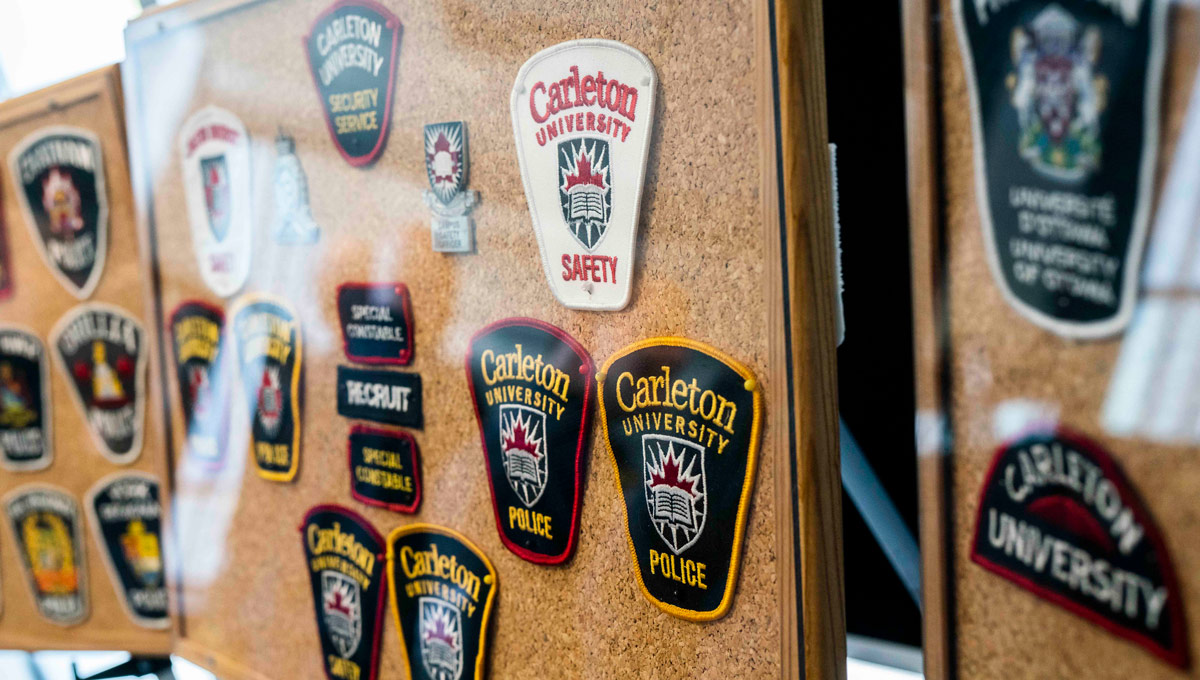 Focusing on the Service's History –  And Its Future
As emcee of the event, Billings welcomed a contingent of retired staff, current constables, and administrators. Past DUS directors Allan Burns and Len Boudreault were on hand, as were Ottawa Police Chief Charles Bordeleau and Deputy Chief Uday Jaswal.
The walls were lined with badges, patches and uniforms, many on display thanks to the family of Alan Parker, an original Carleton special constable who passed away in 2015. Old friends and new colleagues mingled during the event focused on the service's history and its future.
"We've come a long way from our small beginnings, with four special constables being sworn in, to today," said Billings. "Twenty-one special constables, five campus safety officers, four dispatchers, and 40 student safety patrollers."
The glue of the organization's units — technical services, parking services, emergency management and the Carleton University Emergency Response Team (CUSERT) — is a dedicated administrative team, said Billings.
"I know first-hand what a role special constables play on campus, especially when it comes to our young students," said Suzanne Blanchard, vice-president (Students and Enrolment). "They're not only there in terms of enforcement, but in terms of caring for our students and their well-being as they thrive in this community."
Bordeleau congratulated the service on their 25 years and highlighted a strong relationship between the OPS and Carleton special constables.
"Special constables are an invaluable service, not only to campus life, but to our city as a whole," he said. "By responding to calls for service on campus, we know that Ottawa Police Service members know that the matter is being dealt with very appropriately and professionally."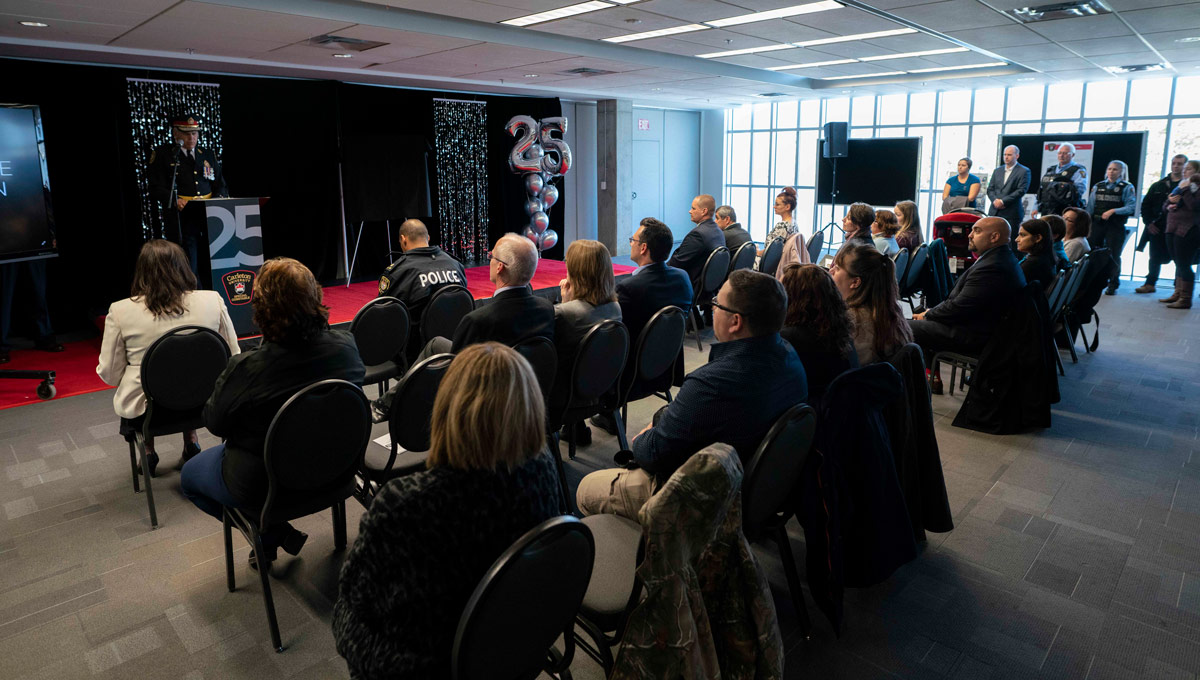 Special Constables Honoured for Commitment to the Community
In recognition of his career in the department, Bordeleau presented a long service certificate to Special Constable Michael Warner.
"Apparently everybody on campus knows Mike," said Bordeleau. "They know about his commitment to serving the university community, whether its faculty, staff or students."
Warner knew at an early age that he wanted to be in this line of work.
"You know when you sort of sit down to think about what you want to do in life?" he said. "I like helping people, and I wanted to have a job where I feel satisfied in doing the best I can in helping and assisting people in their situations."
Warner joined campus security on May 5, 1982, when there were half as many buildings as today. The security service used radios to monitor campus and typewriters to file reports. Warner was one of the first special constables sworn in by OPS in 1993 after he trained at the Ontario Police College in Aylmer, Ont.
"Your approach, professionalism, compassion and empathy that you've shown to students and faculty has made a very big difference," Bordeleau said as he awarded Warner the certificate.
Mark Savenkoff, from the Department of University Advancement, announced that a Campus Safety Services Scholarship of $1,000 will be awarded annually to an outstanding student studying for a BA in criminology or criminal justice.
"We have a number of students who are keenly interested in law enforcement and this is a great way to recognize their skills and talents," said Evelyn Maeder, director of the Institute of Criminology and Criminal Justice.