By Tyrone Burke
Photos by Chris Roussakis
A lot of people were doing double takes during Carleton University's June Convocation. Several sets of twins crossed the stage to receive their diplomas at this year's ceremonies from June 10 through 14. We caught up with three of them. What's it like to go to university with your twin? Read on.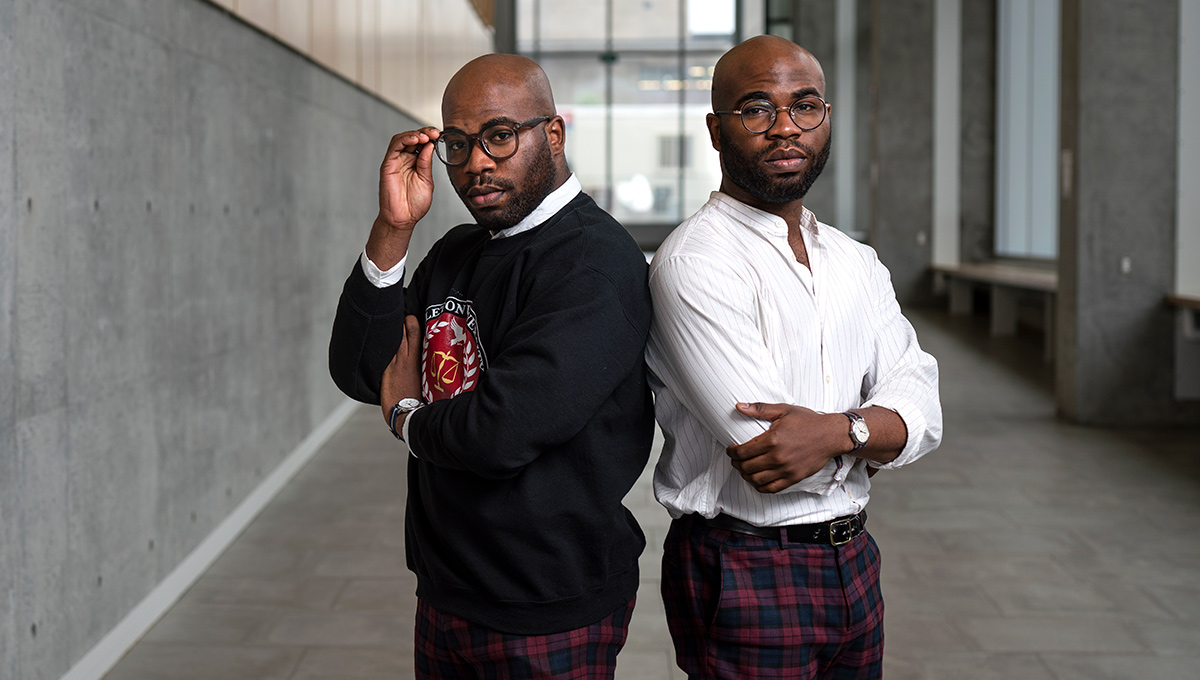 Kennedy Aliu (Sociology and Minor in African Studies with Distinction) and Kenneth Aliu (African Studies and Law and Concentration in Transnational and Human Rights with Distinction)
Even when their high school graduation was fast approaching, Kennedy and Kenneth Aliu weren't planning on attending the same university.
"We always get asked about that kind of thing, but we have very different interests," Kenneth says.
"Kennedy is focused on history and sociology, and my focus is on law. We planned to attend different universities, but we had to consider our parents – we are not their only children."
The Aliu twins have two sisters – who are also twins – and they were already at university.  Kennedy and Kenneth didn't want to make it difficult for their Toronto-based parents to visit, so they chose to attend the same university.
Though Kennedy and Kenneth's academic interests diverged, the brothers both found a home at the Institute of African Studies.
"I was a naïve second-year student," Kenneth says.
"A law major — and I wanted a second focus. I had tried out political science and human rights, but I wanted a richer education and a stronger intellectual base."
Kenneth enrolled in an English Literature class taught by Pius Adesanmi, who ran the institute before he died tragically in a March 2019 air crash. Adesanmi instilled in Kenneth the idea that to understand the world, you must understand Africa.
"Since then, the Institute of African Studies became my home. It's a very tight-knit community. It was very impactful and solidified my stay at Carleton."
As the Aliu brothers prepared to convocate, both were working on applications to law school.
They regularly engage in debate about how to effectively reconcile the strengths of western legal systems with the strengths of Africa's own forms of governance to forge a fruitful path forward for the continent.
But once they hit law school, they won't be seeing each other in the classroom any more.  They don't have the same interests, and won't be attending the same school.
"I'm more into the historical aspect of law," says Kennedy.
"I like to write, but Kenneth, he's more argumentative – he's ready. He likes to debate."
Besides, Kennedy says, "24 years together is enough!"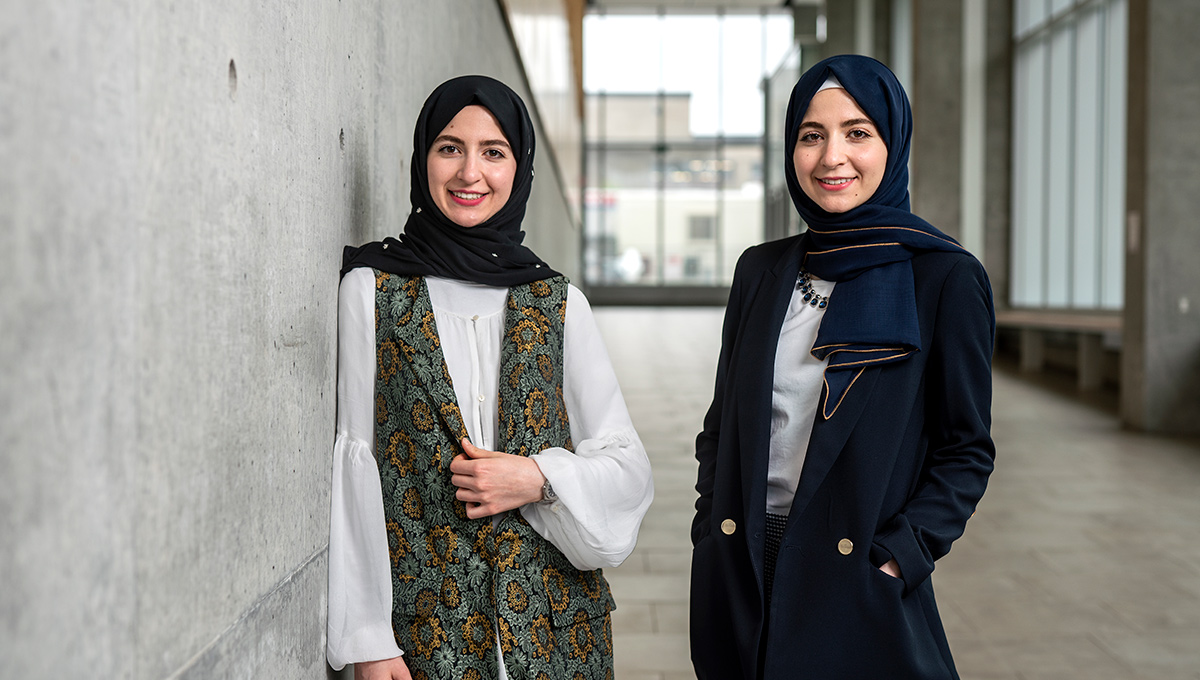 Lama Yassin Kassab (Biomedical and Electrical with Co-op with Distinction) and Leen Yassin Kassab (Biomedical and Electrical with Co-op with High Distinction)
When Lama and Leen Yassin Kassab immigrated to Canada as high school students, they already had Carleton on their minds.
"It's why we chose to move to Ottawa. We knew people who had studied here, and had seen pictures of campus during the summer time – shaped like a heart — and we loved it."
But during their first year at university, the sisters didn't have much of a social life.  They didn't know many other students and were laser-focused on their studies.
"We used to just come to class, go home, come to class, go home. We were just the two of us the entire time, studying. It was hard to meet anyone. It was boring and it was stressful. Then, in second year, we got into an association called Salaam, and it made our life a lot nicer."
Arabic for "peace", Salam shared the strengths of Arab cultural traditions on campus. Salam held an Arabian Nights gala, and donated proceeds to local charities like the CHEO Foundation.  A week-long Arabian Village event held on campus celebrated cultural heritage through food, dance and music.
The twins credit Salaam with beginning friendships they hope will last a lifetime – and with helping them learn to manage a jam-packed schedule. Combined with their co-op placements, it has made them feel better prepared to work in their field.
"The co-op program at Carleton gave us a very good idea of what professional work looks like, and how to interact with professional people," says Leen.
"You get exposed to people that have been working in the field for a very long time, and you learn what you like and what you don't like. For example, I got chronic back pain for sitting down for 16 months at my co-op (placement) . . . and now I know that I don't want a desk job."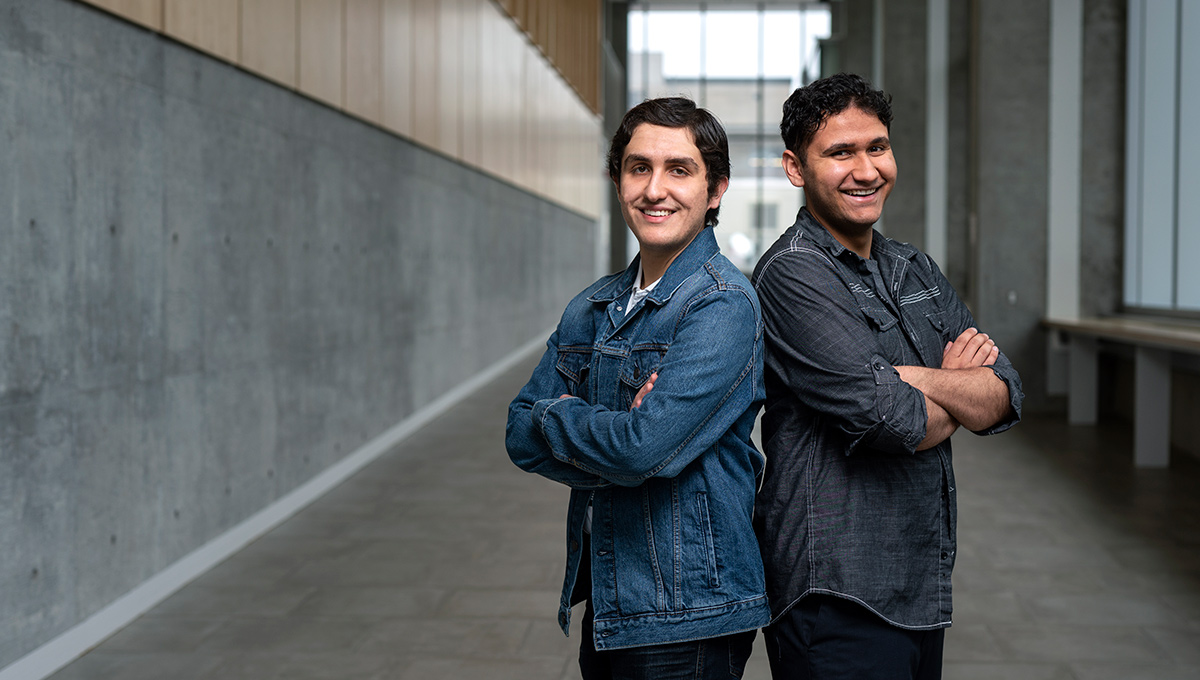 Jalil Aalab (Biomedical and Electrical Engineering) and Jamil Aalab (Biomedical and Mechanical Engineering)
As children, Jalil and Jamil Aalab once lived in an apartment that had a view of the Carleton campus, and they studied in the university's math and computer science enrichment programs while they were in middle school and high school. So when the time came to pick a university, Carleton seemed like the natural choice.
The Aalab brothers enrolled in engineering and, during their first year, they took most of their courses together. But then their paths began to diverge.
Jamil chose to study biomedical mechanical engineering, while Jalil chose biomedical electrical engineering.
"In the biomedical mechanical aspect, we study new tools that can be made to enhance people's lives," says Jamil.
"Like artificial organs and artificial limbs—how different joints move and everything works together to create the human body."
On the electrical side, Jalil is focused more on the electrical and computer systems in devices like MRIs or CT scans. He's hopeful that their complementary areas of study will one day bring their work together as professionals. But for now, the twins are focused on graduating, and on celebrating with their family on Canada Day.
"Graduation is a very important part in someone's life," Jalil says.
"There's a lot of celebration involved in it. So if an individual were to graduate, there's a lot of happiness and felicity, but when you see your family member graduating at the same time, there's a double bonus. You almost have twice as much reason to be happy. Family is the most important thing, and we've done everything together since the beginning. The fact that he's graduating…it feels like I'm graduating as well."