By Dan Rubinstein
Photos by Chris Roussakis
Babur Jahid, a third-year Biology and Health Sciences student at Carleton, has a clear vision for the road ahead.
After graduating, he plans to follow his passion for medicine to Harvard and complete the MD/MBA program. Then he'll return to his native Afghanistan and work with the government to make health care more accessible.
Ultimately, he wants to become the country's Minister of Public Health.
These goals may sound audaciously ambitious, but when you consider the 21-year-old's accomplishments to date — including embracing social entrepreneurship to create a social enterprise that will provide affordable eyeglasses to Afghans — they seem not only within reach but also a pretty good bet.
"I want to use the opportunities I've had to make the world a better place," says Jahid, who arrived in Canada as a refuge via the United States in 2013. "It's my obligation."
You See Clear, the non-profit he created with support from 1125@Carleton's Born Social program, is scheduled to officially launch in Afghanistan by next summer.
Jahid was one of 11 students selected for the first cohort of a fellowship at Carleton's social innovation hub. His plan was to tackle some sort of public health problem with social entrepreneurship.
In Afghanistan, according to World Health Organization estimates, more than 400,000 people are blind and roughly 1.5 million are visually impaired. Each year, about 25,000 people lose vision in one eye, a condition that disproportionally affects women.
Lack of access to eye care limits educational and work opportunities and has an annual economic burden of approximately $100 million, says Jahid. "People lose their ability to earn a living. Afghanistan is a developing country, and this has a big impact on people's daily lives."
The Born Social Fellowship — a four-month, hands-on learning experience that allows students to develop and apply their skills to real-world problems — helped Jahid focus his plan.
By bringing affordable vision testing and glasses to his homeland, he intends "not only to revolutionize vision care in Afghanistan," as his website declares, "but also to return resources, hope and dignity to the people of Afghanistan who have experienced decades of war and instability."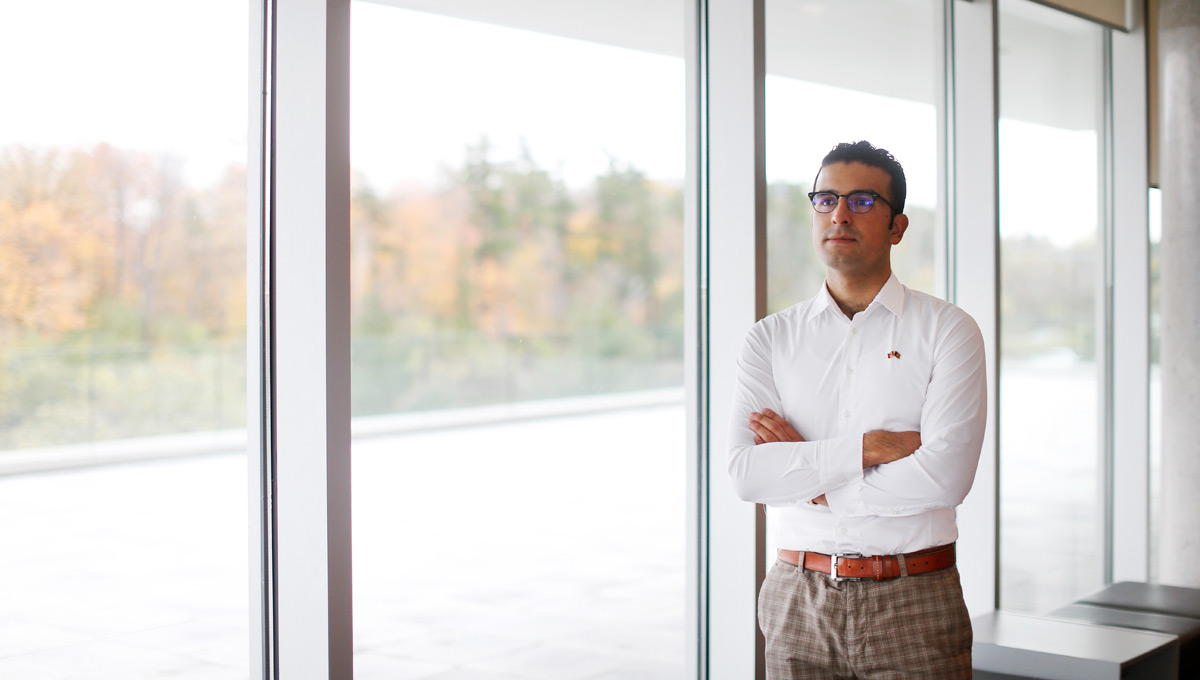 Fleeing Afghanistan
Born in Kabul the year the fundamentalist Taliban took over Afghanistan, Jahid fled to Pakistan with his liberal Muslim family as a child. His father had various roles in the national government and they faced violent oppression.
Jahid saw his father beaten by Taliban militants at a pharmacy because he was trying to buy medicine during a call to prayer. His sister was also beaten while escorting him to school.
In Peshawar, Pakistan, the family lived in poverty, but Jahid's mother, a teacher, borrowed money from her relatives to send him to English lessons.
They returned to Afghanistan after four years, but the country was still dangerous and chaotic, so they escaped again to Pakistan. Back home for good in 2010, an Afghan-American friend of the family told Jahid's parents about an American school in Kabul.
Tuition was expensive — monthly fees were $1,300 U.S., the annual living expenses for a typical family — and most of the students were the children of diplomats and high-ranking government officials. But Jahid earned a scholarship that covered 90 percent of the fees and the family friend picked up the rest of the bill, allowing him to enrol.
"The American school changed my life," says Jahid, who won several academic awards and took on challenging projects, such as a translating Anne Frank's The Diary of Young Girl — he identified with its theme of persecution — from English to Dari. "I began to see education as a path to freedom."
He did not see a future for himself in Afghanistan, however, especially with his family receiving threatening letters from the Taliban. Jahid played the harmonium in a band that did concerts to raise money for an American charity supporting education for women and girls, a risky activity in a country where both music and female education were banned.
So Jahid took advantage of another scholarship and in 2012 moved to Virginia as a visiting exchange student. His mother's father and her three brothers lived in Toronto, and they sponsored his application to come to Canada as a refuge.
After two weeks at a housing facility for asylum seekers in Buffalo waiting for his paperwork to be processed, Jahid crossed the border into Canada on Jan. 1, 2013, and finished high school in the Toronto area.
Friends and relatives had attended Carleton, and he has a cousin in Ottawa. But Jahid was also drawn to the university in September 2014 by the strength of its Biology and Health Sciences programs, and by its many connections to Canada's federal government — a major attraction for somebody with political aspirations.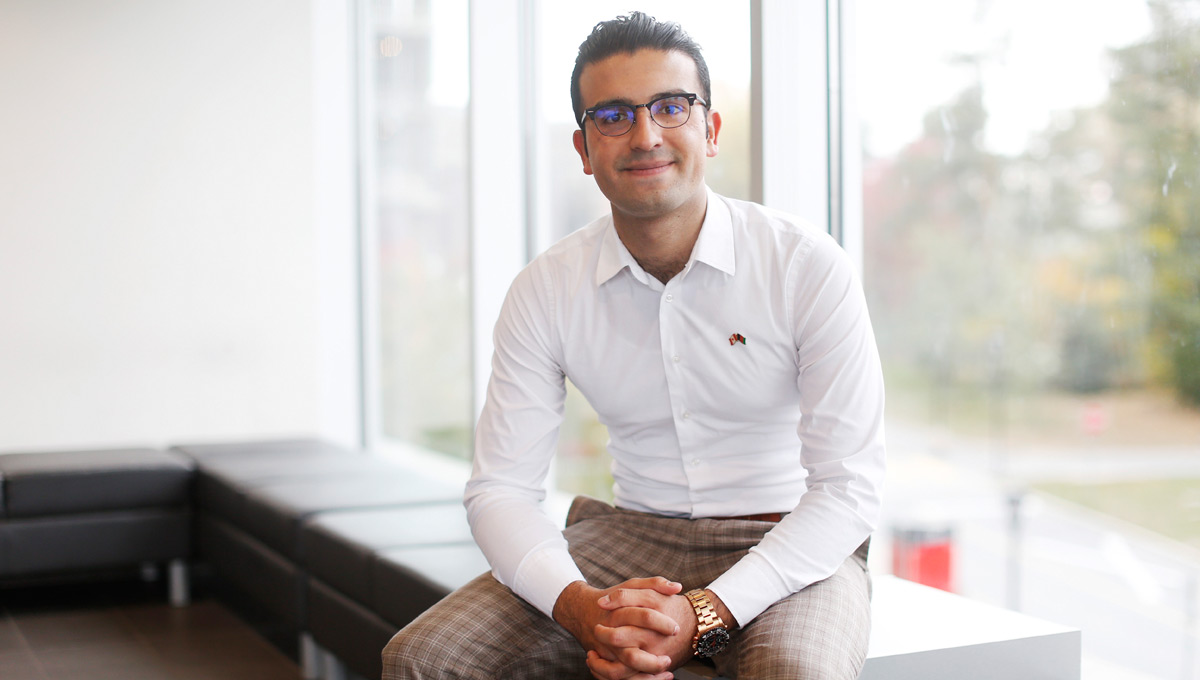 Social Entrepreneurship:
Creating You See Clear
At Carleton, Jahid concentrated on his classes in first year, learning about health policy issues such as the relationship between lifestyle and population health, and about the intricacies of cancer cells in biology courses.
In second year, acting on a friend's suggestion, he got involved with 1125@Carleton, which facilitates collaboration between faculty and student researchers and the broader community on ideas and projects that contribute to building sustainable communities. At the centre, Jahid met Rory Jipp, now You See Clear's executive adviser, who is pursuing a master's degree in International Affairs at the Norman Paterson School of International Affairs.
"I didn't know anything about the world of social entrepreneurship at the time," says Jahid. "Born Social really taught me a lot. If not for this program, You See Clear would not have happened. Carleton is willing to invest in things that help students change the world."
"Babur was remarkably focused on the development of his idea," says Jenna Hobin, 1125@Carleton's community co-ordinator and assistant. "He has gone above and beyond to bring this project to life."
Jahid recalls visiting a group of homeless people with a philanthropist while living in Pakistan. He realized that women need to see to be able to do manual labour, and that kids need to see to go to school. That's why he settled on vision tests and glasses for his social entrepreneurship project.
"When he first came here, it was so motivating," says Hobin. "It's inspiring to see youth driving their ideas forward."
In addition to the workshops and mentorship provided at Carleton, Born Social propelled Jahid into a series of other opportunities, including a 10-week internship this past summer with a Scottish biotech social entrepreneurship enterprise called EuroBiotix CIC through the British Council's Students for Social Impact program.
That internship — which also included time at the University of Aberdeen's medical school, the University of New Brunswick's Pond-Deshpande social entrepreneurship incubator in Fredericton, and the Deshpande Symposium on Innovation and Entrepreneurship in Higher Education in Lowell, Massachusetts — allowed Jahid to network with and learn from more established social entrepreneurs.
It also gave Jahid and Jipp a chance to pitch their idea at an event in late August at Toronto's MaRS Discovery District, where they won the People's Choice Award.
On a roll, Jahid was then sponsored by Carleton to attend September's One Young World summit in Ottawa, where he won the Resolution Project's Social Venture Challenge competition, which provides young people with social entrepreneurship in mind with seed funding and mentorship.
All of these experiences have helped You See Clear form collaborations with a Massachusetts Institute of Technology spin-off, EyeNetra, which has developed a technology for measuring eyeglass prescriptions using a smartphone, and VisionSpring, a New York-based company that partners with other organizations to manufacture affordable glasses for distribution in countries like India and Bangladesh.
"Babur has pulled together two platforms that already existed — affordable vision tests and affordable eyewear — and transformed them into an innovative social enterprise to be based in Afghanistan," says Hobin. "He has taken everything he's been through in this life and turned it into something positive for society."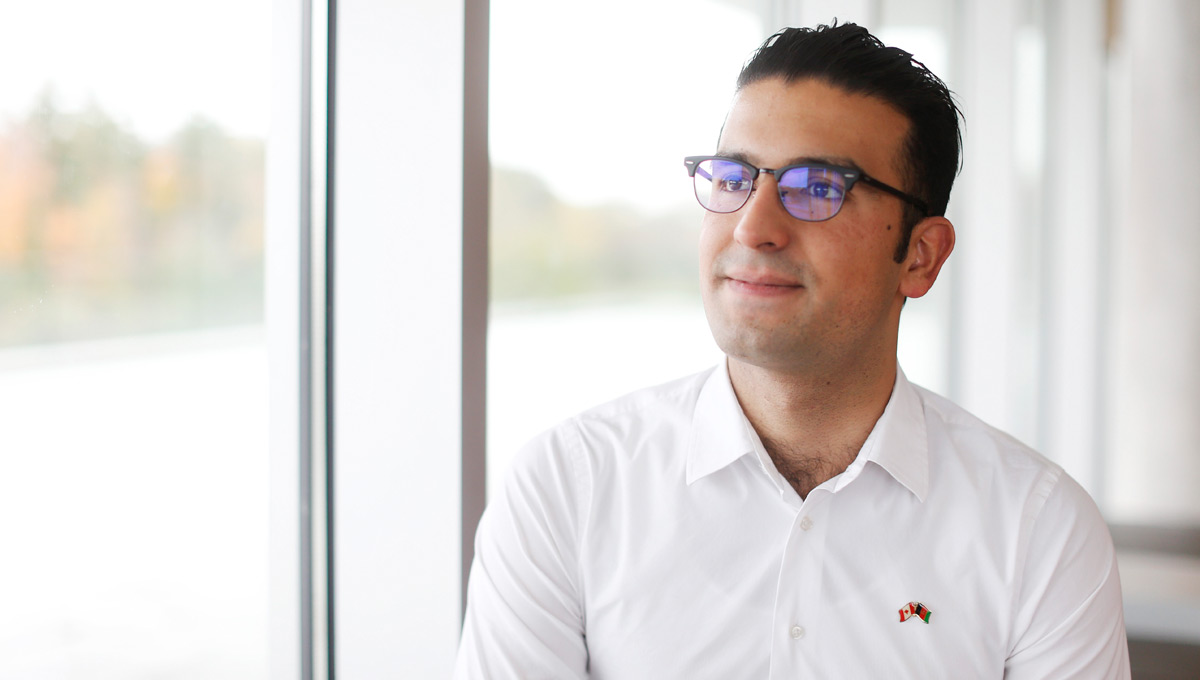 Tackling Global Challenges
The launch of You See Clear will be celebrated with a reception at 1125@Carleton at 5 p.m. on Wednesday, Nov. 23.
After the successes of its Born Social Fellowship, 1125@Carleton is now moving on to participate in The Global Challenge, a chance for students and recent graduates to learn more about the issues they care about, and to present their findings to a broad audience.
"Tackling global challenges with credibility starts with understanding a problem and its wider context, rather than jumping straight into a business plan or an idea for a quick fix," declares the 1125@Carleton website. "Participants in the Global Challenge are asked to demonstrate a deep understanding of a pressing social or environmental issue by mapping out the landscape of the current solutions and identifying missing opportunities for positive change."
The winning team from Carleton will be invited to the Canadian national final competition in March in Toronto and will compete to win a place at the Global Challenge Final at the University of Oxford, where teams will compete for $2,500 in prize money.
Jahid's next step is to raise $20,000 in grants by the end of the year to run a You See Clear pilot project in Afghanistan in the spring. With the funding, he plans to provide 500 pairs of glasses for free.
After that, he hopes to raise $100,000 to set up a clinic in Afghanistan to start doing vision tests and selling glasses. Initially, there will be one location, but his goal is to roll out the service to each of the country's 34 provinces one at a time, and subsequently to other developing countries.
The glasses, which will cost roughly $3 apiece to manufacture, will be sold for around $5. The revenue generated will be used to expand You See Clear's reach.
But even this is just a start for Jahid, who believes that one reason Afghanistan has been mired in war and violence for so long is that people are afraid to challenge the powers that be.
"You See Clear is just a small part of a big vision I have for public health in Afghanistan," he says. "People don't stand up because they're afraid of criminals, the government and fundamentalists. We have to stand up for our rights.
"Fundamentalists want illiteracy, especially among women. People cannot strive toward their dreams if they cannot see.
"Carleton is my home now. I feel privileged and blessed to be here. I could stay in Canada and be safe for the rest of my life. But I have to go back to Afghanistan and try to help change things. If I can be a small part of a big change, I'll be very happy."
Monday, November 21, 2016 in Entrepreneurship, Faculty of Science, Health
Share: Twitter, Facebook