By Dan Rubinstein
Photos by Chris Roussakis
A generation ago, leaders who sought to make our lives healthier, happier and more efficient were hampered by a lack of information.
In areas ranging from health care and environmental management to traffic flow and home energy consumption, the ability to make informed, impactful decisions was limited by what people did not know.
Today, we have the opposite problem. Whether working in government, academia, the corporate world or non-profit sector, officials and analysts are overwhelmed by data.
How to sift through, sort and share information to help facilitate smart and timely decisions amid this deluge was the focus of Data Day 3.0, a symposium with presentations, panel discussions and a graduate student poster competition in the River Building on March 29.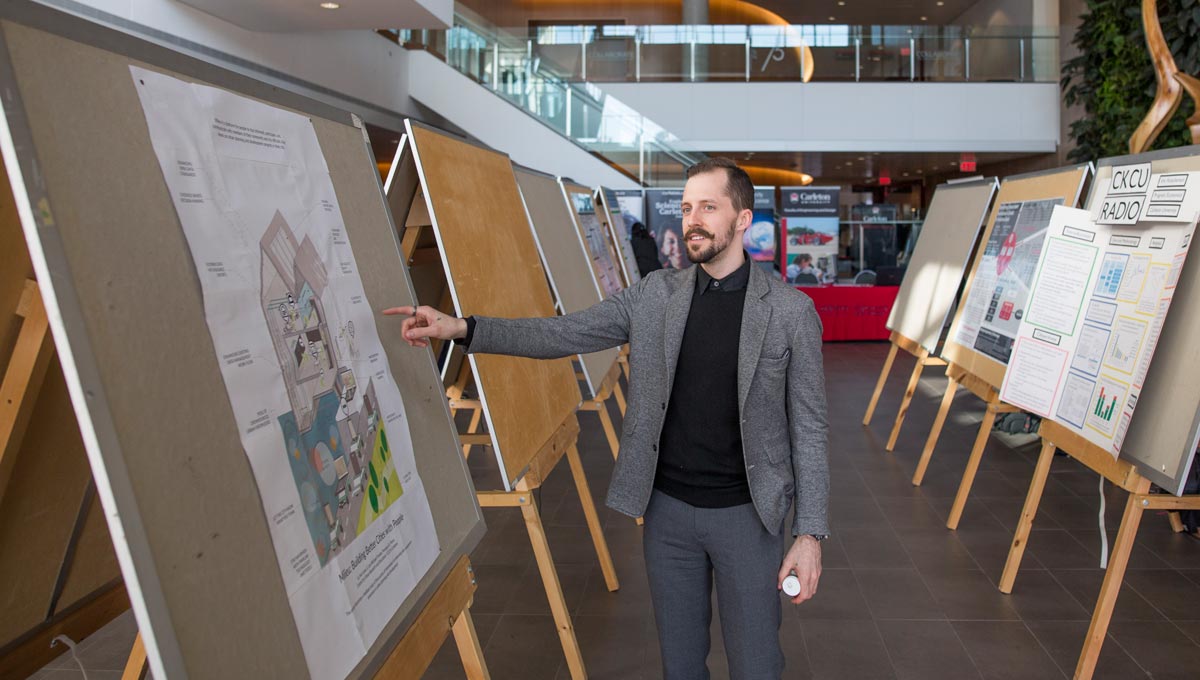 The event, held for the third straight year, featured a diverse roster of Carleton researchers and industry professionals — and a wide range of topics that introduced more questions than answers.
"It's like a gold mine," Carleton President Roseann O'Reilly Runte said about "big data" in her opening remarks. "We have so much information, we can do anything with it. The question is: how?"
James Green, a professor in the Department of Systems and Computer Engineering and interim director of the university's Institute for Data Science, followed Runte and highlighted Carleton's unique cross-disciplinary Collaborative Masters in Data Science, which prepares students to tackle the most pressing data questions.
Next at the podium was Rafik Goubran, dean of Carleton's Faculty of Engineering and Design, whose main research specialty — sensors and real-time data analytics — was the focus of his talk.
Technological advances have led to extremely small wireless sensors that cost just a couple cents apiece and use minimal power, lasting two or three years on a single battery. These sensors – which can measure inputs such as light, heat, humidity, smell, acceleration, pressure, vibration and proximity – are everywhere, said Goubran.
This explains why we're overwhelmed by data, but it also points to the myriad beneficial applications of having all this information, from pipeline leak detection and advances in medical imaging to what happens when you push the brakes on your car.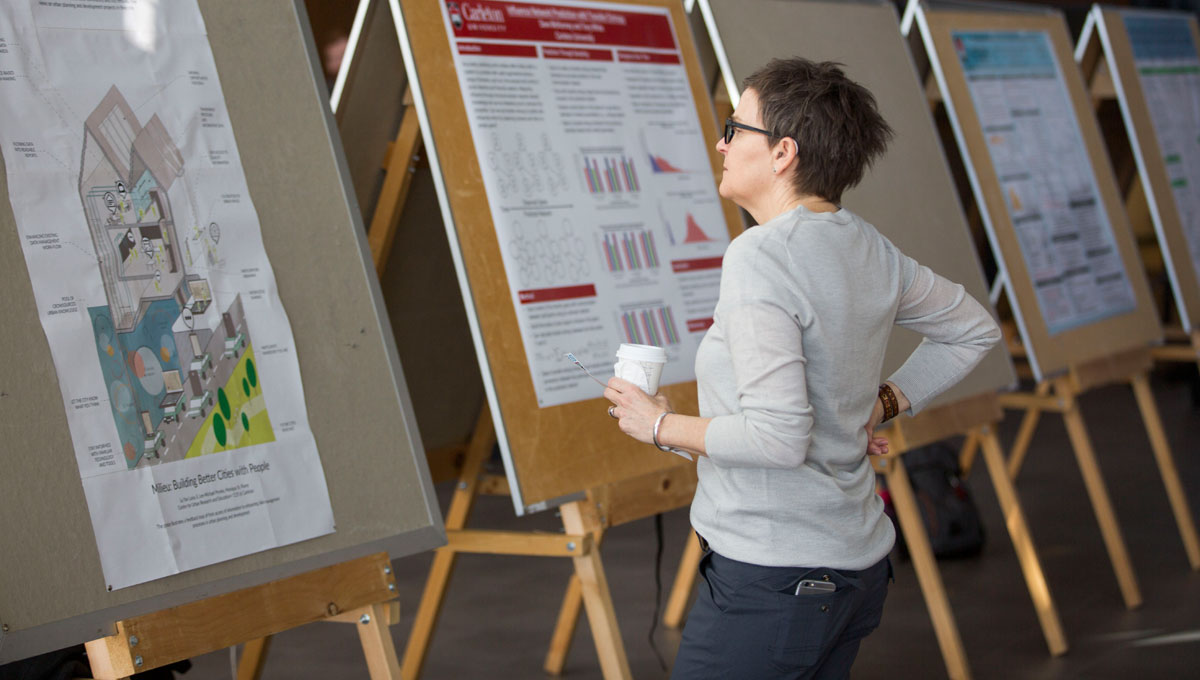 "Our main challenge," said Goubran, "is how to extract useful information from all the sensors we have deployed everywhere."
The brake pedal, for example, used to begin a mechanical process which stopped the car. Now, in a modern vehicle, the brakes tell a computer you want to stop, said Goubran. The computer looks at your speed, the angle of the steering wheel, the road conditions and any other information it has access to, and then determines the best way to stop.
Goubran also moderated a panel of Carleton professors: Paul Villeneuve from the Department of Health Sciences, Tracey Lauriault from the School of Journalism and Communication, Olga Baysal from the School of Computer Science, and Mohamed Ibnkahla from Department of Systems and Computer Engineering.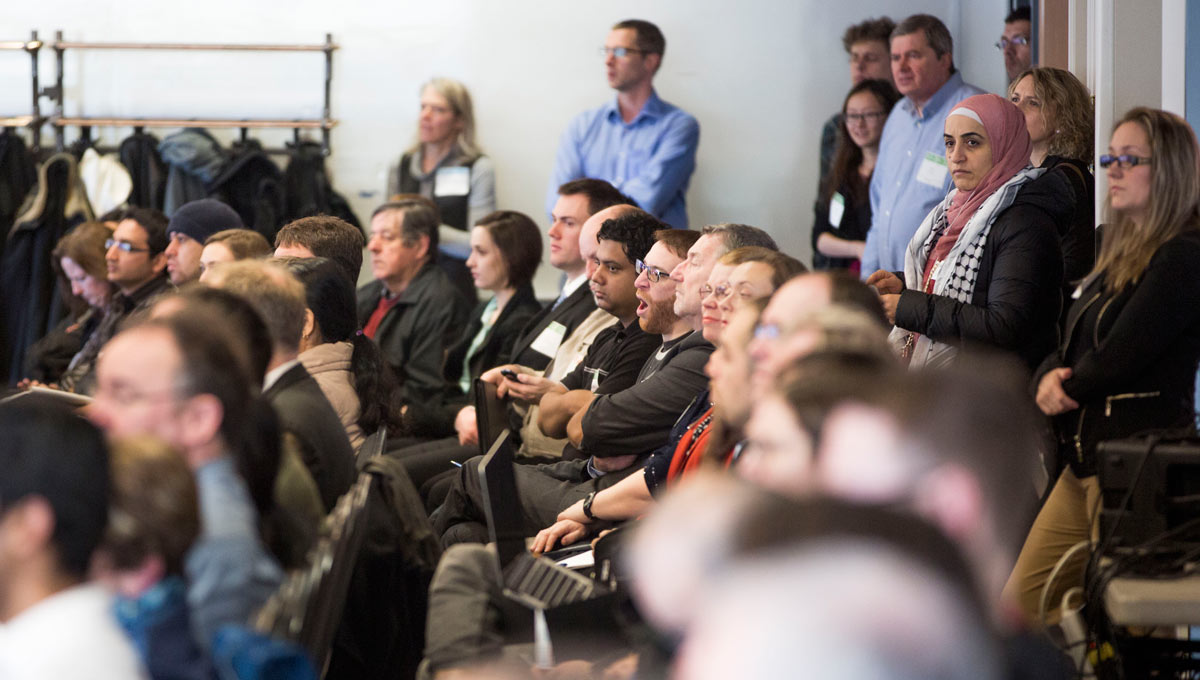 One of Villeneuve's research interests is environmental health and the effects of air pollution, an area in which data can help trace long-term epidemiological changes that people experience across space and time.
Baysal attempts to help companies make data more accessible or "actionable" to different stakeholders.
Lauriault does critical data studies. "What I look at," she said, "is how people construct their world through data. Models don't come out of nowhere. They're socially constructed by people, and they shape how we track and see the world."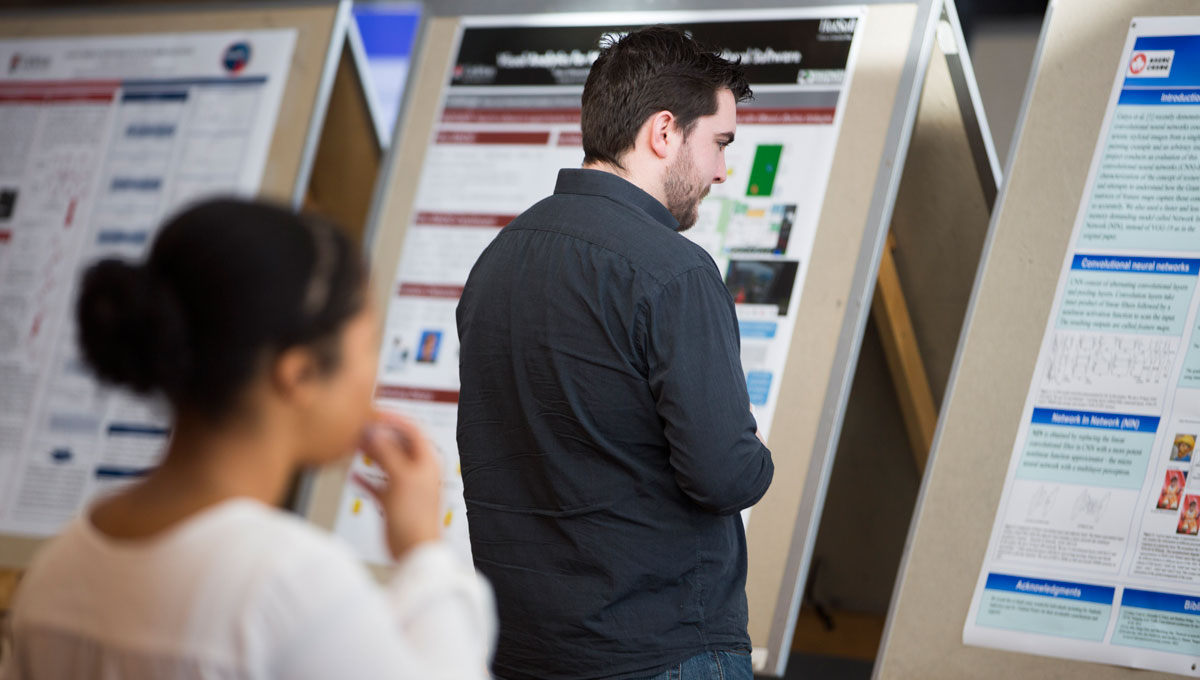 Ibnkahla, the CISCO Research Chair in Sensor Technology for the Internet of Things, said that 50 to 100 billion objects will be "connected" by 2025. "Objects that communicate with objects that communicate with humans," is how he defined the Internet of Things. "These objects will be intelligent, and they can optimize your life."
Optimization was the focus of the second panel, moderated by Malcolm Butler, dean of the Faculty of Science.
Featuring Invest Ottawa Managing Director Jonathan Milne, First Derivatives Chief Scientist/CSO Dave Thomas, Public Health Agency of Canada Scientific Advisor Anne-Marie Ugnat, and Shopify Senior Software Engineer Steven Normore, this discussion was just as wide-ranging as the first panel, albeit more technical in nature, touching on everything from the Ebola outbreak in Africa to the "lost art" of database design and privacy concerns at a booming e-commerce business.
In an interview during a networking lunch break, Butler praised Carleton's ability to bring together experts from so many different backgrounds, an approach embodied by both the Institute for Data Science and the Collaborative Masters in Data Science.
"Context and contacts are crucial," he said, noting that exposure to the latest knowledge from all corners of the data world and the one-on-one conversations that occur at an event like Data Day are steps toward addressing the overwhelming challenges of big data.
"This is the opportunity we're trying to seize at Carleton," said Butler. "We're working with external partners from the corporate and non-profit sectors who come to us with their problems, and helping them come up with ways to get past the obstacles they face."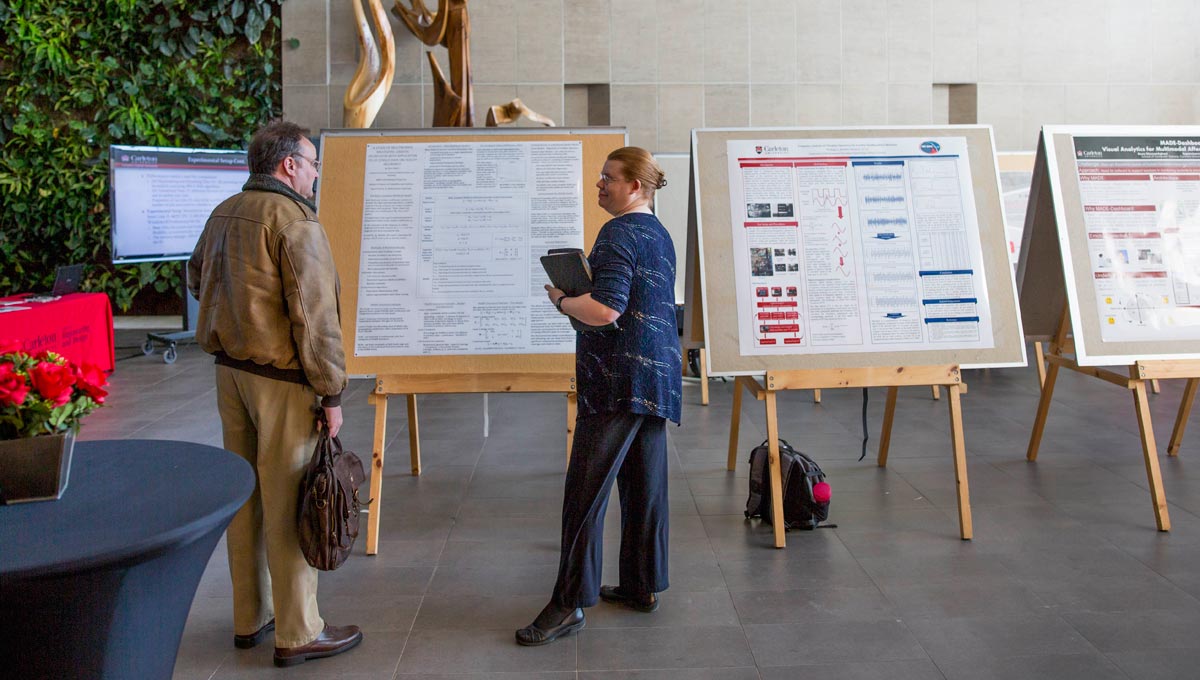 In the afternoon, the humanities were in the spotlight, with a keynote address from Dominique Bérubé, vice-president of research at the Social Sciences and Humanities Research Council.
Bérubé also moderated a lively panel on "Needs and Opportunities for Big Data in Social Sciences and the Humanities" featuring Amanda Clarke from the School of Public Policy and Administration, Shawn Graham from the Department of History, Marcellus Mindel from IBM Canada's Centre for Advanced Studies and Vikesh Srivastava, associate director of Health Canada's Business Informatics Division.
The group discussed, among other subjects, the value of publishing in open-access journals and broadly disseminating one's research, and the lack of academic and funder incentives for doing so.
"This day was about expanding the range of Carleton's data science initiatives," John ApSimon, special advisor to the deans of Engineering and Science, said in his closing remarks. "We certainly heard many interesting ideas, and the more voices we hear, the better we can strengthen this community."
Wednesday, March 30, 2016 in Engineering, Faculty of Science, Research
Share: Twitter, Facebook