"One of the secrets of life," said Carleton University President Benoit-Antoine Bacon, "is to always be at the beginning of something."
Bacon made the remark during a dynamic virtual event on Wednesday, Sept. 30 to officially launch Carleton's new Strategic Integrated Plan (SIP).
The comprehensive year-long collaborative process to create the SIP may be complete, said Bacon, "but now we're at the place where the ideas in the plan can really take off."
More than 600 people logged in for the online launch, which featured live and recorded speakers in multiple locations, a fast-paced video showcasing the beauty of the campus and the city, and a peek inside the pages of the SIP.
"Plans like this must be an evolution, not a revolution," said Bacon. "They must be based on an institution's true history, but also recognize that the world has changed and continues to change."
"A plan doesn't have any value if it stays on a shelf," he added.
"It needs to be embraced by the community and implemented through action. We need to track and measure these things. We must do the things we say we'll do."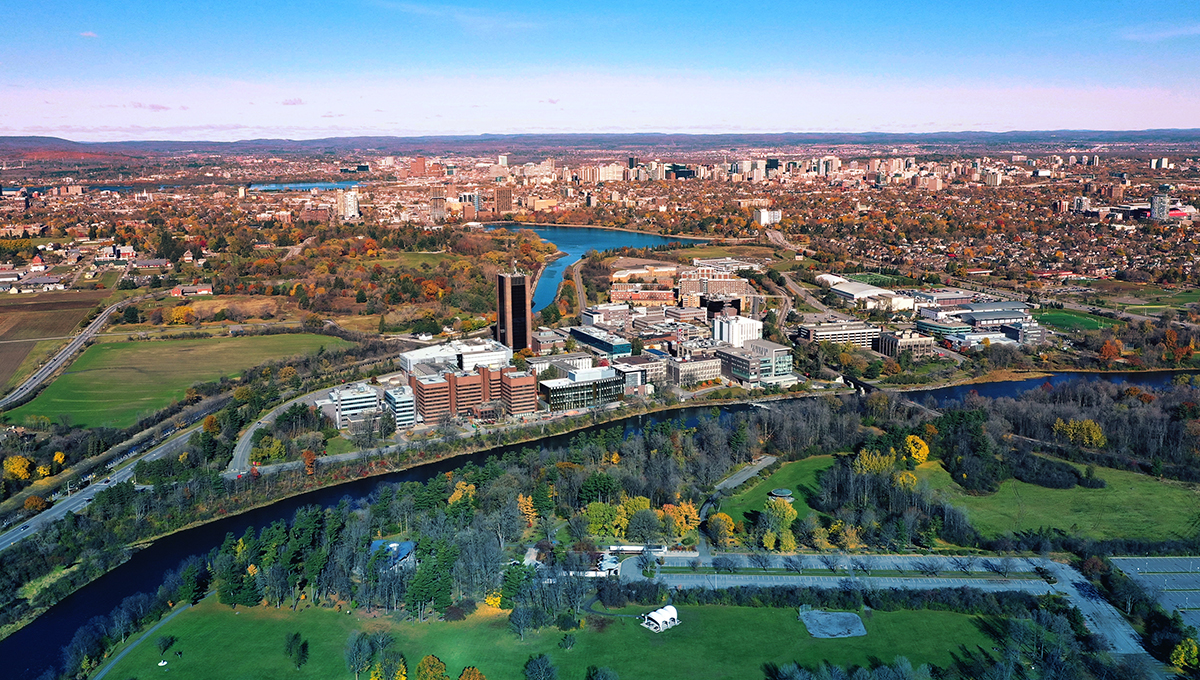 Three Strategic Themes to Guide Action
Inspired by the triangular shape of the Carleton campus, the new SIP outlines three strategic directions: Share Knowledge, Shape the Future; Serve Ottawa, Serve the World; and Strive for Wellness, Strive for Sustainability.
These themes, said Bacon, "are especially relevant in these challenging and disruptive times."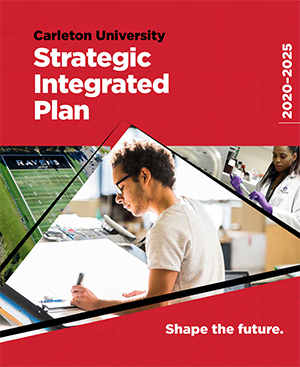 "On a map, our campus creates a unique triangle — a natural symbol of strength," the plan declares. "This shape also reminds us of delta, the mathematical symbol for change. This triangle is both Carleton's strength and delta, our mandate for change. It is a symbol of what we are and where we can go. The symbol frames everything we stand for at Carleton: the power of higher education and innovation, the value we place on community and collaboration, and the importance of sustainability and wellness."
"The western edge of the triangle follows the path of the iconic Rideau Canal — a hint at the ingenuity and innovation that helped establish this city and a waterway that tells a story of the creation, application and mobilization of knowledge.
"To our east, we border an important arterial road [Bronson Avenue] — an axis that creates our connection to the community, to this city's cultural heart and the country's political centre, and ultimately leading to the gateway to the world [the Ottawa International Airport].
"To our south, we travel along the Pasapkedjinawong (Rideau) River — moving forward to a prosperous future with momentum and resilience, reminding us of our connection to the natural world."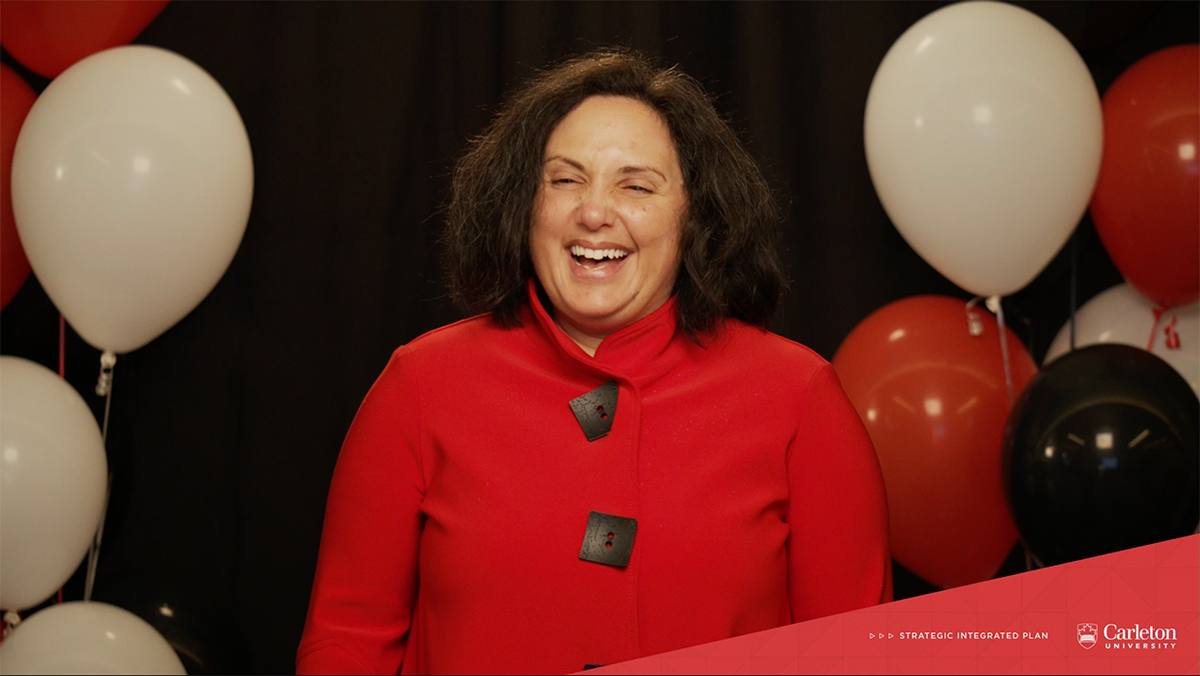 Sharing and Sustainability
The launch was emceed by Lorraine Dyke, Carleton's deputy provost (Academic Operations and Planning), who co-chaired the SIP task force along with Clerk of Senate Betina Appel Kuzmarov, Faculty of Graduate and Postdoctoral Affairs Dean, Patrice Smith, and Cindy Taylor, the university's assistant vice-president, Human Resources.
"Today is truly a momentous day for Carleton," said Dyke, who highlighted the engagement she experienced during the consultative process to create the plan.
"It will serve as our collective vision for the future, and it will take all of us to bring it to life."
Dyke introduced Elder Barbara Dumont-Hill from Kitigan Zibi, whose video message was filmed on the banks of Pasapkedjinawong. The plan, said Dumont-Hill, "is about sharing and sustainability. To me, that's a little bit like going back to the future. It's about sharing knowledge and creating health for the generations to come."
Next, Provost and Vice-President (Academic), Jerry Tomberlin, thanked the task force co-chairs.
"They've done a terrific job leading the community through this process, and they and we have a lot to proud of," he said. "They worked collaboratively and built partnerships across the Carleton community. It's thanks to their leadership that we have such an ambitious and visionary plan to celebrate today."
After that, a pair of speakers talked about the purpose and symbolism of each of the three strategic directions or axes of the SIP.
Reflecting on Share Knowledge, Shape the Future, Kuzmarov said: "Carleton can draw on the canal for inspiration. When we look to the future, we know that ingenuity will be a critical skill."
Not only is Carleton fulfilling this direction through research, added Smith, it's also doing so through steps such as the Memorandum of Understanding signed earlier this month with the Yukon's First Nation of Na-Cho Nyak Dun to collaborate on Indigenous and northern studies, post-secondary education, research and access for learners.
Speaking about Serve Ottawa, Serve the World from the Carleton Dominion-Chalmers Centre, SIP task force member, Pauline Rankin, also dean of the Faculty of Arts and Social Sciences, noted that "Carleton's community connections are extensive and enduring" and that "a profound sense of community dedication drives our core mission and our responsibility to our city and our society."
"Carleton has evolved into a research-intensive educational institution whose reach and impact extends far beyond city limits," added fellow task force member Karen Schwartz, the university's Associate Vice-President (Research and International). "We partner with universities, governments and organizations around the world and are a global hub of intellectual growth."
"Wellness is the sustainability of individuals," continued Schwartz, segueing to the final axis, Strive for Wellness, Strive for Sustainability, "and sustainability is the wellness of the planet."
In this regard, Michael Charles, assistant vice-president and university advisor for Equity and Inclusive Communities, highlighted Carleton's work to create a plan for institutional strategic action on equity, diversity and inclusion.
"Carleton has chosen a holistic campus-wide approach to wellness and health, recognizing the diversity of its communities and the perspective they bring," said Charles. "As a large institution, Carleton is a reflection of society and is not insulated from its challenges."
Moreover, said Prof. Kahente Horn-Miller (Kanien:keha'ka/Mohawk), the inaugural assistant vice-president, Indigenous Initiatives and a co-chair of the Carleton University Strategic Indigenous Initiatives Committee, the recently released Kinàmàgawin (Learning Together) report shows how much progress has been made on Indigenous issues and reconciliation and how much remains to be done.
"This work is never finished," said Horn-Miller, "but is something to which we must continually dedicate our efforts and resources."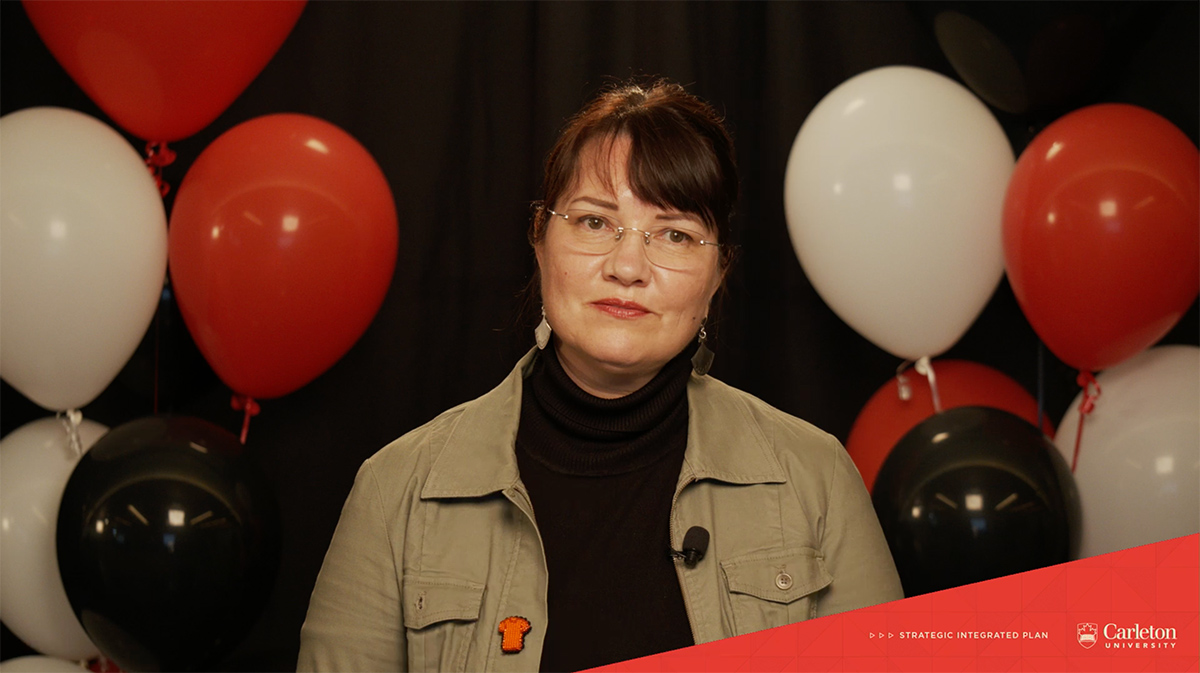 Aligning with an Overarching Direction
Toward the end of the launch event, Bacon responded to questions.
When asked about how the SIP will be implemented, he said it will be highly visible throughout the fall and the rest of year, and that individuals, faculties and departments will need to reflect on the SIP's language and strive to align their work with the university's overarching direction — a synergy that is already happening.
Asked about how one plans for the future when confronting the biggest public health crisis in a century, Bacon said: "We need to be responsive in real time to the COVID pandemic. What does it mean day to day? How do we keep everyone safe and continue our academic mission? But we can't just do that. We need to keep our eyes far into the future — maybe there will be some lessons from the pandemic — and think how can we adapt and change today so we continue to succeed in the future."
One staff member asked what employees can do to contribute, to which Bacon replied: "It's everyone's plan. Everybody at Carleton is invited to read the plan, to reflect on the plan, and to ask what it means for them, for the unit they work in and for the university as a whole.
"Imagine if everyone does that. That will be transformative across the university. It's not so much the plan that changes the university, but the people who embrace it."
Lastly, asked about the challenges facing Carleton, Bacon talked about the gap between how the university is perceived and what it is accomplishing these days in research, innovative pedagogy and care for the student experience.
"What an opportunity we have, with the SIP completed, to tell our story more loudly," he said. "The next 10 years will be very exciting for us. Challenges or not, Carleton will thrive."
The event concluded with a series of video messages from members of the Carleton community.
"Among other principles, the new SIP is rooted in community, inclusivity and diversity," said Chancellor Yaprak Baltacioğlu. "This is core to a positive experience for students, faculty and staff."
"Simply put, it's inspiring and presents an amazing vision for the future of Carleton," said Board of Governors Chair Dan Fortin.
"It provides amazing guidance and vision, yet respects our roots. By seeking out broad perspectives and listing to feedback from so many participating, it's an exciting vision for the future."
Wednesday, September 30, 2020 in Events, Strategic Integrated Plan
Share: Twitter, Facebook