Carleton's Shinerama campaign handed Cystic Fibrosis Canada (CFC) a cheque for $29,000 at the Ottawa Redblacks football game on Sept. 28, 2019. The campaign has raised $158,000 over four years for CFC.
All the funds go to towards CFC research projects and fellowships, patient care and supporting awareness and advocacy.
During Carleton's Fall Orientation program, the university had approximately 400 students fundraise for the fatal genetic disease on Shine Day– the primary fundraising event during the campaign. On Shine Day alone, students raised $4,000 by visiting participating business throughout Ottawa and collecting contributions from patrons and those passing by. Students also shared information on cystic fibrosis (CF) and educated the public about Shinerama and the work Carleton does to support this important cause.
In addition to Shine Day, Carleton participated in events such as Spring into Shine, where members of the Carleton community donated items for a giant campus garage sale that raised $3,000. There was also a Bluesfest ticket raffle which raised $1,500.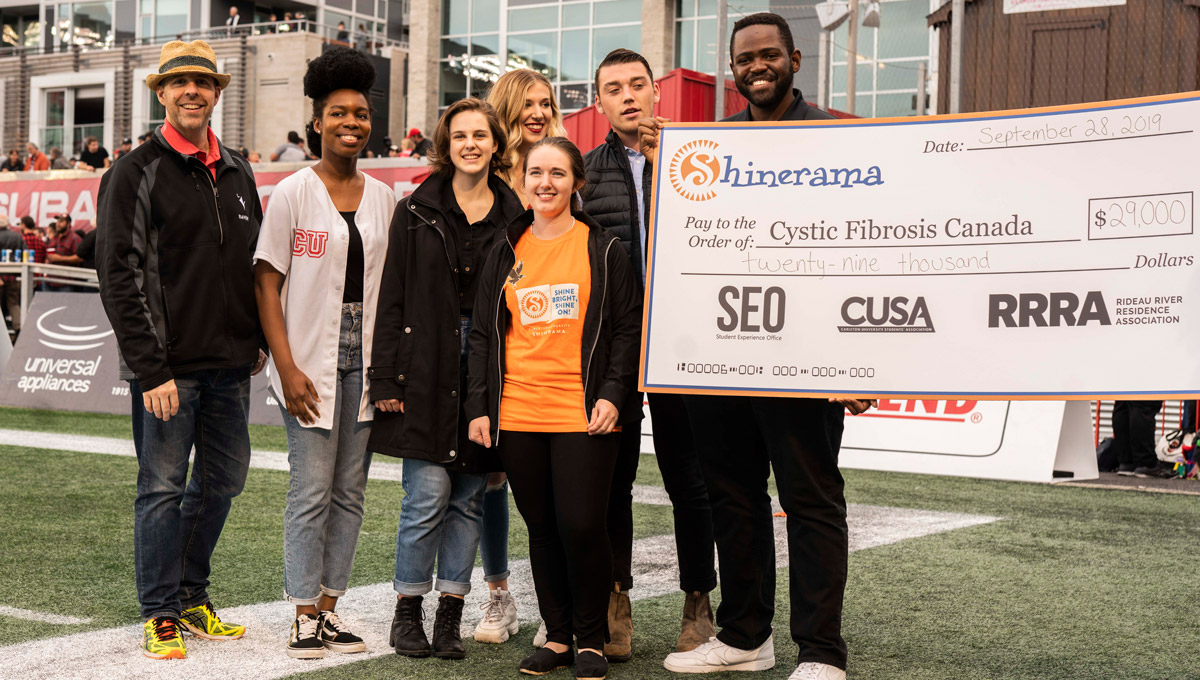 Shinerama Showcases Student Engagement
"What stands out for me, especially as a former Carleton student, is the commitment of students to being engaged in this program beyond Fall Orientation," said Dwaine Taylor, student development and community outreach co-ordinator at Carleton's Student Experience Office. "Students worked diligently throughout the entire summer."
Sarah Shires, in her fourth year of Cognitive Science, was responsible for running the campaign.
"For Shine Day this year, we had 18 local business involved," said Shires. "We also collaborated with community organizations, including the Great Glebe Garage Sale, Escape Manor and Escapade Music Festival. We were part of the festival's Green Team and we collected more than 10,000 cans, raising more than $1,000. It was great working with them."
Shires decided to emphasize education as a way to help motivate everyone involved.
"I had some high goals based on the past success of Shinerama," said Shires. "This year I focused on making sure everyone understood why we were doing this. It isn't just because other universities are doing it or that we have always done this. We do this because it is such an important cause and our efforts make a real impact. The campaign benefits a number of people on campus whose lives have been impacted by CF."
CF is a common fatal genetic disease that affects children and young adults. There is no cure and it is estimated that one in every 3,600 children born in Canada has this debilitating disease. CF mainly affects the digestive system and lungs. In the majority of cases, persistent and ongoing infection in the lungs leads to death.
Monday, September 30, 2019 in Orientation
Share: Twitter, Facebook