By Matt Gergyek
Photos by Chris Roussakis
Katherine Dibbon and Ahsanul Haque are not your average high school students.
While most Canadian teenagers are stressing over their first jobs or college and university applications, Dibbon and Haque are making waves in the world before they've even passed the threshold of adulthood.
The best part is, they seem to do it effortlessly.
Haque, who is originally from Bangladesh and now lives in Toronto, touts a brilliantly stacked resume, albeit one that should belong to someone at least twice times his age. Since he was 14 years old, Haque has had 14 different jobs in almost every field imagineable, from coding instructor and architectural firm intern to creating a marketing model for his parents' shawarma business and pedalling around the city as a bike messenger.
Dibbon, who is from St. John's, is on her way to becoming one of the country's strongest leaders on a number of social issues. The Grade 12 student has worked with Plan Canada to organize a youth conference on gender equality, spoke at the G7 youth delegation to influence decision-making at the summit, and just finished her time with the youth advisory committee of the RCMP to improve the force's strategies towards young people.
"I hate when people say, 'Youth are the leaders of tomorrow,'" says Dibbon. "We aren't just the leaders of tomorrow — we're the leaders of today."
The duo is part of a group of 60 high school students — all equally as exceptional as Dibbon and Haque — who are spending the month of July at Carleton thanks to the SHAD program, which has been coming to campus for nearly 30 years.
The mission of SHAD, which was founded in 1980, is to empower Canadians in grades 10 to 12 from across the country to reach their full potential. The program sends a group of nearly 1,000 students divided into groups of around 60 to 16 universities in Canada for month-long immersive and hands-on learning experiences, revolving around the STEAM (science, technology, engineering, arts and math) disciplines.
Each year, students are faced with a unique but timely societal issue to solve. They are given the month to collaborate with their peers along with university and corporate leaders to develop an entrepreneurial solution to the problem.
"In essence, it teaches the students how to start a business from scratch," says Teddy Katz, vice-president (communications and media relations) with SHAD. "The takeaway for the students is that there are big problems out there, but it's not impossible to solve them."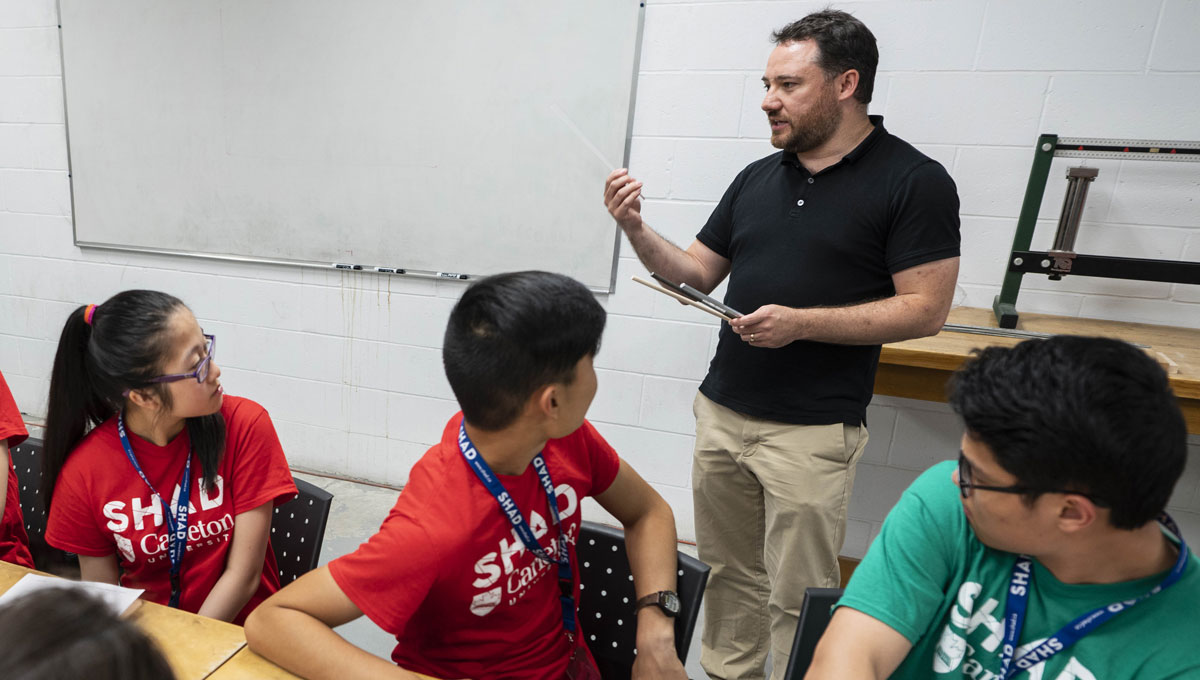 Hands-on and Collaborative Learning During SHAD Program
This year's challenge, announced by astronaut Drew Feustel 400 kilometres above the Earth from the International Space Station (ISS), is to find a way to build resilience in Canada to natural disasters.
In previous editions of SHAD, students had been tasked with improving food security or building capacity against climate change.
During their time at Carleton, the clan of young people will attend lectures, work on various projects and attend hands-on demonstrations to build their skillsets.
"This is not your average summer camp," says Haque.
On July 5, the group visited Carleton's structures lab, hosted by professors Ted Sherwood and Jeff Erochko.
When all 60 SHADs pack together in a lecture hall in the Minto Building, the air feels charged with energy. As they scribble down notes, their pencils and pens fall into a natural synchronization. In many ways, the group resembles a team of superheroes, an elite unit of young people each with their own remarkable area of specialization.
"They're learning for the sake of learning," says Erin Engelhardt, program director at Carleton and an alumnus of SHAD herself. "This is a safe place to ask questions and take risks. They're eager to learn anything you throw at them and soak it all up."
The group spent the afternoon exploring Carleton's structural engineering facilities, learning how to create and engineer designs to withstand natural disasters, from earthquakes and hurricanes to flooding and extreme temperature. Carleton's teaching staff had a chance to share their knowledge on this crucial topic, while also giving the students an inside look at the university's teaching facilities.
Ahmed Hassan, a PhD student who helped teach the students in the lab, says SHAD is important because it focuses on experiential learning.
"When you enter the workforce, you don't listen to lectures and take notes," Hassan says. "This is a much better way of representing the world — it's bridging that gap between the classroom and the work field."
A number of professors involved in the day's lessons spoke about how inspired they were by the students' passion for learning.
Growing as individuals while connecting to others
Claire Braaten, a Grade 12 student, travelled all the way from Vancouver to spend the month at Carleton.
"I want to learn about my weaknesses, my limits, and grow as a person," Braaten says, who hopes to eventually go into medicine.
Braaten admits that moving to another province for a month is intimidating, but says the people she's met have made the experience beyond worth it. "Even when you're standing in the group of 59 other people, you feel like you can talk to and connect with anyone."
Kavisha Dayarathna, a Grade 12 student from London, Ont., echoed Braaten's sentiments.
"Everyone's educationally motivated in their own way, but we're all super close knit," he says.
Dayarathna is interested in anything with four wheels, but hopes to work in the growing autonomous vehicle industry.
One of the draws to the program is the opportunity to become part of a network of nearly 17,000 SHAD graduates. The program has helped to cultivate some notable Canadians, including Dragon's Den star and tech entrepreneur Michele Romanow, founder and CEO of the instant messaging app Kik Ted Livingston, and Neil Pasricha, an acclaimed author and speaker.
A survey run by SHAD shows that the program truly sets up young people for the future. More than 80 per cent of SHAD alumni pursue degrees in the STEAM field and have at least one post-graduate degree. "We hope [the students] end the month not only dreaming big, but empowered with the tools and passion they need to take risks, roll up their sleeves and get going," SHAD President and CEO Tim Jackson says in a press release.
Another SHAD priority is to make the program accessible to students from lower income communities. Thanks to a partnership with Pathways to Education, Katz says 14 of these students are taking part in SHAD, including Haque.
"There's so much potential in these communities, but it doesn't often get realized," Haque says. "I want other people like me to look and say, 'Hey, he's a person of colour from a low-income community and he made it through all these barriers, I want to do the same thing.' I want to prove everyone who doubts me wrong."