By Dan Rubinstein
Photos by Chris Roussakis
Carleton University's cutting-edge research and teaching facilities were showcased to a group of senior government officials during the Deputy Ministers Science Committee (DMSC) retreat on July 16.
Attendees at the annual gathering of more than a dozen leaders from science-based government departments and agencies visited the Northern Nomad tiny house and Chemistry Superlab.
They were accompanied on the early-afternoon tours by Carleton President Benoit-Antoine Bacon, Vice-President (Research and International) Rafik Goubran and Faculty of Science Dean Chuck Macdonald.
Bacon greeted Kirsty Duncan, Canada's Minister of Science and Sport, when she arrived in the morning for part of the retreat's agenda, which included sessions on science policy and infrastructure.
Committee members include Canadian Food Inspection Agency president Siddika Mithani, Canadian Space Agency president Sylvain Laporte, National Research Council president Iain Stewart, Public Health Agency of Canada president Tina Namiesniowski and federal chief science advisor Mona Nemer, as well as deputy ministers or associate deputy ministers from several government departments, among them Environment and Climate Change Canada, Fisheries and Oceans Canada, Natural Resources Canada, Transport Canada, and Innovation, Science and Economic Development Canada.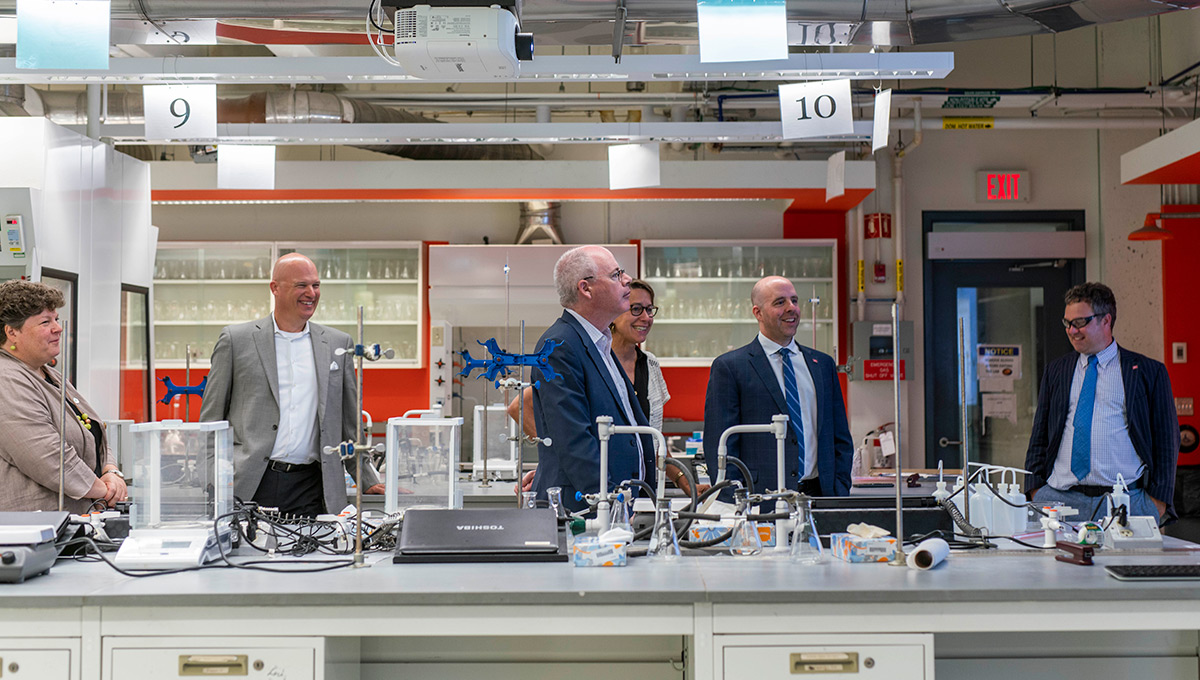 Tiny House Aims for Net-Zero on Energy and Water
"For this project, we had two lofty goals — net-zero energy and net-zero water," Prof. Scott Bucking from the Department of Civil and Environmental Engineering said to a small group outside the Northern Nomad tiny house, which overlooks the Rideau River near Richcraft Hall.
"With the testing we're doing now, we want to be able to show that we're achieving that."
Inside, as Louis Armstrong's "It's a Wonderful World" played softly in the background, Seungyeon Hong, a master's student who managed the project, explained some of the tiny house's distinctive features.
Built by Carleton architecture and engineering students, Northern Nomad is a 220-square-foot building that's designed to produce as much energy and water as it consumes.
The tiny house can operate connected or disconnected from the grid, and is insulated using highly efficient vacuum insulated panels usually found in refrigeration equipment. Its smart home features increase energy efficiency, and excess electricity generated by the rooftop solar panels runs an atmospheric water generator that extracts water from humid air, much like a dehumidifier.
Northern Nomad was born as a fourth-year capstone project for five Architectural Conservation and Sustainability Engineering students in the fall of 2016. The team evolved as the project moved from conceptualization to construction and new students joined, each with their own specific skill set.
It officially opened in September 2018 and has entered the instrumentation and testing phase, equipped with sensors and monitors that researchers will use to collect data and conduct energy research over the next few years.
"We're not saying that the solution is millions of tiny homes across Canada," said Bucking.
"We're advocating for thinking about housing and energy efficiency differently. It's about resiliency, reliability and robustness."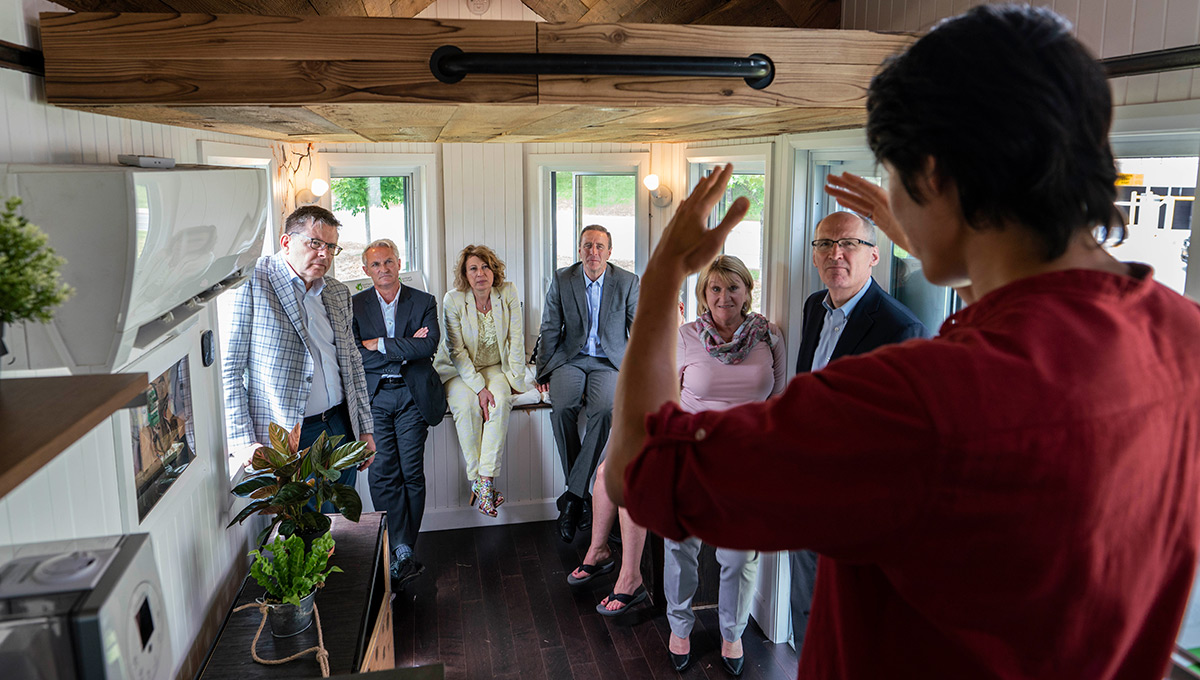 Teaching Students Hands-on Skills
Meanwhile, in the Steacie Building, lab coordinator Natalie Mesnic gave visitors an overview of Carleton's state-of-the-art Chemistry Superlab — a $5-million, 6,500-square-foot facility where up to 120 students can work at a time in a safe and collaborative way.
Mesnic pointed out where first-year chemistry students and second- and third-year organic chemistry students work, and noted safety features such as fume hoods and easy-to-clean surfaces, as well as a system that allows students to look at real-time data from experiments on their laptops.
"We're trying to figure out ways to engage students differently," said Mesnic, who is doing her PhD in chemistry education research.
"We want to find out how to make students more self-directed and what transferrable skills can be achieved in labs."
These skills help them land careers in government, industry and academia.
"When students learn hands-on skills," Mesnic said, "they are able to connect what they're learning in lectures to the real world."