By Dan Rubinstein
Photos by Jenna Hobin
It's a gusty, grey morning in late November, and a small crew of Carleton University engineers and scientists are marshalling beside the Rideau Canal, halfway between downtown Ottawa and campus.
They're here to install monitoring equipment that will help them better understand and address the impacts of climate change on the iconic 7.8-km Rideau Canal Skateway, a four-year research partnership with the National Capital Commission (NCC), which manages the world's largest skating rink.
But there's an ironic problem today. Even though figuring out how to make the ice freeze sooner and last longer is their main goal, they've encountered a surprisingly thick layer of it atop the water despite a recent stretch of mild weather, making it difficult to set up their sensors.
Without skipping a beat, however, Geography and Environmental Studies researcher Murray Richardson begins to pump up an inflatable canoe, his colleague Derek Mueller and research associate Adam Garbo remove a second canoe from the roof of Mueller's car, undergraduate student Anneka Petersen slips into an orange survival suit, and the boaters are soon smashing, paddling and dragging themselves toward a metal rod sticking up through the ice about five metres from shore.
Sidelined with a sprained foot and watching from dry land, Civil and Environmental Engineering researcher Shawn Kenny, one of the project's co-leads, explains that they're installing a weather station — and that Richardson and Mueller, a cold regions hydrologist and polar glaciologist respectively, have plenty of experience doing field work in cold places, so this excursion is well within their wheelhouse.
"We'll be collecting data on wind speed and direction, precipitation and temperature, and there will be a radiometer that captures incoming and outgoing solar radiation to give us a sense of the energy balance at the ice surface," says Kenny.
"That's an important quantity to measure. It can tell us whether we can create ice or if it will melt.
"There will also be thermocouples recording the temperature of the water at a series of increments going down from the top of the ice. All of this will allow us to build and calibrate numerical models to predict ice growth and help us test ways to enhance that process."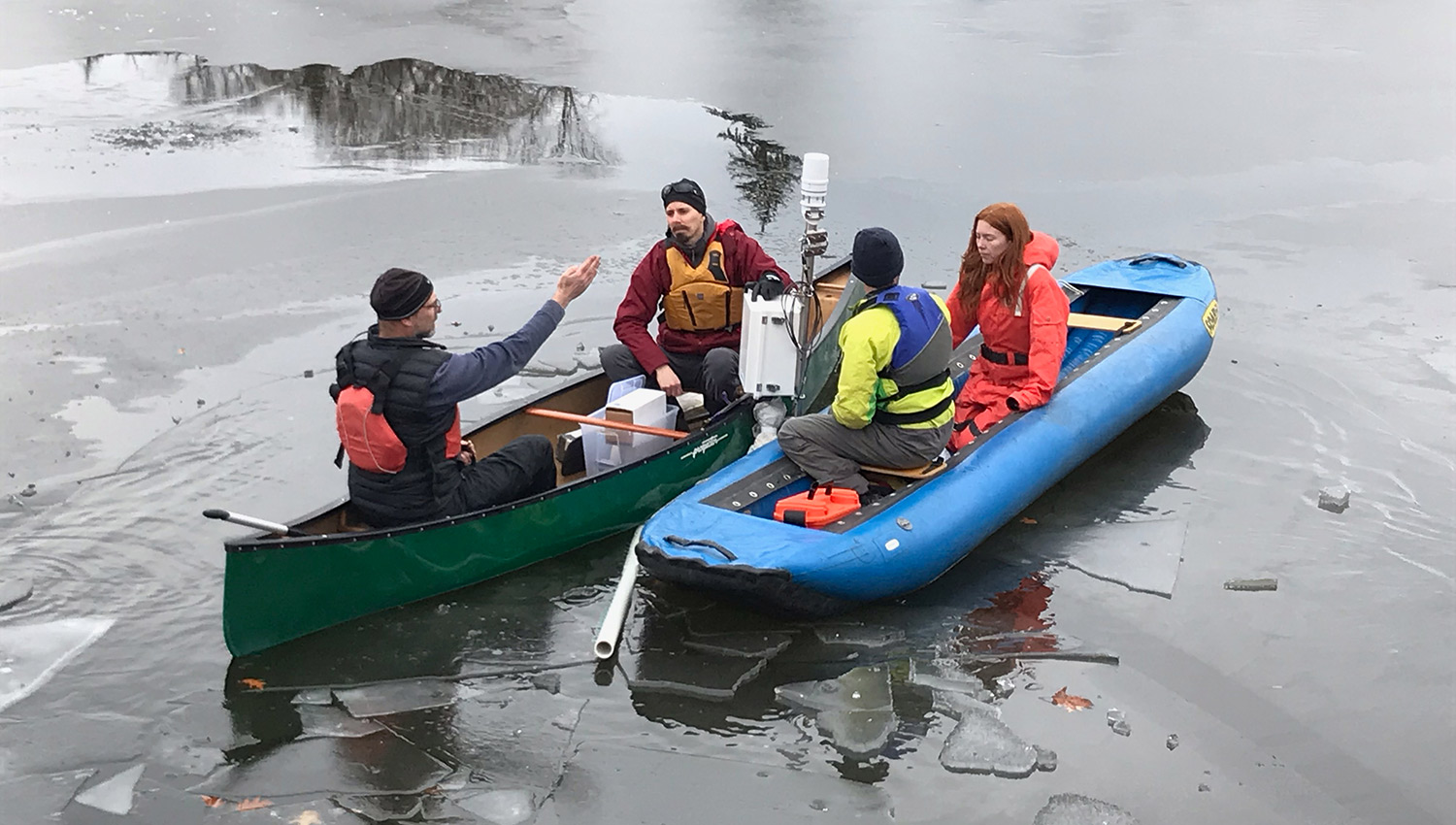 The Impact of Warmer Winters
By 2050, studies predict that winters in Ottawa will be five weeks shorter, with 35 per cent fewer days below -10 C.
Abbreviated skating seasons may not be one of the biggest consequences of our warming world, but recreation is an important contributor to wellbeing — not to mention tourism — so the NCC decided to tap into Carleton's engineering expertise.
The two parts of the approximately $1-million project, with cash and in-kind support from the NCC and an NSERC Alliance grant, are helmed by Kenny, who is focused on ice formation, and his departmental colleagues Cole Van De Ven and Yeowon Kim, who are concentrating on the water in the canal.
In year one, the researchers are installing equipment at various locations along the length of the Skateway. "This is the discovery part," says Van De Ven.
"We'll be getting data and creating computer models that we can ultimately use to make recommendations."
His team's conductivity sensors, for example, will measure the amount of salt in the water, which largely comes from runoff containing road salt. There are some problem areas on the Skateway near storm drains, where the ice is less consistent than elsewhere because of both salt and warmer water. Understanding the impact of these drains could point toward engineering remedies.
"I work on a lot of different environmental problems, but this project takes some of the things I do, like collecting and analyzing water samples, and applies them in a new context," says Van De Ven.
"This is the kind of climate change issue that resonates with a lot of people."
In addition to probing the relationship between water quality and ice formation, Carleton researchers will be testing various approaches to snow management. Using snow cannons early in the season could accelerate the ice formation process, for example, while removing the insulating snow cover once the ice has reached a certain thickness would allow cold temperatures to penetrate more effectively.
"We can assess things like this in trial zones," says Kenny, "and the NCC could scale them up later once we know the benefits and costs. They have the operational expertise from so many years of making and maintaining the ice. Our role is to provide data and potential interventions."
From her perspective, Anneka Petersen, a fifth-year student, is happy to be helping build and install the equipment required for this work.
"Monitoring is an important part of mitigating climate change," she says.
"The Skateway is a big part of this city, and this is an amazing opportunity to figure out what steps we can take so people can continue to enjoy it."
Monday, December 19, 2022 in Environment and Sustainability, Geography, Research
Share: Twitter, Facebook