The adage remains true: accessible design benefits everyone, regardless of ability.
And in a swiftly aging country where one in five people have a disability, the need for increased accessibility grows.
In response to these realities and to fully commit to an accessible campus, Carleton University has adopted the Rick Hansen Foundation's Accessibility Certification (RHFAC) program as its own.
"It's not that we aren't fairly accessible already," says Carleton's Accessibility Advisor Dean Mellway. "But we wanted to set a high standard and the Rick Hansen Foundation's Accessibility Certification program will do that.
"At Carleton, we recognize that accessibility isn't static state. We need to continue to set high standards for ourselves so we don't become complacent with the status quo."
"Carleton University is the first post-secondary institution to incorporate RHF Accessibility Certification into policy and we applaud them for taking this important step," says Brad McCannell, vice-president of Access and Inclusion at the Rick Hansen Foundation.
"Carleton has long been recognized for ensuring accessibility is a priority and taking this action demonstrates their commitment to accessible education for all. Congratulations to the Carleton team for their leadership."
The RHF rating system launched in 2017 and evaluates the accessibility of buildings and sites through the lens of Universal Design principles.
Developed in 1997 by architects, product designers, engineers and environmental design researchers from North Carolina State University, Universal Design guides the design of environments, products and communications by adopting principles such as Equitable Use, Tolerance for Error, and Size and Space for Approach and Use.
These principles allow the RHF's standards to go well beyond those of the City of Ottawa and the province of Ontario. According to its website, the RHFAC "measures the level of meaningful access beyond building code, and is based upon the holistic user experience of people with varying disabilities affecting their mobility, vision, and hearing."
Carleton is following through on accessibility commitments in its Coordinated Accessibility Strategy (CAS) even as the provincial and federal governments focus on their own commitments. The CAS aligns with the Accessibility for Ontarians with Disabilities Act (AODA) aiming for a fully accessible Ontario by 2025, and the Accessible Canada Act which gained royal assent last year.
"CAS is our fulsome response to accessibility on campus," says Mellway.
These aren't passing trends, however. They are signs of a changing world.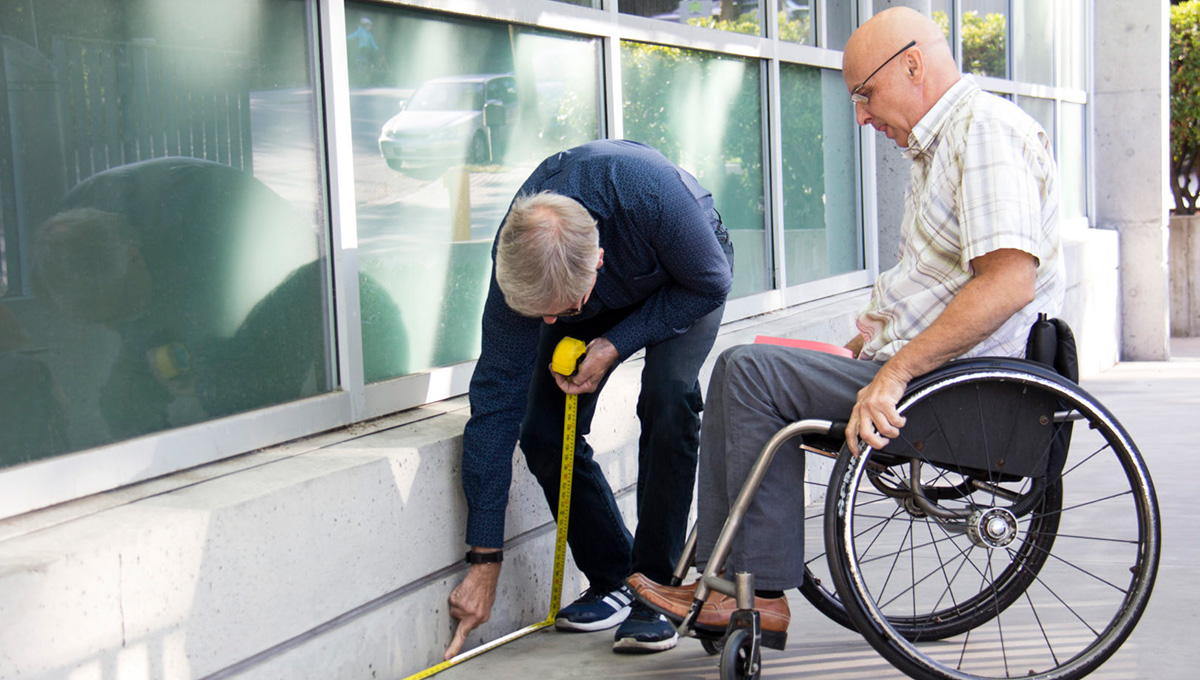 Carleton's Accessibility Heritage
Carleton has a long history in accessibility. In the 1940s, it offered education to returning soldiers of the Second World War. Its Rideau River campus was completed in 1960 with service tunnels beneath the buildings that became walkways for students and accessible ones for students with disabilities.
When the Ontario Human Rights Code was updated in 1990 to include rights for the disabled, the university responded in kind with the Paul Menton Centre for Students with Disabilities (PMC).
The PMC is one of the staples of academic support at Carleton. Last year, the PMC had 1,800 volunteers and about 3,500 students with disabilities who benefitted from academic accommodations and support services. This year, the centre turned 30.
Mellway, a former paralympian and social worker, was the PMC's first co-ordinator in 1990 and worked in the role until 2000. Today, he advises both the Research, Education, Accessibility and Design (READ) Initiative and Facilities Management and Planning (FMP), which recently announced a new collaboration toward the implementation of the Coordinated Accessibility Strategy.
Mellway is taking the lead on Carleton's physical campus, where the first objective of the CAS is establishing standards of accessibility that go beyond minimum requirements.
Carleton is one of six Canadian post-secondary institutions that offers the RHFAC Assessor Training. Matthew Cole, director of Attendant Services on campus, has taught the course at Carleton for two years and hopes to bring the training course online by December, with help from the Educational Development Centre.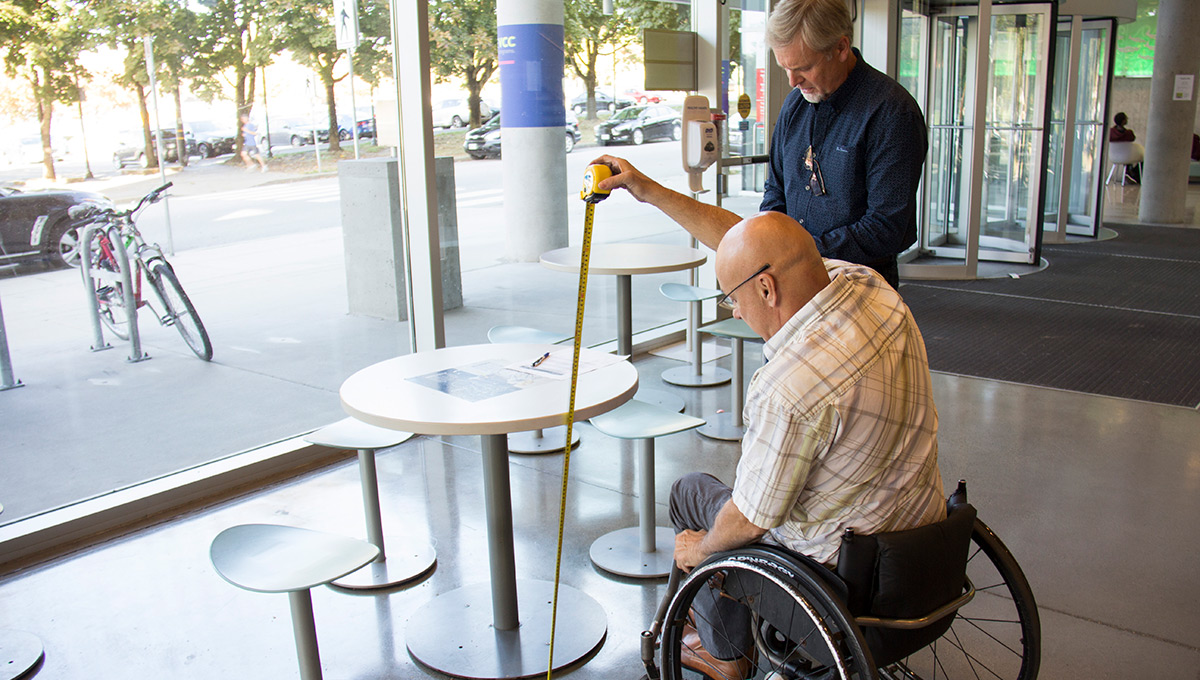 Accessibility Certification: Beyond the Building Code
The Rick Hansen Foundation's standard encourages a focused approach on the user experience and practical accessibility concerns specific to the intended use of the built environment.
"The building code is a minimum and at Carleton we have always gone beyond code," says Cole.
"We have always incorporated the user experience to go beyond code, but the RHF program makes the process easier."
Mellway, Cole and Fire Prevention and Safety Officer, Tim Golding, are all trained in the RHFAC program and will be performing a campus-wide audit throughout the fall.
Most buildings will be evaluated, with the notable exception of the Urbandale Centre for Home Energy Research in Anniversary Park. Approximately 50 buildings across campus will be audited, as well as the tunnels, outdoor pathways and parking lots — all areas frequented by students and staff. All new buildings will need to be certified Gold by the program's guidelines, and all older buildings must achieve Rick Hansen Certified status with areas needing improvement identified and costed.
"It's a good time to do it because there's hardly anyone there," says Mellway. "We can gain access to buildings individually and take photos and measurements without too much traffic."
Thanks to funding from the Government of Ontario, RHF is offering 250 complimentary ratings in each of 15 municipalities across the province and Carleton applied for four of them. On Sept. 30, the first round of audits was announced. The Richcraft, Canal and Nichol buildings will receive audits from RHF.
"The goal is to get a complete picture of the campus to guide future decisions," says Cole.
"Although the undertaking is an ambitious one, the team expects to have the whole campus evaluated by the end of December, with recommendations presented early in 2021."