By Lesley Barry and Brenna Mackay
Photos by Chris Roussakis and Athletics Department
In the old normal, Ravens defensive back Melique Straker wouldn't have had a moment to think about fall semester sport training programs. Indeed, in the last two weeks of August, he would have been immersed in his own training camp, the most intensive training period of the varsity football season.
In the equivalent of a starter's pistol, Ontario University Athletics (OUA)—the body regulating varsity sports—sets out the earliest date for training camp to begin across the province. At Carleton, the entire team would normally move into residence together, even if their student housing is just down the road. They wake daily at 6 a.m., practice on the field or study strategy past 9 p.m., and turn out the lights by 11 p.m. to be fresh for the next morning. Physically and mentally demanding, the players and coaches love it.
But we left the old normal in March, and in June the OUA cancelled all varsity sports competition for the 2020 fall semester, a decision affecting every Ravens team across 10 sports.
"There's been so much uncertainty of course, in terms of football and schooling and how we're going to end up doing things," says Straker, who moved back home to Brampton, Ont. and is starting his second year in Communications remotely.
"Although this has derailed a lot of us, the coaches are keeping us focused on what we can focus on now and a common goal, which is keeping our bodies right," he adds.
"There is a lot of uncertainty," agrees Steve Sumarah, head coach of men's football. "One of our biggest challenges is looking at how we can actually technically practice. How do we deal with the fact that football is a contact sport at a time when contact isn't allowed?"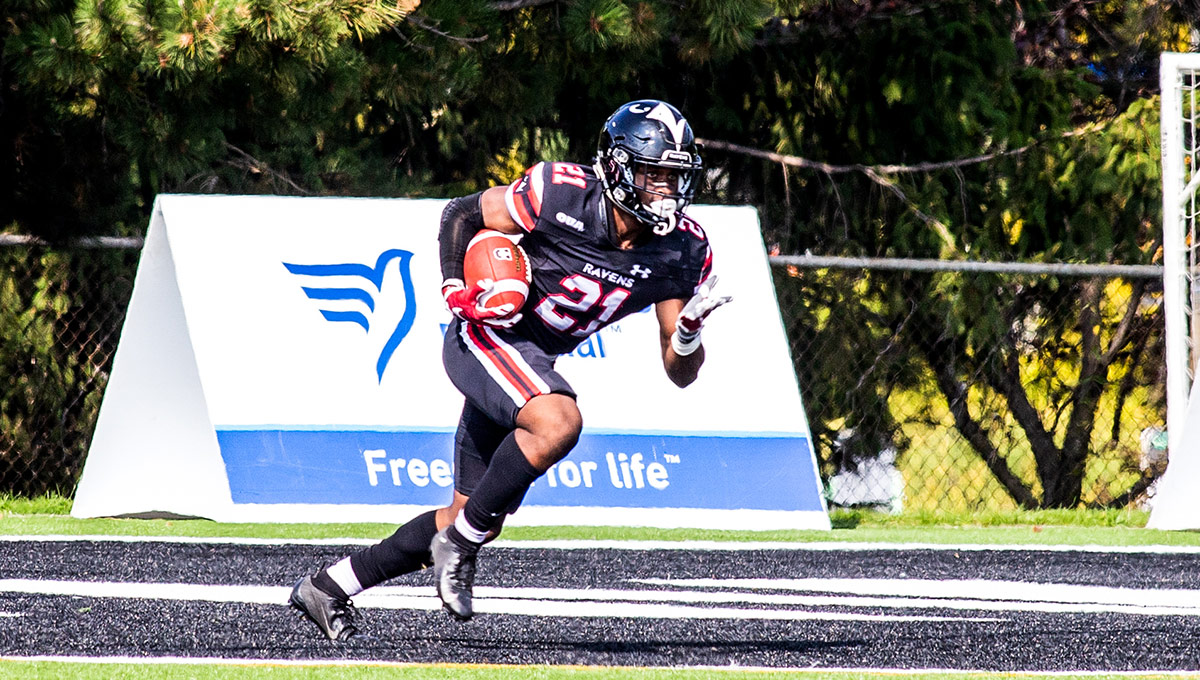 Focus on Fitness
Guidelines for safe training during the pandemic come from provincial legislation, public health directives and each of the provincial sport organizations. Basketball Ontario, for example, has a five-phase return to full competition. Phase 3, announced on July 24, allows passing the ball between teammates for drills, but not any activities that could result in physical contact, including defence. It was a step forward from Phase 2, which restricted training to a maximum of five on a court, including coaches, each with their own basket and basketball and staying two metres apart.
"We review the guidelines from each sport organization as they come out," explains Jennifer Brenning, assistant vice-president of Recreation and Athletics.
"We use them and the public health legislation to create sport-specific return-to-train protocols, which we present to the university."
Dani Sinclair joined the women's basketball team as head coach in April, soon after the lockdown. Her approach to planning has been proactive.
"We haven't got bogged down in what we can't do. We have continued to plan and then as new developments arise, we adapt," says Sinclair. "In June, I put together workouts where our athletes could be social distancing, thinking we would be back in the gym. In August we were able to put those into practice."
The Athletics department has also developed overarching protocols for all of the student athletes with such measures as daily temperature checks and daily COVID-19 screening. Medical staff recently gave a webinar session to all of the coaches, current athletes and incoming athletes outlining protocols for using the athletic facilities when they reopen. "It's about taking everyone's health and the protective measures very seriously," says Sinclair.
"We don't want to get into a situation where we start training and then everything gets shut down again."
Keeping the athletes in shape amid the lockdown was a primary concern for everyone, not least the students themselves. Emma Kiesekamp, currently starting the fourth of a five-year Commerce program, plays forward on the women's basketball team. "I'm so used to playing basketball almost every day, and then suddenly all I could do was some ball-handling at home. Even the parks around my home were closed," she recalls.
"It actually felt awkward when I got back into it because I hadn't played for a while."
The department offered the student athletes strength-conditioning sessions through Zoom, and they can also do team workouts virtually in a group call with live guidance on proper technique and alignment from the coach.
"It almost feels like we're there," says Straker. "The guys bring a different energy when we can hear and see each other." He adds that working out together, even virtually, helps them feel like a team and encourage each other.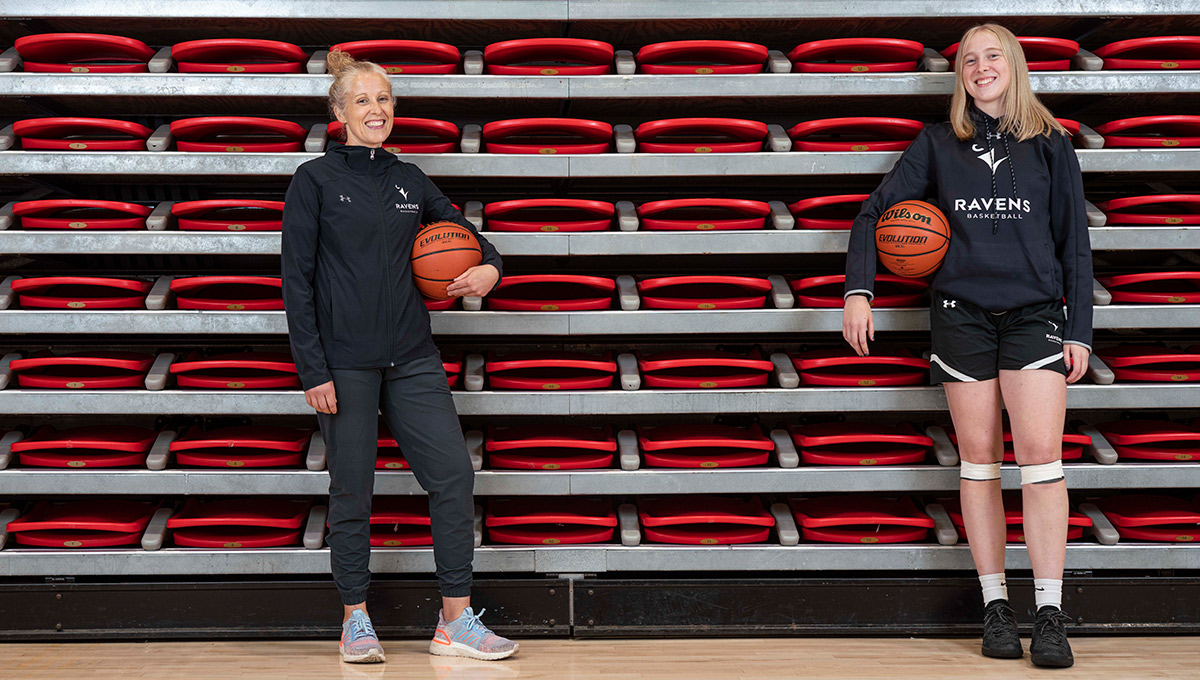 Facing New Challenges Together
There have been mental health challenges, too.
"As athletes, the students have a very rigorous schedule," says Sumarah. "That schedule has been completely taken away. And then there is being away from their teammates. A lot of guys play team sports because of the camaraderie. They're used to seeing each other every day, hanging out in the locker room, and it's tough to lose that."
His message? "That we're all in this together. We have to work as a group to be leaders, to be smart and to be safe, and as soon as we get this virus under control, we can get back to doing the things we all love to do."
This time offers particular challenges for athletes in the early and end stages of their university athletic careers. Incoming athletes are missing out on the regular initiation into varsity-level play; athletes graduating this year may be missing key opportunities to move into professional leagues. "It's important to acknowledge that it has been tough, and that it's going to continue to be challenging," Brenning says. "Our student athletes are having to make difficult decisions, especially those who are from out of town, whether they delay a year or take on the expense of living in Ottawa for the purpose of training."
Nevertheless, the summer saw some silver linings.
Sinclair was able to engage in extra teambuilding and get to know the members of her new team on another level than just basketball. Sumarah appreciated the chance for added professional development, connecting with other football coaches a couple of times a week: "We watch a video and discuss offences and defences and how they interact and things that teams are doing. And it has actually been therapeutic as well—if I can say it that way—being able to talk together."
And for Kiesekamp?
"I've learned to love basketball again for its own sake," she reflects.
"Normally, when July starts, all the team comes back and we're practising and scrimmaging and working out together; we're together about 12 hours a day. A big reason why I play basketball is to be around my teammates, but now it's up to me to go and practice on my own, to go into drills on my own. So I've been coming back to enjoying every moment even if I'm by myself."
Straker says it's clear that his teammates are dedicated and willing to put in the effort it takes to be part of the team.
"Although we're away from each other, I think it will bring us closer because it's a challenge," explains Straker. "And if you care about something, you're up to the challenge."
Looking farther ahead, Sumarah spins some optimism. "If we can maintain a positive outlook and keep our guys motivated, we can come out farther ahead a year from now. I really think we have the chance to do some good things on the other side of this."
Hockey, basketball and volleyball may have a short season from January to March. The OUA will announce its decision in September, says Brenning, with the format to be discussed in September or October.
Kiesekamp and her teammates—their sights firmly set on winning the national championship—may yet get their chance.
"We're taking it in stride," says Sinclair. "Timelines are different, but I can still plan and build a season, and we'll continue to challenge our athletes in whatever ways possible. We can improvise and adapt. We'll just play it as it goes."