By Dan Rubinstein
Photos by Josh Hotz
Maize is the most important crop in Malawi. The kernels are dried and ground into flour, which is used to make a porridge-like dish called nsima that some people eat at every meal, accounting for nearly half of all calories consumed in this landlocked country in southeast Africa.
Climate change is having a huge impact on this staple food. Farmers must contend with floods, drought, pests and disease, and agricultural scientists are studying the production problem. Yet few people are paying attention to what a changing climate is doing to the maize value chain — the storage, processing, packaging and transportation systems that bring the crop from fields to the homes of Malawians.
Which is why Alinafe Kamangira, an economics lecturer and PhD student at Malawi's Mzuzu University, has made climate change and the maize value chain the focus of her research. And now that Kamangira is at Carleton University as the recipient of a Queen Elizabeth Scholarship (QES), she will be able to bring new approaches to the problem back home thanks to the cross-pollination of knowledge that occurs during academic exchanges.
"Everything here has been an eye-opener," says Kamangira, one of nine QES scholars at Carleton until late June as part of a three-year, $1.5-million project that's addressing climate change through societal transformation and, at the same time, training the next generation of researchers in Sub-Saharan Africa and Canada.
"I've been in contact with Canadian scientists who study value chains — which they call food systems — from a number of different perspectives," says Kamangira.
"I was a little bit myopic before I left Malawi. Now my thinking has broadened. Sharing information with each other can spark new approaches."
This exchange is a two-way street. In North America, Kamangira explains, there's a major focus on the cost of purchasing labour in value chains, while in Malawi and other African countries, farmers frequently take turns co-operatively working in their neighbour's fields, and there is much more informal non-monetary crop trading.
She has been able to tell Canadians about this system, which will inform their understanding of agricultural practices in Africa. And that fits with another goal of the QES program: to tackle wicked problems such as societal transformation and climate change in a long-term, integrated international way.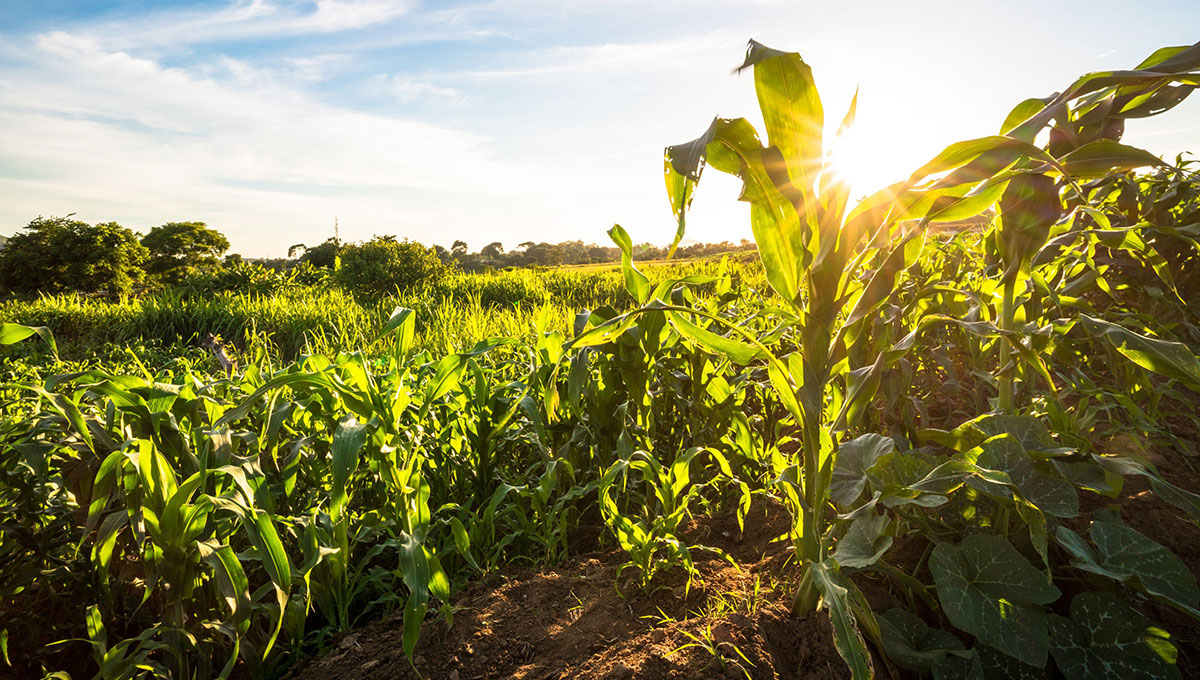 Mobilizing a Dynamic Community of Young Global Leaders
The Queen Elizabeth II Diamond Jubilee Scholarships-Advanced Scholars program was established in 2012 by former prime minister Jean Chrétien and then-Governor General David Johnston to celebrate the 60th anniversary of Queen Elizabeth II's accession to the throne.
The program, which to date has worked with 44 Canadian universities and nearly 60 countries, aims to support 3,000 scholars by 2022. By focusing on PhD students or recent PhD graduates, it represents, according to organizers, "a unique opportunity to mobilize a dynamic community of young global leaders across Canada to create lasting impacts both at home and abroad through cross-cultural exchanges encompassing international education, discovery and inquiry, and professional experiences."
The current round of QES exchanges involving Carleton, which began in March and will be repeated in each of the next two years, involve an unprecedented research training opportunity facilitated by the Office of the Vice-President (Research and International) and all six of the university's faculties, which have provided both financial support and mentors for the visiting scholars.
The QES program is generously funded by Canada's International Development Research Centre and the Social Science and Humanities Research Council of Canada, and is managed through a partnership between the Rideau Hall Foundation, Community Foundations of Canada and Universities Canada.
International academic exchanges typically involve an individual researcher, explains Carleton QES Principal Investigator Mike Brklacich, chancellor's professor in the Department of Geography and Environmental Studies and associate dean (Graduate Programs and Research) in the Faculty of Arts and Social Sciences.
The QES program is unique in bridging social, environmental, and engineering sciences to tackle societal transformation and climate change issues, which meshes well with Carleton's interest in sustainability, diversity, and internationalizing academic and research programs.
The program, in fact, dovetails perfectly with the internationalization strategy outlined in the university's Strategic Mandate Agreement with the Government of Ontario, in which Carleton details its aspiration to participate "in networks of international scholars dedicated to solving major world challenges" and to foster a campus culture that supports international collaborations and experiential learning at home and globally.
It is also aligned with the university's Strategic Integrated Plan, which calls for a variety of opportunities that help students become "knowledgeable, active citizens in a global community."
Moreover, the QES program brings an "applied interdisciplinarity approach," says Brklacich, "which help participants understand the culture of science in each other's countries."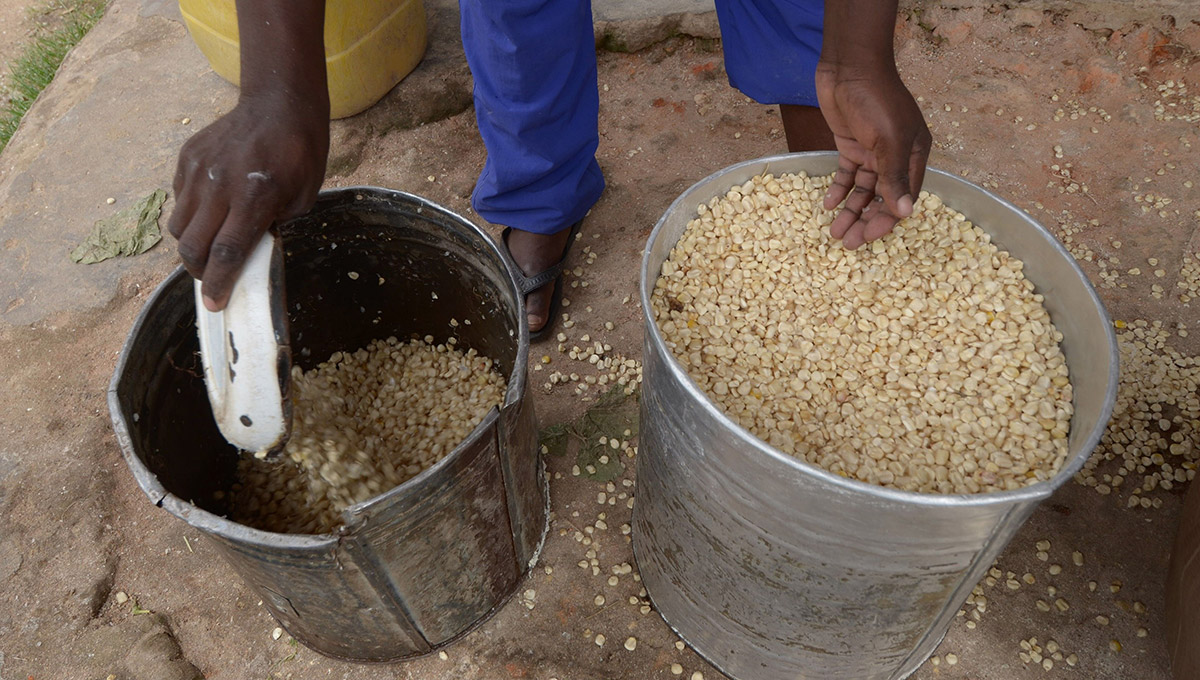 Queen Elizabeth Scholars: Connecting Canada and Africa
Although there are three different groups of QES scholars, each will help prepare the one that follows, building networks that connect Canada to Africa and crossing the disciplinary boundaries that make global challenges such as climate change so difficult to address.
"The breadth of the program is really amazing — individuals are developing an appreciation for areas of research beyond their discipline," says Brklacich, who is working with Carleton's Onita Basu, Paul Mkandawire and Pius Adesanmi, as well as Deputy Vice-Chancellor Karoli Njau from the Nelson Mandela African Institute of Science and Technology, Environmental Sciences Dean Wales Singini from Mzuzu University in Malawi and Yaa Ntiamoa-Baidu from the University of Ghana. There's additional support from Sprott Associate Dean Michel Rod, international projects manager Heloise Emdon at the Carleton University Research Office and QES project co-ordinator Stephanie Pineau.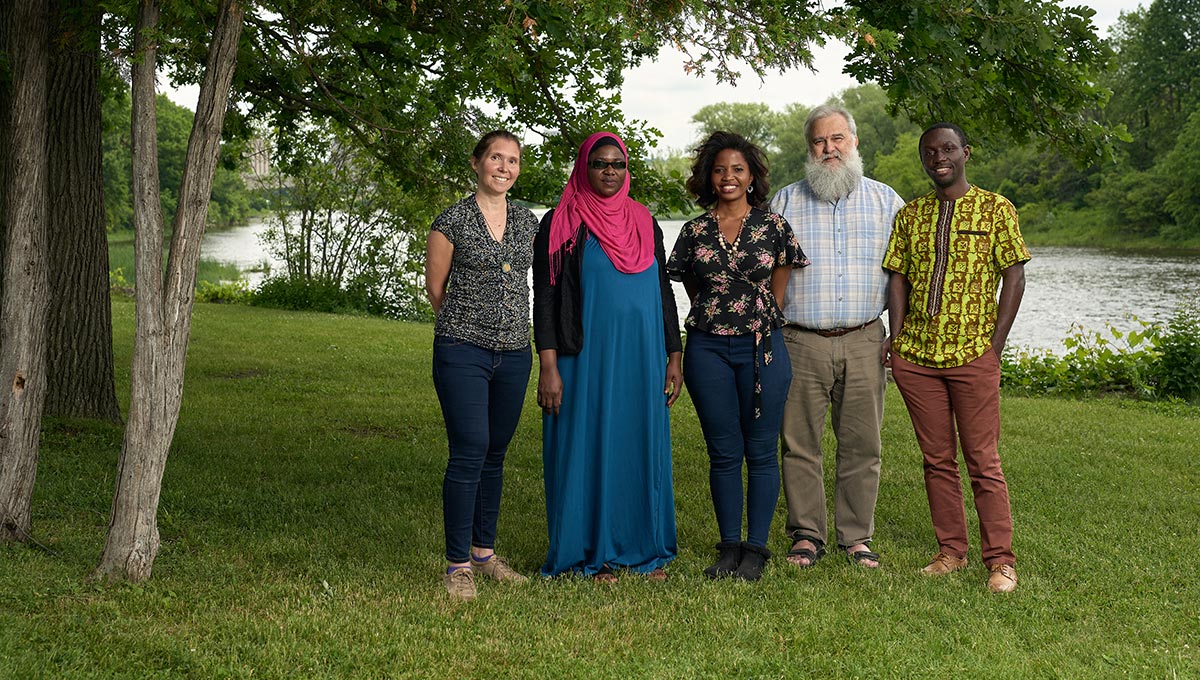 "The applied interdisciplinary approach provides a space for interactions where, for example, scholars from disciplines such as forestry, chemistry and environmental technology can gain new insights into a common problem," says Brklacich. "We're not trying to convert social scientists into chemists, but create a shared understanding of the issues.
"Over the past 30 years, climate change has been looked at predominantly as an environmental issue," he continues. "Today, we have realized that it's also a social issue, an economic issue, a technological issue and a political issue — and one that has both local and global implications."
Although it won't "solve" climate change within its lifespan, the QES program can mitigate some of its impacts and help create networks of emerging scholars, says Brklacich.
"We can plant seeds that will continue to grow for decades," he says. "The seeds of larger, longer-term projects."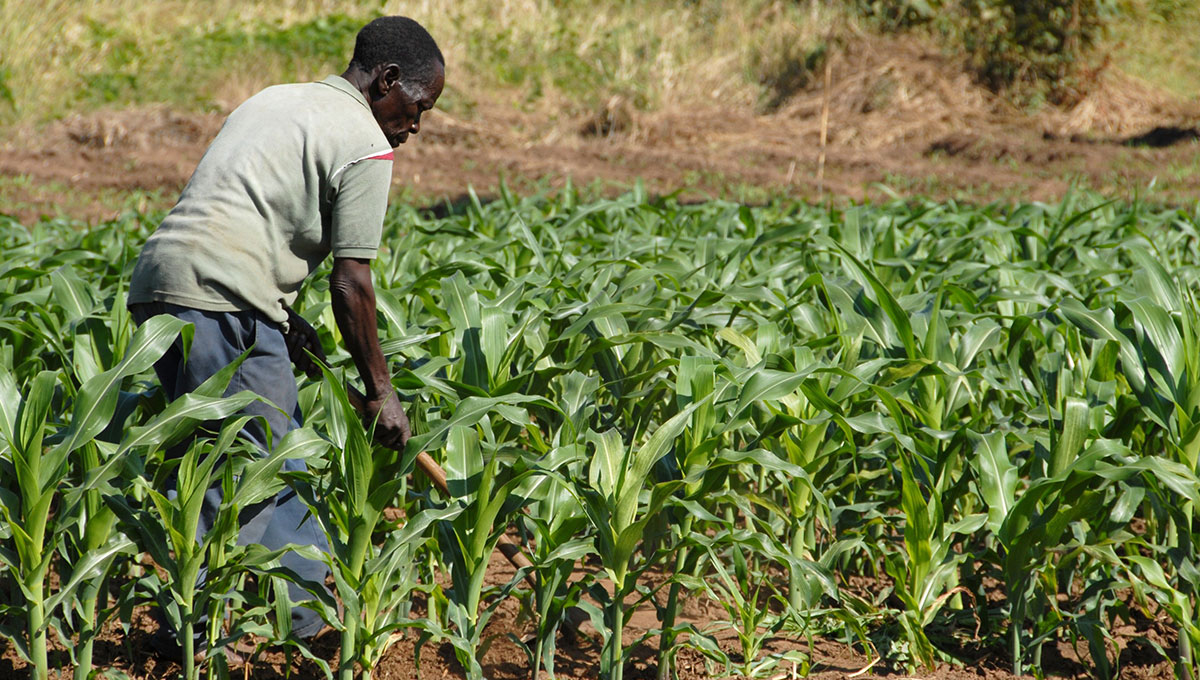 Tapping into Carleton's Research Expertise
Sophia Bakili and Enock Dankyi are two of the nine African scholars joining Alinafe Kamangira at Carleton this year.
Dankyi, a chemistry lecturer at the University of Ghana, is doing research on the prevalence of mycotoxins — toxic chemical substances produced by fungus — and their impact on food safety.
Mycotoxins, which can cause illness or even death when consumed in high concentrations by people or animals, are produced by various species of fungi which thrive in warm and humid climates. The prevalence of these toxic chemicals is projected to increase under climate change conditions, says Dankyi.
Working with Carleton's Maria DeRosa and David Miller, where he is exposed to advanced research and technology, Dankyi is hoping to move closer to developing and applying a simple and inexpensive test kit for detecting mycotoxins in Ghana and elsewhere in Africa. This will not only help stop people from eating contaminated food, but also identify and mitigate conditions that promote mycotoxin growth.
"While climate change presents a huge and complex problem. particularly for the continent of Africa, I believe that simple, low cost, easy-to-use tools and approaches will go a long way to helping address our vulnerabilities to this menace," says Dankyi.
Bakili, a PhD student at the Nelson Mandela African Institution of Science and Technology in Tanzania, is working on biofuel made from the maize cob left behind when maize is processed, as an alternative to fossil fuels in Tanzania's transportation sector. Because the biofuel's raw material is essentially waste, scaling up its use will have both environmental and economic benefits.
"The Queen Elizabeth Scholarship program has helped me get first-hand experience using equipment that could be used in my country to produce biofuel," says Bakili, who is collaborating with Basu while at Carleton.
"It has also strengthened the link between my knowledge and the broader challenge of climate change.
"Climate change is real and it's everywhere," she continues. "Impacts produced in Africa are felt everywhere, so we need to integrate our ideas to come up with real solutions."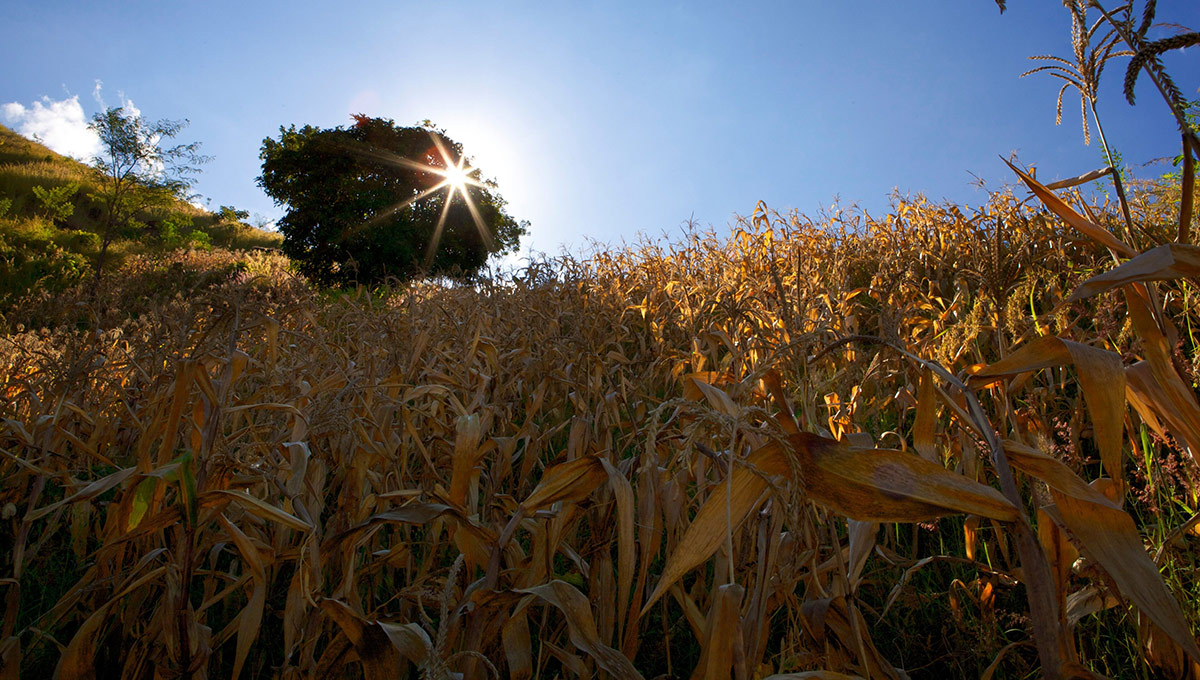 Off-Campus Research Placements
In addition to being paired up with faculty mentors at Carleton, the visiting scholars spend about a third of their time doing off-campus research placements at organizations such as Agriculture and Agri-Food Canada, Natural Resources Canada and the Ottawa Biosphere Eco-City Initiative.
Carleton students who go overseas, including Environmental Engineering PhD student Robbie Venis, who is in Tanzania now, follow a similar structure.
Venis is working with local partners to optimize the design of a ceramic water filter for biological contaminants to improve access to safe drinking water in the rural community of Longido. He will be followed by a second Carleton student heading to Sub-Saharan Africa in December.
Next year, it's expected that a dozen African scholars will come to Carleton and five Carleton students will go overseas, with similar numbers in 2020.
"My research is very connected with my societal interests of reducing the barriers to accessing clean water among economically disadvantaged and marginalized communities," says Venis.
"I expect the exchange to, above all else, connect me with scholars and intellectuals in my partner country from whom I may learn.
"I believe that close communication and collaboration will allow me to learn a tremendous amount about both the science and state of scientific understanding in Tanzania, as well the textured experience of managing large-scale issues like drinking water in their country. I expect the QES project to advance my career, as it gives me the opportunity to work with and learn from a very diverse group of people, which would not be otherwise possible."
Thursday, June 21, 2018 in International, Research
Share: Twitter, Facebook