By Joseph Mathieu
Photos by Josh Hotz
Big Data's challenges are as daunting as its opportunities are irresistible.
That was the view as Carleton University gathered experts at its fifth annual Data Day on June 5.
Hosted by several local and regional partners, including Shopify, IBM, IMRSV Data Labs, CATA Alliance, MindBridge, Invest Ottawa and the Ontario Centres of Excellence, Data Day focuses on the latest developments in data science and analytics research.
This year's themes of e-commerce, artificial intelligence (AI) and data regulation were dissected in panels and presentations throughout the day.
Rafik Goubran, vice-president (Research and International), welcomed more than 400 attendees ranging from academics and Carleton staff to many representatives from finance, business, high technology and government sectors.
"Data is becoming so vital to our operation that it's essential in everything we do at every turn in our life," said Goubran. "The problem in the past was we didn't have enough data. Now we have too much."
Today, the reality is that big decisions in most industries aren't made without data analysis. As Hugh Cairns of the Sprott School of Business and the SAS Institute explained before participating in the E-Commerce, Big Data and Societal Change panel, the advent of the digital age and an increase in computational ability have brought data analytics to the forefront of all sectors.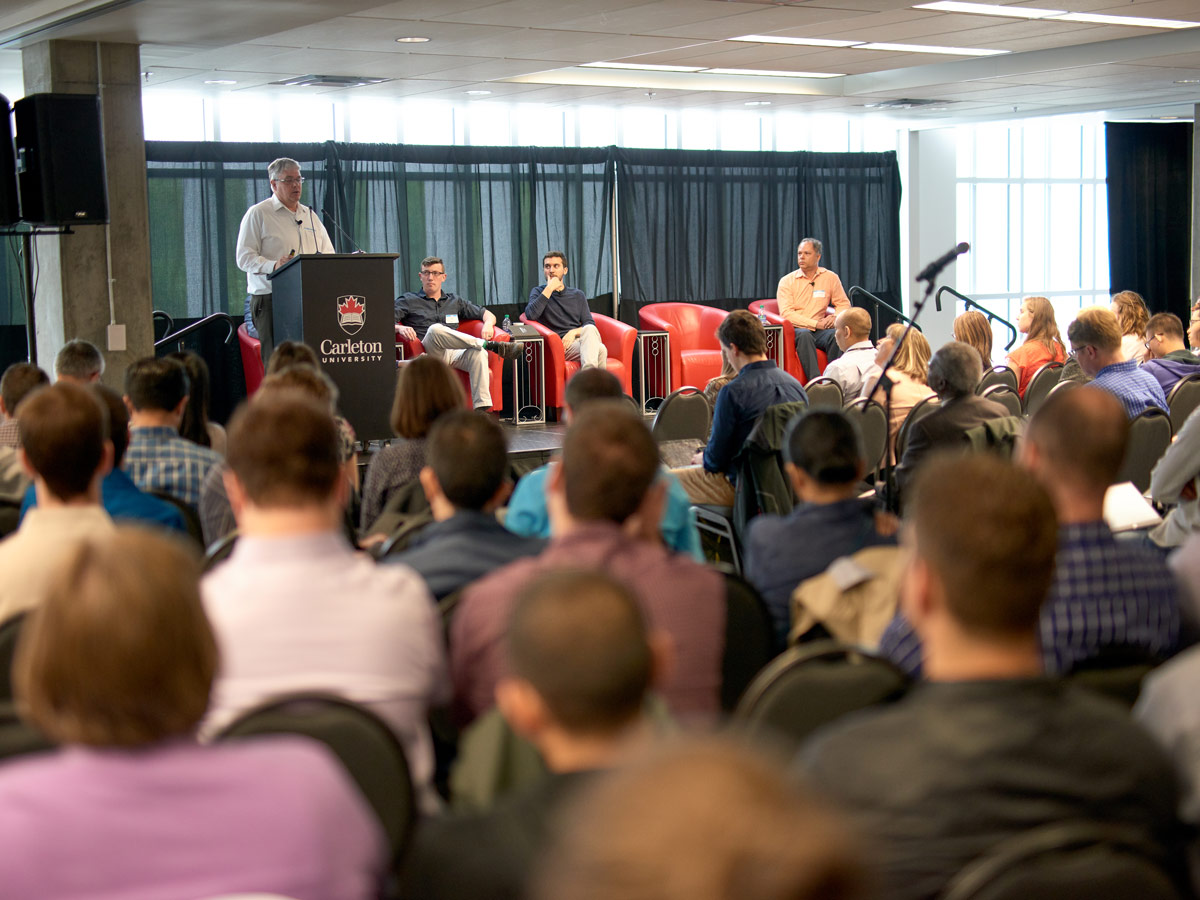 Improving Manufacturing, Health Care and Beyond
Data science can improve manufacturing and health-care technologies, transportation and public safety systems, cloud computing, DNA modelling, business analytics while tackling a slew of real-world problems.
Frank Dehne, director of the Carleton University Institute for Data Science (CUIDS), said data science at Carleton is growing by leaps and bounds. Facing those Big Data challenges and accessing those opportunities is the number one priority of the Institute and its many departmental partners.
I​n 2013, Carleton and IBM developed the Collaborative Master's in Data Science as a first step in an ambitious direction. Enrolment began the following September, attracting 40 students who wished to earn a degree in one of several disciplines with a specialization in data science. The institute was launched two years later, and the master's program now spans 10 departments, including business, economics and media studies, with public policy soon to follow.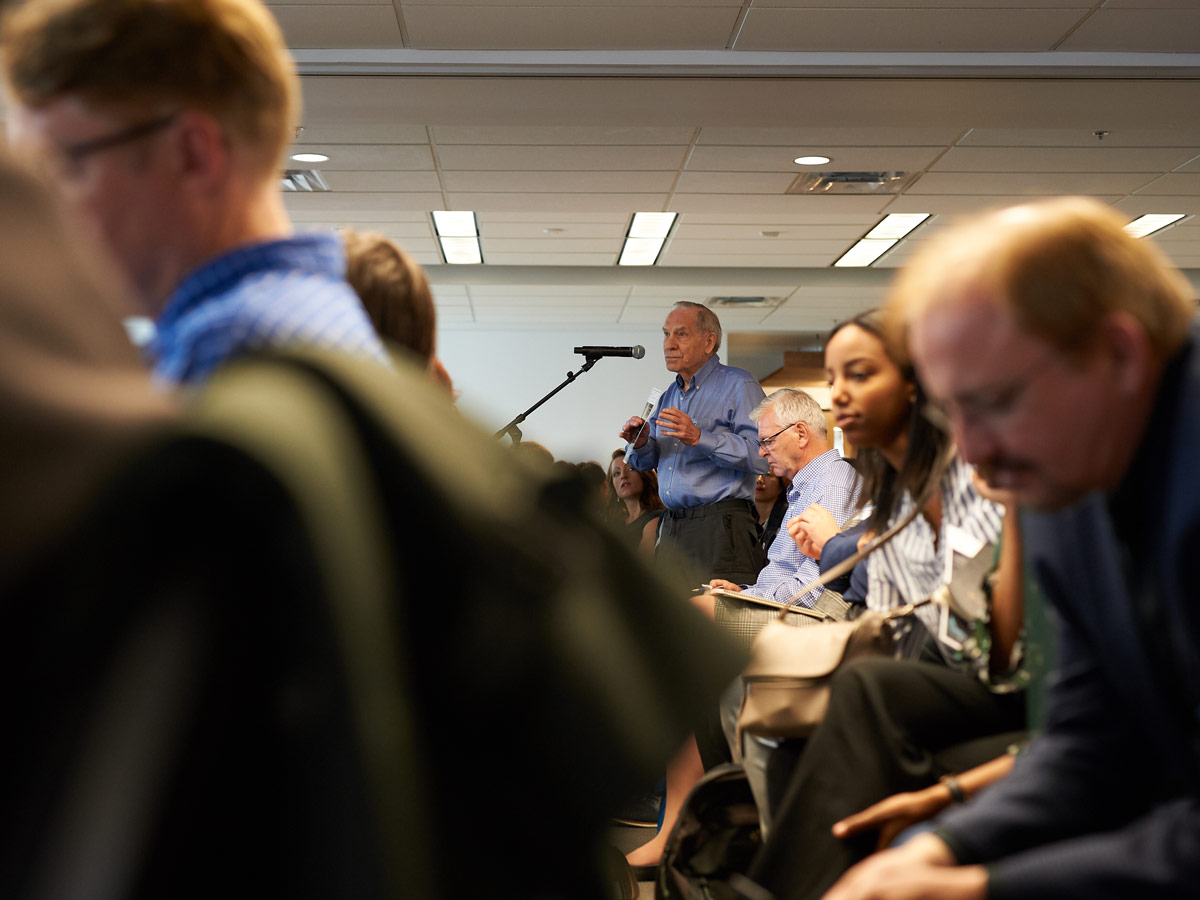 A Rapidly Growing Field
This summer, CUIDS is moving into its own space on the fifth floor of the ​Herzberg​ Building after five years of labs and classes taking place across campus. By developing two new degrees, a technical master's and a PhD in Data Science, and hiring several new professors, CUIDS aims to double enrolment and accept 80 students a year by 2019.
"Students that go into our program can enter from any department," said Dehne. "The particular way that Carleton looks at data sciences is as a big interdisciplinary exercise. It's all about different disciplines working together."
Tara Denham of Global Affairs Canada said the global dynamics of international affairs has shifted significantly in recent years. She posited that AI could address many global challenges, like helping at-risk girls find safety in the developing world, and could possibly help humanitarian efforts and stakeholders of all stripes to reach the United Nations' sustainable development goals.
Between two keynotes from Shopify's Director of Decision Sciences, Cameron Davidson-Pilon and David Fewer of the Canadian Internet Policy and Public Interest Clinic (CIPPIC) was a lunch break and the graduate student thesis poster competition. Data Day culminated with its popular speed-networking session for students and companies to meet, where the employers outnumbered the grads.
The Artificial Intelligence and Machine Learning panel examined the upcoming impact of AI on the world stage from the perspectives of the academic, government, finance, and legal industries. Last year, PWC estimated AI could increase the global GDP by almost $16 trillion by 2030. But the technological marvels to come, from body-implanted mobile phones to 3D-printed cars, are speeding towards us hand-in-hand with the fears that AI will replace both the blue and white collar labour force.
"It is a whole new world," said Valerie Turner of MD Financial Management. "And it's about these technologies maturing to the point where we can use them."
Being able to harness the sea-change in necessary skills will take both agility and ingenuity. As certain professions are disrupted and begin to shift, the next generation of workers will have to be prepared for the data-driven jobs of tomorrow.
Friday, June 8, 2018 in Faculty of Engineering and Design, Faculty of Science
Share: Twitter, Facebook