By Elizabeth Howell
Photos by Chris Roussakis
Two weeks ago, CBC anchor Peter Mansbridge visited Vimy Ridge armed with the latest in digital technology. The 50-year journalism veteran brought a 360-degree rig with 16 GoPro cameras to capture views inside the trenches. He also bore a contraption on his back to record the area for Google Street View, since Vimy Ridge is not fully accessible to vehicles.
Mansbridge was there to record an April commemoration of the 100th anniversary of Vimy Ridge, a key First World War battle that many commentators cite as transformational in Canada becoming a nation. To tell the story for today's youth, he reasoned, you need to use their technology. So that's why, on the eve of his retirement, Mansbridge ventured into something new. The results will be distributed to most schools across Canada next month in partnership with YouTube and Google.
"We're in an era now where no matter what platform you work with, you better have digital (skills)," Mansbridge said in an interview after delivering the 18th annual Kesterton Lecture at Carleton University on March 21. "But you have to start with the basics of journalism. How to write. How to tell stories. How to do interviews. All of that. But digital is the world we live in now, and all our energies are moving to digital – while still maintaining our traditional sources."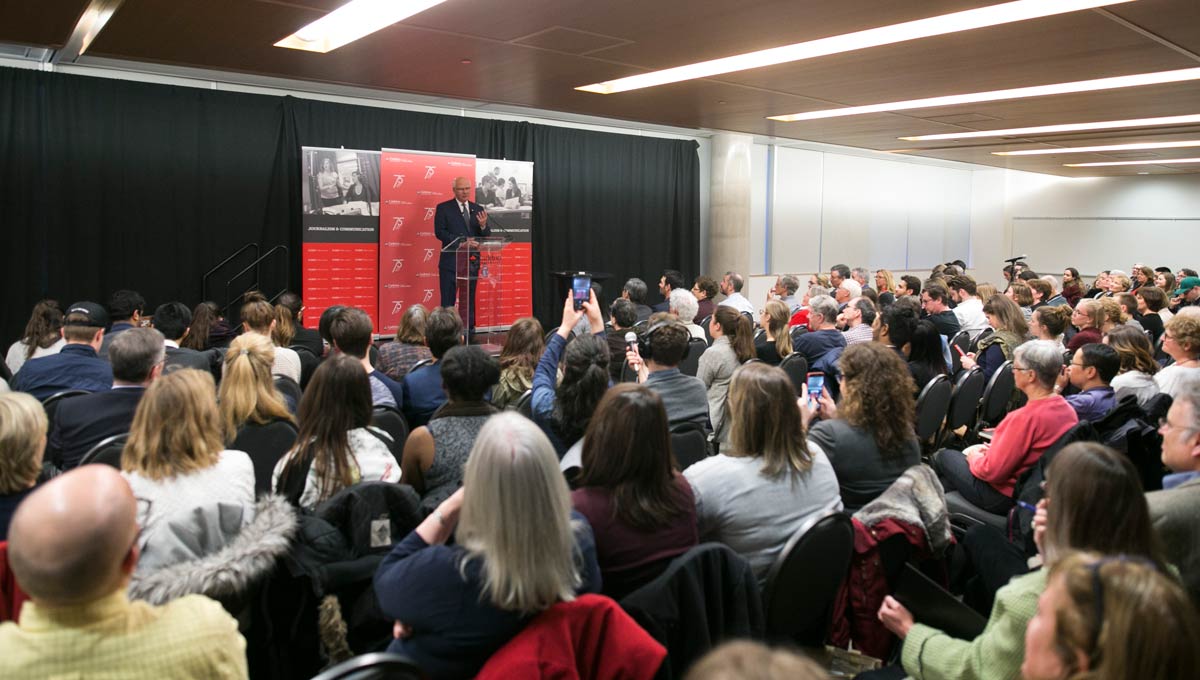 Peter Mansbridge:
Pace of Change is Dizzying
He began his career when television was still delivered in black and white, Mansbridge told an audience of more than 250 people. These days, the pace of change in journalism is so dizzying that whatever he says could be outdated in just a few weeks, he warned, and The National newscast is going to see large changes after he leaves his post as CBC's chief correspondent July 1.
The National will likely employ new formats of storytelling delivered on multiple devices, something risky and bold, he said, anchored in the principles of traditional journalism: facts, accuracy, credibility, contrast, depth and understanding.
"These days it's not only about telling the story, but getting access to the story," Mansbridge said after his lecture.
"What we did with Vimy Ridge is we took the latest technology there to try and allow people who are here [in Canada] to feel like they've been there. So it's one thing to tell them the story they didn't know. It can be a whole other step taking them to the story without ever having to leave their house."
In his speech, Peter Mansbridge acknowledged that journalism faces numerous challenges: reduced budgets, increased devices and the need to reflect diverse demographics – all balanced against spin doctors and politicians who are more adept than ever at crafting messages of their own.
U.S. President Donald Trump, said Mansbridge, has views reflected by millions of Americans – and an established social media platform on which those views are shared.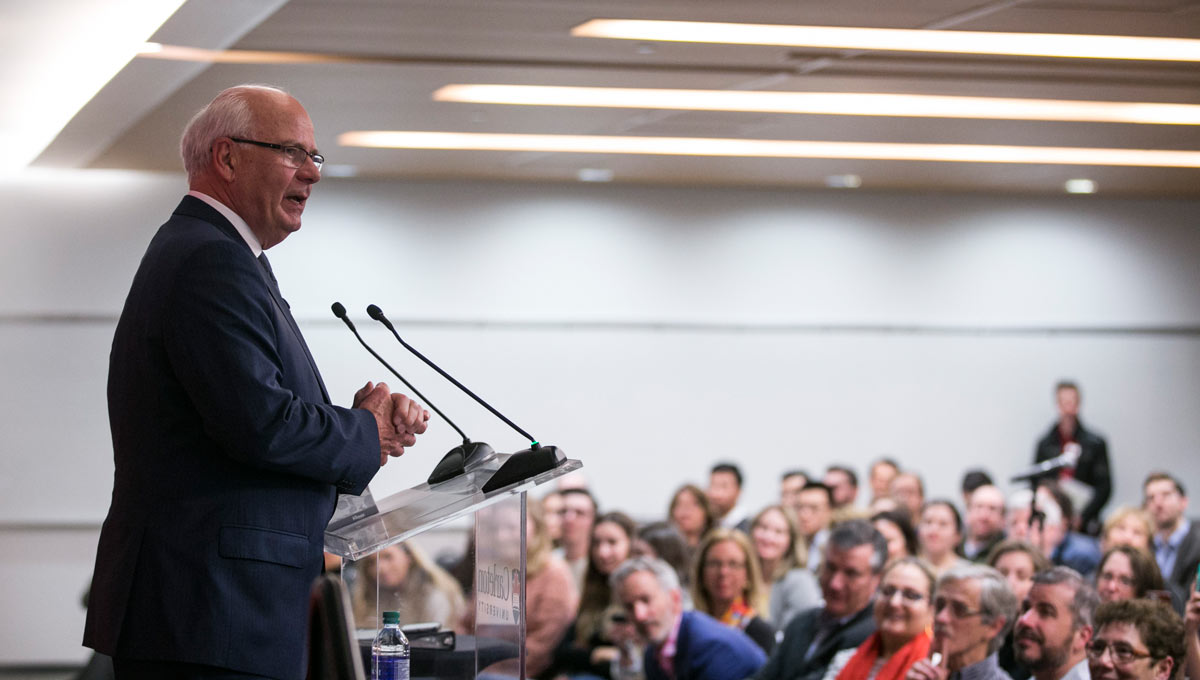 A Function of Democracy
Journalists do their jobs because it's a necessary function of democracy, he said, not necessarily because they like the work, feel their jobs are easy, or want to be popular with their audiences.
"Don't confuse trust with like," Mansbridge told the audience. "I don't really care if you like me. Really, I don't. But when I tell you something important, do you believe me? That's the only thing that I want. That's the only thing we, as journalists, should want: To be trusted. To be believed."
In a question and answer session with Jennifer Ditchburn, a Carleton graduate and former journalist who is editor-in-chief of Policy Options, Peter Mansbridge, who received an honorary degree from Carleton, was asked about advice for journalism students.
He joked that most students he meets want his job immediately, but he urged them to begin their careers in small communities to learn about the concerns of Canadians from up close.
The skills you learn at town council or school board meetings are still valid in the halls of Parliament, he said, and many journalists are happy to remain in communities where they start their careers, honing their craft and developing their sources.
He also urged young journalists to stand up for each other at press conferences. He cited a press conference with Trump where the then president-elect ignored a question from CNN and the other journalists carried on without pressing him to answer.
"We need to stand up for our profession when it's under attack, and back it up with solid journalistic practices and principles," Mansbridge said.
"It's simple advice, but it matters now more than ever."