By Dan Rubinstein
Photos by Chris Roussakis
A professional sports team is like an iceberg.
Only 10 per cent of the organization — how the players perform during games — is typically visible. The rest of the franchise's operations take place beneath the surface.
Aimee Deziel, the recently-hired chief marketing officer for the Ottawa Senators, is focused on that other 90 per cent. And the Carleton graduate, who joined the NHL team in August after two decades in advertising, business development and human resources, has embraced the challenge of enhancing the club's marketing, sales and creative capabilities.
"We're a hockey team, so the highest profile part of what we do is on the ice," says Deziel.
"But we're also a business, a non-profit foundation, a community centre, and play a huge role in the economics of our city.
"Because so many eyes are on us, even the smallest issue can become a problem. But the reality is, apathy would be the worst-case scenario. As a marketer, dealing with so much passion is an advantage. My mandate is to help change the narrative. Ultimately, it comes down to having an ongoing and constructive conversation with our fans."
After a tough year in 2017-'18, with public complaints about the team's ownership reverberating, former star defenceman Erik Karlsson suiting up for the San Jose Sharks and the move to a new downtown arena yet to be mapped out, the Ottawa Senators entered the NHL season with a lot of uncertainty.
They've done well so far, winning almost half of their games through the first third of the schedule. And behind the scenes, Deziel has been busy, working to strengthen — and, at times, repair — the relationship between the team and its supporters.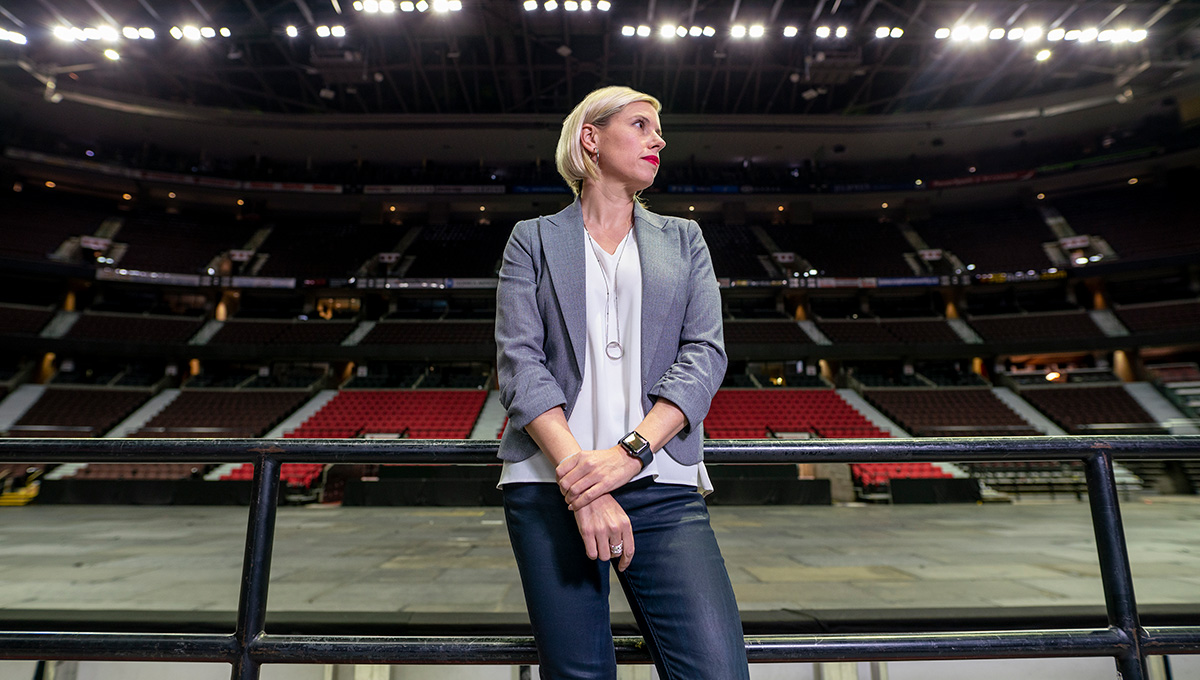 Providing Guidance and Leadership to the Ottawa Senators Organization
A wide range of in-house units report to Deziel, whose resume includes nine years as chief operations officer and chief marketing officer at the tech firm Momentous, four and a half years as a vice-president at the creative services agency 76design, and a stint as the head of marketing with the Ottawa Rapidz minor league baseball team.
Her purview with the Ottawa Senators covers marketing (traditional and digital), branding (including co-branding initiatives with partners such as local businesses), the in-game experience, the creative department, sales and ticketing, community outreach, and business intelligence.
"I'm not doing it all, just providing guidance and leadership," says Deziel.
"After three months, I've been really impressed with the dedication and creativity of people on the business side of the organization. On any given day at the office, it feels like I'm teaching the team something, and also being taught something.
"That's a perfect scenario," she adds. "It's ideal for any job."
Deziel's typical workday involves a lot of meetings with colleagues and external partners. She also provides creative direction on ads, and because the in-game experience can be adjusted after each of the 41 regular season home games, there's an opportunity for evolution on that front as well.
She has four main long-term goals.
Foremost, she wants to help the franchise become more accountable and transparent.
Secondly, with a roster stocked with new players, she wants to help create connections to fans and the local community. "We need to find opportunities to bring their personalities forward," she explains, "because it's easier to be motivated to watch and a follow a team if you feel a connection to an individual."
Third, she wants to help the organization adopt a more modern approach to marketing, using more digital tactics and experimenting with new types of campaigns.
And fourth, she wants to make the fan experience at the rink more fun.
"This is hockey — it should be fun!" Deziel says.
"We've gotten very serious about what we do, and to a certain extent we have to be, but on the flip side, we need to have more fun. I want people who come to a game to have fun from the minute they get to the parking lot until they get home. And even when they get home, I want them to still be engaged with us.
"We were sure to get the message out over the summer that we were in rebuilding mode," she continues. "We're younger and faster and more exciting than we were last season — that's what we promised — but there are a lot of unknowns.
"People come to games for a number of reasons. For entertainment. To socialize. People come with their kids. People come because the players are part of the community. It can be a very galvanizing experience. Our job is to work with all of that. As a marketing team, we have a lot of influence over the affinity that this city has for the team."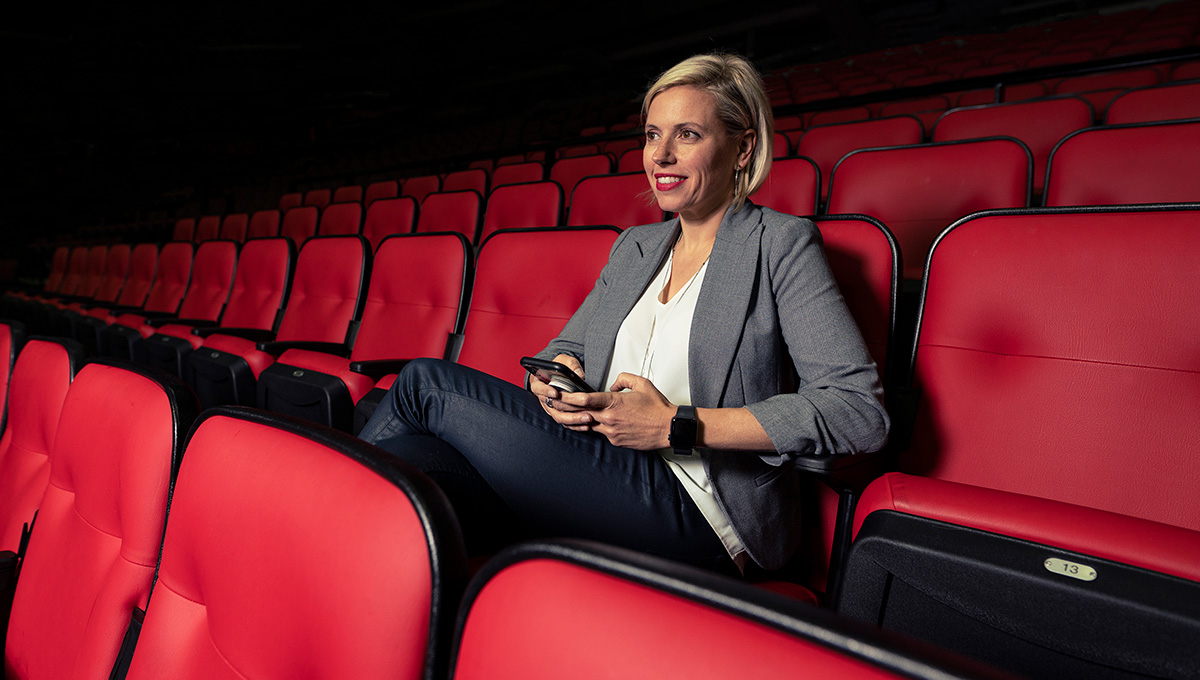 A Deep Well of Experience at Carleton and in Ottawa Generally
Deziel grew up in a bilingual family in Windsor, Ont., and, after a couple of visits, fell in love with Ottawa because of both official languages are prominent in the city.
She moved to the capital to attend Carleton in 1995, drawn by the university's well-rounded Bachelor of International Business program, which allowed her to study marketing, finance, accounting, business development and more.
"The way the program was structured, getting a business education and an opportunity to study abroad for a year, was a big appeal for me," she says.
"From the first week onward, I felt at home at Carleton. It felt like family. I had great professors and made great friends."
In 1997-'98, Deziel attended the University of Monterrey in Mexico, where she learned to speak Spanish, and returned to Carleton to finish her degree the following year.
She remains close friends with a couple people from her university days, and these social connections have led to business connections. "My Carleton classmates have become business leaders and decision-makers," she says.
Deziel got a job at a local ad agency right after university — "it was where my talents and passion led me," she says — and hasn't looked back.
The two decades she has spent working in the Ottawa market provide a deep well of experience to draw from for the challenges she faces in her role with the Ottawa Senators.
"It's invigorating and exciting and all of the things I hoped it would be," she says about the job.
"I feel honoured to be able to do this. I never set out to work in professional sports, but throughout my career, I've been able to seek out and take advantage of new opportunities and you never know where those will lead."