Carleton University's newest initiative has student experience and community building at its core.
In light of the online fall term, the university has partnered with various departments and student-run groups—such as Carleton University Students' Association (CUSA), Athletics, the International Student Services Office (ISSO) and others—to participate in a new cohesive hub that features different activities.
CUx was designed to fill gaps in student life as the online fall semester presents uncharted waters.
"It's really important that we are intentional with the programming that we offer for students so that they can feel part of the Carleton community," says Chiara Webb, the new student programs and activities co-ordinator.
"Especially this year, where students are virtual and plugging in from across the world to do their academics and courses."
This year, Carleton students, even those living outside of Ottawa, can participate in any activity offered on the CUx page—from paint nights to e-sports, virtual epic bingo, workshops and more.
Additionally, CUx provides resources and opportunities for student groups to get involved by launching their own initiatives and promoting them on the online platform.
Funding is also available to support any Carleton group through the CUx Experience Fund.
The page, which launched on Aug. 17, features all 12 partners, including Housing and Residence Life Services.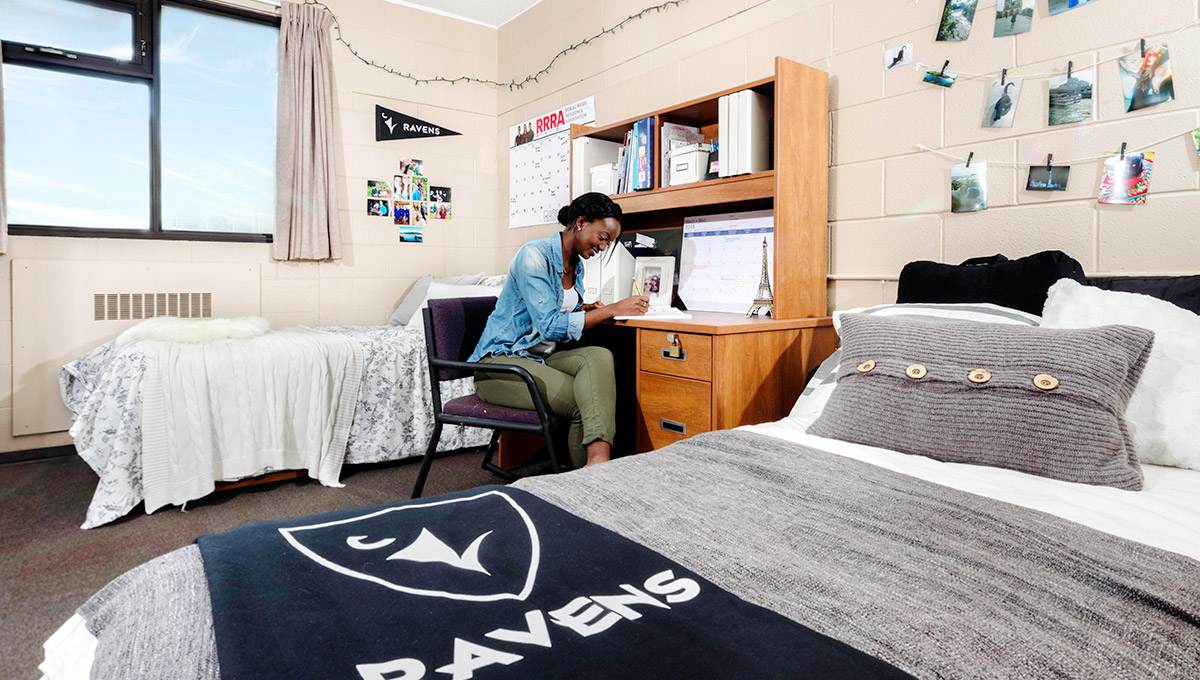 Residence and COVID-19
In mid-March, when the novel coronavirus appeared in Ottawa, Carleton gave students the option to stay on campus or depart to their homes. Of 3,600 people living in residence, close to 700 decided to stay to finish the academic year. Fast-forward a few weeks and 300 of those 700 students decided to extend their stay for the summer months.
"Most were international students who didn't have another place to go," says Laura Storey, director of Housing and Residence Life Services.
As social distance is a crucial measure to reduce the spread of COVID-19, Residence is enforcing Ottawa Public Health guidelines to ensure that's possible within the living arrangements.
"We've reduced our density overall," explains Storey. "Every room that used to be a double will now be a single, and our maximum bathroom occupancy will be a two-to-one ratio."
Instead of hosting its regular 3,600-person capacity, residence now has a maximum occupancy of 2,200 beds of which only 1,250 will be occupied during the fall term. An additional 875 students will join in the winter.
"We have a ton of signage up everywhere saying keep your distance and wear a mask as you walk into the buildings," says Storey.
There are also cleaning kits in each residence bathroom for students' use. These include disinfectant, a microfiber cloth and instructions on how and what to clean.
The cafeteria now includes two options: dining in on the second and third floor of Residence Commons or takeout meals from Oasis, located at the tunnel level of the building.
When it comes to supporting students during the pandemic, each floor has at least one Residence Fellow who does daily rounds in the building and hosts supportive conversations with students while wearing a mask and practising social distancing. A professional staff member is available 24/7.
Additional support programs for residence students include a residence-specific nurse located in 131 Renfrew House—where the three residence counsellors are located—and can be accessed through online appointments.
"We have a group of experts across campus who are able to support students," says Storey.
"The most important thing with COVID-19 is making sure people are safe."