Manal Haji Egeh was working as a counsellor with Somali youth and families when she spotted a job posting for a new racialized counsellor at Carleton University.
"I immediately thought, wow, this is so important because racial trauma has a significant impact on the mental health of racialized communities through experiences of individual, institutional and structural oppression," she says.
"This opportunity really aligned with my values."
Haji Egeh is one of three counsellors recently hired as permanent staff by Carleton's Health and Counselling Services—bringing the total number of counsellors to 13. The new hires include Haji Egeh; Rylee Godin, an Indigenous cultural counsellor; and Magda Georgescu, who works specifically with graduate students.
The new positions come at a time when Health and Counselling Services is facing a significant increase in demand. Director Kristie Tousignant says the clinic saw a 21-per-cent increase in mental health appointments between March and August 2020.
"Our students are facing a culmination of things in an already difficult time," says Tousignant.
"The post-secondary years are usually when mental health challenges come to light and the pandemic has added a complexity to that."
But while all students are grappling with online education in these challenging times, Tousignant says the clinic recognizes that counselling is not a one-size-fits-all solution.
Hiring a counsellor to address the unique perspective of racialized students has been one of the goals of both Health and Counselling Services and Carleton's Department of Equity and Inclusive Communities. Haji Egeh began seeing students in late November.
"It's exhausting living in a society where it can sometimes feel like parts of you don't belong," she says. "It is exhausting to have to resist these systems of oppression that label racialized individuals as the problem instead of acknowledging that the system must change."
Haji Egeh says her job is to offer students a respite from that experience.
"The systemic barriers they experience are so normalized that they don't have a space to talk about how problematic and traumatic those barriers are and how much this impacts their mental health," she says.
"Being able to meet with someone from a racialized background gives them the space to be their full selves."
Counselling Through an Indigenous Lens
Godin provides a safe space for a particular group of students—those with an Indigenous background. She is currently an Indigenous Cultural Counsellor at the Centre for Indigenous Initiatives, but will be transitioning to a counselling role at Health and Counselling in summer 2021, where she will see both Indigenous and non-Indigenous students. She looks forward to bringing what she's learned at the centre to her counselling role.
"It is really unique to have a connection to both counselling and the Centre for Indigenous Initiatives," says Godin, who is Métis. "It allows me to work from frameworks that align with Indigenous ways of knowing."
The need for counselling that reflects Indigenous traditions was identified by both the centre and health services. Godin is combining her education in counselling psychology with online training from Indigenous facilitators to adapt to that need. She says one of the biggest challenges for her students has been the loss of their on-campus community.
"Some of my students are in more remote communities that don't have great Internet or resources available," says Godin.
"Then there is the pandemic, dealing with isolation and loneliness, and zoom fatigue. It's all leading to increased stressed levels."
Two years ago, Carleton's health services launched a pilot project to address the need for a dedicated graduate student counsellor on campus after students asked for one. The pilot was such a success that the university hired a counsellor on permanent basis for 10 months each year.
"Graduate school is isolating in itself, but even more so during the pandemic," says Georgescu, who recently started in the position. "Many students are struggling with the grief of missing experiences. Some came to Ottawa for a program, but they can't connect with their peers or explore the city."
Georgescu, who earned a Master of Social Work from Carleton, understands what her clients are experiencing. She has a number of suggestions for combatting the loneliness and stress they are facing right now.
"I suggest they pay attention to when they become overwhelmed and then try to connect with people and know that support is available for them at the clinic," she advises.
"They also need to allow themselves to accumulate positive experiences by adding pleasurable activities to their schedule, just like they do with schoolwork."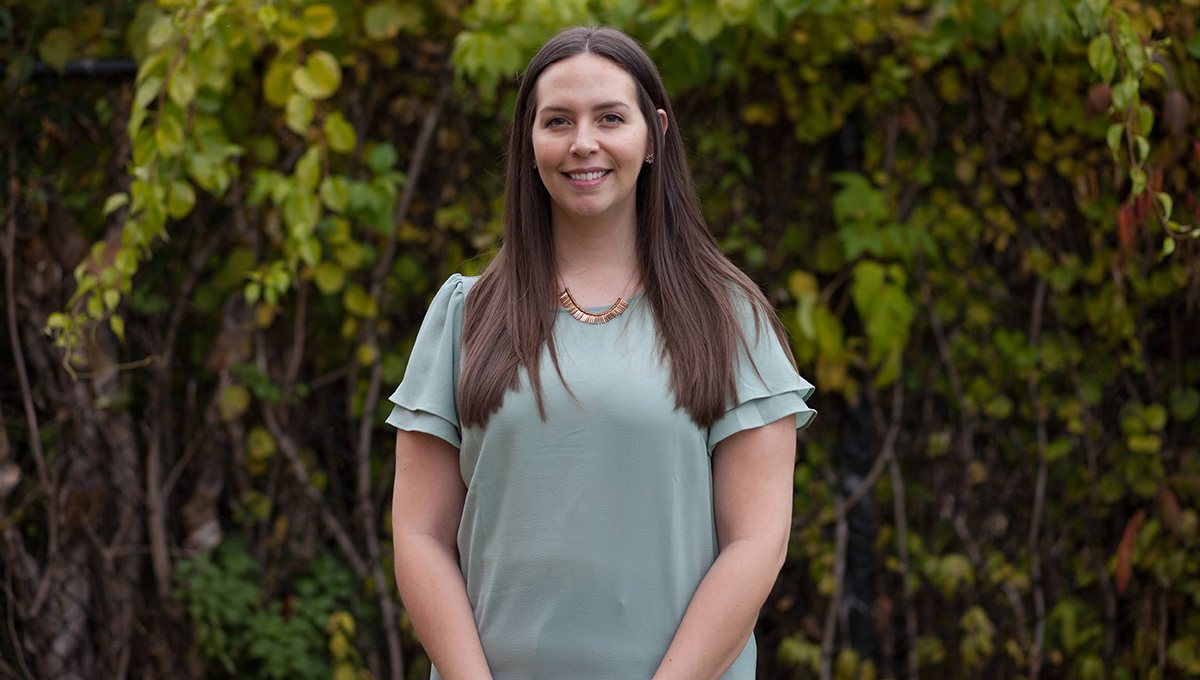 Strong Demand for Virtual Counselling
Tousignant says the new counselling positions are part of a plan to speed up referrals and ensure equitable access. Health and Counselling Services is initiating a centralized counselling intake to streamline access to services while ensuring students are assigned the most appropriate counsellor.
This restructuring of the mental health services reflects Carleton's new Strategic Integrated Plan, which strives to "enhance personal wellness and health." Health and Counselling Services has also established popular group sessions for students, as well as a partnership with the Royal Ottawa Hospital to provide a dedicated psychiatrist to the clinic once a week for telemedicine psychiatry.
"Mental health is at the forefront of what we do," says Tousignant, who spent 18 years in the hospital sector working as an emergency room nurse, as the clinical manager of infection control, and more.
"I think (this mental health need) is going to be our second pandemic. Hopefully, we will see a light at the end of the tunnel soon."
Students living in Canada can make an appointment for counselling by calling 613-520-6674. Meanwhile, all students can access support through TAO Online Self-Help and Therapy. All undergraduate students (including international students) can access free counselling through Empower Me. The Graduate Students' Association is also running a healing spaces program once a month. International students residing in their home country can also visit this website for a list of resources.