It was one of the hardest phone calls Carleton journalism student Megan Costa ever had to make. Costa was given the names of two Toronto women who died from COVID-19 — mother and daughter Doris and Dianne Chin. Her assignment was to locate and interview their next of kin.
"I was really nervous about it because I had never spoken to someone who had gone through something this traumatic," says Costa.
"I eventually reached Natasha, who had lost both her mom and her grandmother within three days of each other. But she was very thankful to be able to tell their stories and that they would be remembered as actual people who did extraordinary things."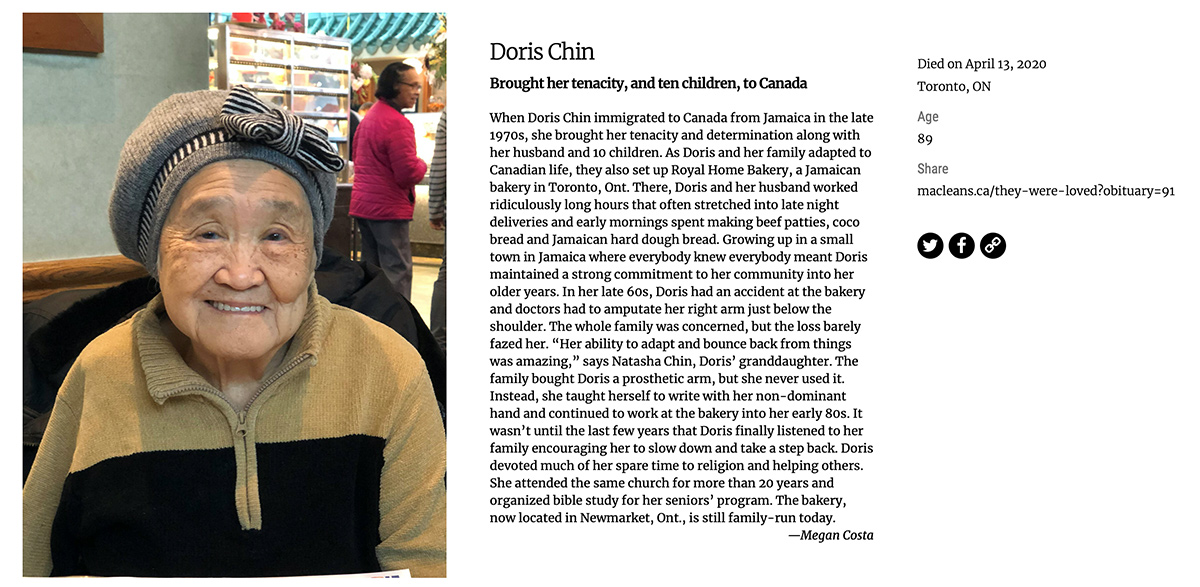 Costa is one of hundreds of journalism students across the country who are writing obituaries about COVID-19 victims for the "They Were Loved" obituary project, published by Maclean's magazine. The project is a partnership between Carleton's Future of Journalism Initiative and journalism schools across Canada.
The project has assigned more than 500 obituaries with more than 150 published. It began in spring 2020, when Maclean's reached out to journalism schools for assistance. Brett Popplewell, a Carleton journalism professor and the head of the Future of Journalism Initiative, a collaborative research hub, helped spearhead the partnership. Popplewell recognized the need to properly mark the loss of thousands of Canadians to COVID-19.
"This is the last chance to give someone life, to capture the lives that have been lost at a time when people cannot mourn their loved ones as they normally would," says Popplewell.
"There is a nobility to this kind of journalism. We are asking: 'Who were these people? What were their passions? What were their loves?'"

For Costa, telling the story of Doris and Dianne Chin was incredibly rewarding. Doris Chin was 89 when she died on April 13, 2020. She had immigrated from Jamaica in the late 1970s with her husband and 10 children and opened a family bakery that is still running today.
Her daughter Dianne—Natasha's mother—had died three days earlier at the age of 59. She was an elementary school teacher who also worked at Sunnybrook Health Sciences Centre. She was Doris' primary caregiver.
"They were just amazing people – I would have loved to have met them," says Costa.
"It makes you feel like you are doing something good when your writing helps people."
More than 14,000 Canadians have died from COVID-19. The "They Were Loved" project intends to commemorate as many of them as possible. But the organizers face a monumental challenge: there is no single record of every Canadian who has died from COVID-19. Identifying those people is the responsibility of Katherine Laidlaw, the journalist-in-residence at Carleton's Future of Journalism Initiative and the project's co-ordinating editor.
"I scour obituaries, contact lawyers in class-action lawsuits, and reach out to health-care workers associations," explains Laidlaw, whose database has more than 1,100 names. "I don't know if we will ever truly know every person who died from COVID, but we are doing our level best to find them."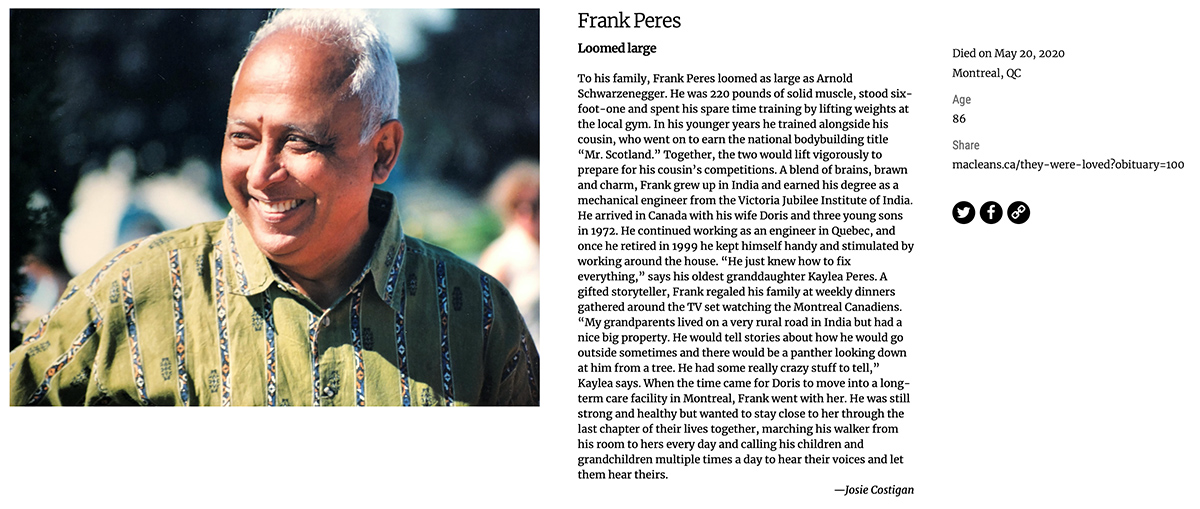 In addition to building the database, Laidlaw shares names and personal information with journalism educators around the country and then edits the pieces returned to her before passing them on to Maclean's. While it is a herculean task, Laidlaw has found the collaboration with students has been one of the most rewarding aspects.
"I have been so utterly impressed with the quality of reporting and writing that students have produced. It has exceeded my expectations," she says.
"I am brought to tears every couple of days because they really capture these people so beautifully. I feel that I've come to know these people, which is a testament to the work and care of the students."
She acknowledges that reporting from a place of empathy is not always easy for journalism students who have been trained to be hard-nosed. Josie Costigan says she learned that obituaries require a gentler touch.
"It's a whole different type of writing. How do you capture someone's whole essence in 250 words?"
Costigan was assigned to write about the Montreal couple Doris and Frank Peres, who both died of COVID-19. At first, she wasn't sure how to approach their granddaughter, Kailey.
"I decided to just ask: 'What are you eager to tell me?' and we went from there," explains Costigan.
"It was so rewarding that it made me reconsider journalism and what I want to do with my writing."
As a journalism educator, Popplewell says the project has offered an opportunity to run his classroom like a newsroom in which everyone is collaborating on a common goal. He also sees it as a model for the future of journalism education—and journalism itself.
"As traditional media business models break down, the vision for the Future of Journalism Initiative is a collaborative research hub that links students with working journalists and the industry on journalism projects," he explains.
"Mobilizing our students for this has brought the strength of Carleton's journalism program to the industry."