"I remember when I was a child, the smell of my grandmother's butter tarts would fill our house during Christmas. With the oven turned up to 400 degrees, the aroma of golden-brown sugar and pastry made my mouth water. Boney M. songs, of course, accompany the baking.

And ceaseless laughter from all my relatives, uncles, aunts, cousins and neighbourhood kids. And cigarette smoke so thick that it looked like you're in the middle of a forest fire—the air so blue and polluted you could barely see past the kitchen table. Those are the '80s. That's what I remember from my grandma and grandpa Thistle's place in Brampton, Ont. And that's what I still think of as home."
That remembrance was shared by Jesse Thistle, author of the national bestseller, From the Ashes: My Story of Being Métis, Homeless, and Finding My Way, in his opening remarks for Carleton's annual Let's Talk Day held on Jan. 26, 2021.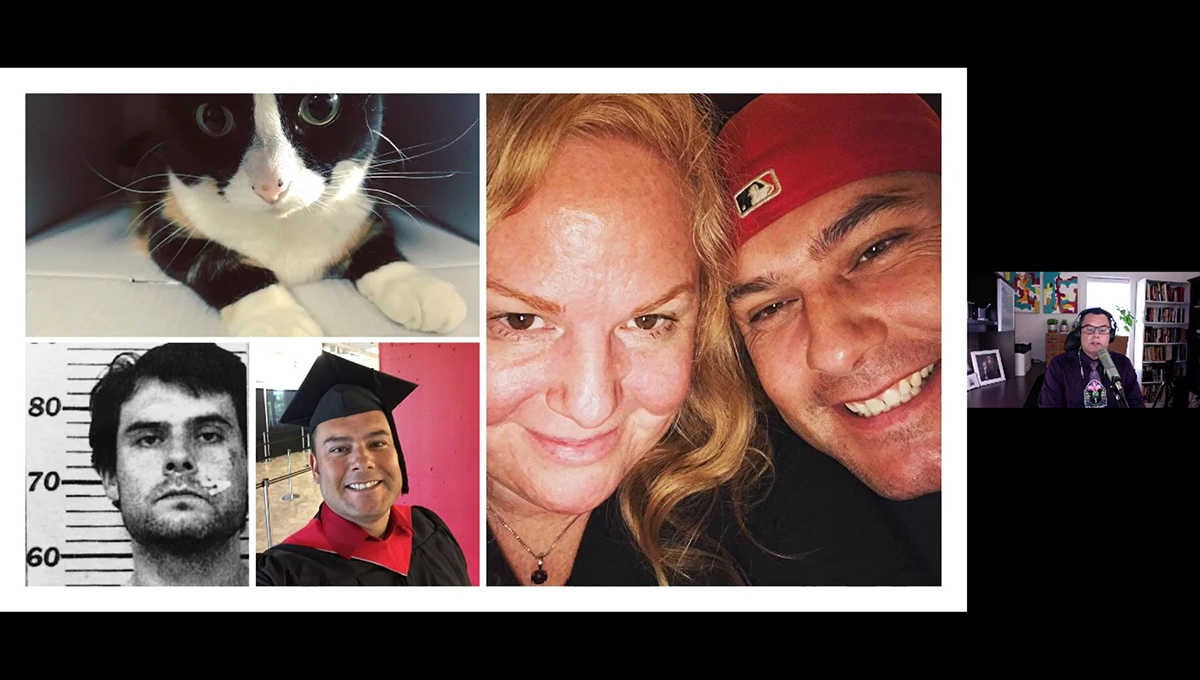 Different Dimensions of Indigenous Homelessness
The talk titled, Different Dimensions of Indigenous Homelessness, Through Lived Experience and Life Story, explored the complexities of Indigenous homelessness and offered a new perspective of what "home" truly means to Indigenous Peoples. Throughout his presentation, Thistle weaved his personal journey with the ancestral knowledge he has gained while working closely with Elders in his community.
Now, Thistle lives in Hamilton, Ont. with his wife Lucie and their cat Poppy. His days are busy working as a professor in the Department of Humanities at York University, teaching courses on homelessness and Prairie and Michif history. He is also working towards completing a PhD while simultaneously sharing a story that has captivated many audiences.
"Finding home wasn't always easy for me," Thistle shared.
"I have a dark past and if you knew me back when I was struggling, you would be surprised that I ended up being a professor in one of Canada's largest universities."
A decade earlier, his life looked quite different. Throughout his 20s, Thistle was dealing with the impacts of cultural dissociation and trauma. This led to several challenging years of living on the streets, going in and out of jail, all while struggling with addiction and mental illness.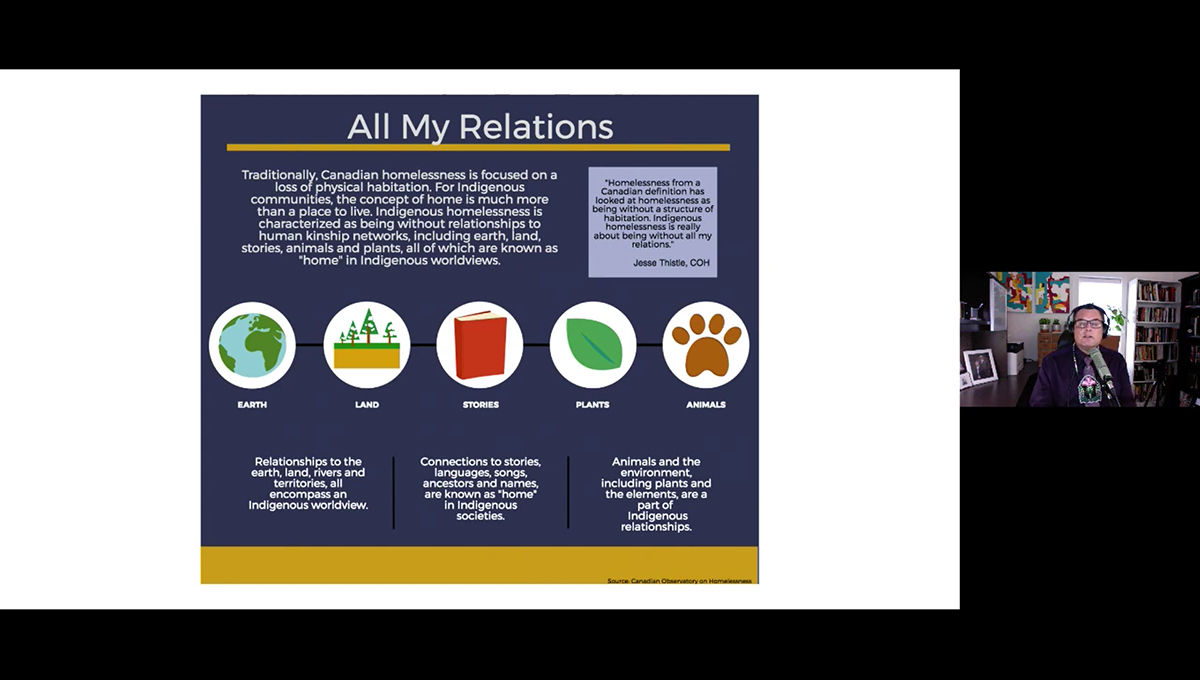 "Indigenous Peoples like me can have a hard time finding home when the sector focuses more on brick-and-mortar structures than it does on relationships, connection and love," Thistle explained. "Looking back on my life, however, I'm not even sure that my grandparents' place was really my home."
Throughout his talk, Thistle shared a few excerpts from his book that showcase the heartbreak and confusion he experienced as a child. After being separated from his mother, father and Indigenous community, he and his brothers were placed in foster care before ending up at his grandparents.
"Like other Indigenous Peoples who grew up outside of their community and without their parents, I had no idea who I was or where I fit in," Thistle said, adding that in high school, he used to tell people he was Italian hoping he would fit in.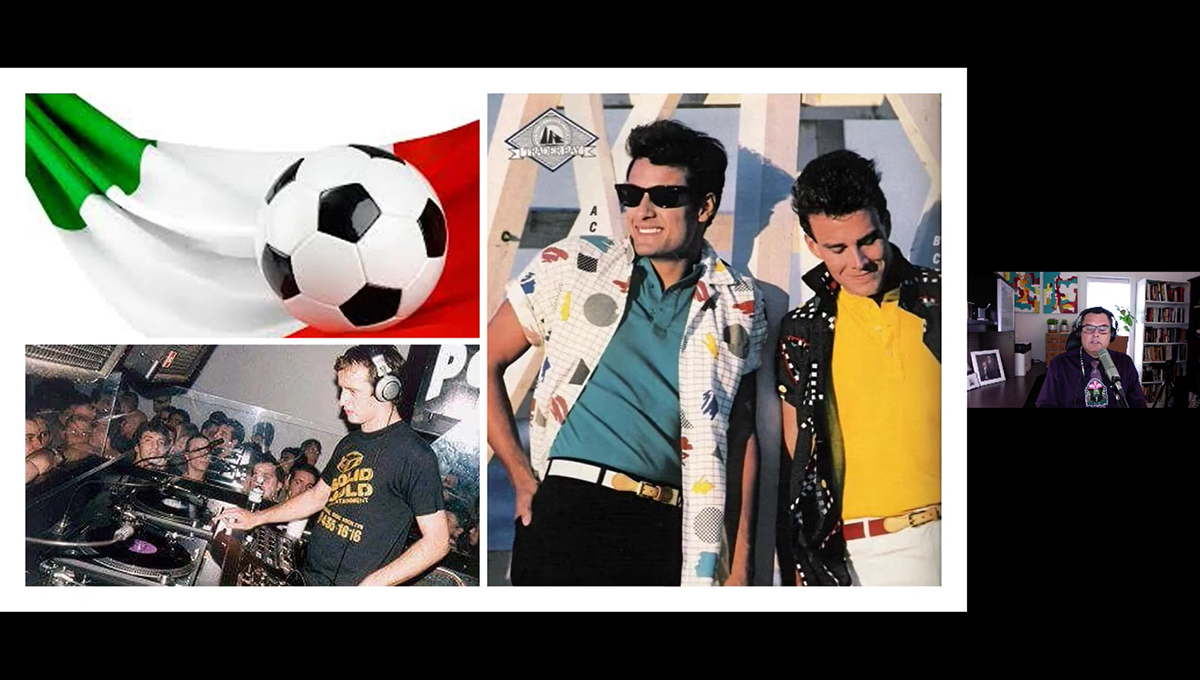 Indigenous Homelessness in Canada
After years of rehab and support, Thistle was hired by the Canadian Observatory on Homelessness (COH) to help write the definition of Indigenous homelessness in Canada. During this time, he learned his story was very similar to what many Indigenous Peoples endure.
"Working in the homeless sector showed me that there were generations of Indigenous Peoples who lost portions of themselves through the breakup of their families, destruction of their homes, residential schools, Children's Aid Society and the '60s scoop, only to end up drifting around homeless like I did," he explained.
Part of his job at the COH involved speaking with other Indigenous Peoples who experienced homelessness to understand what they believed home and homelessness was in order to articulate their insights into policy change. This experience gave him the opportunity to learn more about his past and how to heal through serving others.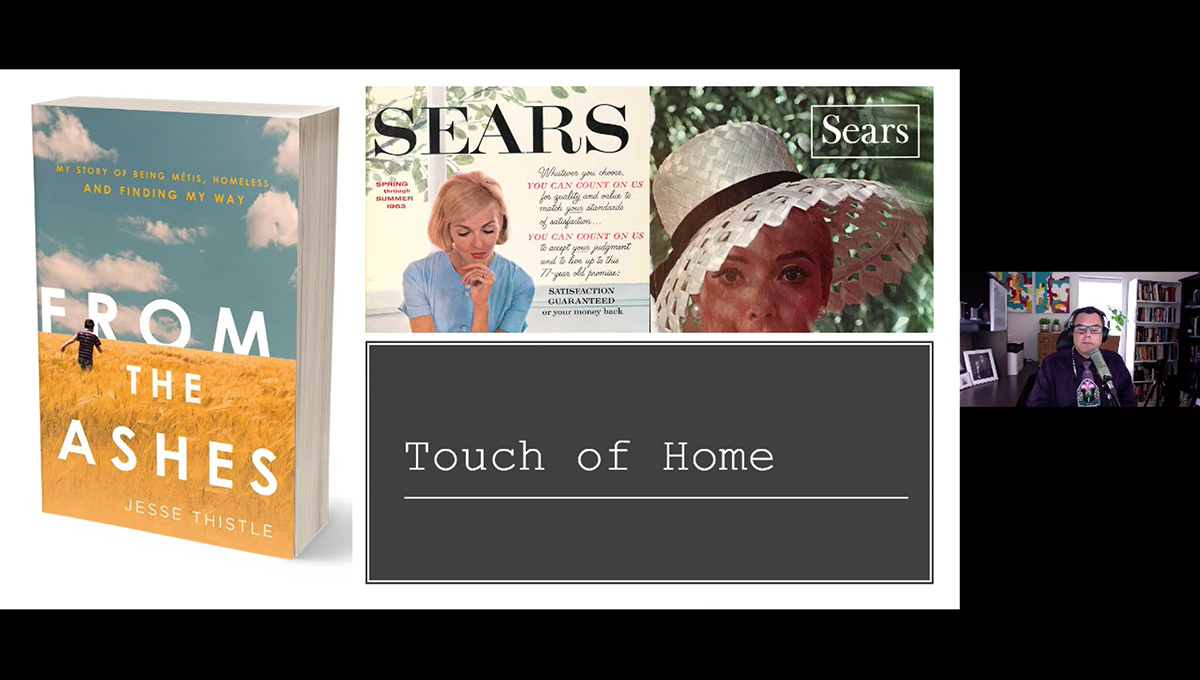 Thistle shared his definition of Indigenous homelessness in Canada.
"Indigenous homelessness is a human condition that describes First Nations, Métis and Inuit individuals and families or communities lacking stable, permanent, appropriate or immediate prospects, means or ability to acquire such housing. Unlike the common colonialist definition of homelessness, Indigenous homelessness is not defined as lacking a structure of habitation alone, rather it is more fully described and understood through a composite lens of Indigenous worldviews. These include individuals, families, and communities, isolated from their relationship to land, water, place, family, kin, each other, animals, cultures, languages and identities. Importantly, Indigenous Peoples experiencing these kinds of homelessness cannot culturally, spiritually, emotionally or physically reconnect with their Indigeneity or lost relationships."
Thistle concluded his talk by highlighting the need to concretely address the conditions that lead to Indigenous homelessness and offering clear questions for the audience to consider. It is time to re-embed Indigenous Peoples back into the web of their relationships and fund programs to assist the hard work of reconnection, he said.
Friday, January 29, 2021 in Community, Events, Indigenous
Share: Twitter, Facebook