Catherine McKenna is locked in a staredown with a planetary crisis demanding ambitious emissions reductions, rapid innovation and buy-in from political adversaries.
It's an immense task but the federal Environment and Climate Change minister was optimistic Saturday when she addressed Carleton University's conference, Visions for Canada 2042, which assembled scholars, students and distinguished alumni to imagine Canada's future in honour of Carleton's 75th anniversary.
By 2042, "we are going to have found solutions so that we stop the warming of our planet," said the lawyer turned politician. "We are going to figure out a more sustainable way to live."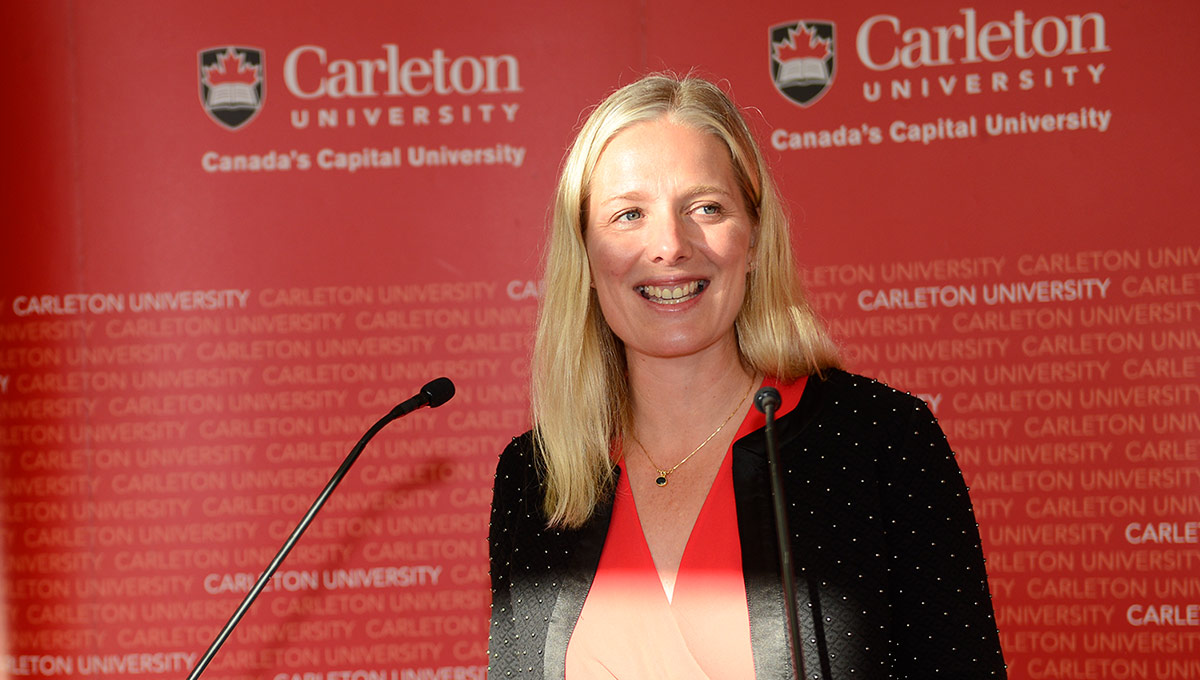 Catherine McKenna: Solutions to
Our Problems Don't Exist Yet
McKenna didn't say exactly how, acknowledging that solutions to our civilizational-scale problems don't exist yet.
But the attendees at the event hosted by Carleton's Faculty of Public Affairs (FPA) have an inside track to finding them, she said. Canada's commitment to diversity makes it a model for collaboration, and innovative partnerships between academics, governments and the private sector will be an inevitable and important part of finding a solution to climate change.
"Nine out of 10 new technologies will fail," McKenna said, "but one of them . . . one of these big, game-changing technologies will be a winner. You need to take risks."
Academic research, McKenna said, in partnership with government and the private sector, makes amazing things happen.
"I'm really excited because I know amazing things are happening at Carleton, and I see there are so many other opportunities for partnerships."
Partnerships is what the three-day FPA conference was all about.
Exploring Innovative Collaborations
"The Visions for Canada conference presented an opportunity for faculty members, students, alumni and our community to discuss the future of Canadian society," said FPA Dean André Plourde. "We are exploring the ways innovative collaboration among researchers and the community may be the most effective response to Canada's future challenges."
McKenna lauded the potential impact of emissions reduction research by Carleton Prof. Matthew Johnson. The Canada Research Chair in Energy and Combustion Generated Pollutant Emissions in the Faculty of Engineering and Design has worked with Alberta's oil and gas sector on projects to reduce methane flaring on oil extraction projects.
Though it is less well known than carbon dioxide, methane is a far more harmful greenhouse gas that accounts for nearly a fifth of emissions worldwide.
In the first decades after its release, it can be over 80 times more potent than an equivalent amount of CO2, and over the course of a century, one ton of methane contributes as much to climate change as 34 tons of carbon.
But the need for innovative approaches also hits close to home.
"We have the least energy efficient homes in the coldest place," McKenna said. Canada's households have been estimated to account for 46 per cent of the country's total emissions.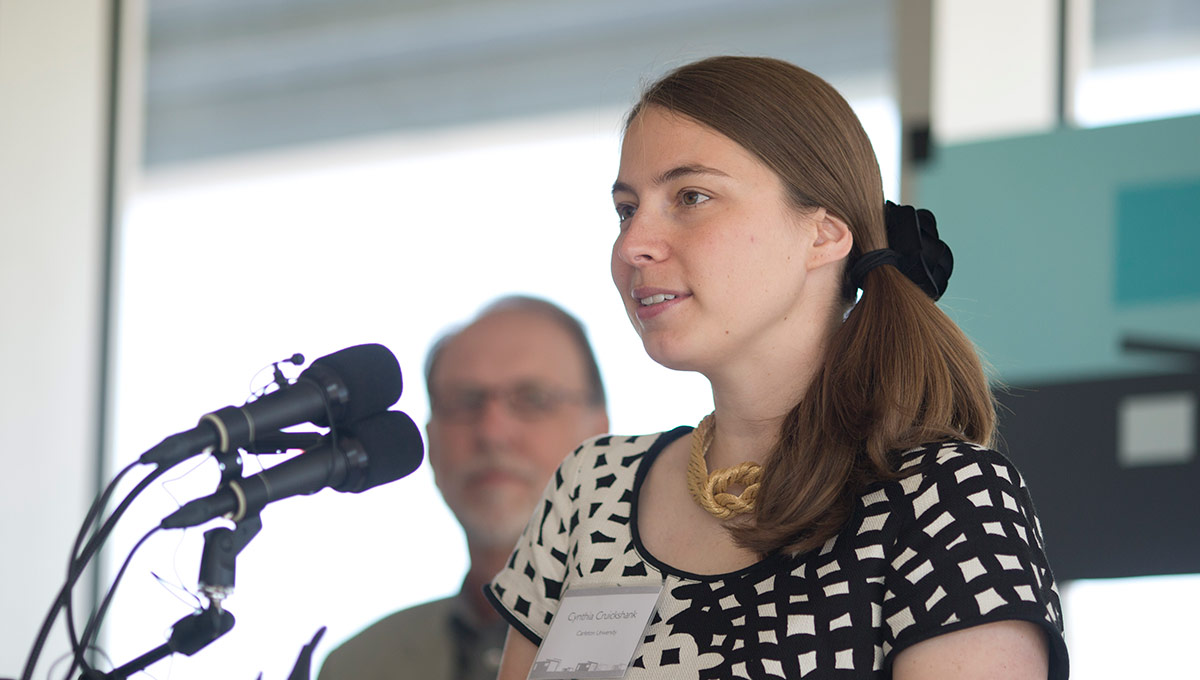 Sustainable and Renewable
Energy Systems
Cynthia Cruickshank is on it. An associate professor of Mechanical and Aerospace Engineering, her Solar Energy Systems Laboratory researches sustainable and renewable energy systems, seeking to develop cost effective and reliable solutions that reduce our household energy consumption.
Cruickshank's research models energy systems and their components, evaluating their efficiency and seeking to optimize heating systems.
"If we had social housing that was properly kitted up," McKenna said, "that had more insulation, that had better windows, that used better furnaces. Things that we know are out there. Solutions that already exist.
Not only would we reduce emissions, we'd save money. So there's an economic case, and it was great to see her working so hard at that."
Cruickshank's research puts the boxes Canadians call home under a microscope, but the scale of confronting climate change demands we think far outside of those boxes, or any others.
A Special Role to Play
Canada may never be the world's biggest country or economy, but McKenna believes Canadians have a special role to play in shaping a better future.
"We live in an awesome country," she said. "We live in a country where we believe in science. We believe in evidence-based decision making. We believe that we are better together. We believe that diversity is our strength. We know that you make better decisions when you have women at the table, with men.
"So I want to encourage you to really think outside the box. To push yourselves, get engaged, believe that politics matters. To believe that it matters that everyone feels included in our country.
"Be ambitious, because we're going to do great things, and I'm just excited that Carleton is going to be a part of it."
Monday, March 6, 2017 in Environment and Sustainability, Faculty of Public Affairs, Research
Share: Twitter, Facebook