By Dan Rubinstein
Photos by Chris Roussakis
An outpouring of technical and engineering solutions are being developed for the water challenges faced by people around the world, but until communities start to seriously integrate sustainability into their plans and attitudes, the willpower required to reboot our relationship to this vital resource will remain lacking.
That was one of the messages delegates heard at the International Conference on Water, Informatics, Sustainability and Environment (iWISE) held at Carleton University in early July.
The three-day gathering was attended by roughly 100 researchers and water experts from universities, non-governmental organizations and government agencies in more than 20 countries, including several nations in the Middle East, Africa, Asia and Europe.
Canada has access to approximately 20 per cent of the planet's surface water, yet because of the uneven distribution of population and water supplies, many regions experience shortages, Carleton Prof. Banu Örmeci, the Jarislowsky Chair in Water and Global Health, noted in her keynote address.
Moreover, said Örmeci, water problems caused by population increase, urbanization, economic development and climate change are on the rise and threaten both the quality and quantity of surface water and groundwater. Specific issues in Canada include the urgent need for upgrades to wastewater infrastructure; more than 205 billion litres of untreated sewage were discharged in 2015 alone.
Small communities in Canada — in particular First Nations reserves — must repeatedly contend with contaminated drinking water. Remote locations and cold conditions make it difficult to design, build and operate effective water and wastewater infrastructure. But the frequency of waterborne outbreaks has dropped substantially over the past decade, according to Örmeci, thanks to infrastructure investments and training programs for small system operators.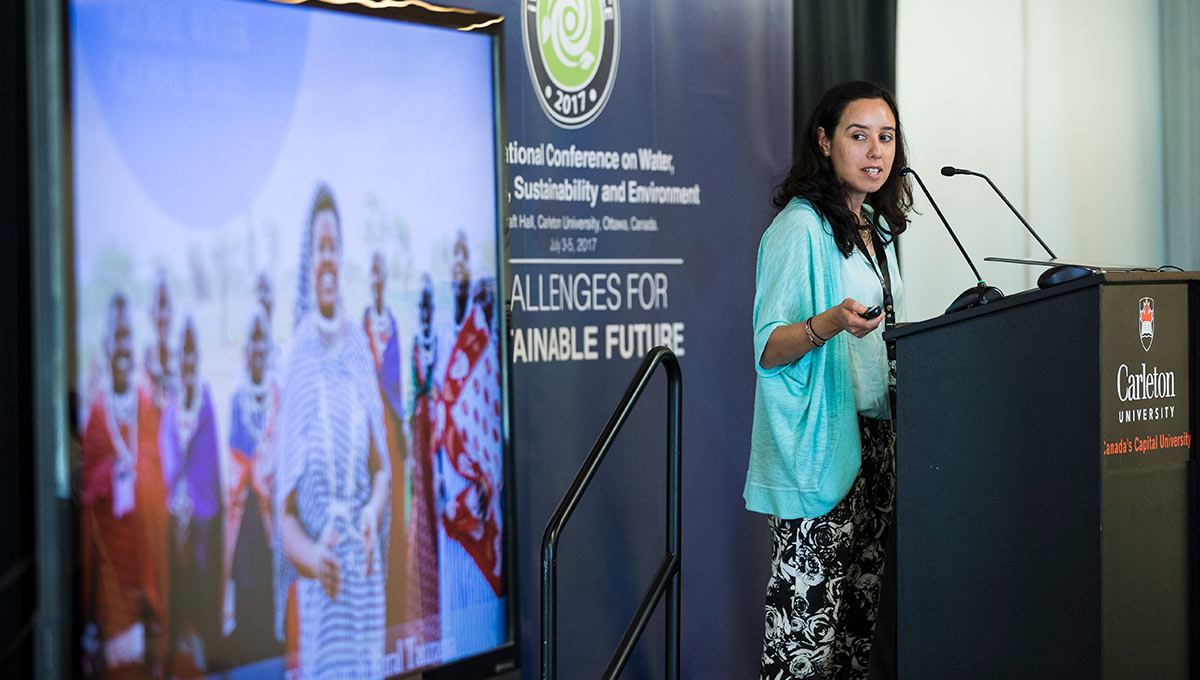 Reserves Face Water Challenges
Despite this progress, challenges abound.
At a session on the second day of the conference, University of Ottawa Prof. Nadia Abu-Zahra, who teaches in International Development and Global Studies, described the situation at the Asubpeeschoseewagong First Nation — also known as Grassy Narrows — in northwestern Ontario.
Mercury pollution, starting with chemicals released from a paper mill back in the 1960s, has contaminated the local river system. The mill site is still leaking pollutants and, according to a study by Japanese experts released last September, 90 per cent of the population shows signs of mercury poisoning.
"I'm not a water expert," said Abu-Zahra, "but I know enough to know that I don't want to be drinking mercury.
"This is not the past — this is the present," she continued, pointing out that although the Ontario government has committed to an $85-million cleanup, this funding will come from taxpayers, not the company that was at fault, and all the money spent on water quality testing over the years could have been used to address the health impacts of mercury poisoning.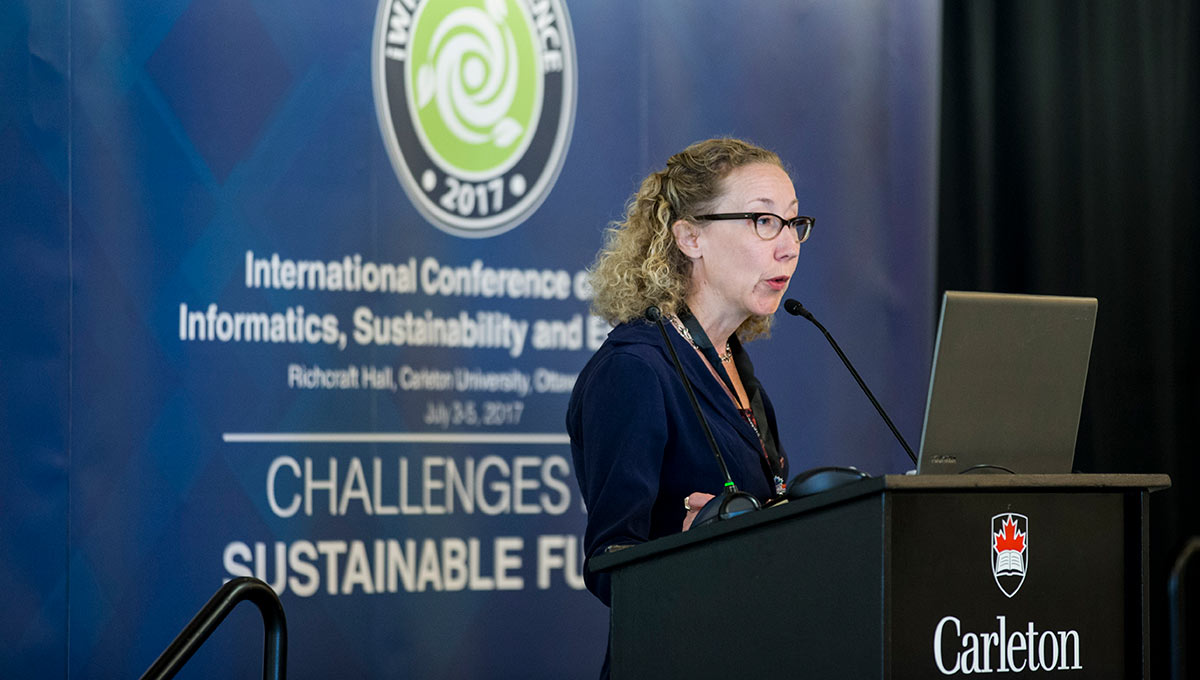 From Buckets to Rainbarrels
Carleton Prof. Onita Basu followed Abu-Zahra and described Carleton's award-winning project called From Buckets to Rain Barrels, which sends an interdisciplinary group of students and professors from the Faculty of Engineering and Design and Sprott School of Business to Longido, Tanzania each year. They collaborate with the Tanzanian Education and Micro-Business Organization (TEMBO) and local community leaders to help address chronic water shortage issues in the rural community.
The project team has worked on solutions such as locally sourced porous clay filters, sand dams on seasonal riverbeds and low-cost water storage.
Not only does the project empower locals to improve access to clean water, it's "a valuable learning experience for students," said Basu.
"When we try things and fail, there's an opportunity to do things better."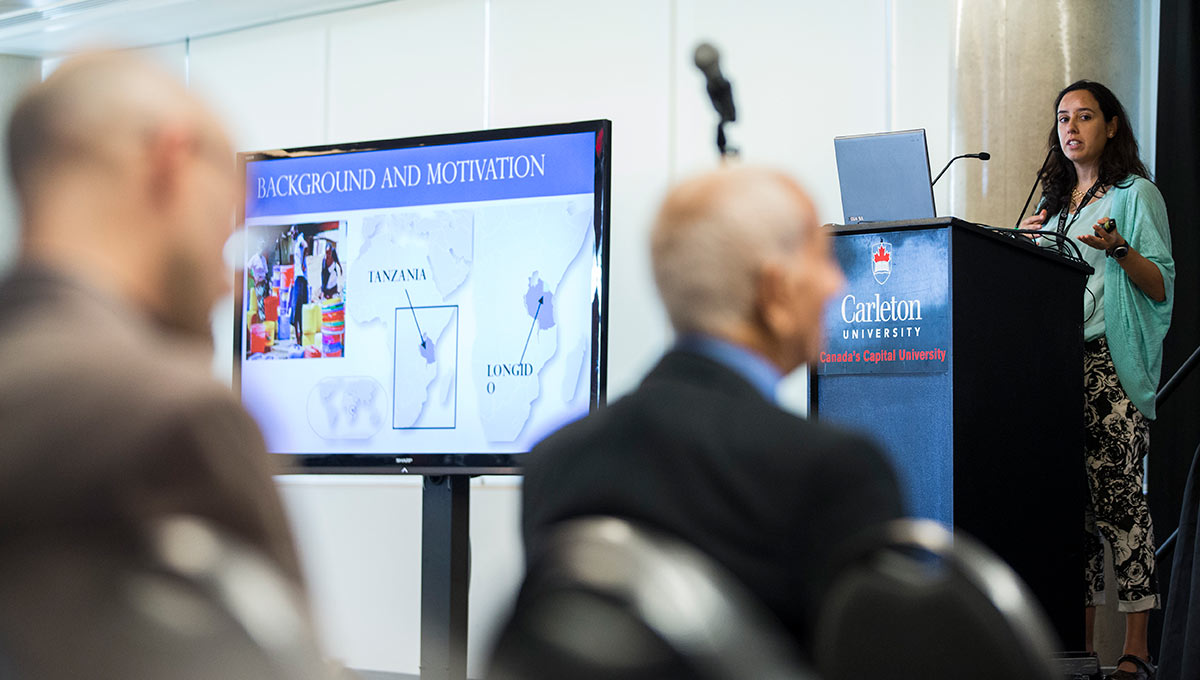 Sustainability on the Agenda at iWISE
Carleton Architecture and Urbanism Prof. Catherine Bonnier presented after Basu and provided some historical context to the sustainability movement. Her talk mirrored the paper she presented at the conference: "Water + Community: Creative Collaborations in Service of Sustainability."
There are two problems at the core of the word "sustainability," Bonnier wrote in her abstract. The first stems from the word's definition. "To sustain is to keep, to hold or to maintain — a series of static propositions — but the processes of climate change, urbanization, and resource extraction demand positive tactics which are dynamic and forward-looking rather than preservationist in nature.
"The second problem is that the precise tools, metrics and languages of sustainability are primarily the domain of scientists, academics and other professionals. It is crucial that expert knowledge continues to evolve in its sophistication to engage complex problems and to propose more sustainable practices, systems and structures."
Increasingly, however, Bonnier has noted a dangerous divide "in which real populations suffer, particularly from water-borne catastrophes, while experts and government officials debate causes and effects.
"Water is a key element at the heart of sustainability, and its value is immediately tangible to every living being on the planet. In this context, it seems increasingly important to imagine research techniques and grounded creative projects which arise from local knowledge, respect social histories, and engage communities in collaborations around water and sustainability. In this way, we may help to empower each following generation to define a more inclusive and resilient environmentalism, which considers social fabrics in integration with natural and technological systems."