Growing up, Rowan Thomson loved sitting down and solving equations.
As an undergraduate biochemistry student at Carleton University, Thomson realized that she enjoyed the math and physics parts of her major more than its core components, so she switched to a double honours degree in math and physics.
"These subjects become abstract in a hurry at university," says Thomson, a Canada Research Chair in Radiotherapy Physics at Carleton.
"Physics describes the smallest and biggest things in the universe, from quanta to the cosmos, and math is the language that's used. It's a language that I love."
Thomson, whose award-winning research involves developing and applying computational techniques to improve radiotherapy cancer treatments, is an anomaly in her field. She's a woman.
Although significant progress has been made toward gender balance in some sciences—female students at Carleton and other universities outnumber men in areas such as biology and neuroscience, for example—equality remains elusive in historically male disciplines such as math, physics and computer science.
A few years ago, Thomson, who joined Carleton's faculty in 2010, noticed that gender stereotypes and discrimination that impacted her career were still being experienced by the female undergrads and grad students she was teaching and supervising.
"It's not OK that these issues are persisting for so long," she says. "Enough talk—we need action."
Last summer, despite her busy schedule, Thomson took on a new role at Carleton: assistant dean for Equity, Diversity and Inclusion (EDI) in the Faculty of Science. The position is part of a growing effort at the university to ensure that everybody has the freedom to contribute to their chosen field.
The United Nations' International Day of Women and Girls in Science, which is celebrated on February 11 every year, is a timely opportunity to examine the movement toward gender equity in science at Carleton.
"We are committed to continuous progress towards full participation in science and other STEM (science, technology, engineering and math) fields for all members of the Carleton community," says President Benoit-Antoine Bacon.
"It's important to celebrate how far we have come, but even more important to acknowledge how much work remains to ensure that people from all backgrounds have equal opportunity."
Equal Access to all Aspects of Society
Over the past 10 years, from 2011 to fall 2020, the percentage of female undergrads enrolled in science programs at Carleton has remained fairly stable, fluctuating between 36 and 39 per cent, while the number of female grad students in science has increased from 41 to 50 per cent.
Broken down by discipline, the highest percentages of female undergrads are in neuroscience, health sciences and biology: 78, 73 and 63 per cent, respectively, with increases since 2011 of 20, 16 and seven per cent. The lowest percentages are in math and statistics, computer science and physics: 34, 21 and 16, respectively, with increases of five per cent in both computer science and physics, but a small decline in math and stats.
These disparities matter for several reasons, says Thomson. For starters, there's a human rights argument: people deserve equal access to all aspects of society.
But there's also what she calls the "philosophy of inclusive excellence," affirmed by plenty of peer-reviewed research, which holds that "we need all perspectives and all viewpoints—the full cross-section of human experience—at the table when we're attempting to address society's major problems."
The more diverse a research team is, she says, the more innovative—and effective—its solutions will be. And this is true not only in so-called "helping" sciences closely linked with health care and medicine, but also more abstract areas such as physics and math.
To raise awareness about the systemic barriers, harassment and microaggressions faced by women in physics specifically, Thomson has delivered a series of well-attended online talks—organized by institutions such as the University of Victoria and the Perimeter Institute for Theoretical Physics in Waterloo, Ont.—and written about the issue.
"Physics does not take place in a vacuum, but within the context of broader society," she writes in a draft paper.
"The inequities and injustices experienced by physicists from under-represented groups prevail in societies around the globe. With growing awareness of barriers and our collaboration to address these, all physicists have the opportunity to engage as leaders in debunking societal stereotypes and driving change within our communities, cities, and countries."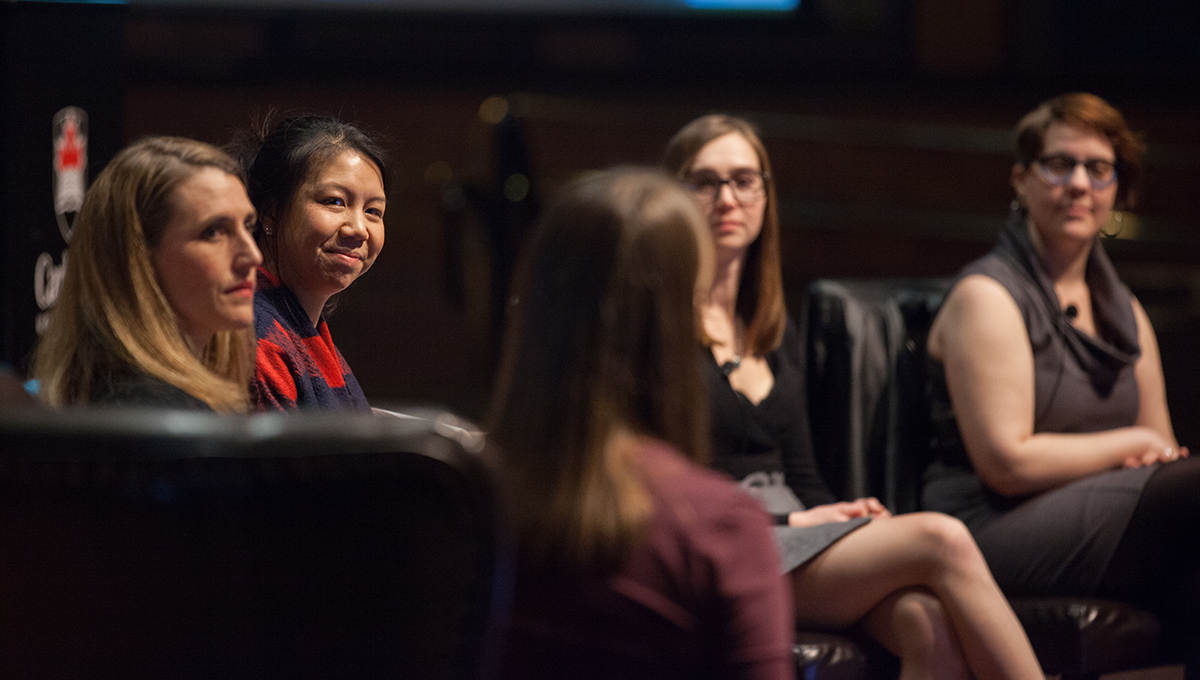 Supporting Female Students
In concert with Carleton's recently approved EDI Action Plan, Thomson and the Faculty of Science's 15-member EDI committee have started some initiatives and are planning others to help encourage and support female students, and to address the gender imbalance at the graduate, postdoc and faculty levels.
There's a new ACE (Awareness, Collaboration and Engagement) EDI event series, featuring speakers like Imogen Coe, the founding dean of the Faculty of Science at Ryerson University, whose recent presentation was entitled, Uncomfortable Truths and Inclusive Excellence in Academic Science: Building the Toolkit for Change.
The EDI committee, which includes faculty, student and staff representatives, is also working to bring more inclusivity training to the faculty and to develop more inclusive hiring practices, "to ensure that we consider the right candidates," says Thomson, "and bring in colleagues who will contribute to EDI in science.
"It feels like we're just getting started," she says, "but it's exciting and important work."
One of the challenges facing people who champion gender equity in science is that stereotypes are typically internalized when children are young. Before reaching double digits in age, girls are repeatedly told and shown in popular culture that most mathematicians are men. By the time they reach Grade 11 and 12, they may have mentally closed the door to that option at university.
This can be confronted in several ways, including outreach visits to elementary and high school classrooms by female scientists and professors, and by inviting students to university labs—two things that Thomson did and will resume after the pandemic.
But there's also a promising window at universities, she says, where most undergraduate students, both women and men, are not yet parents.
"We are teaching the next generation of parents," says Thomson.
"They're going to graduate and some will have children eventually. If we show them the value of diversity and the danger of stereotypes, maybe they'll go out and become agents of change."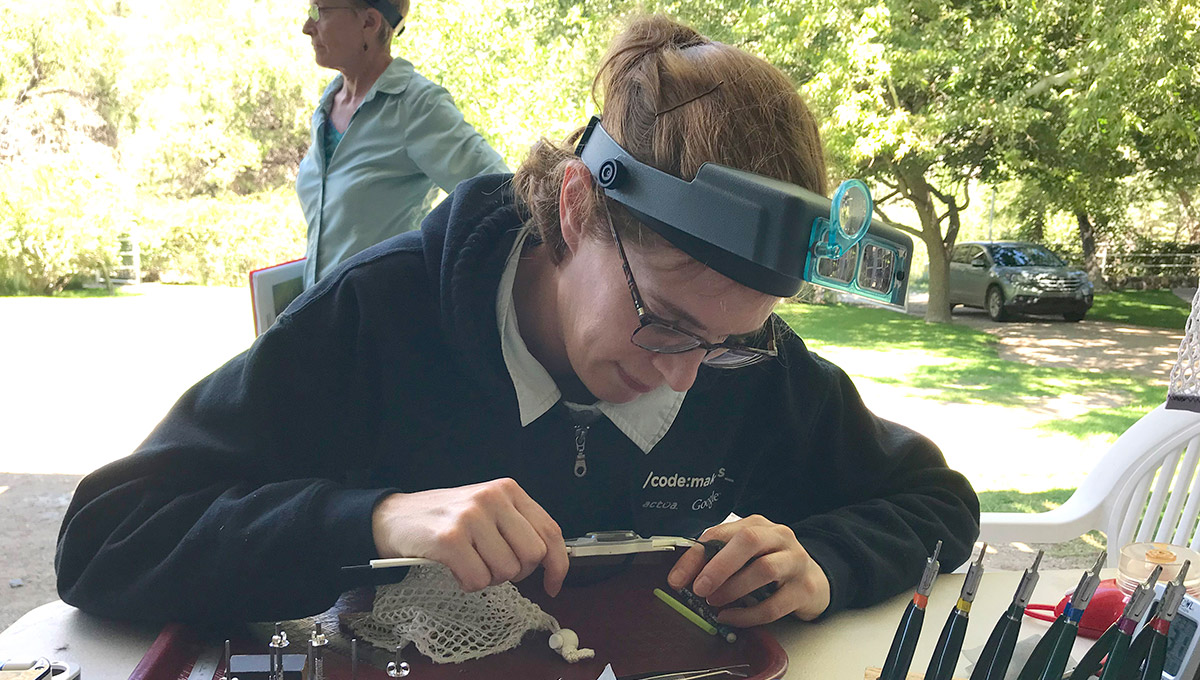 The Importance of Role Models
Like Thomson, Roslyn Dakin, a relatively new biology professor at Carleton and a member of the science EDI committee, believes that role models have a tremendous influence on the university and career choices made by girls.
Dakin's mother was a college math professor, and when Roslyn was an undergrad at Queen's, she had an inspiring female biology professor whom she wanted to emulate.
"Role models and mentors are important at every possible stage," says Dakin.
"Subtle things can make a big difference. It's about visibility."
Ironically, says Dakin, she wasn't interested in computer science as an undergrad, but now her research—which is focused on animal flight and behaviour—involves a lot of data analysis and programming. Echoing Thomson's comments on the value of diverse perspectives when tackling problems, she notes that her research has shown that often a single bird can't solve a puzzle, but a flock can.
Since starting at Carleton in 2019, Dakin has been struck by the number and variety of ways for undergrads to get involved in research projects, whether for classroom credit or through paid lab assistant and co-op gigs.
"Having a chance to do hands-on work with other scientists is one of the keys toward equalizing opportunities to persist in a particular field," she says.
"And the skills you learn through this type of training are really empowering and can translate into other aspects of your life."
More needs to be done, says Dakin, to make research and training opportunities accessible to as many people as possible, and to include financial supports that level the playing field for members of under-represented groups who may not have the time to volunteer. This speaks to the intersectionality of inequality and the challenge of overcoming minority status in more than one demographic category.
Real-world pressures are especially acute during the pandemic, which is disproportionately impacting certain populations, including female scientists, who may not have access to daycare and may be carrying a heavier domestic load than their male partners.
This could lead to a temporary drop in grant applications and journal articles from women, Dakin suggests, which are important measures for advancement within university faculties.
"Institutions generally judge people by their productivity," she says, "so I hope we can come up with mechanisms that account for this new reality."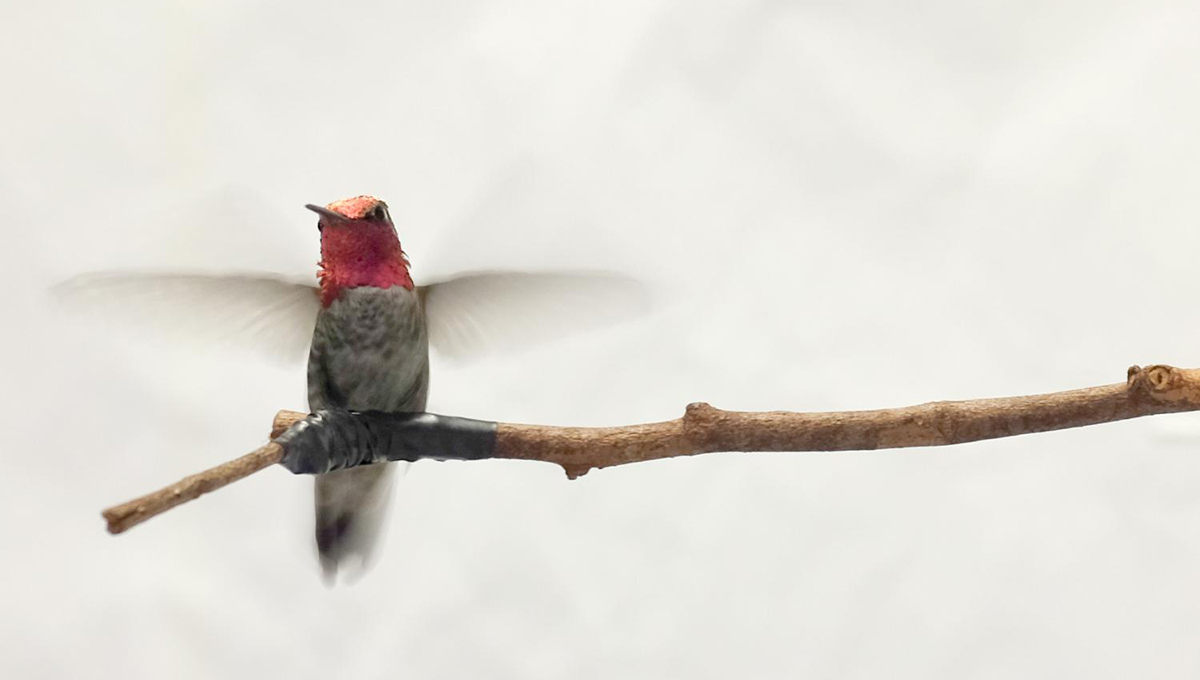 Reassessing Job Posting Language
Both Thomson and Dakin point out that moving toward gender equity in science is a collective responsibility, requiring allyship and contributions from men. Chuck Macdonald, dean of Carleton's Faculty of Science, is all in.
"There's a long history of women making major discoveries and advances in science and other STEM fields," he says.
"If you have one group of people taking on problems, you're only going to get one set of solutions. Science needs diverse perspectives."
For years, as a chemistry student and professor, Macdonald has been aware of the negative assumptions and mistreatment of female scientists. And even though slightly more than half of chemistry undergrads at Carleton are women, he knows that men still outnumber women in chemistry at the grad school and faculty level.
"How do we define who the best candidate is for a job if we only look at certain metrics, such as how many publications they have or where they went to school?" asks Macdonald. "Those questions might not capture the full impact somebody could have."
In addition to unconscious bias training for hiring committees, Macdonald wants to reassess the language that's used for job postings. The faculty recently used an EDI-focused HR firm to help recruit a new Canada Research Chair in math and statistics, who will start next summer.
"It worked out really well," he says, "and we had a diverse pool of excellent candidates. This type of thing has to be intentional."
Macdonald highlights last fall's Herzberg Lecture delivered by Maria Klawe, president of Harvey Mudd College, a science and engineering school in California, who explored why participation by women and people of colour remains low in most computer science departments and successful strategies to address this issue.
"We're really talking about culture change," says Macdonald, "and I'm proud of the fact that this is starting to happen in an organic way at Carleton. It's bottom-up, not top-down.
"Students and faculty members are coming up with ideas and ways to implement them, and they're the people who have the best sense of what will work and what needs to be done in their departments.
"This is central to what we're doing in the faculty and at the university. We're putting time and resources toward solutions that will benefit everybody."
Thursday, February 11, 2021 in Faculty of Science
Share: Twitter, Facebook