Melissa Corbin, a third-year Carleton student in Health Sciences, was awarded the inaugural Chief Statistician of Canada Infographic Challenge Award at Statistics Canada on Feb. 28.
"I chose to cover this topic of cancer in Canada primarily because I myself lost several loved ones to this disease," she said. "Therefore it's had a great impact on my life and it's something I think about on a daily basis."
Her winning infographic, "Cancer in Canada 2016", was designed to inform and educate Canadians about diagnoses and deaths related the diseases that annually cost the healthcare system $4.4 billion.
Infographic Challenge: Understanding Canada with Data
The Challenge, put forward by StatCan's Young Professionals Network, closed yesterday afternoon with Carleton and uOttawa students presenting in the Simon Goldberg Conference Room beneath the R. H. Coats building at Tunney's Pasture.
"We are committed to provide Canadians with data that helps them understand their country in all its facets, and make informed decisions based on evidence and facts," said Anil Aora, Chief Statistician of Canada.
"This Challenge is really an opportunity to continue to work towards this goal while showcasing the talent and creativity of the nation's capital region's students."
Aora was one of seven experts on the judges' panel that included four Assistant Chief Statisticians and two branch directors. They voted Corbin's the best of the final five infographics, all of which had been chosen out of 44 team registrants with 81 post-secondary participants.
Cancer in Canada
Corbin also received the most public votes during the week-long online polling portion of the competition. Her numbers pulled from Canadian cancer statistics included an estimated 202,400 Canadians would be diagnosed and 78,000 would die from various cancers in 2016. Cancer is the leading cause of death in Canada, amounting to 30 per cent of all deaths in the country, and breast, lung, prostate, and colorectal cancers were estimated to form half of the diagnoses in Canada last year.
Let's Get Kids Moving
Also from Carleton, Hailey Scott and Shayla Weedmark presented their "Let's Get Kids Moving, Canada!" that illustrated the key benefits of physical activity, specifically how an hour of moderate to vigorous exercise in young Canadians aged five to 17 can develop motor skills and cognitive functions.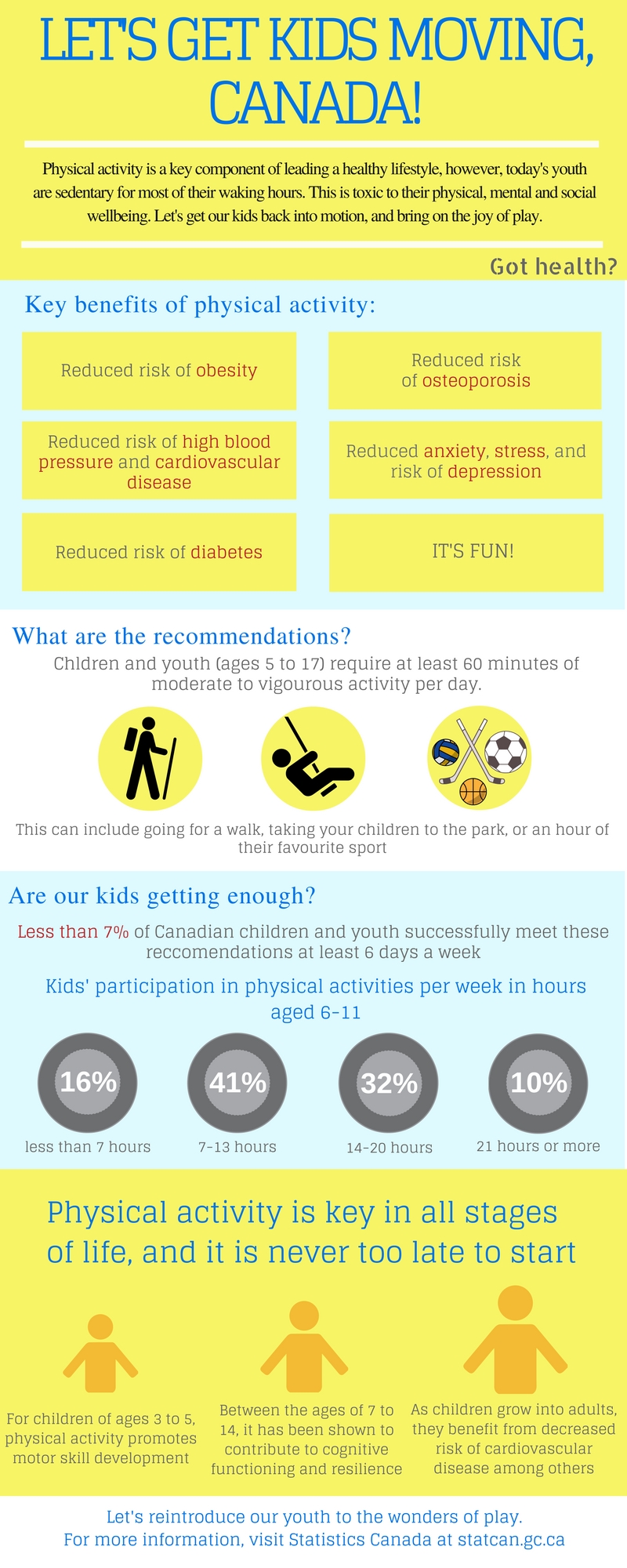 Work-Related Stress
Kojo Dankwa and his "Work-Related Stress" presentation examined how over a quarter of the Canadian workforce report feeling stress daily, and how over half said their jobs added to that stress. Issues like depression, heart disease and substance abuse are not uncommon problems to stem from these situations.

From the University of Ottawa, Katarina Vukovojac and Irina Podinic focused their infographic on the 27 per cent of Canadians aged 15 to 29 who were caregivers to friends or family in 2012, and Yuji Jeong shone a light on violence against children in Canada from 2011 to 2014, titling her infographic "Honey, don't talk to strangers…?".
Each finalist was presented with a signed certificate from Aora, who congratulated them all on their hard work and thanked them for their efforts.
Thursday, March 2, 2017 in Faculty of Science, Health, Research
Share: Twitter, Facebook