When Ashley Courchene walks across the stage in front of hundreds of spectators at his Convocation ceremony at Carleton University this June, the Political Science honours student plans to wear traditional grass dance regalia made by a friend.
The bright blue, yellow, green and white outfit has lots of long fringes which represent, among other things, the grass a hunter would slink through while scouting game.
Courchene, an Ojibwe-Anishinaabe from Manitoba's Sagkeeng First Nation, will be among the first Carleton graduates to receive degrees dressed in traditional Indigenous attire thanks to a new Convocation policy at the university.
"I think it's important for First Nations, Inuit and Métis people to wear their regalia to their Convocation because it serves as a reminder of who they are and where they come from," says Courchene, who was a traditional dancer when he was younger and will be starting in the Law and Legal Studies master's program at Carleton in September.
"In the academic world, we are bombarded with Eurocentric views and messaging from professors and fellow students that we have become assimilated because we chose to go to school. At the same time, we often develop a stronger sense of who we are if we go through Indigenous studies programs so, on multiple levels, wearing our regalia at convocations is an assertion of our nationhood.
"We are still Indigenous, regardless of what knowledges we have acquired in university."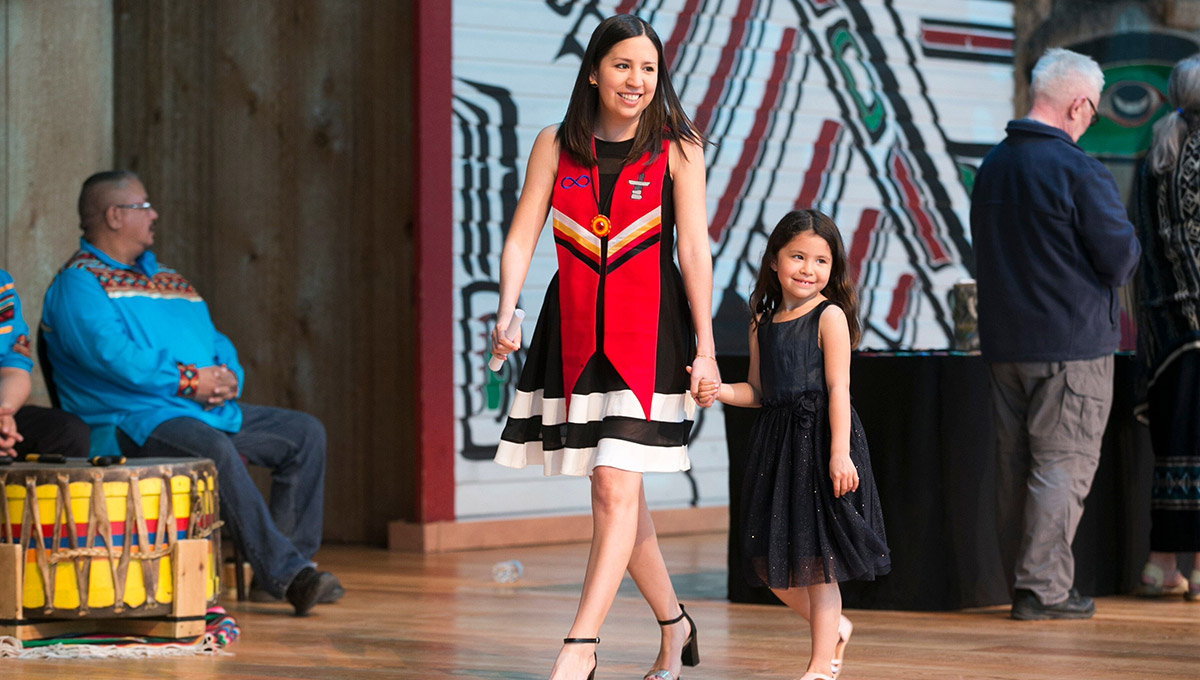 Spiritual Significance
Carleton's Policy Statement on Indigenous Attire at Convocation, approved by the university's Convocation steering committee on March 13, recognizes that traditional Indigenous attire may vary and states that "Indigenous graduates and faculty may choose to wear traditional Indigenous attire, in lieu of a gown, at all Convocation ceremonies. The hood may be carried rather than worn depending on cultural protocols."
Graduates-to-be should notify Carleton's Centre for Indigenous Initiatives at least two weeks prior to the ceremony.
The policy statement was written and shepherded through the approval process by Benny Michaud, the centre's acting assistant director.
"Most traditional regalia worn by Indigenous peoples has spiritual significance," says Michaud, explaining that traditional attire can include clothing such as First Nations jingle dresses, Métis beaded vests and sashes, or Inuit sealskin and ivory jewelry.
"There's just so much diversity in terms of traditional attire," she continues. "It differs from nation to nation, from community to community."
"Regalia is always handmade, and the creation of it is often considered a sacred process," says Michaud. "In Métis culture, for instance, the intention of the person making the item is carried by it and by anyone who wears it afterwards."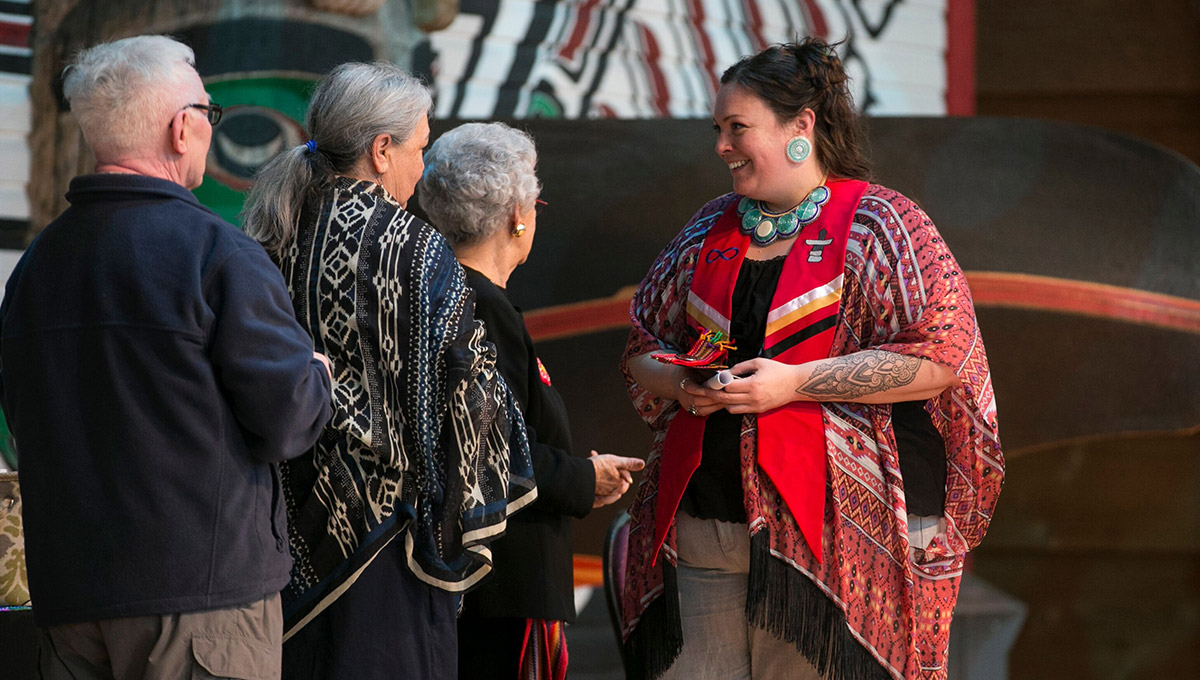 Valuing and Appreciating Indigenous Traditions
For Michaud, playing a central role in the university's new policy — one that respects diversity and inclusivity — is a way to help ensure that students feel that their Indigenous traditions are valued and appreciated.
"This is a clear demonstration of Carleton's commitment to ensuring that Indigenous students have an opportunity to express themselves," she says, noting that the policy was approved within 24 hours of being presented to the Convocation committee.
Some universities in Ontario have similar policies and others do not, but Carleton's is unique because Indigenous students are only required to provide notification and need not ask for permission, which puts it in line with the language about Indigenous spirituality in the province's Human Rights Code.
"The historic use of educational institutions in Canada was to assimilate Indigenous children into European culture," says Michaud.
"Because of this, for generations, individuals, families and communities were robbed of knowing their own histories, cultural practices and spiritual traditions. The key determinant of health for Indigenous people is connection to culture.
"Many Canadians don't appreciate the challenges that Indigenous students have had to overcome to be in post-secondary education. Students who attend university today have had to find ways to reclaim and take back what was stolen from them. Many Indigenous students coming to university for the first time are at a place in their lives where they want to explore who they are as Indigenous people and what that means.
"Reconciliation means honouring that process, and this regalia policy is part of that."
Indigenous students at Carleton are excited about the new policy, says Michaud, who is not sure yet how many will act on it this spring because it was just approved.
"There's a lot less stress for them, knowing it won't be an issue," she says. "They can come and honour their families, communities and nations in the way our peoples always have."
Friday, June 1, 2018 in Convocation, Indigenous
Share: Twitter, Facebook