By Gillian Francis
Photos by Josh Hotz
It was a typical Canadian night when groups of eager young girls crowded on to a skating rink right in the centre of it all on Parliament Hill. Parents and bystanders donned fluffy jackets and cozy toques as the snow swirled. The nation's flag rippled gently above and the light show projected festive patterns on the historic Centre Block.
Chances are, the scenery didn't have much of an impact on the girls, who were focused on improving their hockey skills. They zoomed around the ice in groups, carving figure eights into the smooth ice and shooting pucks into the boards.
Ottawa's annual Girls HockeyFest had begun.
Each year, Scotiabank partners with the Ottawa Senators to offer hockey lessons for girls aged 13 and under. The lessons are led by the women on hockey teams at Carleton University and the University of Ottawa.
This year, there were a few special surprises in store.  The event took place on the special Canada 150 rink and the girls received an inspirational speech from Canadian gold medal Olympian, Cassie Campbell-Pascall.
"This year is unbelievable," said Pierre Alain, coach of the Carleton women's Ravens hockey team.
"The site is absolutely unreal.  It feels great.  It's once in a lifetime, literally, and I really enjoy it."

HockeyFest Provides a Once in a Lifetime Opportunity
Valerie Bouillon, a member of the team and a third-year student, brought her go-pro to record the evening. She hopes her future children will watch the video.
"It's a great opportunity to be there.  Not everyone can skate in front of the Parliament," she stated.
Bouillon began playing hockey when she was six years old.  She says her lifelong love for the sport taught her to be a good teammate, to keep a disciplined work-ethic, and to improve her leadership skills.
"It brings much more than just playing hockey," she said. "That's what I like to tell people, that my hockey is my personality too. It built my personality."
Under the cold sky and bright lights, she was teaching a whole new generation of girls the same lessons she learned.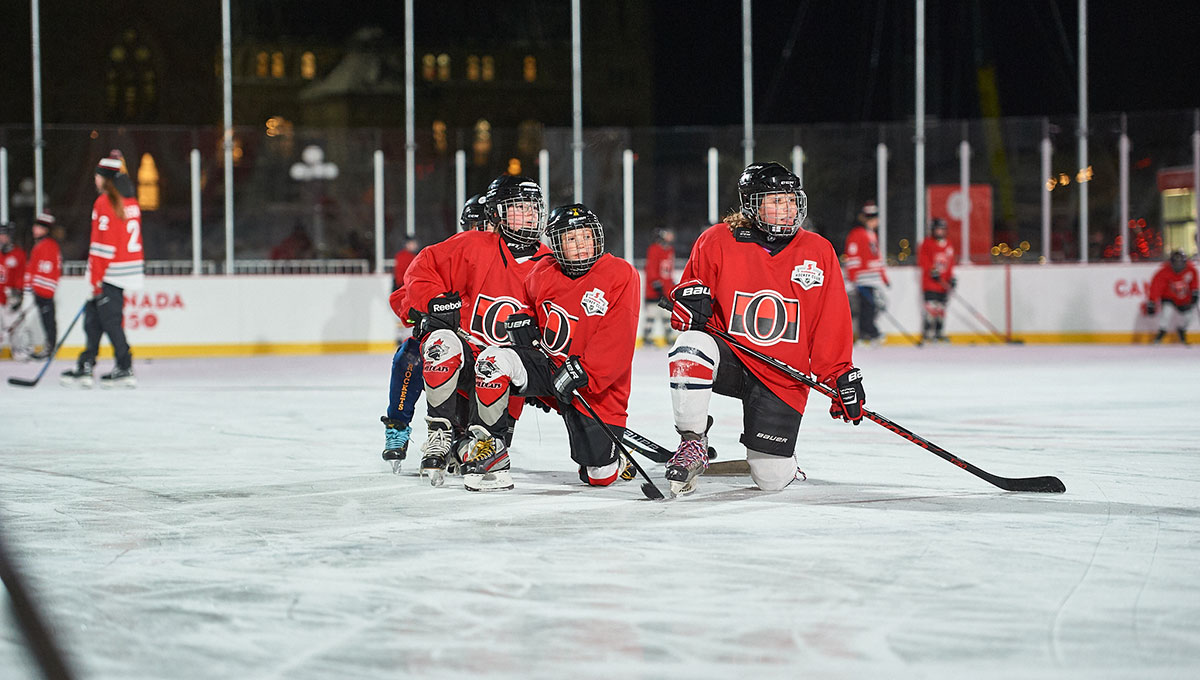 Teaching a New Generation of Girls
Bouillon was on the boy's hockey team until she was 10 years old because there was no girl's league in her hometown of Victoriaville, Quebec.
"Being the girl in the team was always like you're less good than them, so you have to be better than every guy in the team to be respected," she said.
Bouillon admits that things are much better now, but that female hockey players still receive the short end of the stick sometimes.
"The men's team is more on the spot than the woman's team," she explained. "The way we play is kind of controversial still.  They can fight and everything, but us, we cannot do this
"(Our games are) fast. It's really good, but we face the kind of stereotype that we just pull hair and things like that, but that's definitely not what's happening."
"That's why events like Girls HockeyFest are important," said Boullion. "They help empower young women."
Donna Owen, who watched her daughter skate, agreed.
"I think it's great that they have the Carleton Ravens women's hockey team because they're awesome role models for girls and the speech by Cassie Campbell was really great too. She talked a lot about education, which I think is really important."
Ten-year-old Stephanie Robinson was certainly inspired.
"You can get new friends and you can experience new things," she said when asked why she liked the event.
It was a great way for a the hockey players to celebrate as Canada 150 draws to a close.