By Tyrone Burke
Photos by Chris Roussakis
"Everything inspires me."
Octogenarian Lily Tobin is holding a talking stick and sharing a piece of her life story with a group of fellow residents at Ottawa's Oakpark Retirement Community.
The half dozen women seated around a large table in the book-lined library are members of the Java Music Club, which brings together seniors in residential care for weekly sessions built around a theme. Residents sing along to a selection of songs linked to the theme and then use an image to guide their follow-up discussion.
This week's focus is creativity, which is perfect for Tobin, who has been making art since she was a schoolgirl. When her vision faded, she exchanged her paint brush for a palette knife, whose broad strokes are easier to see.
"I see beauty everywhere," says Tobin.
"In flowers, trees, children, grandchildren. This keeps me inspired. It keeps me busy."
Far beyond keeping its members busy, the Java Music Club could also be fostering empathy and deeper connections that can reduce social isolation experienced by seniors who live in retirement homes.
That's the theory being explored by Carleton Health Sciences Prof. Renate Ysseldyk, who is evaluating the program's effectiveness in a project supported by the Toronto-based Centre for Aging and Brain Health Innovation in partnership with Ottawa's Bruyère Centre for Learning, Research and Innovation in Long-Term Care and Java Group Programs.
"Most people like music," says Ysseldyk, whose research focuses on social determinants of health among potentially vulnerable populations.
"It's a great way to engage with others. But the key to this project is using the music to foster peer support and close social connections: making a meaningful group where people can actually get to know each other week after week."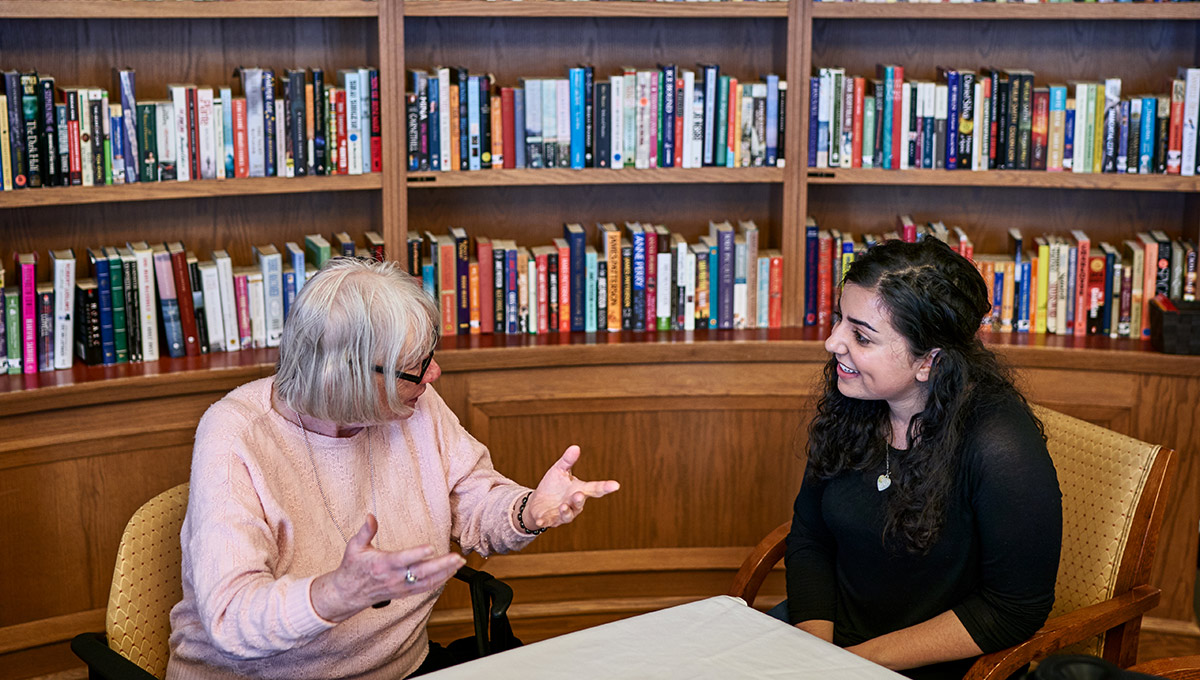 Isolation, Loneliness, Depression
Despite the wealth of activities offered at residential care homes, they have a high incidence of social isolation, loneliness and depression.
One of every two residents reports being chronically lonely, a feeling that has been linked with intense emotional suffering, falls and numerous negative health outcomes which significantly increase hospital admission rates and health-care costs.
New residents have often suffered the recent loss of a partner and/or their independence, and could be experiencing some degree of cognitive decline. Then they have to develop a new social circle.
"A lot of social activities in residential care are designed to keep residents busy and get them socially active but can result in what's called 'social snacking' — do this today, do that tomorrow," says Ysseldyk, comparing the concept to grabbing snacks when healthy and satisfying proper meals (i.e., fulfilling interactions) are not available.
"That's good for some people but might not be meaningful for others. We're trying to build meaningful connections and a group identity with others participating in the club. If the theme is gratitude, people say what they're thankful for. Sometimes it's positive; sometimes participants shed tears.
"But they get to know each other on a deeper level, which can be a challenge in residential care. They're surrounded by people, but don't really know anybody."
Java Music Club: Helping Seniors
Ysseldyk and her team of four graduate students are doing their research in collaboration with the activity directors at Riverstone Retirement Communities in Ottawa.
Weekly sessions are being held at three Riverstone care homes, with two other locations serving as a control group before they follow suit in the summer.
The Java program is meant to be simple to deliver, with music on 52 themes in low, singable keys, accompanying imagery and a talking stick to ensure that everybody has a chance to speak.
Participants were surveyed at the outset, and changes are being tracked with questionnaires at the halfway point and end of the study.
"We'll see over time if there were any changes in the health, well-being and even in the cognition of residents," says Ysseldyk.
Already, the results seem promising. "I'm seeing people become more interested in other people outside of the actual sessions," says Oakpark Activity Director Miriam Dwyer. "I'm seeing people become more interested and more caring."
Friday, July 6, 2018 in Faculty of Science, Health
Share: Twitter, Facebook