By Tyrone Burke
Photos by Chris Roussakis
Pablo Picasso wasn't only an innovative artist; he was highly prolific too. By the time he died at the age of 91, he had produced more than 36,000 works. That's more than one work of art a day, every day of his life.
How did Picasso maintain that kind of pace?  It was enabled in part by a French house paint called Ripolin that was widely available which dried much more quickly than oil-based paints.
"People have speculated about why Picasso first picked up house paint, and there are elegant theories about how this was a proletarian gesture — to use a low material to make high art," says Francesca Casadio, the Grainger Executive Director of Conservation and Science at the Art Institute of Chicago.
"But it's also been suggested that he used Ripolin because it dries fast, and he could then paint quickly for his next show."
On March 2, Casadio delivered the 2020 Discovery Lecture at Richcraft Hall. An annual event that is jointly sponsored by Carleton's Faculty of Science and School of Journalism and Communication, the lecture showcases excellence in science journalism.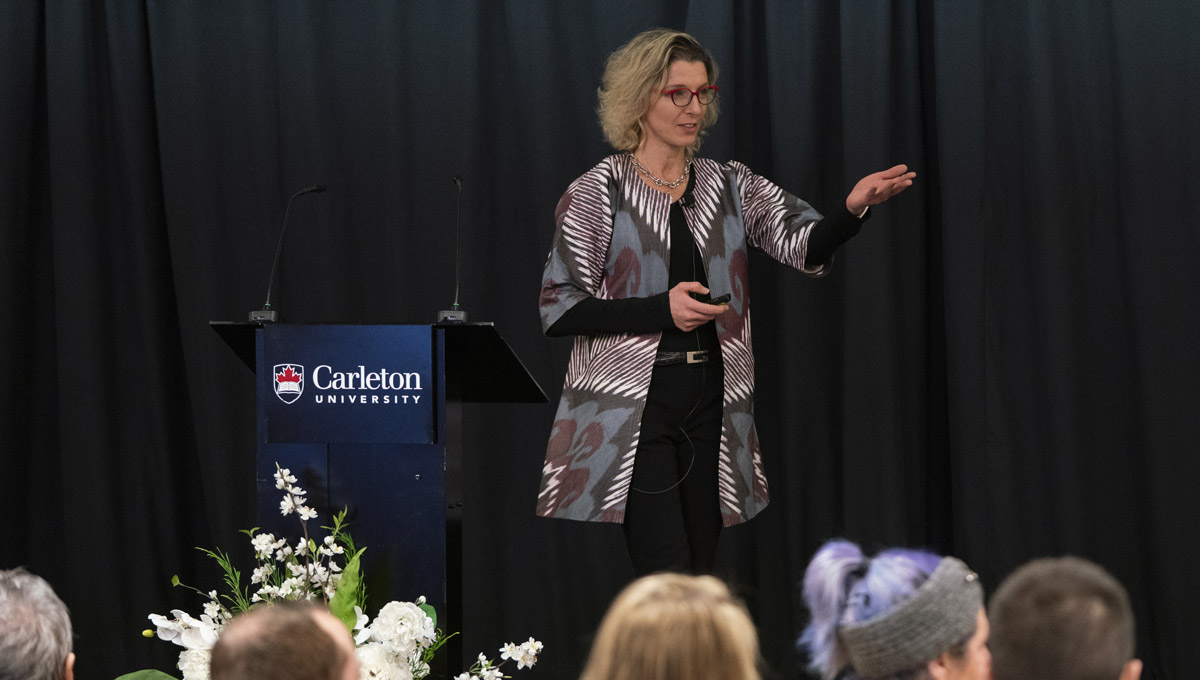 Using Chemistry and Imaging Technology to Understand Picasso's Work
In "Analyzing Picasso: Close encounters in art and science," Casadio talked about how chemistry and imaging technology have helped us better understand Picasso's work, revealing both the materials he used and some of the hidden steps of his creative process.
To determine that Picasso used Ripolin paint, Casadio worked with the Argonne National Laboratory to conduct X-ray analysis of "The Red Armchair," a work in the Art Institute of Chicago's collection. She matched the chemical signature of the paint used with old samples of Ripolin paint that had been purchased online.
But its mere presence doesn't tell us exactly why Picasso chose to work with Ripolin, which was the first commercially available enamel paint. Perhaps he started using it for financial reasons when he was a cash-strapped, aspiring artist in Montmartre. Or maybe he just liked it. Ripolin paint has a characteristic shine and conceals brush strokes.
Casadio also showed how infrared imaging technologies can reveal the sketches behind Picasso's paintings, showing the initial concept for work that can be enigmatic – as well as how those paintings evolved into his characteristic styles.
Francesca Casadio: Science Can Help Us Develop a Deeper Understanding of Art's Cultural Significance
Yet scientific techniques have value beyond revealing an artist's process. Casadio pointed to a colleague's proteomic analysis of carvings from the west African nation of Mali. By better understanding the proteins that are present on these carvings, we can develop a deeper understanding of their cultural significance.
"A power figure looks a little bit like a hippo or a cow, and these were used in religious ceremonies," said Casadio.
"Material was added to them, and this patina and accretion is of religious significance. By taking a scraping, it's possible to identify the blood of chicken, goat, and dog. Each animal was used for different practices. This adds to our knowledge of the art's authenticity, and also complements field work and curatorial work by being able to highlight the more unusual material(s) that are present."
Thursday, March 5, 2020 in Faculty of Science
Share: Twitter, Facebook