By Ellen Tsaprailis
Photos by Justin Tang
Hannah MacLellan has accomplished a lot at the age of 19 and she's just getting started.
The human rights undergraduate student, in her second year at Carleton University, hails from Prince Edward Island. At the age of 12, she started educating students about disabilities through her role as the province's Easter Seals Ambassador.
In high school, she led the charge on removing the word handicapped from the provincial Highway Traffic Act, which motivated P.E.I. legislators to update five other major pieces of legislation last June to reflect the new wording.
"The term 'handicapped' is outdated and offensive and I thought that I could be instrumental in making this change," says MacLellan, who also succeeded in getting fines doubled for illegal parking in the designated spots.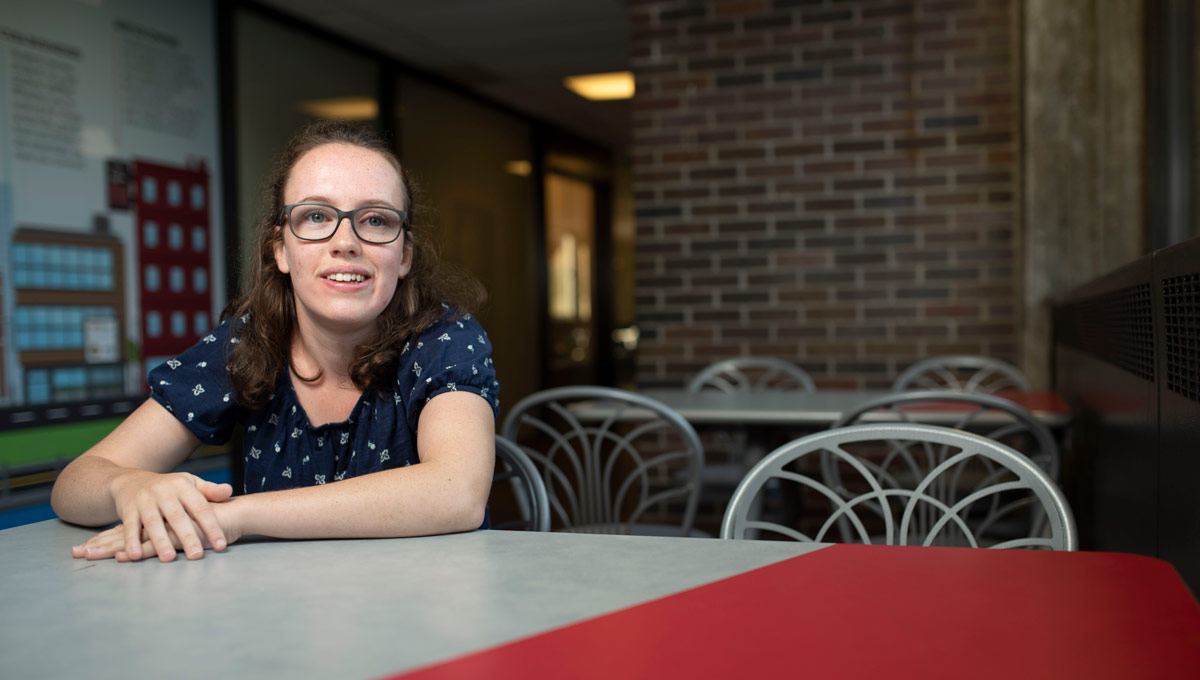 Putting People First
The bill changed the wording from "disabled parking spaces" to "designated accessible parking spaces" and from "persons with physical disabilities" to "persons with mobility impairments."
The provincial government went a step further and passed the Miscellaneous Statutes Amendment Act (Persons with Disabilities) which amended five other acts to include up-to-date terminology.
Moving to Ottawa from a small rural community on the island was a challenge for MacLellan.
"I had a lot to learn how to get around the city using public transportation, managing all of my personal things, staying on top of my swimming schedule and trying to fit in on campus," she says.
"I learned a lot about myself this past year and I am very proud of everything I have accomplished."
In addition to her studies, MacLellan has been a competitive swimmer for almost seven years and has attended swim meets across Canada, the United States and Denmark. She currently trains with the Swim Ottawa Team.
"I absolutely love swimming. I swim about five times a week which is a lot to balance when you are in university, but it gives me a sense of freedom and calmness when I am in the water," says MacLellan. "I enjoy competing and pushing myself to better my personal times—who knows, maybe someday I will even make the Paralympics."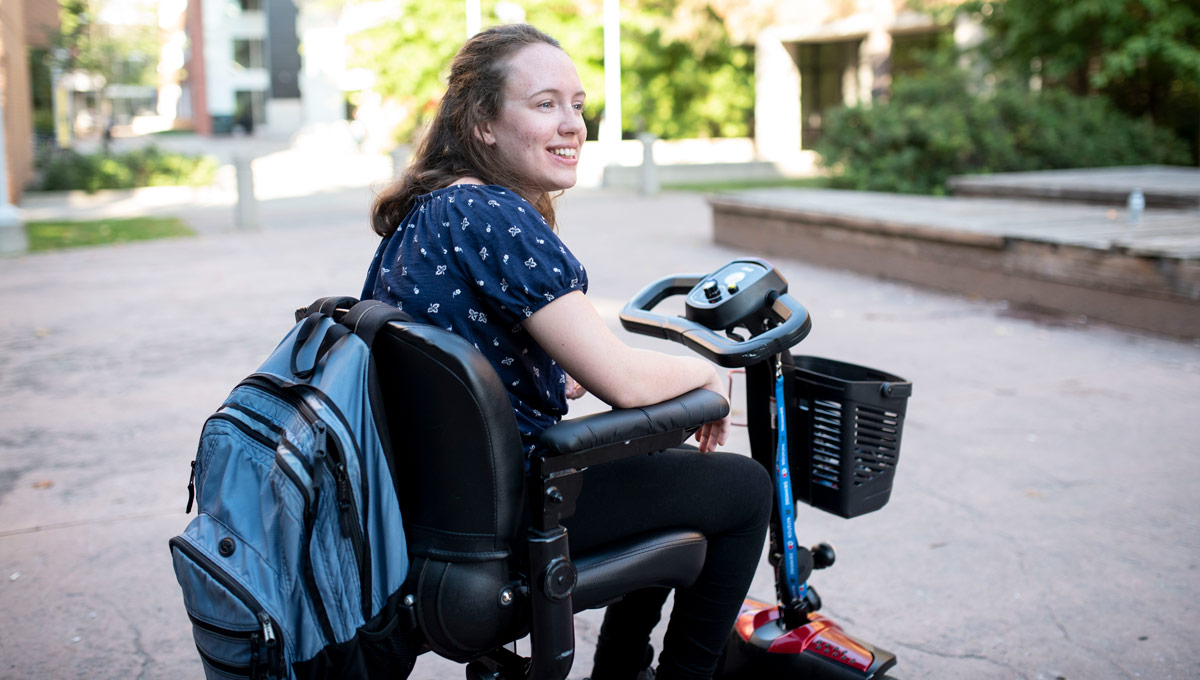 Attendant Services Program A Draw
MacLellan decided she wanted to study at Carleton because of its proximity to government and her desire to advocate for people with disabilities. Another big plus is Carleton's 24-7 Attendant Services Program in residence.
"This program helps people who have a disability manage university life—cause we need a little extra help for certain things. This is the only program (of its kind) in Canada."
After she completes her Human Rights degree with a minor in Disabilities Studies, MacLellan wants to pursue a law degree.
"I am very passionate about making a difference in people's lives and I believe that by being involved in organizations like politics (and) advocacy groups we really can make a difference.
"If I can do things like this as a young person, imagine what impact we could have when we are older with more education and opportunities."
Brett Babcock is the programming co-ordinator for the Carleton Disability Awareness Centre (CDAC) where MacLellan started volunteering last year. Babcock has found her to be unique in her love of the political.
"Most students like to separate their disability," says Babcock. "It's nice to have someone political interested in disability issues. I was happy to have another student interested in politics to talk to."
She has already helped the centre by conducting an internal accessibility audit on washrooms on campus, according to Babcock, and she took photos for the centre's external audit on the condition of sidewalks.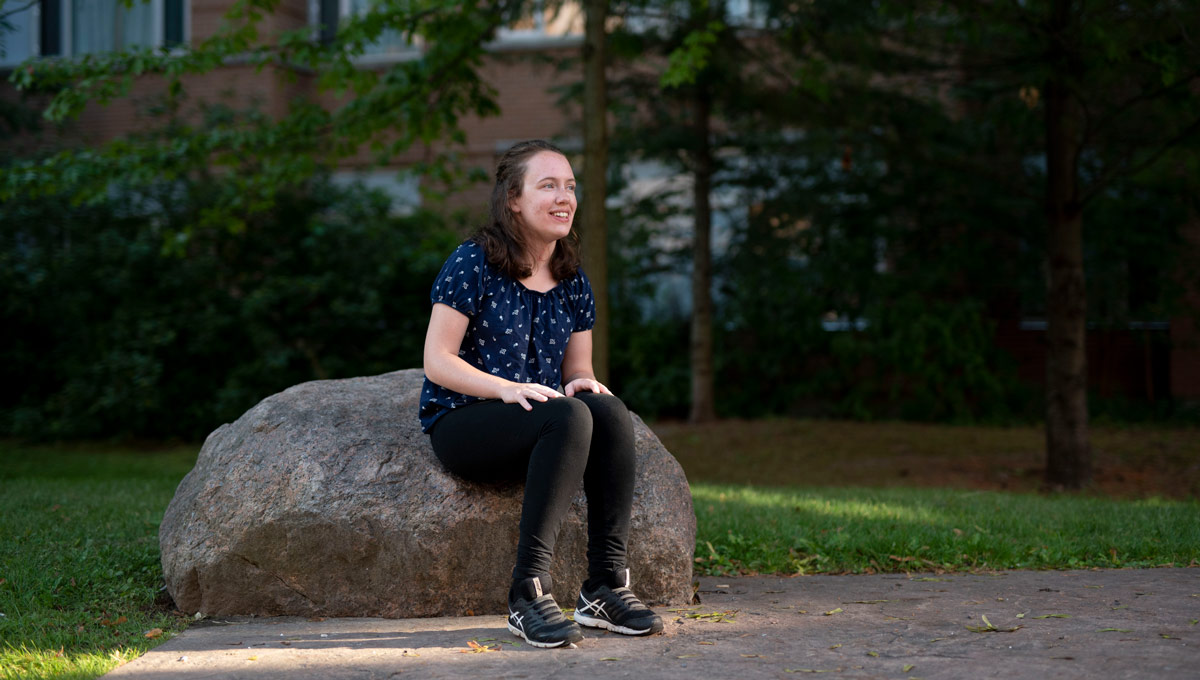 Placing the Locus of Disability on Society
Babcock hopes that eventually MacLellan will increase the time she spends at the centre and perhaps take over one of the co-ordinator positions.
Beyond their mutual interest in politics, Babcock finds he has a lot in common with MacLellan.
"I also have a severe physical disability. Similar to Hannah, I deal with systemic barriers, including physical inaccessibility, lack of accessible services, as well as disability stigma and stereotypes (ableism). Whether disabled people like to admit it or not, our bodies and the ways in which they are interpreted (or ignored) by others profoundly impacts our everyday experiences," says Babcock.
"Hannah and I both accept that we are disabled persons. However we place the locus of disability on society rather than our bodies, and it's this radical perspective that drives disability activists to unite.
"For an individual like Hannah who has grown up with a disability, I am very impressed with her level of activism. Oftentimes disabled teens' voices are lost or overshadowed . . . I have to commend Hannah and her family for not only allowing her to exercise her activism but for also letting her find her disability identity and take pride in it.
Wednesday, October 17, 2018 in Accessibility, Faculty of Arts and Social Sciences, Human Rights
Share: Twitter, Facebook