Learn more about members of the Black community at Carleton who are dedicated to greater Black inclusion and anti-Black racism in the classroom, on the field and in their personal lives.
---
Menna Agha is designing a more just world
Menna Agha seeks to build a better world where space doesn't marginalize.
An assistant professor in Carleton's Azrieli School of Architecture & Urbanism, Agha is a third-generation Egyptian Nubian, a community that was displaced by the creation of the Aswan High Dam in the area now known as northern Sudan/southern Egypt. Agha's lived experience is what drives her work as an architect as well as her research interests in race, gender, space and territory.
"The creation of a dam submerged the entirety of my ancestors' land. It now sits underwater while my people are fighting for their rights to return," Agha explains. "We have been marginalized by space."
These historic realities inform Agha's work and purpose to this day. "I'm a Nubian woman and I build like one," she proclaims.
This unique viewpoint on the lasting impacts that can result from urban planning has led Agha to become a driving force in the newly established area of design and spatial justice.
Spatial justice involves the fair and equitable distribution in space of socially valued resources and opportunities to use them. Agha's research looks at issues that have to do with marginalized groups in architecture in both the city and in the built environment.
Agha's work goes beyond her own individual practice — she is also changing the culture of architecture through her teachings. Through her classes, she is working towards redirecting the field by training architects to work in the public interest. The focus is on how to design with communities and involve their voices in the designs.
"We are asking and thinking about what care work looks like in architecture. We are creating architects that work for the public," says Agha.
One of the ways she is doing this is through the Architecture Action Lab that she initiated at Carleton.  Through the lab, Agha and her group of 15 students offer community organizations the service of their architecture skills. Most recently, they designed a community pantry and fridge for Ottawa's Sandy Hill community. The partnership provides community groups, which often have limited funds, the benefit of expertise that might not otherwise be available.

"We have a problem in our field," says Agha. "Architecture is quite elitist and very exclusionary. Our services are usually only available for those who can pay for them but in our lab, we are trying to change that."
---
Corey Grant is creating greater representation on and off the field
Following an 11-year CFL career, Corey Grant, a former two-time Grey Cup Champion, switched gears to focus on his passion for teaching and coaching — becoming the example he never had.
"Representation can shift mindsets, attitudes and outlooks," says Grant, Carleton's head coach of the Ravens football program. "When students see people like them reflected in their community, they are more likely to imagine themselves in those positions and ultimately succeed."
Grant who never had a Black teacher and who didn't have a Black football coach until he made it to the pros, is currently the only Black head coach in Ontario University Athletics (OUA).
"As a teacher and a coach, I hope I can be the representation I never had and give our students the love for school and football," says Grant, who is also a former kindergarten teacher.
Wanting to change this experience for his two children and future generations, Grant made it a priority to make as much as a difference as he could for Black youth and professionals in not only the sport community, but also in the greater community.
Grant is the assistant director of the Black Canadian Coaches Association, co-chair of the OUA Black Biracial Indigenous Committee and the founder of the Black Football Coaches of Canada. He also served as chair of the Hamilton Black History Council.
"I sit on committees, raise money for scholarships, look to create opportunities for Black youth and try to change policies all as my little way to help and do my part to change the world," says Grant.
When asked what drives him, his response is, why not?
"As a Black man I feel it is my responsibility to ensure that my children and their children don't encounter the same experiences I did," he explains. "We've made a lot of a change but there's still a long way to go."
Grant's community leadership also includes developing the OUA's United Against Racism campaign idea and he previously served as an equity, inclusion and anti-racism lead within his previous role before joining Carleton in March 2022.
Grant says he is looking forward to pursuing similar EDI work here in Ottawa and at Carleton. For now, he is focused on gaining a deeper understanding of his new community and preparing for the 2023 football season.

"We're coming out and wining every day — in the classroom and on the field."
---
Kemi Obando is sharing her experience as a Nigerian woman in Canada
Kemi Obando spent much of her undergraduate degree discovering what it meant to be Black and working through the pressure of having to identify.
"It was the first time I noticed that I was Black," explains Obando, communications specialist and graduate administrator in Carleton's School of Journalism and Communication. "It's just something that had never occurred to me coming from Nigeria, because we don't think about race as the biggest marker of our cultural identity."
Originally from Abuja, Nigeria, Obando moved to Canada as a teenager to pursue her dream of higher education — a pursuit that also involved culture shock and displacement.
"I was kind of put in this box in which my culture was no longer the primary source of my identity, but my colour was," says Obando. "It was incredibly confusing because it's kind of like a reworking of your brain to understand this narrative you've been placed in."
Obando initially joined Carleton studying as an international student in communications, where she began to build relationships with people from different parts of the world who identify as Black in the Canadian context.
"Carleton has a large Nigerian student community, which made it feel like home and is big part of why I consider Ottawa home," says Obando.
Obando's experience with displacement ultimately influenced her decision to pursue graduate studies at Carleton, where her research focused on exploring the gendered expectations of Nigerian women. After graduation, she joined Carleton's staff and sought ways to continue sharing her research and experiences with the community.
One mode of outreach is through her blog. Obando's posts are inspired by her experiences as a Nigerian woman in Canada and the related challenges of assimilation, culture shock, displacement in culture and replacement of culture.

As part of the Carleton community for over nine years, Obando has gained a deep understanding of Carleton's Black and international communities and cultures. She now uses her background and experiences to help guide and support current students to achieve success and belonging.
---
Nduka Otiono is a catalyst for greater Black inclusion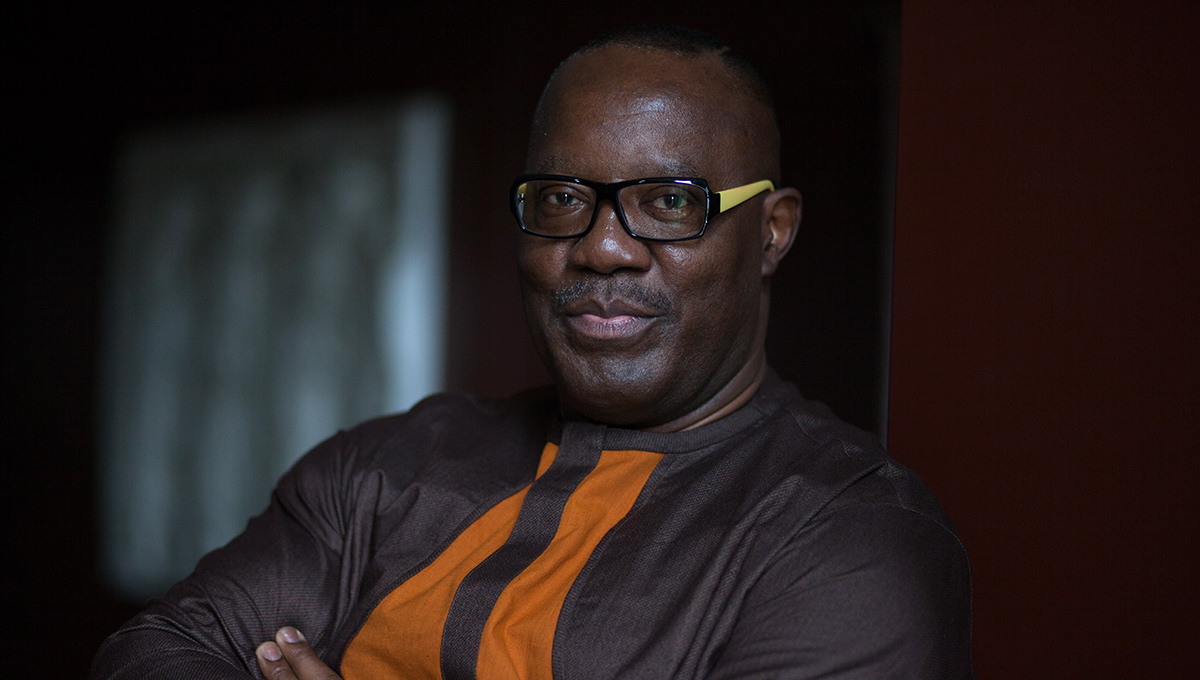 It has been a year of change for Nigerian poet and writer, Nduka Otiono.
Following a 10-year tenure as a professor in Carleton's Institute of African Studies, Otiono was appointed the institute's director — a role that he sees as a call to serve to the Black community.
"There is a certain kind of special way that the institute exists in my consciousness," says Otiono, who began his first term in July 2022. "When this opportunity came to put myself forward, I had mixed feelings but it was an opportunity to do things I thought of from when I first started in the institute."
Otiono is setting those ideas in to motion, beginning with the celebratory launch of the institute's new space, which will play a central role in creating an African research and community hub for Carleton and the larger community.
"In Africa when something is born we celebrate. It is a right of passage," says Otiono.
This also includes celebrating the unveiling of the Pius Adesanmi African Studies Resource Centre, honouring the memory of the late Prof. Adesanmi who was the institute's second director and among the 18 Canadians killed in the tragic Ethiopian Airlines crash in 2019.
"I'm excited to have this opportunity to celebrate our friend and to memorialize him for generations visiting Carleton," says Otiono.
Coinciding with his appointment as the institute's director, Otiono also became the first faculty advisor on anti-Black racism and Black inclusion at Carleton, alongside Prof. Audra A. Diptée. The appointments are just one of the actions taken by the university since signing the Scarborough Charter on Anti-Black Racism and Black Inclusion in Canadian Higher Education.
"We are one of the most underrepresented racial groups in the university, so every opportunity that I have to promote Blackness is something I cherish," says Otiono. "There is so much value in having a voice at the table that speaks for this minority."
A sought-after mentor, Otiono is also on the advisory board of Carleton's student lead Umoja Black Community Engagement Program. The program is dedicated to the academic, professional, and personal empowerment of the Ottawa regions' African, Caribbean, and Black communities.
Otiono hopes to also promote greater Black inclusion through his continued academic work, poetry and ideas. His most recent published work, DisPlace: The Poetry of Nduka Otiono speaks to the diasporic world and his experiences in Nigeria and Canada. It was recently shortlisted for the Archibald Lampan Award for poetry.
"Hopefully when students see my story as an immigrant in Canada it will encourage and inspire them."
---
During Black History Month, the Carleton community is mobilizing to promote and highlight Black leadership, achievements and experiences. While Black History Month is an important moment to mark annually, Carleton recognizes that Black inclusion must be an everyday, year-round priority. Visit newsroom.carleton.ca/black-history-month to learn more.
Thursday, February 16, 2023 in African Studies, Architecture, Athletics, Black History Month, Journalism and Communication
Share: Twitter, Facebook