Carleton grad student Osama Abushaban stood before a panel of four judges, all of them experienced entrepreneurs. Dressed in smart casual, he didn't realize how nervous he was and that he had been holding his breath for quite a while.
"I was about 0.000001% away from a panic attack," he shared.
And then it began – the judges hammered him and his business partner, another graduate student Abdallah Sunna, with a series of tough questions while they defended their new business idea – "How would they and their families survive financially until they generate profit? How will they finance the startup? What did their growth strategy look like?"
Finally, 30 minutes later, it was over.
"Abushaban says: "It just went fine, I don't know how. The only thing I remember was that I was feeling extremely cold in a warm venue."
He and his partner received a "green rating" which meant their business is ready to launch.
"We went crazy for a few minutes and didn't realize that we got the green feedback until we managed to calm down," says the grad student. "We got it in the very first round while other teams were pitching for their 2nd, 3rd, 4th and 5th times."
This Dragons Den-type experience is part of the Lead to Win (LTW) program, a kind of boot camp for new or aspiring entrepreneurs. Like Abushaban, many students from Carleton's Master's program in Technology Innovation Management (TIM) choose to participate in LTW. The TIM program helps students create and launch new technology companies and/or grow existing companies. It offers a less intense pitching experience to the LTW called a "gate review process" that gives TIM students the chance to integrate expert feedback into their projects and theses.
Abushaban says he chose the TIM program because, "Simply it's unique. You study and get the opportunity to leave with a degree and a real company." For the past 10 years, he had worked for international organizations such as Showtime, a joint venture under Paramount Entertainment and BMW & Mercedes Benz where he was responsible for managing technology teams, including technology innovation.
"TIM is not only a program, it's more of an eco-system," says Abushaban. "We are connected with other entrepreneurs, industry professionals, government funds and other resources that are core values for any new start-up."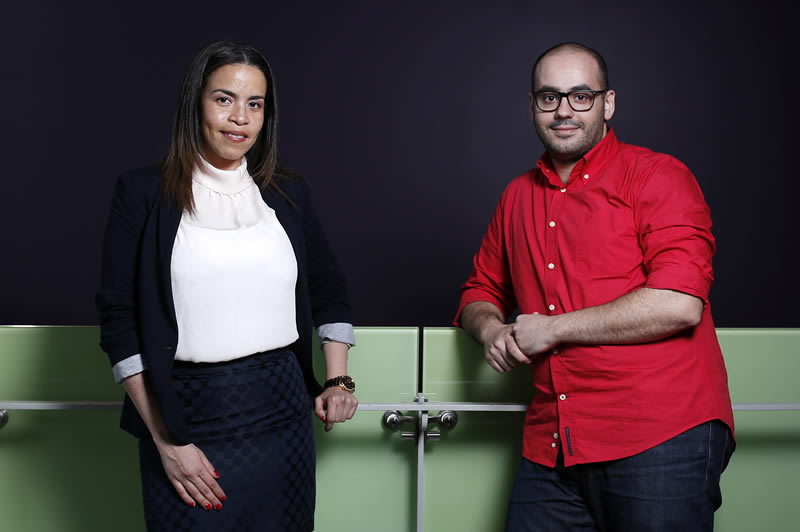 Like Abushaban, Vanessa Jimenez first heard about the TIM program while surfing the net.
"I chose the TIM program because I wanted to study something to help me develop more efficient and innovative tools for the banking industry. I already had a background in business and marketing, so when I reviewed the TIM courses, I realized that they would help me to improve my "tech knowledge" which I need it to achieve my goal."
Jimenez worked for seven years at BBVA, the second biggest Bank in Peru. When she graduates from the TIM program, she wants to start a company that develops innovative solutions for the banking industry in South America and other developing countries.
Three months ago, Carleton's Sprott School of Business opened its doors to a new Accelerator – a state-of-the-art facility for students working to launch and grow their businesses. The goal for each venture in the Accelerator is to generate $1 million in three years by creating six or more jobs in the region.
Jiminez says the Accelerator is a great place for TIM and other students to start developing their ideas in a "casual but professional place".
Tony Bailetti, director of the TIM program and entrepreneurship teaching area coordinator in the Sprott School of Business says: "At Carleton, we do entrepreneurship, not just talk about it."
TIM alum Derek Smith (MASc/14) commuted between Richmond Hill and Ottawa just about every week from September 2012 until April 2014 to attend classes at Carleton. He graduated with a perfect GPA and was the first TIM student to receive a medal at Convocation.
On a rainy day in Ottawa, he had a chance meeting with Prof. Bailetti. "We chatted about my broad question and the TIM program over coffee. That cup of coffee and short fascinating discussion profoundly changed my life."
"I was searching for an answer to a broad question," explains Smith. "How should we manage technology, innovation and intellectual property to create and capture value for companies? I simply felt we didn't know how to do this very well anymore as the world of technology development had changed."
Smith says that the TIM program really prepares its students to be ready for the technology development and business challenges in the real world of technology innovation management.
While the thesis option gave him an opportunity to do in depth research that focused on citation-based patent evaluations, he says that the program electives allowed him to "deep dive" into special interest areas. "The sustainable entrepreneurship elective illustrated the value of building a technology business around sustainability. The open source business elective illustrated the value of building a business around open source technology. The business ecosystem elective revealed the value of an ecosystem perspective in technology entrepreneurship."
Before he joined the TIM program, Smith had worked at IBM Canada in hardware, firmware, national languages research and development, and then transitioned into intellectual property and became a registered patent agent in Canada and the United States. Eventually, he became an IBM-certified consultant and worked as a management consultant in an IT strategic planning practice. He went on to work in high-powered intellectual property positions with Husky Injection Molding Systems and Bell Canada.
Smith founded Magneto Innovention Management in February 2012 just before he began the TIM program. The company is focused on creating strategic innovation value for small and medium-sized entrepreneurial companies by leveraging intellectual property and technology innovation management practices.
"I leverage the knowledge gained in the TIM program and, in particular, the results of my thesis on a daily basis to provide better services to my clients," says Smith. He is now the Principal at Magneto Innovention Management and also a guest lecturer for one of the TIM courses.
Meanwhile, Osama Abushaban and his business partner are getting ready to launch a website for their new business called Tarfee.
Wednesday, March 25, 2015 in Graduate Students
Share: Twitter, Facebook