The sixth edition of ENABLE Ottawa, an annual three-day conference hosted by Carleton University's Research Education Accessibility & Design (READ) Initiative, kicked off June 1 by highlighting how technologies, research and innovations can be leveraged to make the world a more accessible place for all.
ENABLE Ottawa coincides with Canada's National AccessAbility Week and is a project of the Canadian Accessibility Network (CAN) based at Carleton. The virtual conference brings together cross-sectoral communities of accessibility professionals, allies and people with lived disability experience to explore how assistive technologies and design are contributing to the creation of universally-accessible experiences for everyone.
Mobile applications are helping people better navigate the world.
Maayan Ziv is the CEO and founder of AccessNow, a mobile app designed to empower people with disabilities to live more independently. Using a crowdsourced model, the app connects users with ratings, insights and information on the accessibility features of businesses and experiences in more than 30 countries.
"There are so many obstacles people with disabilities still face, and so many ways to jump in and try to solve them," said Ziv, who lives with muscular dystrophy.
"The experience of building a community from my initial need to solve my own problems has been one of the most rewarding (experiences)."
Rob Dotten of Ottawa-based ProtoDev highlighted Contactless Access, first developed to help Carleton students requiring more accessibility to reach their classes in Paterson Hall that has now gone global.
Contactless Access allows people to control elevators, doors and even buses equipped with their Bluetooth modules all from their phones, a feature that has acquired more usefulness amid the COVID-19 pandemic.
Joseph Weber, manager of accessibility solutions for the well-known Be My Eyes app, which connects blind and low-vision people with sighted volunteers for visual assistance through live video calls, highlighted the importance of building relationships with users above all else.
"The trust and usability of the people using the service has to come before what that revenue is," said Weber.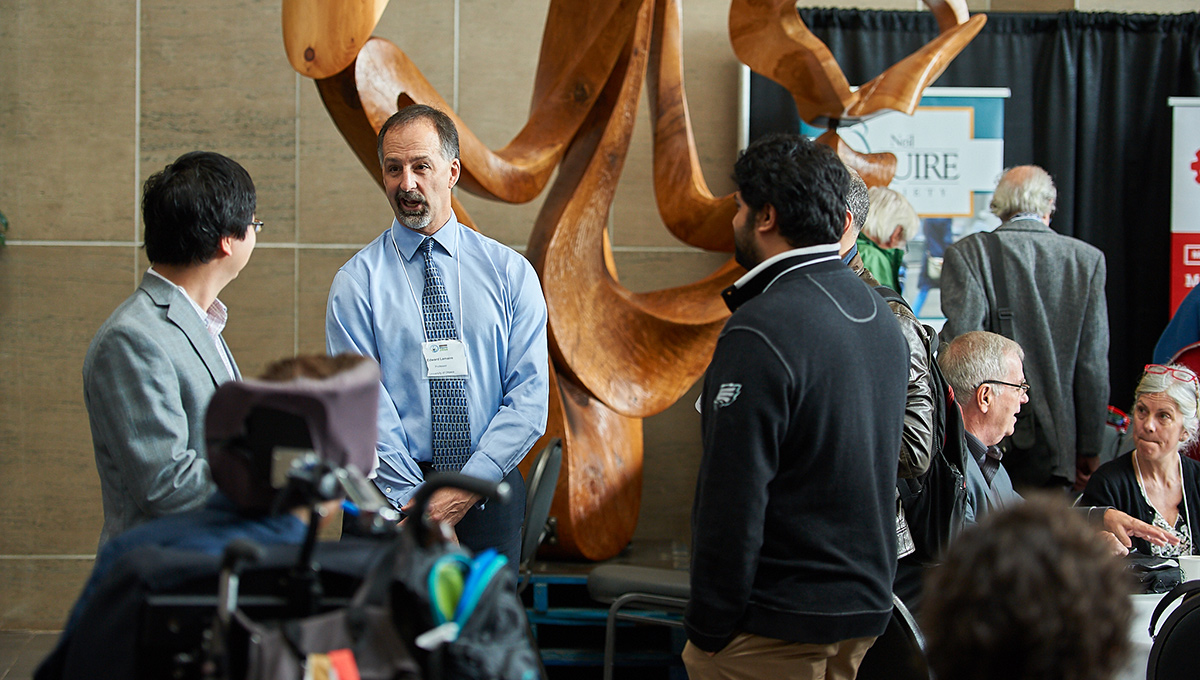 Research Informing Accessibility Technology
Accessible devices are also playing an important role .
Pedro Encarnação, a professor at Universidade Católica Portuguesa researches how robotics and assistive technologies can act as tools to support play in children with neuromotor challenges.
"Play is instrumental to child development," said Encarnação, highlighting how play deprivation is associated with increased anxiety and even feelings of learned helplessness.
"The beauty of robots, he said, is they can attract attention, maintain engagement, and adapt to children's needs to achieve that necessary balance between boredom and frustration where play occurs. "With robotics, toys can come to life."
Carleton Industrial Design Prof. Lois Frankel unpacked her research into the value of observing and engaging with a person experiencing an accessibility issue before attempting to solve the problem.
When one of Frankel's former students, Alicia Stewart, set out to design a comprehensive art kit for people with cognitive disabilities, she started by attending art classes at Ottawa's BEING Studio, where she noticed that supplies found in the average art kit could pose challenges for people with cognitive disabilities, leading to damaged or wasted material.
Stewart developed a brush cleaning device which guards against damage and a set of reusable paint mixing cards, integrated into a comprehensive art kit specially designed to transcend barriers to creating art faced by people with cognitive disabilities.
University of Toronto Prof. Goldie Nejat's research centres on developing socially assistive robots—robots that can both look and act human—to help promote independence and independent living in seniors, especially those who might be experiencing cognitive disabilities.
"The idea is that these robots can help maintain a person's cognitive functioning and improve their overall quality of life," said Nejat, by helping seniors navigate meal preparation, eating, clothing selection, self-care and hygiene.
University of California Prof. Jun Chen closed out the first day of the conference with a presentation on the wearable glove he developed that can translate American Sign Language into spoken English for people with hearing-related disabilities. Using sensors and a circuit board integrated into the glove, the device can transmit signing to a mobile app, where ASL is translated into English speech.
The conference is a reflection of Carleton's commitment to prioritizing a culture of accessibility on campus and elevating accessibility research. Thanks to foundational institutions such as the READ Initiative, CAN and the Paul Menton Centre for Students with Disabilities, which just celebrated its 30th anniversary, Carleton is recognized as a leader in accessibility.