By Dan Rubinstein
Photos by Melanie Mathieu
The Mer Bleue Bog, a conservation area in Ottawa's east end greenbelt, is a popular destination for people who want to immerse themselves in birdsong and natural beauty.
But at the end of a narrow boardwalk that most visitors never see, scientists from Carleton and several other universities have spent the past 24 years studying the processes that make this peatland ecosystem healthy and resilient.
Carleton Geography and Environmental Studies Prof. Elyn Humphreys has been conducting research at Mer Bleue since 2005, with an eye toward protecting the important ecological role that the bog plays for decades to come.
"It's a really big store for carbon that's been taken out of the atmosphere and effectively locked away," she explains. "It's a natural, long-term climate solution."
Humphreys, who also does research in the Hudson Bay Lowlands, a vast wetland between the southern shores of Hudson Bay and the Canadian Shield, is primarily interested in how peatland ecosystems interact with the atmosphere, specifically how they cycle carbon.
Peatlands are a type of wetland that has accumulated at least 40 centimetres of organic soil (i.e., peat). The plants that grow at Mer Bleue, mostly shrubs and mosses, absorb carbon dioxide and release oxygen as they photosynthesize. When leaves and roots die off, they're broken down by microbes in the soil, but because the ground is saturated with water, they decompose very slowly.
"As a result, there's an imbalance between the uptake of carbon dioxide and its release back into the air," says Humphreys, noting that the Mer Bleue bog absorbs about 1,600 tons of carbon every year, roughly equivalent to the annual energy emissions of 1,400 homes. "This imbalance means that peatlands absorb more carbon dioxide than they release."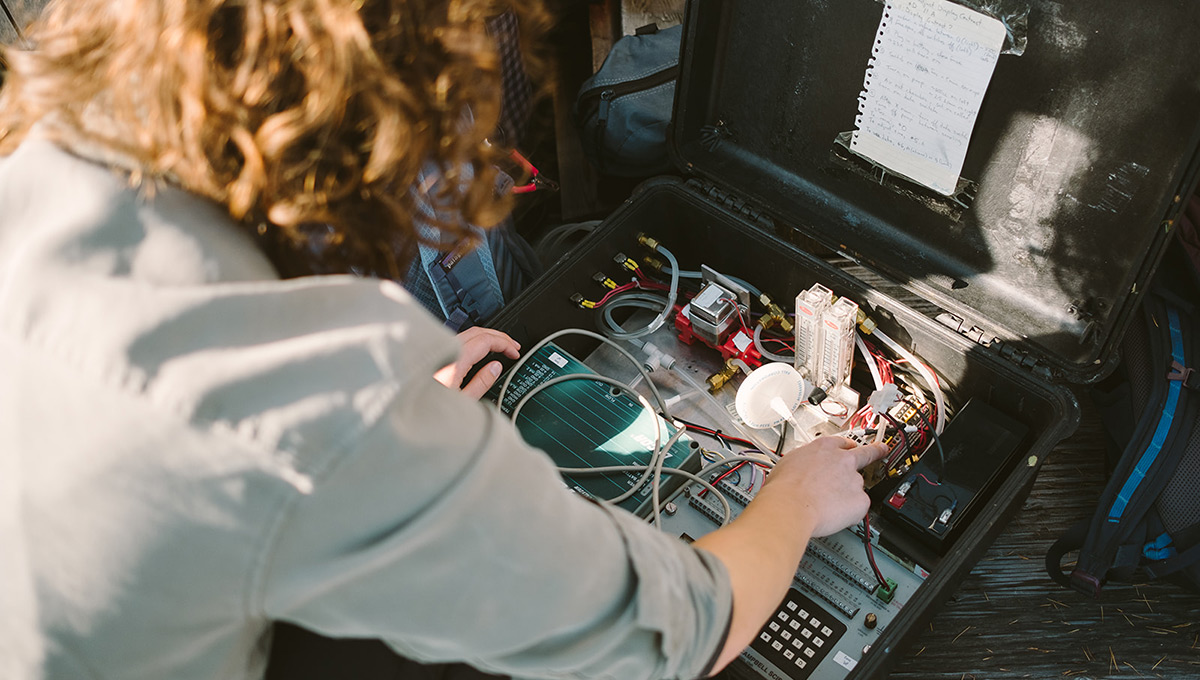 Moreover, one of the byproducts of this decomposition is methane, a greenhouse gas that's much more potent than carbon dioxide. But when wetlands are left intact for thousands of years, the climate cooling effect of carbon dioxide absorption offsets the warming effect from relatively low emissions of methane.
At least that's the ideal scenario. Humphreys, her colleagues and students are investigating what will happen when peatlands like Mer Bleue experience hotter, drier summers and longer growing seasons. If wetlands dry out, for example, will they continue to serve as carbon sinks? Their results to date show Mer Bleue to be a highly resilient ecosystem that continues to absorb carbon dioxide under a wide range of weather conditions.
"Our measurements are designed to help us better understand the response of this ecosystem to year-to-year variability in weather to give us a hint as to how it will function in the future," says Humphreys, adding that the information they're gathering is providing valuable baseline data, to help assess the pace and scale of change, and could inform management strategies.
"If we better understand its role, then we can make that case that it needs to remain in place."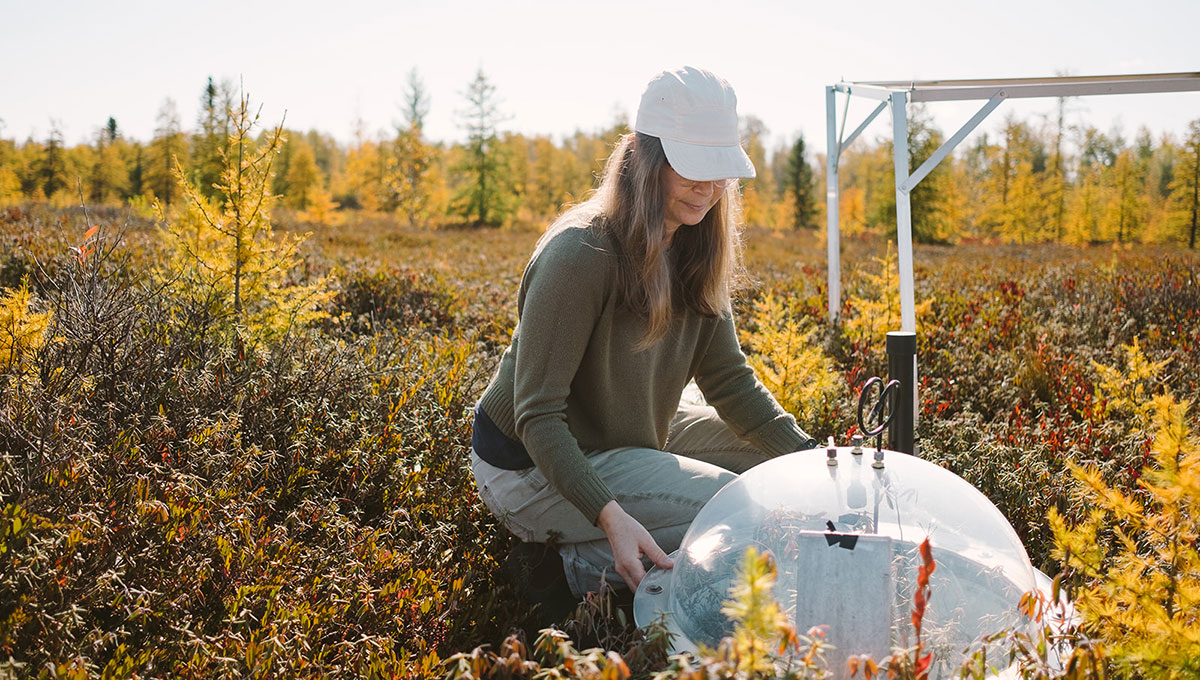 High-Tech Tools and Hands-On Research
On a sunny mid-October morning, Humphreys went to Mer Bleue to check on some of her equipment, including a scattering of plexiglass-domed automated chambers that open and close to measure carbon dioxide and methane concentrations at ground level throughout the day, and a three-metre-tall eddy covariance flux tower that she uses to measure the exchange of gasses between the surface and atmosphere.
The tower holds several instruments, such as a gas analyzer, which measures water vapour and carbon dioxide concentrations, and a sonic anemometer to measure wind speed.
Other than down times because of storms, power outages or maintenance, the tower has been recording data since 1998 — data that's downloaded onto computers at Carleton and used to calculate how much carbon dioxide and methane is exchanged between the bog and the atmosphere.
The data collected is used not only to assess the state of this ecosystem and but also to help develop models that gauge how peatlands are responding to climate change and their role in the global carbon cycle.
Humphreys was joined at Mer Bleue by postdoc Maryia Halubok, research technician Vera Sokolov and master's student Rachel Mandryk, all of whom have opportunities to contribute to projects in Ottawa's greenbelt or fly-in northern field sites.
"Out here," says Humphreys, "students gain an understanding of how the natural world works in real time."
Mandryk, who spent four weeks on the northern tundra this past summer, demonstrated a portable infrared gas analyzer. It's used to measure carbon dioxide flux close to the ground, beneath shrubs.
"When you have warmer ground temperatures into the fall and winter, the microbial processes that break down organic material and recycle those nutrients in the ground can happen for longer periods of time," explains Mandryk.
"If you have increased nutrient cycling and increased decomposition rates, you're also potentially going to see increased carbon dioxide emissions from the soil. So we're looking at whether these increased soil respiration rates are offset by increased photosynthesis, whether there is a net carbon storage or release over the course of a year.
"This is really valuable experience that a lot of students don't get," adds Mandryk.
"It also makes me think about the impacts we have on our environment. It's humbling, in a way, to have an opportunity to do this type of research."