When the Carleton Ravens women's and men's basketball teams step onto the hardwood at Lansdowne Park's TD Place arena on March 5 and 6 in pursuit of their respective U Sports Canadian university basketball championships, it will be the first time that both squads are competing for the national hoops title on the same court.
It will also be the biggest venue for the women's basketball championships and the first time they're not taking place on a university campus.
Jennifer Brenning, Carleton's assistant vice-president of Recreation and Athletics, who worked with counterparts at the University of Ottawa and the Ottawa Sports and Entertainment Group (OSEG) to submit the successful dual championships bid to U SPORTS, says there were some concerns at the national university sport governing body about the men overshadowing the women at a joint tournament.
But Brenning feels this year's format will elevate the women's game by providing a bigger platform, and she's excited about watching both Ravens teams go for gold in front of large hometown crowds at an arena that's close to campus.
"Having both Final 8 championships here also helps elevate basketball and university sports in the city," she says, noting that TD Place, which was home to the Capital Hoops Classic basketball games between the Carleton and U Ottawa women's and men's teams in early February, is a natural and intimate venue for the game.
"The seats are so close to the court," she says, "and the atmosphere at Capital Hoops was unbelievably exciting. It was electric.
"Basketball enthusiasts are basketball enthusiasts and Ottawa is a basketball hotbed," adds Brenning.
"There's a very strong basketball community here. Hosting these tournaments is great for both universities and the city."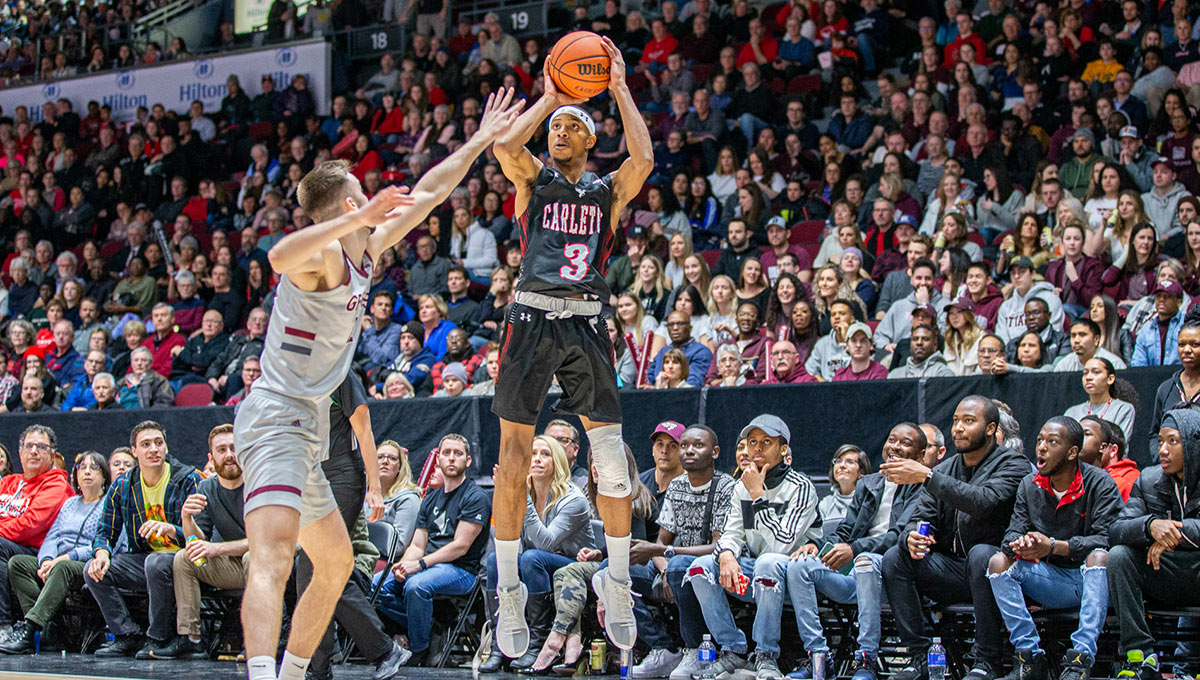 Teams Enter U Sports Championship from Different Angles
For Dave Smart, the architect of a men's basketball dynasty that has won 14 of the last 17 national championships, this year' s Final 8 will be different because he's no longer in a coaching role with the Ravens.
"I'll be on the bench but I won't be standing," says Smart, who is now Carleton's director of basketball operations, working with players and staff of the men's and women's teams. He's also general manager of the new Ottawa Blackjacks who begin play in the Canadian Elite Basketball League this spring. "At the championships, I'll be able to lend a hand to both teams.
"When people ask if I miss coaching, sure I do," he continues, "but I'd really miss the other opportunities that I now have workwise and all the time I have with my family because I'm not coaching. It's a change I don't regret for a minute."
The Ravens women's team, which has an automatic spot in the U Sports Final 8 as the host school, has been getting ready for the tournament since losing to the U Ottawa Gee-Gees in the Ontario University Athletics (OUA) quarter-finals on Feb. 22.
The women's team will attempt to repeat the run that led to its first national title in 2018 with current men's head coach Taffe Charles at the helm.
The Ravens men, meanwhile, enter the Final 8 as the top-ranked squad in Canada after another stellar year, losing just once in regular season play and winning the OUA's Wilson Cup championship over the Western Mustangs on Feb 29.
"Our two teams are coming into the championships from different angles — as a favourite and as an underdog — but they both have the talent to get it done," says Smart, noting the Carleton women have contended with a string of injuries since early November and the relatively long rest after their OUA playoff loss could mean they are healthier for the nationals.
The men, meanwhile, aren't exactly expected to win the title, "but that's why we play," says Smart. "It doesn't mean a loss is a failure. You go year to year. But that's certainly the goal going into every season — to win the national championship."
The Ravens women and men could feel extra pressure this year because the Final 8 is in Ottawa, according to Smart, or maybe staying home will make them more comfortable.
"As a coach who never really cared where we played, it's hard to answer that question," he says.
"You've got to ask the people whose job is to play defence and put the ball in the basket. And I think their answers will vary individual to individual. Some might be distracted at home, while others could be more focused and locked in."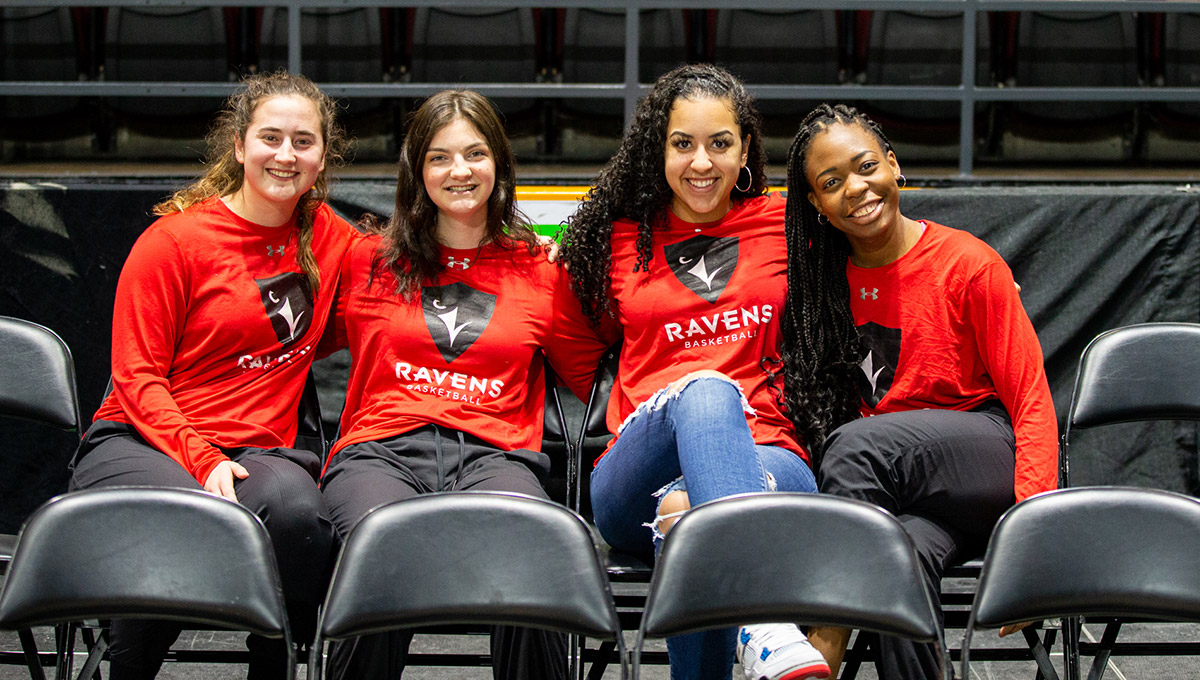 Bigger Venue is a Win-Win-Win
For Mark Goudie, president and CEO of OSEG and a Carleton graduate, hosting the tournaments at TD Place is the latest chapter in a growing partnership with Carleton and U Ottawa.
"It started with the return of the Panda Game to Lansdowne in 2015 and grew to include the Colonel By Classic hockey game and then the Capital Hoops Classic at TD Place," he says. "It's good for all of us.
"The universities can sell more tickets to help grow their programs, the teams can play in front of larger crowds, which is a lot of fun for them, and our purpose at is to stage games and host other events to bring fans to TD Place and the Lansdowne district, and I think we can play an important role in elevating the Ottawa university experience for students. So it's a win-win-win partnership.
"There's no doubt that Ottawa is a basketball town, largely because of the great success of the Ravens," adds Goudie.
"The Capital Hoops Classic drew over 8,000 fans to TD Place, which made it the best attended basketball game in Canada featuring teams not called the Raptors. TD Place is an intimate venue for basketball and our location, right between the two campuses, makes us an easy destination for students. It's great to have so many university students at Lansdowne, bringing their energy and bringing the noise."
Regardless of how things turn out on the hardwood, Ravens varsity programs are a major source of school pride at Carleton, says Brenning.
"We talk a lot about excellence at this university and the Ravens teams display that publicly," she says. "That helps enhance Carleton's reputation and it helps us recruit students when people see our student-athletes represent the school so well."
Monday, March 2, 2020 in Athletics, Events
Share: Twitter, Facebook