Carleton University alumnus Aaron Zolderdo, who graduated earlier this year with a PhD in Biology, has been a water lover for as long as he can remember.
"I grew up on the water," says Zolderdo, recalling long summer days of fishing at the family cottage on Rice Lake, just outside Peterborough, Ont.
"Any and every opportunity that I had I was out fishing, just always on the lake."
Zolderdo's passion for ecology and freshwater fisheries became the focal point of his post-secondary education and now his career, informing years of innovative research through his master's degree and then PhD in Carleton's Department of Biology, working in Prof. Steven Cooke's Fish Ecology and Conservation Physiology Lab.
Before coming to Carleton, Zolderdo earned a Bachelor of Science in Ecology from the University of Guelph. After graduation in 2012, Zolderdo realized he would likely need to continue his education to secure full-time work.
Zolderdo stumbled on Carleton's Master of Science in Biology program in 2014 and spoke with Cooke. He recalls instantly connecting his love for recreational fishing with much of the research being conducted at the Cooke Lab.
"That's when I was like, 'yep, I'm all in, this is definitely something I want to be a part of,'" Zolderdo remembers.
Two weeks and an interview later, Zolderdo was on the ground in Ottawa starting field research.
Zolderdo examined how stress (including fisheries) and nutritional status impact parental care behaviour and physiology in largemouth bass—one of the most highly sought-after sportfish in North America. During their parental care period, largemouth bass are highly vulnerable to angling capture and, as a result, may be subjected to additional stressors during this already intensive life-history period.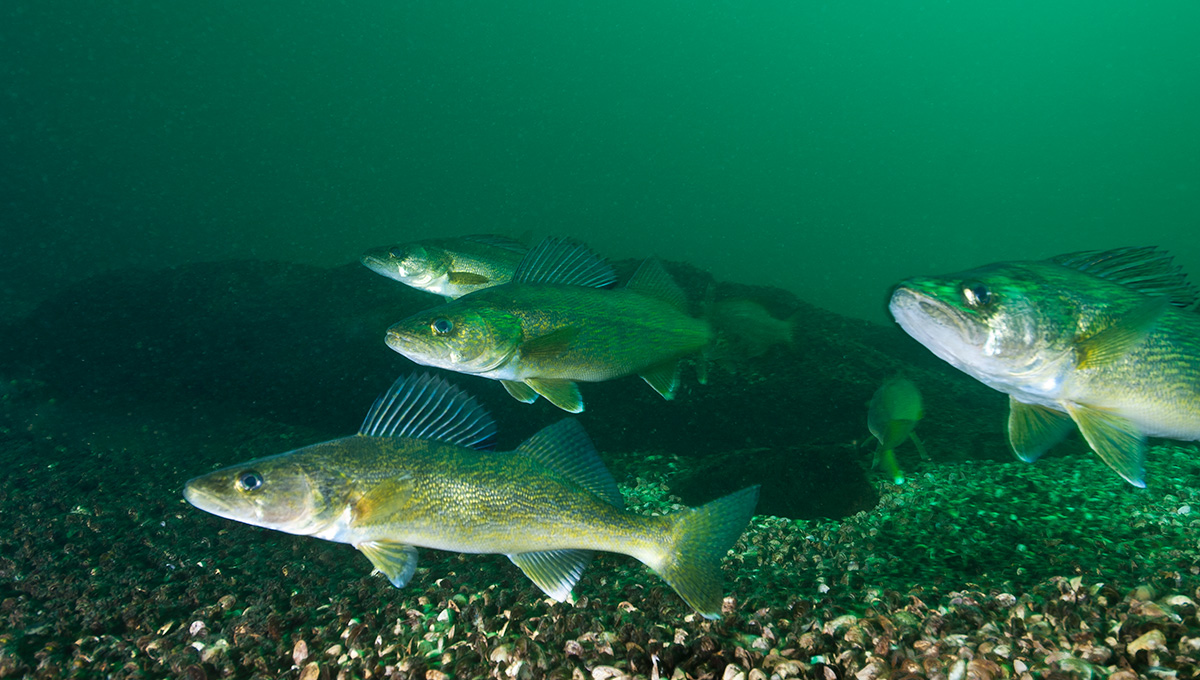 How Recreational Fisheries Could Potentially Change Fish Populations
Zolderdo wrapped up his first thesis at Carleton in 2014 but realized he had a ton of data and research areas he was still interested in exploring, leading him to the Biology PhD program.
He honed in on researching how recreational fisheries could potentially change fish populations, both at the physiological and behavioural level. "Within that same vein, I was interested in looking at how freshwater-protected areas can act as refuge to guard against the selective nature of recreational fisheries," Zolderdo adds.
He took a job at the Queen's University Biological Station (QUBS) on Opinicon Lake, just under an hour's drive away from Kingston, Ont. Part of what makes Opinicon Lake so special and a perfect setting for his research, Zolderdo explains, is that it's part of the Rideau Waterway—a chain of lakes and rivers that connects Ottawa to Kingston and the St. Lawrence River.
The Rideau Waterway is home to some of the oldest freshwater-protected areas around, dating back to the 1930s and '40s, established with the sole intent to protect largemouth bass from fisheries exploitation. But since their establishment more than 80 years ago, little research was done to evaluate the effectiveness or potential benefits of these protected areas to the fish populations until about 2010.
While fishery-induced evolution has been shown in controlled, experimental settings, Zolderdo wanted to see if similar changes could be taking place in the wild. Zolderdo began examining differences between bass populations inside and outside of protected areas, observing differences not just at the community level (higher quantities of and bigger bass inside the protected areas), but also found that bass inside of the protected areas were physiologically different from the bass in the adjacent main lake areas.
These observations meant Zolderdo's hypothesis proved correct: "What I was able to find was pretty amazing," he says.
"These freshwater protected areas have significant benefits for the largemouth bass populations. Interestingly, I also found that these protected areas provided population level benefits to several non-target fish species as well by supporting increased abundances and biomass."
Zolderdo says he hopes his research can help governments understand the benefits of freshwater-protected areas. "Freshwater habitats are some of the most imperiled worldwide," he says. "We have a real crisis around freshwater habitats and the biodiversity they support, and this is the time that we need to put very good management practices in place."
With his PhD finished, Zolderdo now works full-time as the operations and stewardship manager with the QUBS, co-ordinating events, conferences and workshops while overseeing the maintenance and conservation of the land itself. Zolderdo envisions a career at the intersection of industry and academia, where he can continue researching, but potentially pursue teaching.
Zolderdo says his time at Carleton has underlined the value and power of teamwork, knowledge-sharing and networking.
"One of the things that I loved the most about being involved with Steven Cooke's lab is just the sheer amount of collaboration that's supported among students," says Zolderdo, adding that this spirit of co-operation extended to the Biology Department as a whole and across the Carleton campus.
"Prof. Cooke really fosters an open environment for learning, collaboration, and forward, progressive thinking."