By Ellen Tsaprailis
Photos by Fangliang Xu and CIMS
In the land where mythical Aphrodite was born, the UNESCO World Heritage Site of Nea Paphos in Cyprus has enthralled visitors for centuries. However, conservators and local staff have never had a complete map of all the elements of the storied site. By the end of 2019, Carleton students will have created its first detailed digital map.
Two years ago, the Getty Conservation Institute, based in Los Angeles, asked Architectural Conservation and Sustainability Prof. Mario Santana Quintero and his team of graduate students in the Carleton Immersive Media Studio (CIMS) to map the ancient site 8,544 kilometres from Ottawa in its entire current condition. Both the institute and the Department of Antiquities (DoA) in Cyprus will use the geographic information system of Nea Paphos to guide future conservation efforts and improve visitor understanding and experience.
Carleton graduate students Reem Awad and Michelle Duong have led a team of nine students in the complex digital mapping and geographic information system project. The two visited Paphos last June and used 3D scanning, drones and photogrammetry to record the information and map the site at a high level of detail.
Paphos is a city in the southwest of Cyprus and in ancient times there were two locations – Old Paphos and New (Nea) Paphos. Nea Paphos is the modern city that incorporates the harbour and ancient ruins of tombs, fortresses, theatres and villas with mosaics depicting scenes from Greek mythology.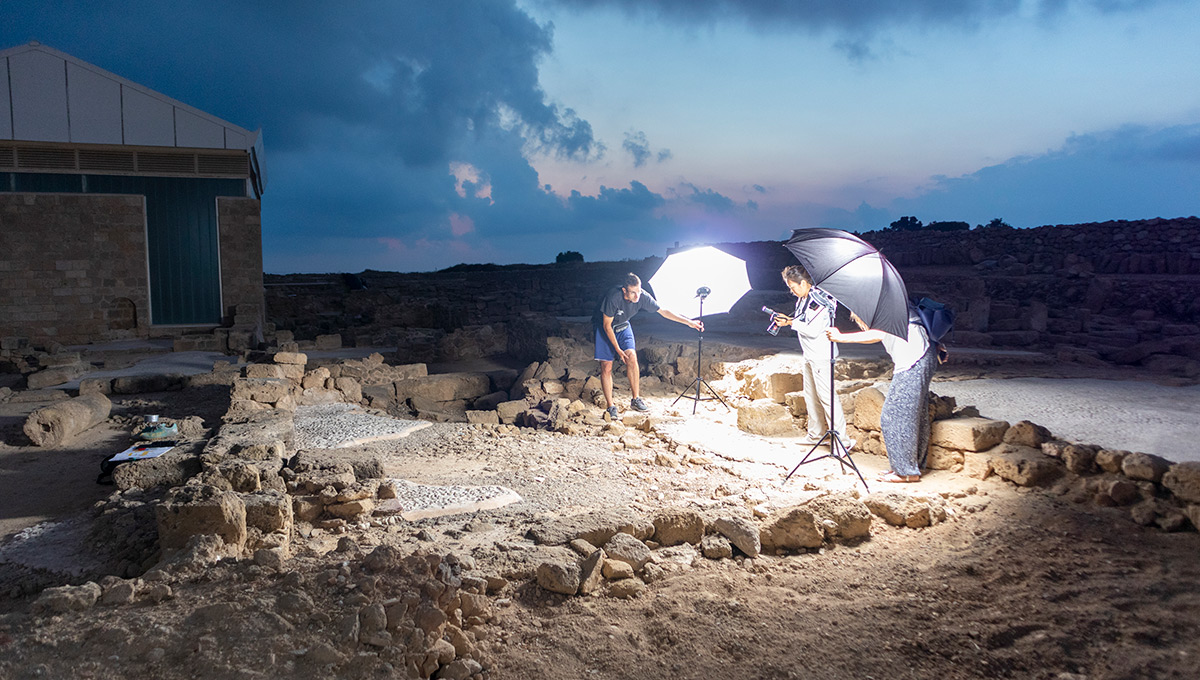 Documenting Antiquities with Laser Scanning, Photography and More
The main archaeological site is more than 170 acres that includes the residential area with mosaics. A second area, known as Fabrika, is about 37 acres that includes 14 caves documented using terrestrial 3D scanning. The third area is known as Tombs of the Kings (dating back to the fourth century BC) and is more than 60 acres. The tombs vary in size and Awad says the Carleton team documented more than 20 tombs through laser scanning and aerial photogrammetry.
The CIMS team captured more than 20,000 photographs and approximately 700 laser scans on site this past summer, documenting more than 60 mosaics in addition to a few wall paintings. The students have also been showing staff from the DoA how to use the specialized technological gear they brought to Paphos.
Now they are processing the data and, this November, Awad will return to Paphos with all of the maps ready for a quality check. She will continue to train DoA staff on using the geographic information system platform they have created. The final report will be submitted by the end of December to the Getty Conservation Institute.
Awad recently graduated with a master's in Architecture and will continue working full-time on this project until its completion.
"The reason I chose to come to Carleton is because of a heritage documentation training course Mario (Santana Quintero) gave in Palestine," says Awad who moved to Ottawa to complete her studies. "I was excited to learn from Mario and have the opportunity to work on one of his projects."
Duong is beginning her master's in Architecture, but is continuing to work on the project part time. "This project was an amazing opportunity," says Duong. "I don't know where else I would have had the opportunity to get intimate with such a historically and culturally significant UNESCO World Heritage Site.
"One area that we documented had never been studied."
Martha Demas and Leslie Friedman work in the Getty Conservation Institute's L.A. office and visited the CIMS lab at Carleton in August to get an update on the Paphos project and tour Carleton's facilities.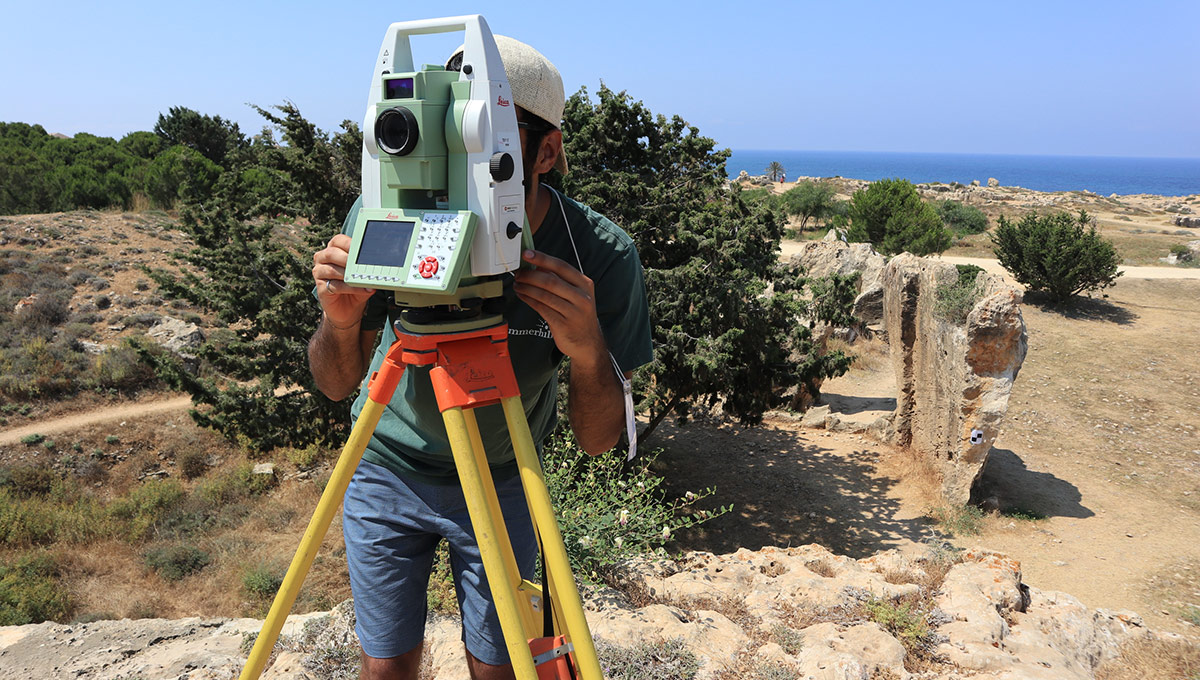 Students Exposed to More than Digital Mapping
Demas says they came to meet the team in person and get a better sense of how CIMS works. "We've been so impressed by the students who have worked on Paphos," says Demas. "They are smart, quick, lovely human beings. It's been stellar to work with them on and off site."
For Friedman, the scale on which CIMS operates was very impressive.
"The amount of responsibility and trust given to the students (on Paphos) is unexpected," says Friedman. "It's a good model and great experience for them."
Demas points out that the students are exposed to more than just digital mapping. They gain experience looking at the big picture of the project in dealing with local partners and getting to work with the DoA in Cyprus.
Prof. Santana Quintero is proud of the work his students have done in a place where no complete map had existed. Now the Getty Conservation Institute and DoA will receive a geographic information system platform that includes typographic maps, the slope of the site, sizes of the mosaics and an integrated database.
"We don't do these projects to make money," he says. "We do them for conservation purposes and to create opportunities for students so they can develop the skills and experience that the non-profit and private sectors require—and so they can help us advance the field."