By Elizabeth Howell
Photos by Chris Roussakis
It's 2 p.m. on a Tuesday and if you're a typical office worker, you're craving a snack. It's hard to plan ahead for the munchies in the middle of office duties, though, and your building only has vending machines with unhealthy options. What can you do?
A company started by two Carleton University students, Emil Aite and Eric Kys, working with Carleton's Lead To Win accelerator, has the solution. Called Desk Nibbles, it promises regular deliveries of healthy snacks to your workplace, no matter what the weather.
The typical audience is Ottawa-based office managers of small, medium or corporate-sized companies, Kys said in an interview. Desk Nibbles now has 12 clients, including Kanata-based cross-platform video app provider You.i TV (which has 150 employees). Another 10 to 20 companies are "in the pipeline.
"We're focusing on Ottawa, but over the summer we are going to be looking at what works," Kys said.
"We're trying not to grow ourselves too quickly. In the next couple of months, we'll expand into another city like Ottawa. We've had requests from multiple companies with offices in Ottawa that have their headquarters in Toronto. It's just a matter of us being able to meet those demands."
The company employs five people, with fourth-year students Aite and Kys both working full-time hours as they finished their undergraduate degrees in computer science and commerce, respectively. The other employees are working to cover operations, back-end development of the website and digital marketing.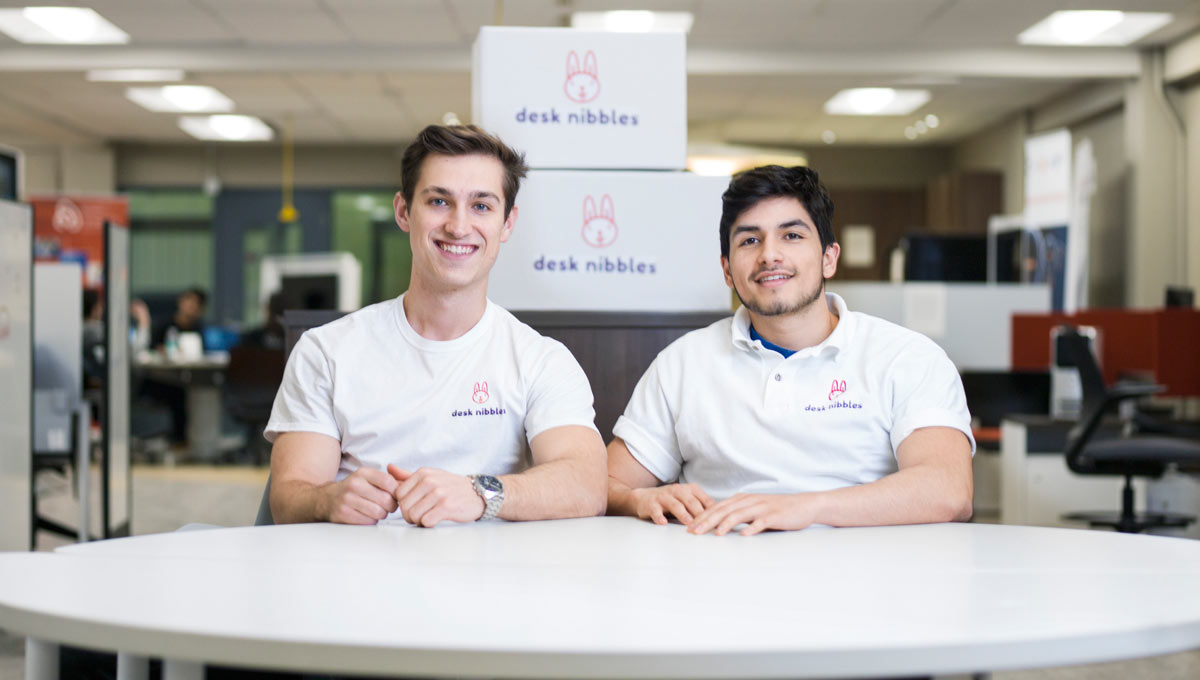 Desk Nibbles Operates
in Any Weather
Deliveries are made by a bike service (the couriers are unfazed by snowstorms, Kys says) and include samples from companies such as Awake Chocolate, Martin's Apples, and Tease Tea. Typical offerings on the Desk Nibbles website include dried fruit snacks, pistachios, granola bars, apple chips, Keurig coffee packs and yes, some less healthy items such as chocolate or chips as well.
Desk Nibbles was founded in late 2016 when Aite realized there was a market opportunity for delivered snacks. The company offers three plans on their website: a "Nibbler" containing 50 to 90 snacks for five to 25 people, the "Muncher" that offers 110 to 200 snacks for 25 to 50 people, and unlimited custom orders.
The students began the business fully bootstrapped, meaning that they funded everything out of their own pockets. Desk Nibbles subsequently received an undisclosed amount of money from the Lead To Win accelerator, which supports entrepreneurs intending to make $1 million in revenue during the first three years of operation.
Just recently, the company joined Startup Garage, a three-month program led by the University of Ottawa that offers student entrepreneurs up to $18,000 to launch or expand a business.
"The funding allowed us to ensure that all of our essential services – our website, stuff like that – would be guaranteed," Kys said.
"It's also allowed us to grow our inventory and, additionally, look at helping us pay for some of the employees we have on board."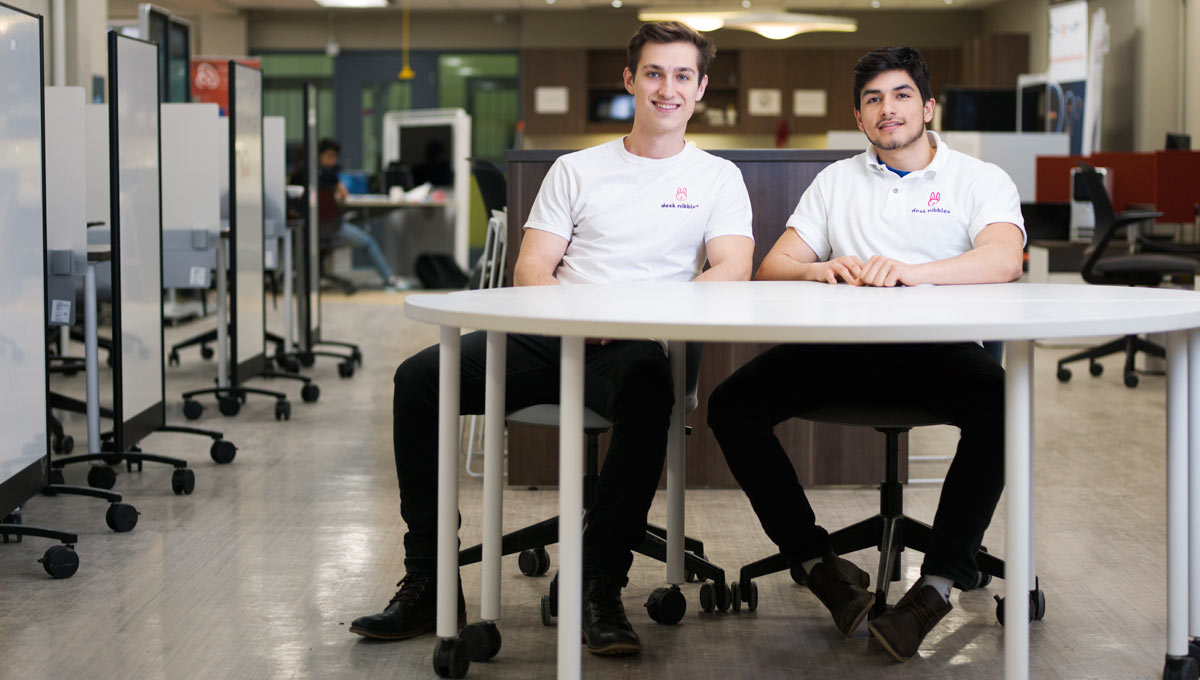 Lead to Win: A Boon for the Business
Lead To Win not only provided funding, said Kys, but also office space which also ended up being a boon for the business. "We can come in anytime of day, relax and not worry about being disturbed or somebody listening in on phone calls."
Lead To Win has been offering support to startups since 2002, and in 2015 was named one of the top 10 academic business incubators in North America by UBI Global.
"Lead To Win has helped dozens of technology businesses in our region since 2002," said founder Tony Bailetti, director of the Technology Innovation Management (TIM) program.
"To grow, a new venture must earn the right to exist and find a business model that is stronger than the business models of its competitors. Lead To Win helps individuals with great ideas understand how to make money from growing their own technology businesses."