By Dan Rubinstein
Photos by Chris Roussakis
Even though history typically looks back at the past, Carleton University graduate Linda Grussani is focused on the present day — and the future — in her new role as the Aboriginal art curator at the Canadian Museum of History.
"I think it's very important to demonstrate how Indigenous artistic and cultural production has continuously grown, evolved and matured," says Grussani, who started the job in late April after spending three and a half years as director of Indigenous and Northern Affairs Canada's Aboriginal Art Centre.
"Art can really demonstrate how Indigenous people have been here, are here, and will continue to be here."
In a gallery at the end of the museum's First Peoples Hall, which celebrates the history, diversity, creativity, resourcefulness and endurance of Canada's First Nations, Métis and Inuit peoples, Grussani points to a motorcycle sculpture made from stone and caribou teeth by Inuit artist Jamasie Pitseolak, and a traditional star blanket reimagined by Saskatoon-born artist Wally Dion, who fashioned it from computer circuit boards.
"Contemporary art allows artists to comment on the world they're living in," she says, "and at the same time be influenced by our history, and our collective histories."
Grussani, who has both a BA and an MA in art history from Carleton and is currently working toward a PhD in cultural studies part-time at Queen's University, has come full circle: in 2000, when she was a master's student and the Canadian Museum of History was called the Canadian Museum of Civilization, she landed an eight-month internship at the institution as part of the Aboriginal Training Program in Museum Practices.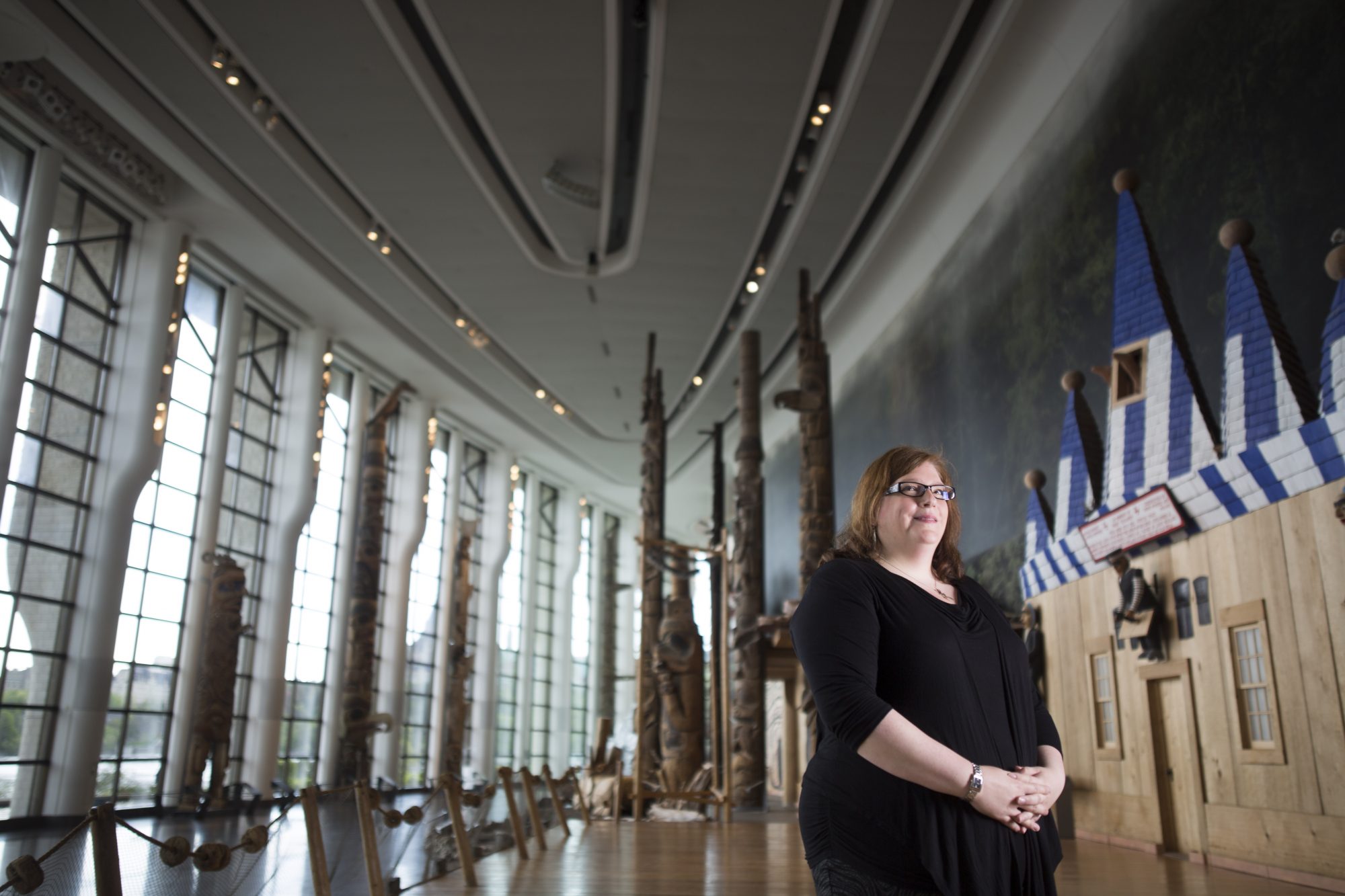 That position led to an opportunity at the National Gallery of Canada, where she worked on a major installation called "Art of this Land" and later got a job as a curatorial assistant. These steps confirmed something Grussani had suspected within a few weeks of beginning her first year as an undergraduate at Carleton — that the art world is where she belongs.
Creativity has always been part of Grussani's life. Her mother, who is from the Kitigan Zibi Anishinabeg First Nation, was a talented seamstress; Linda grew up wearing homemade clothing.
Her father, who came to Canada from Italy in 1960, built houses and had a room at home dedicated to drawings and plans, including detailed renderings of his garden.
Still, based on the advice of a high school guidance counsellor, who noted that she was strong in math, Grussani decided to study economics at Carleton. A friend recommended that she take an art history class as an elective. By Thanksgiving, she was hooked.
"Growing up, I didn't know that art history was something you could study and that it could lead to a career," says Grussani. "This is what I really like doing. I found my passion."
On campus, she began spending more and more time at the Carleton University Art Gallery (CUAG), ultimately curating five exhibitions and serving as the gallery's Inuit art curator for a few months.
"Working at CUAG was fundamental to what I'm doing now," says Grussani. "To have access to an actual art gallery with a collection was really important.
"It really helped flesh out the theoretical things we were learning in class. You're not just talking about art; you're gaining an understanding of the challenges of mounting an exhibition. The number of pieces, the amount of wall space, how one artwork can or can't be placed next to another — there are things that happen when you're working in a physical space."
"More than 15 years ago, Linda launched her curatorial career at the Carleton University Art Gallery, where she curated several collection-based exhibitions featuring Indigenous contemporary artists," says CUAG director Sandra Dyck.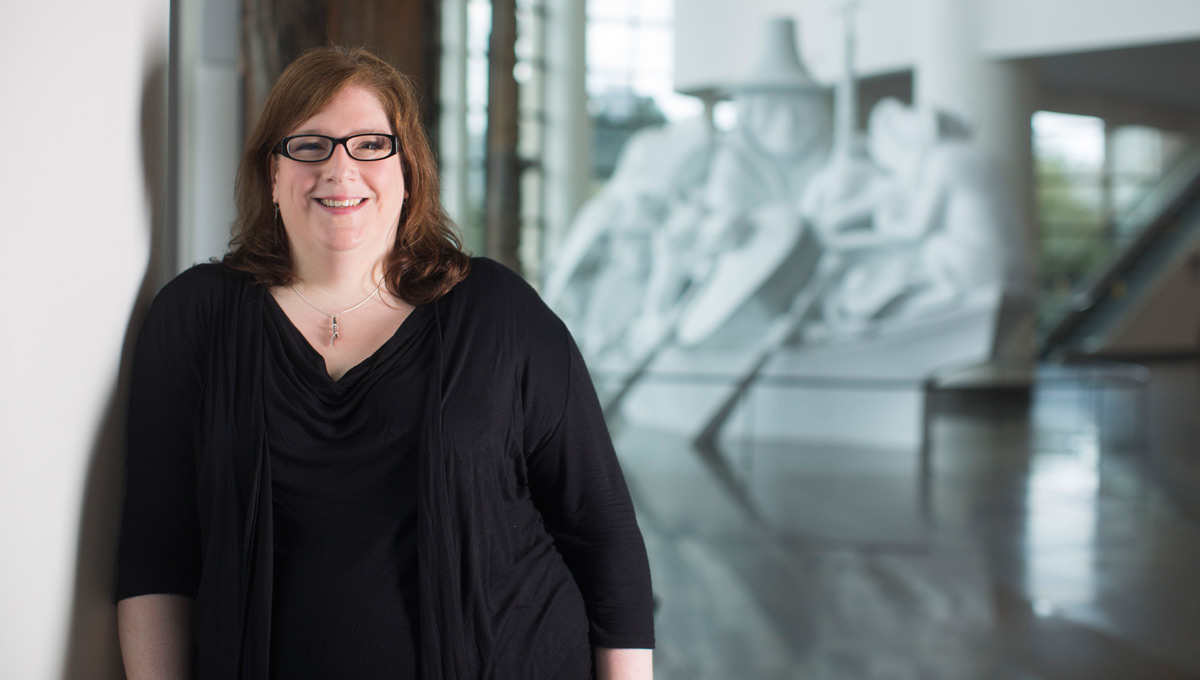 "The care, knowledge, passion and creativity she brought to these exhibitions have since become defining qualities of her curatorial practice. I look forward to the many wonderful projects Linda will surely accomplish at the Canadian Museum of History."
Carleton was also influential in another important way for Grussani: she met her husband, fellow alumnus Rawlson O'Neil King, in a first-year film studies class.
At the Canadian Museum of History, Grussani will be building and sharing information about the museum's collection of post-1867 Indigenous art. She'll be travelling to exhibitions, meeting artists in person and online, and is excited but daunted by the opportunity to help tell the stories of the original inhabitants on this land.
"I do this work because I have a deep appreciation and love for it," Grussani says with an infectious laugh that everybody she works with comes to know. "But, yeah, it's a little scary.
"Artists are some of the most amazing and brave people out there," she continues. "They use their imagination and courage to create things that millions of people will see.
"There's nothing like the experience of standing in front of an artwork in a gallery — you're taken away."
Which is why Grussani still tries to come to every opening at CUAG.
"You never know what amazing artwork you are going to see," she says, "and it feels like I'm coming home every time I walk through the door."
Monday, June 20, 2016 in Arts and Social Sciences, History, Indigenous
Share: Twitter, Facebook