To understand what is happening in the wider community, academic researchers need to be actively engaged with it.
"As social scientists, we try to interpret the world, and one great way to ensure that our interpretations are valid is to communicate with the people whose work we are trying to analyze," says Peter Andrée, a professor of Political Science and the Principal Investigator for Community First: Impacts of Community Engagement (CFICE), a seven-year research initiative funded by the Social Sciences and Humanities Research Council.
"Those lines of communication need to be open. If a political scientist were to study policy, without talking to actors who work in that area, they will miss some of the nuances of why certain things matter—of how different ways of phrasing policy can make a real difference on the ground."
CFICE wrapped up in 2019, but its legacy lives on through the Carleton Centre for Community Innovation (3Ci), a university research centre, and Community Campus Engage Canada (CCEC), an organization that's building a pan-Canadian network for participants in community campus-partnerships. Hosted by Trent Centre for Community Based Education, CCEC is seeking to break down silos by building relationships across Canada's regions and non-profit sectors.
"Within the CFICE project, a broad range of partners collaborated to enhance community-campus partnerships in a variety of sectors including poverty reduction, food security and sovereignty, and violence against women. This work took place at the community level and at the national level," says Magda Goemans. Now the manager of CCEC, Goemans worked as a research assistant for CFICE throughout her PhD years at Carleton.
"CCEC now continues with efforts to build more equitable and just community-campus partnerships that are driven by community priorities and understandings of issues. Over time, we aim to enhance policy and potentially also funding for meaningful community-campus engagement."
Building knowledge-sharing communities has always been a significant part of the vision for CCEC, but the COVID-19 pandemic accelerated the shift toward using digital tools to improve connectivity among community and academic participants in community-campus engagement efforts.
"As we move forward from the pandemic, we do not necessarily want to go back to where we have been. We have spent a lot of time thinking about how the pandemic could change our approach to community engagement," Goemans says.
"We have many opportunities right now to listen and to learn in real-time about how communities are being affected—to learn about the kinds of strategies they are thinking about to move forward from these challenges. I have heard from a lot of community-based representatives about new ways of connecting with academics and with other community-based organizations, and we see real promise in these types of cross-sectoral approaches."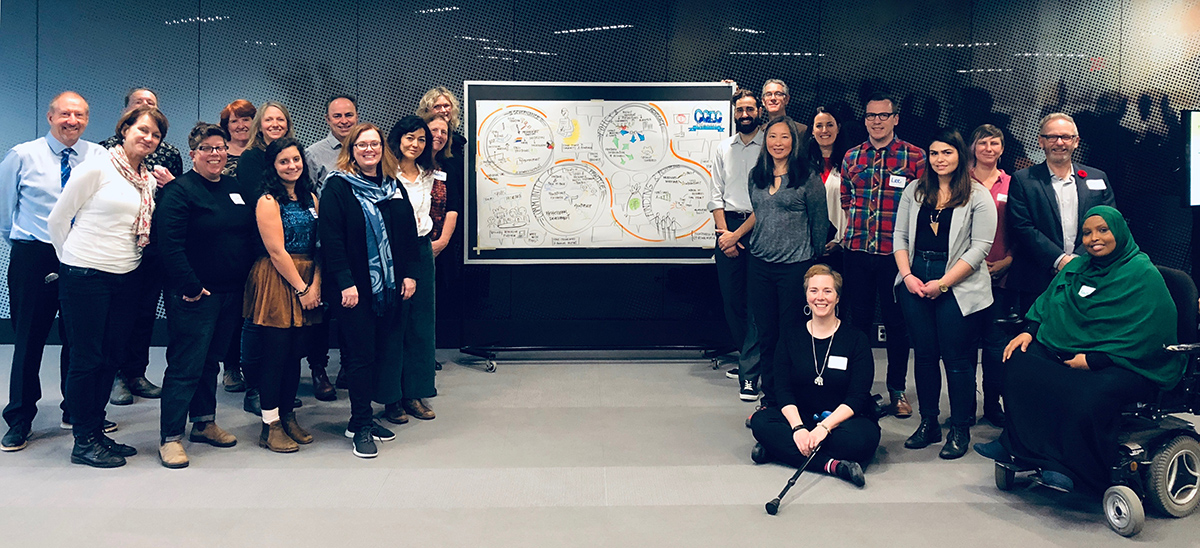 Catalyst and Convener for Studying the Non-Profit Sector
For its part, the Carleton-based 3Ci research centre is seeking to act as a catalyst and convener for studying the non-profit sector. It brings together like-minded researchers, and the strength of their numbers allows them to pursue large-scale grants and tackle ambitious projects.
The Common Approach to Impact Measurement project led by Kate Ruff is one of them. A co-director of 3Ci and a professor of Accounting in the Sprott School of Business, Ruff is developing a set of flexible indicators intended to make it easier to understand the impact that a community-based organization is having, and to more readily compare the impact of organizations, even when they work in vastly different sectors.
CFICE launched in 2012, and the work done through that initiative has already had an impact on policy-making in Canada.
"Canada's new food policy was supported by advocacy done through CFICE. In 2017-18, we worked with Food Secure Canada to amplify their voice, and bring a strong research dimension to their work" says Andrée.
"They are a national food security umbrella organization that advocates for zero hunger and for building more just and sustainable food systems in Canada. They had been advocating for a national approach to food security and related policies for about 10 years. At a critical moment in policy creation, CFICE had postdoctoral fellows working in their offices. They gathered research and community-based knowledge to feed into policy recommendations and, during the summer of 2019, the Liberal government announced a national food policy that was very much informed by that work."
But engagement with community-based organizations is mutually beneficial.
"It can provide capacity to our non-profit community partners, and it also leads to better research" says Andrée.
"It's a win-win-win. Our students and postdocs get better training because they are able to do practical research projects and internships with community organizations that are meaningful."