By Dan Rubinstein
Photos by Chris Roussakis
Nearly three decades ago, Adrian Harewood became a journalist because he wanted to help open up spaces for a wider range of stories told from an array of perspectives. His commitment to that goal has never wavered.
"Journalism is a unique and potent instrument that has the ability to enlighten, educate, edify and entertain," says Harewood, anchor of CBC Ottawa's supper-hour TV news and an adjunct professor at Carleton University who'll become a full-time faculty member at the School of Journalism and Communication on July 1.
"It's about struggle, power and the transformative possibilities of stories. It's about truth-telling that affirms and exposes, deep listening and community solidarity, the audacity to ask the right questions, and the recognition of everybody's inherent dignity."
Harewood has a long connection to Carleton. His parents, Hyacinth and John, were both lecturers here. He attended day care and summer camps on campus and returned to produce and host shows at CKCU, Carleton's community radio station, including an award-winning, 16-hour "take over" dedicated to Black communities and culture during Black History month in 1994.
In September 2020, Harewood began teaching a new graduate-level course that he developed — Journalism, Race and Diversity — as part of the transformation underway at the country's oldest journalism school to reverse decades of systemic racism and take concrete steps to change Canada's media industry.
"I went into journalism to be a positive force for change," he says.
"We're at a critical media moment in Canada today and I think I can make a contribution. I can help teach the next generation of journalists and help shape the future of journalism education."
"It's a coup for us to land a journalist of Adrian's calibre and experience precisely at the time when Carleton is trying to radically change the way we teach journalism," says Prof. Allan Thompson, head of the journalism program.
"I have so much respect for everything that Adrian has done in his career, particularly the ways in which he has stuck his neck out to fight for greater representation in Canadian journalism."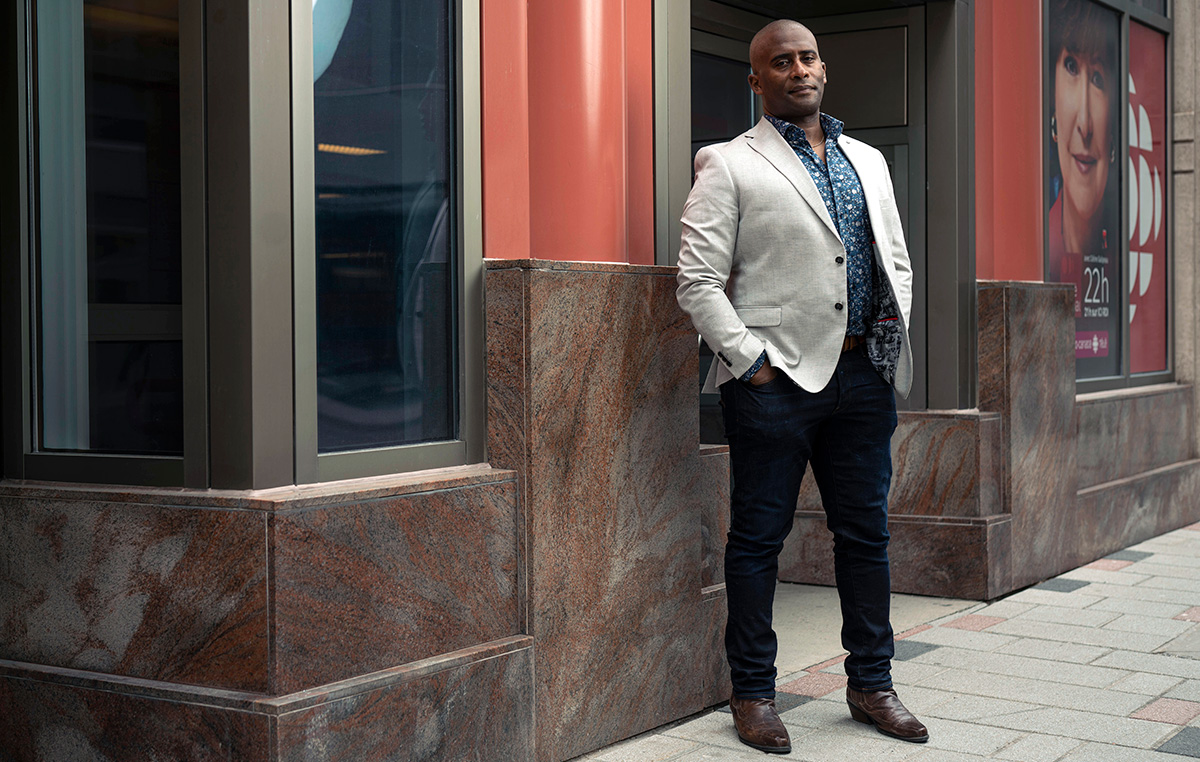 Catching the Broadcasting Bug
Harewood, born and raised in Ottawa, took his first foray into journalism by writing for The McGill Daily while studying political science and history at the university in the early 1990s. That led to some freelance writing and a job managing McGill's campus radio station.
Although Harewood did have other rewarding jobs, including four years supporting at-risk youth in Toronto high schools, he caught the broadcasting bug and built a successful career at CBC, working as a guest and permanent host on a succession of radio and TV shows and, starting in 2006, Ottawa's "All in a Day." His long list of interviewees includes Donald Trump, Angela Davis, Naomi Klein, Salman Rushdie and David Suzuki.
Ultimately, however, Harewood jokes that he didn't want to be an outlier in his family: his mother and father, now retired, taught at the college and university level and all four of his sisters have done some post-secondary teaching. He saw himself landing in education eventually, and by remaining engaged with CBC while at Carleton, it'll help him provide real-world journalism insights to students while helping the network find talented grads to hire.
In addition to teaching Journalism, Race and Diversity and a capstone course for fourth-year students called Journalism Now and Next, Harewood plans to start several research projects. One will document the history of Canada's seminal Black community newspaper, Contrast, which launched in 1969. Others will examine media coverage of the civil rights movement and BIPOC athletes in Canada.
Harewood also hopes to establish a journalism training and mentorship program in high schools to create a gateway for BIPOC students.
Working with young people is inspiring, says Harewood, because it challenges him to stay fresh and relevant. The research projects, meanwhile, allow him to read and think, which satisfies his love of learning.
"It's a gift," he says, "to be able to earn a living doing something you're passionate about."
Underpinning all of this are important conversations about race and journalism that weren't happening when Harewood was getting his start.
"Mainstream media has not always been responsive to the needs of all the communities that make up Canada," he says, "and that's not acceptable. Everybody deserves an opportunity to tell their stories. Journalism needs to reflect society back to itself, so we provide audiences with perspectives that help them make sense of their world."