Recently, five graduate students from the Earth Sciences Department, accompanied by Prof. Claudia Schröder-Adams, Curator & Outreach Coordinator Beth Halfkenny and several undergrad students took a field trip to New Zealand.
"Teaching field courses in geologically interesting places has been most rewarding for me," shares Schröder-Adams. "Students grasp geological concepts, are excited to be there and feel inspired to explore our globe. What more could I wish for?"
One of the master's students, Michael Thompson, talked about some of his most memorable moments. First was a visit to White Island – the most active volcano in New Zealand.
"Being able to walk around a giant, steaming highly active volcanic crater was impressive to say the least," says Thompson. "What made it even more surreal was the fact that the volcano actually had a small ash eruption the night before our visit, coating everything in grey-green ash and making the place look almost like another planet. We also had to wear respirators as the hydrogen sulfide gas produced at the volcano would burn your throat and nose when breathed in without it."
Thompson said his second favourite moment was a visit to Tongariro National Park. The park contains the Tongariro Alpine Crossing, listed as one of the top five most beautiful hikes on earth. It features 12 active volcanic vents, including the impressive Mount Ngauruhoe which was used as Mount Doom in the Lord of the Rings films.
Adds Thompson: "There were also three Emerald lakes, which were an amazing vibrant green colour due to the dissolved volcanic minerals in the water. And there was the Red Crater, aptly named for its deep blood red colour from the minerals in its soils that contrasts greatly with the adjacent Emerald Lakes."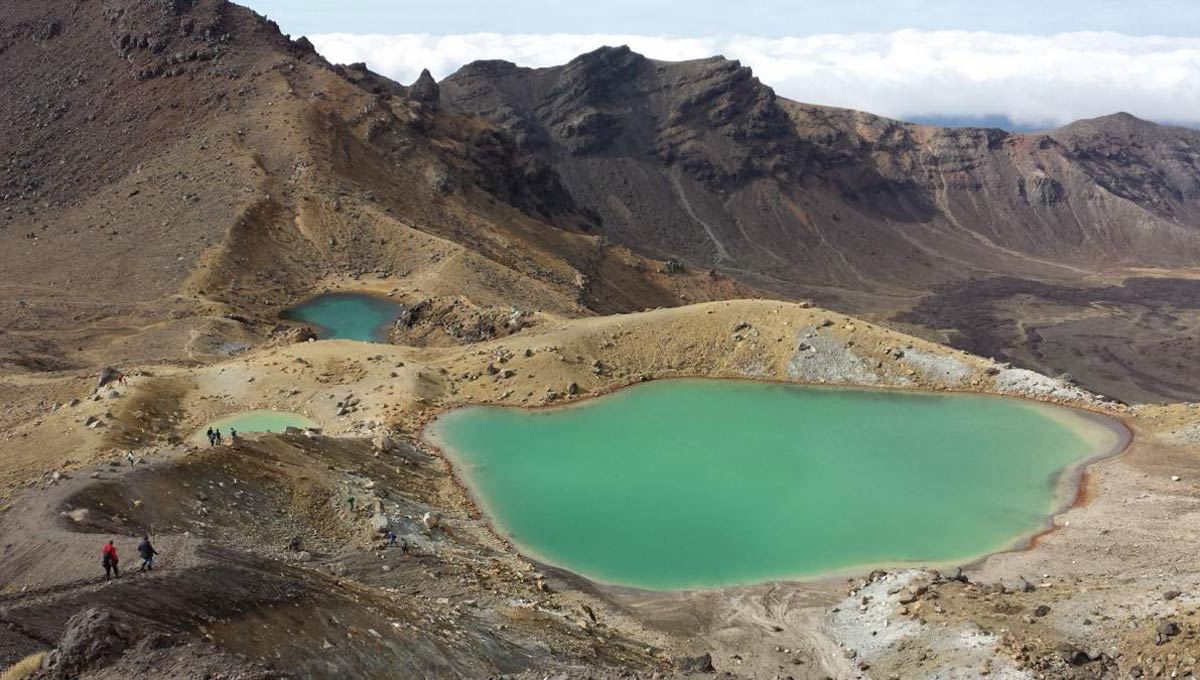 Before he went to New Zealand, grad student Etienne Menard had already been on several other field trips with Carleton, including Iceland (2014), Bahamas (2015) and Nevada/California (2015).
"The New Zealand trip encompassed some aspects of volcanology, sedimentology, paleontology, and we also had the chance to learn a bit about Maori Culture. New Zealand had been at the very top of my list of places to visit; just being able to go there was a dream come true for me. However, I'd say challenging myself to do the Tongariro Alpine Crossing and completing it was a bit of a milestone for me. This experience broke some of the physical limitations I had imposed upon myself."
Master's student Wilder Greenman had also spent time in the Bahamas and the Canadian Arctic before travelling to New Zealand.
"My research involves Precambrian sedimentology. The Precambrian is older than approximately 541 million years old and my research in the Arctic involves looking at sedimentary rocks that are about one billion years old. The purpose is to reconstruct what the area may have looked like at this time when they were deposited at the surface of the Earth. We also really try to correlate these rocks to ones that would be of similar ages to understand the large scale geology and processes that were taking place and have taken place since. I really enjoy working outside of my field area in places such as New Zealand for field courses because It allows me to see sedimentary processes and other geological processes in a different context. This always gives me a new perspective to take back to my own research."
Before coming to Carleton, PhD student Loughlin Tuck worked as a geophysicist for nine years doing airborne surveys around the world. He said what he liked best about the New Zealand field trip was: "The volcanoes. I love volcanoes and NZ is volcano rich. We visited at least four and, in one case, witnessed the aftermath of an eruption the night before."
Master's Student Marissa Davies was the fifth graduate student to travel to New Zealand. Highlights for her were, " seeing volcanic processes in action on White Island, hiking the Tongariro Alpine Crossing and exploring the glowworm caves in the Waitomo region. Field trips like this allow you to take what you learned in the classroom and have a more hands-on experience, which for me was the most rewarding part of the trip."
Michael Thompson's final favourite memory from the trip had nothing to do with geography and geology but the national Maori stamp featuring a woven basketpride and celebration of Maori culture in New Zealand. "Many cities and towns are named in the Maori language, quite a few street signs featured Maori text. Seeing how the inclusion of traditional Maori beliefs was second nature in so many facets of New Zealand society was fascinating, and really emphasized how the opposite trend still tends to be true here in Canada."
To view additional photos of the trip, please click here.
To find out more about the Master's program in Earth Sciences, please visit this website.
For more information about the PhD program, click here.